A New Cook Book For Review
It's a happy day, indeed, when a new cookbook finds it's way onto my bookshelf. Like many self proclaimed 'foodies' I like to explore the nuances of many cuisines, preferably first hand in their country of origin. When travelling is not an option, print is the next best thing. Kan Lam Kho's Phoenix Claws and Jade Trees: Essential Techniques of Authentic Chinese Cooking is a gorgeous book packed full of almost everything you need to know about Chinese cuisine. It is highly approachable to the uninitiated reader (me) and reading it made me realize that there are many aspects to Chinese cuisine that I didn't know about.
There's So Much to Know About Chinese Cuisine
At most, my connection to Chinese cuisine has been through dining out at Dim Sum and Szechuan restaurants. To date, the only recognizable Chinese dish I have attempted at home has been Red Cooked Pork. I don't even remember where I got the recipe from but I do remember it was a comforting dish on a cold night. It was the first time I realized that there is a way to eat comfort food in every cuisine. 
About Kan Lam Pho
Kan Lam Pho is a food writer, instructor, and food consultant who specializes in Chinese cuisine. His blog, Red Cook, was nominated for a James Beard Foundation Award and his first book, Phoenix Claws and Jade Trees: Essential Techniques of Authentic Chinese Cooking has already received the Julia Child First Book award from the IACP (International Association of Culinary Professionals). His experience in teaching at the Institute of Culinary Education and Brooklyn Kitchen is reflected in the pages of the cookbook. Kian has thoughtfully included descriptions of pantry essentials, equipment, and techniques within the book, as well as intriguing history and family anecdotes. These inclusions make Phoenix Claws and Jade Trees more than just a cookbook, but a labour of love.
Mid Autumn Festival
Today, I am happy to be part of a group of bloggers joined together to celebrate Mid Autumn festival, the second most important Chinese holiday (after Chinese New Year) by cooking from the pages of Phoenix Claws and Jade Trees. Like the universality of comfort food dishes, harvest feasts occur worldwide with the gathering of families around one table to enjoy a feast under the harvest moon. Since the Mid Autumn Festival is for lunar worship and moon watching, moon cakes are offered between friends or on family gatherings during the festival. There is no recipe for moon cakes in PCJT but there are several 'how to' posts on Kian's blog for reference (here's a link to one of them: Making Mooncake with Love).
So Many Delicious Recipes!
There were several recommended recipes to choose from and I longed to try one of the stir fries. Stir frying is a technique that many people, like me, try to imitate. Many fail because they do not have the proper equipment. For years I've been using a flat bottomed non-stick basic frying pan for stir frying. It does cook the meat and vegetables but doesn't really give the dish that 'special something' that every authentic Chinese stir fry has.
Breath of the Wok
That special something is called 'wok-hay' or, breath of the wok. It is an indescribable presence that accompanies an authentic stir fry. It's similar to the the fifth sense of 'umami' that you have while eating a tomato. Like I said, it's difficult to describe but ever so essential. I wanted that 'wok-hay' in my dish so badly that I bought a carbon steel wok of my own.  Then tried to season it.  Do you see the gorgeous black patina on the wok pictured above? Despite my best efforts (and a great deal of time) this is what I ended up with: 
From what I have heard, I can still salvage the wok.  Unfortunately I can't do it in time to try the Stir Fried Beef with Black Pepper from page 118. Instead, I've turned to the most basic recipe and one I was surprised to learn I have made before! A refreshing Cucumber Salad with Garlic (page 336).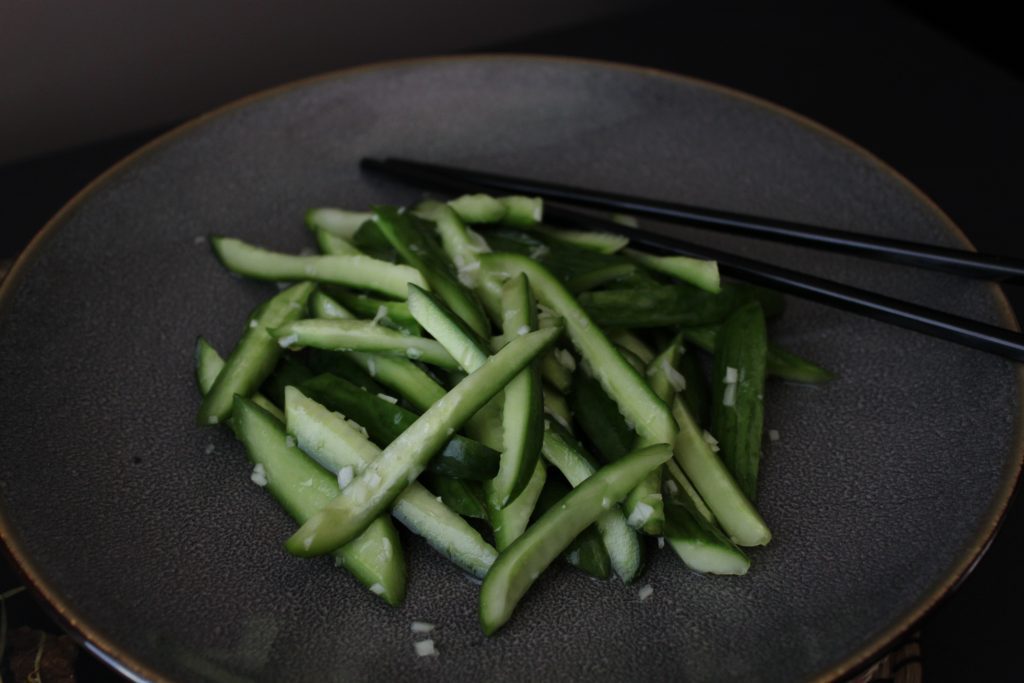 Cucumber Salad with Garlic (recipe reprinted with permission)
Ingredients 
1 large hothouse or 3 small Persian cucumbers (8 ounces total)
1/2 teaspoon salt
1 tablespoon finely minced garlic
1 tablespoon toasted sesame oil
Method
Quarter the cucumbers lengthwise and slice off the centre portion to remove the seeds. For large hothouse cucumbers you may want to further cut the quarters lengthwise into eighths.
Then cut the lengths into 2 inch long pieces.
Put the cucumbers in a bowl, sprinkle with the salt and garlic and mix well.
Cover and refrigerate for 20 minutes.
When you are ready to serve the salad, drain the juice that the salt has extracted from the cucumber pieces. Try to retain as much of the garlic as possible. Then arrange the cucumbers on a plate.
Pour the sesame oil over the cucumbers and serve cold.