Sticky, sweet, sour…these Sourdough Plum Cinnamon Rolls are everything you wished them to be and more.
Curing Those Night Cravings
Late night craving are a funny thing. One night I'm wanting hot buttery popcorn (thanks Netflix!), the next I feel like sour Skittles. There are multiple reasons why I don't keep junk food in the house. For the most part it's to keep things healthy but if cravings hit hard, it forces me to be more creative.
One night I just wanted something sour. I did the usual fridge sweep and turned up some less than perfect red plums. After stewing them in a bit of sugar, I poured the warm concoction on a bowl of vanilla ice cream (hey, we can't all be angels!). The result: instant bliss and some left over stewed plums for later.
Waste Not, Want Not
Cravings satisfied, I began to wonder what I should do with the extra stewed red plums. That night while I was feeding my sourdough starter, Stan, I realized that I have yet to bake something other than sourdough loaves. Then I started craving cinnamon rolls. The natural thought progression eventually led to me using the cast off starter to begin a new dough. This new dough was to be made into cinnamon rolls the next morning and what better way to use up the stewed red plums? Sourdough Plum Cinnamon Rolls!
Let's Get this Sourdough Party Started
Once the dough was mixed, I found it quite stiff. With sourdough, you really have to trust the process. By this I mean, let the starter do the work and you will be greatly rewarded!
The next morning I uncovered the dough bowl to find that the sourdough process hadn't let me down. I carefully let the dough out of the bowl onto an oiled and slightly floured counter. Using my hands, I gently spread out the dough into a small rectangle until I felt a slight resistance. Leaving the dough at this point allows it to relax enough to roll out. After waiting 15 minutes, gently roll the dough out using a rolling pin, again until you feel resistance. You may have to repeat this process several times.
Once everything was rolled out, it was time to spread the filling. I did the usual butter, cinnamon, and brown sugar but also dropped the stewed plums at regular intervals. I cannot emphasize enough how important it is to leave the top inch of the dough completely free of filling. You need it clean so that your dough seals after it's all rolled together.
The Final Cuts
Once you have rolled and sealed the dough, grab a length of dental floss and cut the rolls in equal portions. I don't even remember where I was given this kitchen hack but I have used it for years. Dental floss does not flatten the dough in any way like a knife would. Let's hear it for kitchen hacks!
Arrange those beauties in a round or square 9 x 9 pan, scatter more sugar and top with even more freshly pitted and cut red plums. During baking, they'll combine with the sugar to make a very delicious and striking sauce for your buns.
These Sourdough Plum Cinnamon Rolls began as a cool little sourdough experiment to use up leftover stewed plums and starter discard. I hadn't planned on posting them as a recipe but when I flipped them out onto the plate, I just had to whip out the camera. I spent the next two hours drooling and attempting to photograph them in a (new to me) dark style. Then, I grabbed a plate and gobbled two of them at once!
Pin Sourdough Plum Cinnamon Rolls HERE.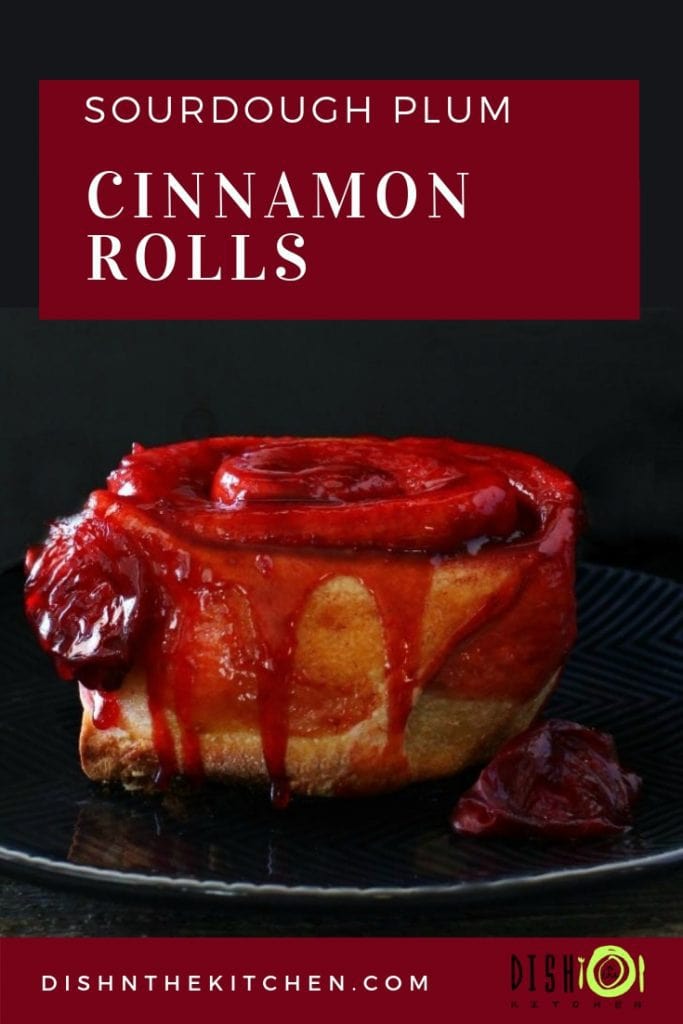 Great Ways to Use Leftovers with Dish 'n' the Kitchen