Egg Tacos with Grilled Steak are the ultimate weekend luxury breakfast, lunch, or dinner. This spin on steak and eggs pairs grilled steak with a perfectly fried egg in a taco. Served with a zesty Aji Verde.
Disclosure: This post is made possible by Egg Farmers of Alberta. All opinions and experiences are my own.
Let's hear it for eggs! We love this perfect protein here on the blog (and on our table) and have many great egg recipes to share with you. Check out these Zesty Nacho Deviled Eggs for a fun spin on a classic appetizer, or how about these fun Ham and Egg Hashbrown Cups for your next brunch date?
Grilled Steak and Egg Tacos
Steak and eggs are a classic combination for a reason. They are the perfect combination of proteins. Add them both to tacos, pour an amazing sauce over it all, and they are irresistible!
There are many ways to eat egg tacos, but I love perfectly grilled steak with the addition of eggs fried sunny side up. Poke those happy yellow yolks and just let them flow…
Then, there's the grilled steak. Who can resist a perfectly grilled Ribeye steak? These are very basic carne asada style tacos, simply seasoned with salt which allows the natural flavour of the steak to shine through.
More on the Aji Verde or Green Sauce later. Suffice it to say, it's worth the effort!
Put an Egg On It.
Besides the delicious 'instant sauce' the yolks provide, eggs supply all 9 essential amino acids and are considered to be a complete protein. These proteins are important in building and maintaining multiple body systems.
There's more good news about incorporating eggs into your diet. Eggs are low in calories, but are packed with important vitamins and minerals such as: Iron, Vitamin A, Vitamin D, Vitamin E, Vitamin B12, Folate, Selenium, Lutein and Zeaxanthin.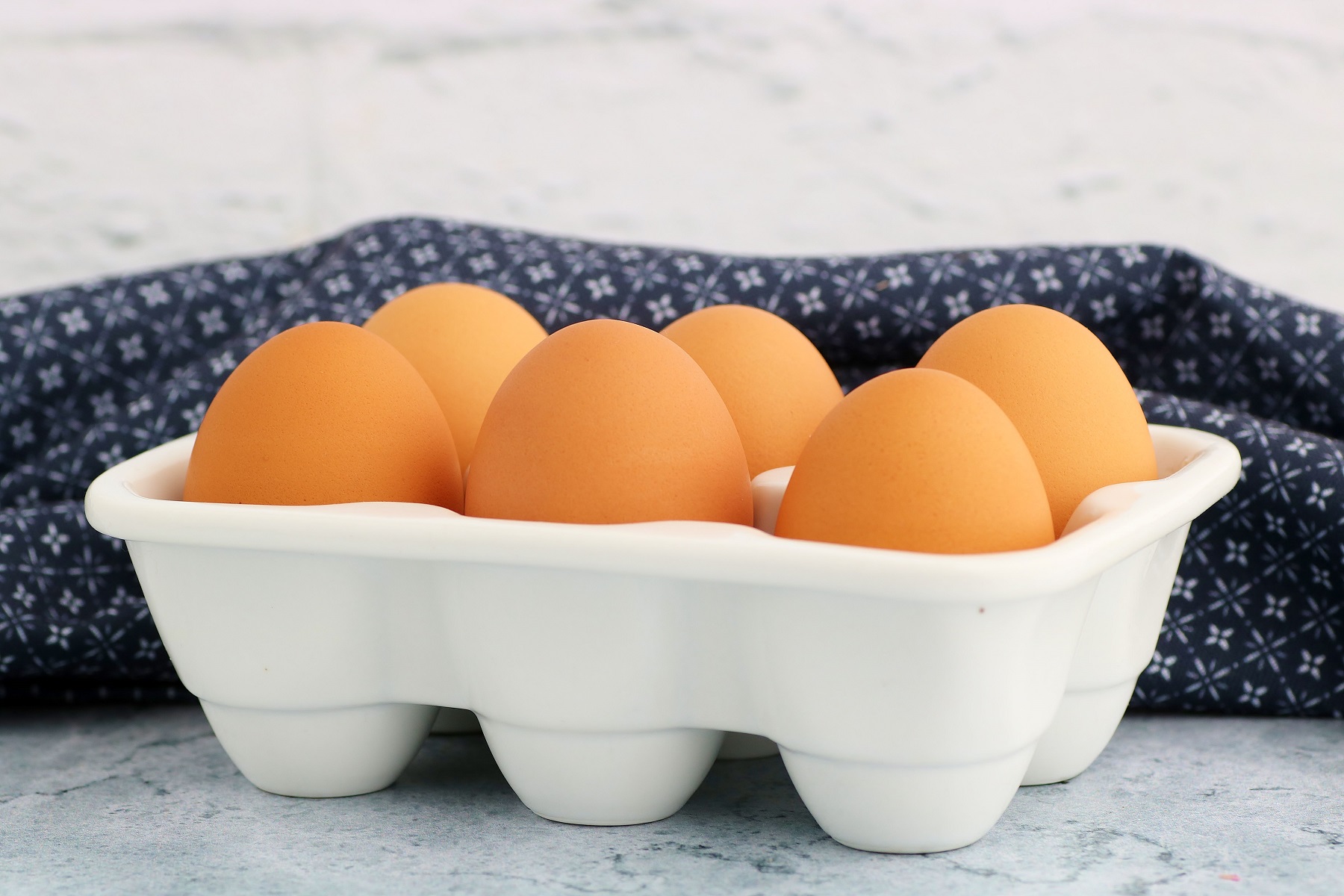 I've made a habit of buying the 'Omega-3' enriched eggs, too. These are the eggs produced when laying hens are fed flaxseed. Since flaxseed is a great source of plant based Omega-3's, this boosts the nutritional value of their eggs.
I'm all for adding more vitamins, protein, and heart healthy Omega-3's into my diet when I can.
Ingredients for the Steak and Egg Tacos
Steak
Eggs
Tortillas
Pickled Red Cabbage
Cotija Cheese
Avocado
Cilantro
Aji Sauce
The Best Steak to Use in Tacos
The BEST steak is the one YOU love, grilled how YOU like it. Tacos are pretty low pressure and you can grill up anything from a top sirloin to flank steak or skirt steak. For maximum flavour, it's good idea to marinate leaner cuts of meat.
I love a nice thick (1 1/2 inch) ribeye steak with perfect marbling. It grills up beautifully with only salt as a seasoning. Feel free to chose your favourite steak cut for these tacos.
How to Cook Eggs for Egg Tacos
In this recipe, the eggs are fried sunny side up in a nonstick skillet over medium heat. The yolks remain super saucy and yes, it's messy. Tacos are meant to be messy!
I realize that not everyone loves a runny yolk. Feel free to flip the eggs over easy or cook them to a more manageable medium.
Scrambled eggs are great on tacos too. You could get all creative and scramble them with even MORE cheese or cilantro.
Tortillas…Flour vs. Corn
The kind of tortilla you use is entirely up to you. Flour tortillas are not as traditional, nor are they as healthy as a corn tortilla. However they are usually larger in size and hold up better under saucy conditions.
Corn tortillas have fewer calories and fat content while being higher in fiber. They also tend to fall apart much easier under heavier fillings and sauces.
WHAT IS COTIJA CHEESE?
COTIJA CHEESE IS A SLIGHTLY CRUMBLY AND SALTY COW'S MILK CHEESE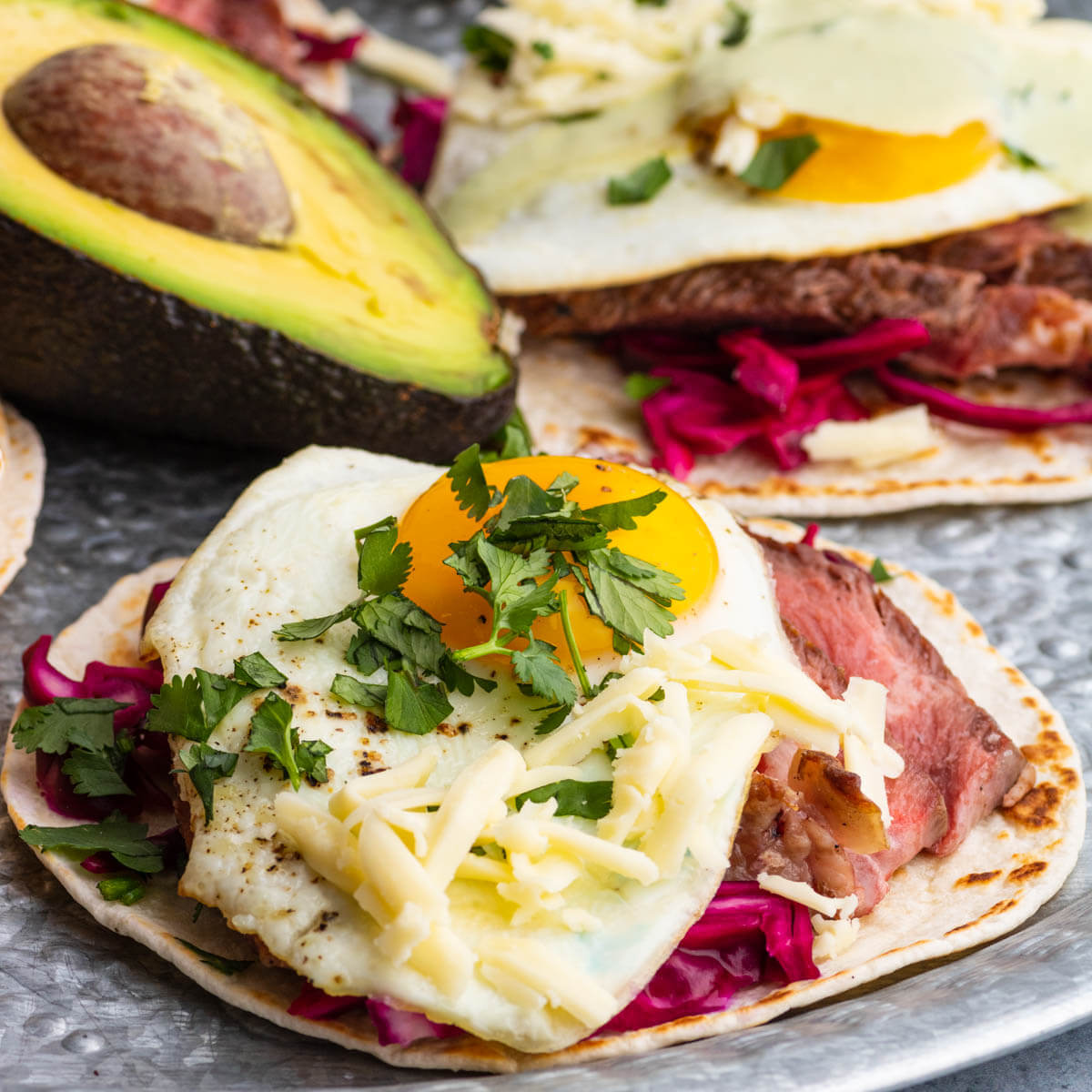 These breakfast tacos have a lot of heavier, saucier fillings which require a sturdy tortilla. Flour is the best choice in this case.
Pro tip: Chose your tortilla and warm it up on a grill or in a pan. Heating a tortilla brings out the natural flavours and softens it so that it doesn't crack or break.
What is Aji Verde (Green Sauce)?
There are many variations of Green Sauce from all over the world. There's Chimichurri from Argentina, Chermoula from Morocco, Mexican Salsa Verde, Italian Pesto, Green Chutney from India, and Zhoug from the Yemen. We are focusing on the zesty and creamy Aji Verde from Peru.
If you've ever been to a Peruvian restaurant and ordered the rotisserie chicken, you will know how amazing this sauce is.
Traditionally Aji Verde is a mayonnaise based sauce blended with grated cotija cheese, lime juice, garlic, salt, and two unique ingredients: the Aji Amarillo Pepper and Huacatay.
Those of you who like a little spice will find the Aji Amarillo paste to your liking. It's made using Aji Amarilla peppers which grow in South America but are more easily found as a paste in North America.
Fancy yourself a cilantro hater? Peruvian Black Mint Paste is a tasty substitute. Otherwise known as 'Huacatay' this herb from the marigold family is what makes the Aji Verde so addictive.
If you can't source the two pastes, fresh jalapenos and cilantro also make a great substitute. This version is widely known in Texas as 'That Green Sauce'.
How to Quick Pickle Red Cabbage
Quick pickling is a great way to introduce an acidic note to any dish. Since this taco is packed with rich protein, the pickled red cabbage adds a welcome brightness.
Best of all quick pickling is very easy…and quick! Mix up the simple brine (vinegar, salt, sugar) and add any flavouring you like (whole coriander, cumin seed, black pepper, etc).
Next, slice up the cabbage (or any veggie) and place it in the brine for at least an hour and up to two days. Drain before using in a dish.
How to Cook the Steak
Everyone has their favourite way to cook steak. I prefer to let the steak come to room temperature and season it just before grilling. Salt on steak is magic so don't be afraid to really cover the steak surface well.
Preheat the barbecue to high, preferably as high as it will go. Ideally you want to hear that sizzle as you set the steaks on the hot grill. The meat will caramelize, maybe even slightly char and that is okay.
The kind of steak you have chosen dictates how it should be cooked. For a ribeye (and most well marbled steaks) it is best enjoyed at medium rare but you do you. Check out this handy chart for cooking times…
Putting it All Together
The cabbage is pickled, the sauce is made, and the steak is resting. In order to finish the tacos, we need to heat the tortillas, fry the eggs, and gather the extra toppings! Great taco toppings include (but are not limited to):
sliced avocado or guacamole
pico de gallo
fresh lime juice
hot sauce
sour cream
grated cheese
sautéed mushrooms
sautéed onions and peppers
chopped fresh cilantro
lime chili seasoning salt
Build the taco starting with a warm tortilla. Slice or mash the avocado and spread it on the tortilla then scatter some pickled red cabbage. Place three or four strips of grilled steak on top of the cabbage, then place the egg on top of the steak.
Finish the taco by scattering the cotija cheese, chopped cilantro, and drizzling the Aji Verde sauce over it all.
Storing and Reheating Leftovers
If you have leftover steak…lucky you! It's even simpler to make a second batch of Steak and Egg Tacos. Just pan fry the steak strips and fry a few eggs in the same pan.
The steak will store well in the fridge for 2-3 days, however I do not recommend keeping the eggs as leftovers.
Yield: 4 servings
Grilled Steak and Egg Tacos
Egg Tacos with Grilled Steak are the ultimate weekend luxury breakfast, lunch, or dinner. This spin on steak and eggs pairs grilled steak with a perfectly fried egg in a taco. Served with a delicious Aji Verde.
Additional Time
5 minutes
Ingredients
rib eye steak; well marbled 
8 eggs
1 1/2 cups red cabbage; 
1/2  cup white vinegar
1/2 cup apple cider vinegar
1 tsp salt
1 tsp sugar
8 tortillas (corn or wheat)
avocado (for serving)
1/4 cup cilantro; chopped (for serving)
1/2 cup cotija cheese*; grated for serving
FOR THE AJI GREEN SAUCE
3/4 cup sour cream
1/4 cup mayonnaise
1/2 cup grated cotija cheese
1 tbsp black mint paste
1 tsp aji amarillo pepper paste
 lime; juiced
1 tsp salt
1 tbsp miced garlic
1/4 cup cilantro; chopped (optional)
Instructions
MAKE THE QUICK PICKLED CABBAGE: Mix the vinegars, sugar, and salt together in a small bowl. Add the thinly shredded cabbage and allow to sit for an hour (or more).
Remove the steak from the fridge and allow to come to room temperature.
MAKE THE AJI GREEN SAUCE: Add sour cream, mayonnaise, cotija cheese, lime juice, aji amarillo paste, black mint paste, salt, garlic, and 1/4 cup cilantro (if using) to a blender and blitz it up. Taste and adjust if necessary.
GRILL THE STEAK: Preheat the barbecue to HIGH. Brush steak with oil and season both sides liberally with salt. Grill steak until golden brown and slightly charred (4-5 minutes) then flip and grill another 3-5 minutes (see steak chart).
Rest the steak (loosely covered with foil) for 5 minutes.
While the steak is resting, fry the eggs in a bit of butter and olive oil. Heat pan on med-high and carefully crack the eggs into the pan. Season with salt and pepper. Cover with a lid and cook eggs until the edges become 'lacy' but the yolk is still bright yellow and runny (or a bit longer for medium eggs, if preferred).
Heat the tortillas in a frying pan until they soften and change colour.
Serve tacos with pickled cabbage, chopped cilantro, extra cotija cheese, and Aji Green Sauce.
Notes
*use feta as a replacement for cotija cheese
**sub 1/2 to 1 jalapeno (seeded or not) and 1/4 cup cilantro for the Aji Amarillo and Black Mint Paste.
Nutrition Information:
Yield:
4
Serving Size:
1
Amount Per Serving:
Calories:

941
Total Fat:

56g
Saturated Fat:

19g
Trans Fat:

0g
Unsaturated Fat:

32g
Cholesterol:

450mg
Sodium:

2330mg
Carbohydrates:

73g
Fiber:

8g
Sugar:

8g
Protein:

36g
Nutritional calculation was provided by Nutritionix and is an estimation only. For special diets or medical issues please use your preferred calculator.