This Nutella Frosting recipe will soon become your favorite frosting for layer cakes and cupcakes. It's rich, creamy, and made with THE delicious hazelnut chocolate spread. No butter, cocoa powder, or confectioners sugar required!
Chocoholics unite! You'll find MANY great chocolate flavoured recipes here on the blog including this unbelievable Chocolate Avocado Mousse and these super fun Cookies and Cream Hot Chocolate Bombs.
Chocolate Nutella Frosting
Holy heck! This dreamy and rich chocolate Nutella frosting is so good, you'll be eating it right off the spoon! Seriously though, this recipe couldn't be simpler. Only three ingredients and a few basic techniques and you can pipe away to your heart's content.
This decadent Nutella frosting has even MORE chocolate flavour accented by the familiar hazelnut flavor from the chocolate spread. Instead of butter and powdered sugar, this frosting gets its richness and stability from Nutella, dark chocolate, and whipping cream. It's not too overly sweet and it's oh, so chocolatey!
Dress up those chocolate cupcakes, cakes (for a layer cake make a double batch), and sweet little baked donuts with this fudgy delight.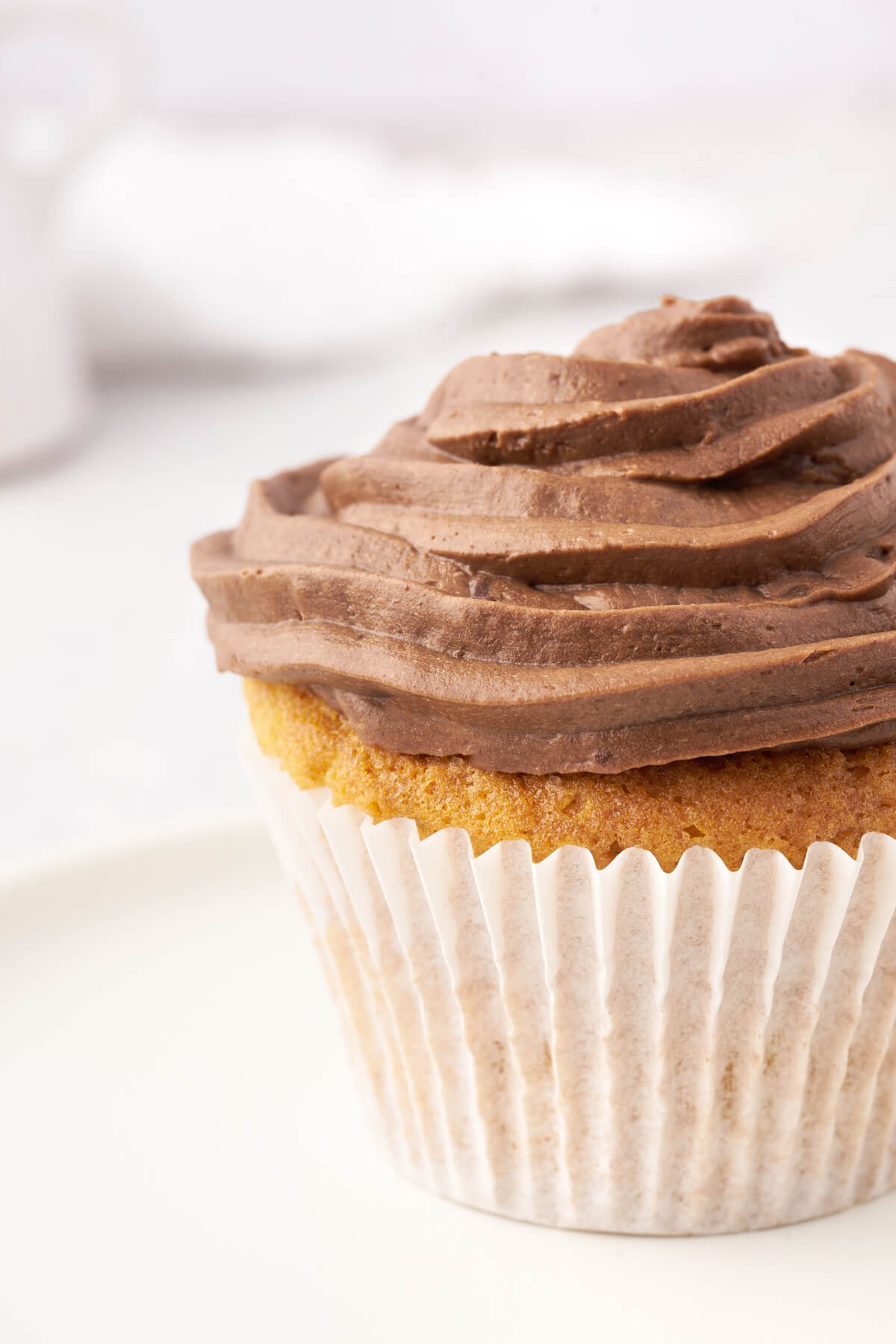 Recipe Ingredients
It's difficult to believe that this super easy frosting consists of only three ingredients. However, in this recipe it's the quality, not the quantity of the ingredients that matters.
There is no need to use brand name chocolate spread as long as the chosen spread has the exact same consistency of Nutella. This is important for the final texture of the frosting. For optimal results, use a freshly opened jar as a previously opened jar may have become clumpy and thick.
Be sure to use a high quality dark chocolate with at least 52% cacao mass. A lower quality chocolate will cause the refrigerated mixture to harden. In turn, this will also make it difficult to whip air into the mixture.
While there is no butter in this recipe, a high fat content heavy whipping cream (at least 36%) is essential to the final structure of the frosting. Lower fat creams such as half and half or coffee cream will not have enough fat content to whip.
Optional additions include extracts of any flavour that goes well with chocolate. These include mint, coffee, vanilla, coconut, cherry, or even MORE hazelnut.
The recommended ingredients combined with the outlined technique will result in a creamy frosting that is great for piping onto baked goods.
How to Make Nutella Frosting
There are three main steps to achieving a perfectly light and fluffy frosting texture. The ingredients are first melted together, then cooled. Finally, during the whipping stage, air is incorporated into the mixture.
Melting
The easiest method to melt chocolate is to microwave it. However, it is also very easy to overheat chocolate using this method. Place the chocolate in a microwavable bowl and microwave in 15 second intervals, stirring in between each. Once the chocolate is 80% melted, continue stirring until you have a consistent texture with no lumps.
Add in the Nutella or chocolate hazelnut spread, and stir it in to melt it slightly. You may have to give it one more round in the microwave.
Alternatively, add the chopped chocolate and Nutella to the bowl of a double boiler. Add water to the bottom pan (careful not to add too much as to touch the bottom of the bowl) and heat it on medium heat. Stir the mixture together as it melts. Remove from heat when only a few lumps remain and continue stirring until the mixture is smooth.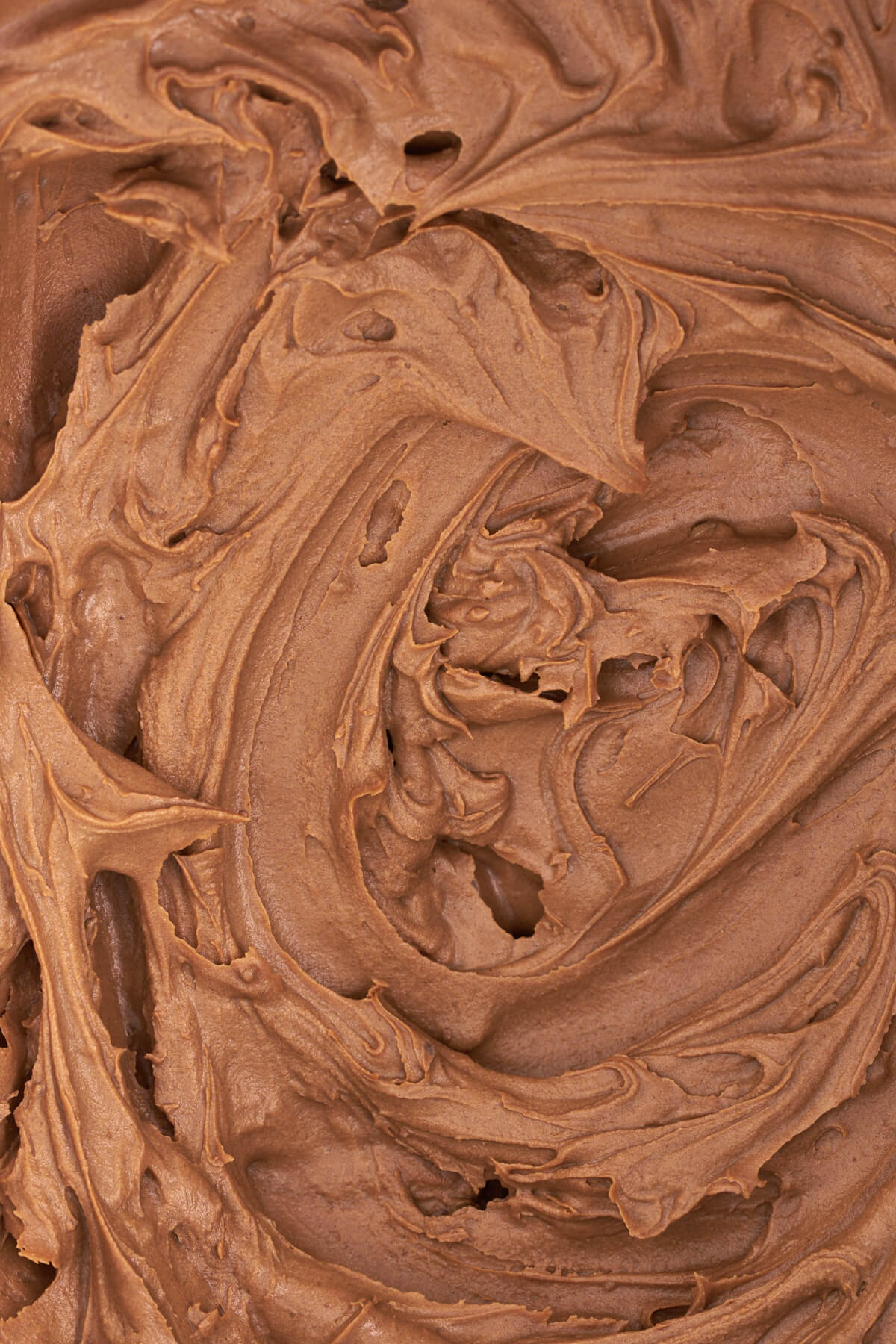 While the chocolate is melting, place half of the heavy cream in a small saucepan and heat it over medium low heat. It does not need to be hot, it only needs to be warmer than the melted chocolate/Nutella mixture. Do not boil the cream or it will not whip properly.
Using a spatula or mixer paddle attachment, mix the melted chocolate/Nutella mixture with the hot cream until it is smooth and silky. Add extract (if using) and stir in the remaining cold cream.
Cooling
Allow the mixture to cool to room temperature. Cover the bowl with plastic wrap and refrigerate for at least 3 hours, or overnight if needed the next day. The cooling is necessary as the mixture will not whip properly if it is still warm. The colder it is, the easier it is to incorporate air into the mixture.
At this point the mixture should still be soft and creamy, not hard, thick, or set. If you feel like it has set too much try adding a splash of heavy cream before whipping the mixture.
Whipping
Cream can be used in it's liquid form in many applications but give it a little elbow grease and watch it transform. Using a stand mixer fitted with a whisk attachment, whip the mixture until you see a slight increase in volume and stiff peaks form (around 6-8 minutes).
Be very careful not to over whip the mixture. If you have ever over whipped cream, you will know that an overwhipped mixture becomes lumpy and greasy. Whipped Cream is a foam; a suspension of gas bubbles attached to (and surrounded by) destabilized fat globules.
Once too much air gets knocked out, the fat globules are free to attach to each other again…leading to granular frosting.
How to Use Chocolate Nutella Frosting
On the off chance that you haven't licked the bowl clean, there are many fun and creative ways to use this frosting. You can use it any way you would use regular Nutella or in any application that would call for Nutella buttercream frosting.
Chocolate Fairy Bread – Spread on bread and add colourful sprinkles.
Frosting cupcakes or cookies.
On top of Layer or Slab Cakes (Vanilla or Chocolate Cake)
In Babka or Sweet Rolls as a filling.
In Cream Horns or Cannoli
On Baked Chocolate Donuts
Helpful Tips for this Recipe
Use high quality dark chocolate with at least 52 % cacao mass.
Use heavy cream with 36% milk fat content.
Do not overheat chocolate while melting.
Do not boil the cream.
Use a rubber spatula to stir the melted chocolate, Nutella, and cream together (not a whisk)
Completely chill the mixture before whipping.
Place stand mixer bowl and whisk attachment in the fridge for 15 minutes before whipping.
Beat only until stiff peaks form. Do not overwhip.
Fill a piping bag and use immediately or refrigerate in a sealed container for up to a week. This frosting freezes well and will last for up to three months when stored properly.
Yield: 2 cups *enough for 6 cupcakes
Simple Chocolate Nutella Frosting
This Nutella Frosting recipe will soon become your favourite frosting for layer cakes and cupcakes. It's rich, creamy, and made with THE delicious hazelnut chocolate spread.
Total Time
3 hours
18 minutes
Ingredients
3.5 oz (100g) dark chocolate (52% cacao mass); chopped
1/2 cup (150g) Nutella (or chocolate spread)
1 cup (250g) cold heavy cream
1/2 tsp extract of your choosing (optional)
Instructions
Place the chocolate in a large microwave safe bowl and heat in 15 second increments until it is half melted. Add the Nutella and microwave for another 10-15 seconds. Stir together until no lumps remain (add one more microwave session if needed). Alternatively use a double boiler to melt the chocolate as outlined in the post above.
Warm half of the cream in a small saucepan over low medium heat until it is slightly hotter than the melted chocolate. Do not allow to boil.
Pour the warmed cream into the chocolate mixture, stirring continuously until it becomes a smooth, silky mixture.
Stir in the remaining cold heavy cream and extract (if using).
Cover with plastic wrap and refrigerate for 3 hours or overnight.
Fit a whisk attachment onto a stand mixture and transfer the frosting to the mixer bowl.
Beat on medium speed until stiff peaks form (around 6-8 minutes). Watch the mixture closely so as not to over whip it.
Nutrition Information:
Yield:
6
Serving Size:
1
Amount Per Serving:
Calories:

39
Total Fat:

3g
Saturated Fat:

2g
Trans Fat:

0g
Unsaturated Fat:

1g
Cholesterol:

7mg
Sodium:

5mg
Carbohydrates:

3g
Fiber:

0g
Sugar:

2g
Protein:

0g
Nutritional calculation was provided by Nutritionix and is an estimation only. For special diets or medical issues please use your preferred calculator.