Almost Aperol Spritz mocktail is wildly refreshing, with a kick of bright citrus and that famous bitterness to follow. A great no-alcohol summer sipper!
Summer Sippin'
Do you love the sun and plan on spending your summer on the patio sipping refreshing iced concoctions? I sure do! Keeping hydrated in the summer is important. Well if you agree, then you've probably also been the victim of 'too much of a good thing'. Am I right? You stand up to stretch and suddenly the world goes a little swirly.
Sometimes, all that sipping can go straight to your head. So what's a girl to do? Make a mocktail of course! This non alcoholic spin on an Aperol Spritz contains all the thirst quenching juiciness of the original but none of the stuff that will have you passed out by 5 o'clock.
Campari or Aperol Spritz?
Technically you can make this drink with either of these classic Italian orange aperitivos. The flavour profiles are bit different as Campari tends to be quite bitter while Aperol is sweeter and fruitier. Aperol is also half as boozy (11% ABV) as Campari is, making it a bit more approachable for a wider range of people. For simplicity's sake, I decided to go more with an Aperol flavour profile in my mocktail.
Roasted Bitter Grapefruit
Hold on…did you just say GRAPEFRUIT? Yes…I did. I do realize that this is classically an orange based cocktail but I wanted the extra bitter flavour of grapefruit to add depth to my simple syrup.
Another way to impart that bitter flavour is to roast the grapefruit until it is quite dark. I realize that not everyone loves a bitter flavour profile, so if you like you can adjust the darkness level of the grapefruit during the roasting. There is a certain herbal aspect to Aperol, and since rosemary and thyme go really well with grapefruit, I added these two herbs into the simple syrup.
Bitter Grapefruit Simple Syrup
As you can see from the photo above, I let some of the grapefruit slices get pretty dark. Making simple syrup is…simple. Just add one cup of sugar to one cup of water. Simmer it until the sugar is dissolved.
Add your flavourings before, or after it doesn't really matter. I added the grapefruit right away, then added in the fresh herbs after I turned off the heat. The syrup is ready when it reaches room temperature. Just strain and enjoy!
Almost Aperol Spritz
The alcoholic version of this cocktail contains Aperol, Prosecco, and Soda Water. For my mocktail Aperol Spritz, I started with two large wine glasses with fresh ice. Then I combined the bitter grapefruit syrup with San Pellegrino Aranciata and some tonic water. A fresh rosemary garnish really helps to highlight the herbal aspect of the mocktail.
Sippin' with Dish 'n' the Kitchen
Pin Almost Aperol Spritz HERE.
Yield: 2 cocktails with enough syrup to make 6
Almost Aperol Spritz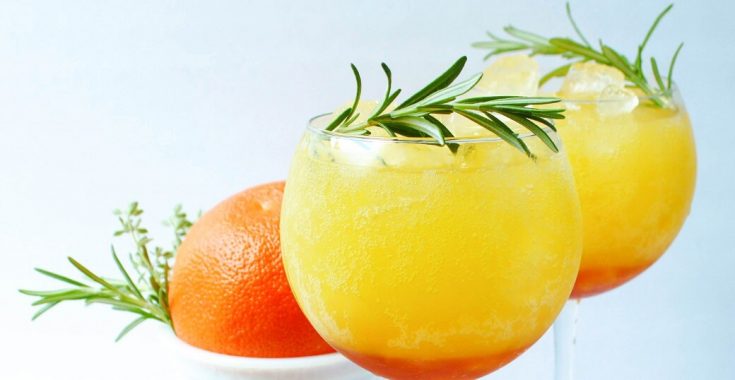 Almost Aperol Spritz mocktail is wildly refreshing, with a kick of bright citrus and that famous bitterness to follow. A great no-alcohol summer sipper!
Total Time
1 hour
20 minutes
Ingredients
2 large pink grapefruits; zested and sliced into rounds
1/4 cup sugar
2 sprigs fresh rosemary
2 sprigs fresh thyme
1 cup water
1 cup sugar
2 sprigs fresh rosemary
1 can San Pellegriono Aranciata
1 can tonic water
Instructions
Pre-heat oven to 350 F. Place grapefruit slices on lined baking sheet and sprinkle sugar over them. Flip over and repeat.
Bake for 30 minutes or more, depending on how dark you would like your grapefruit.
Place roasted grapefruit slices in a pan. Add one cup water, the zest, and one cup of sugar.
Simmer until sugar has dissolved
Remove from heat, add fresh herbs and let steep until it gets to room temperature.
Strain and refrigerate until you are ready to use it.
To make the the cocktail:
1. Fill large glass with fresh ice. Add 4 tablespoons of bitter grapefruit syrup, 1/2 can of San Pellegrino, and top up with tonic. Garnish with fresh rosemary sprig.
Nutrition Information:
Yield:
6
Serving Size:
1
Amount Per Serving:
Calories:

221
Total Fat:

0g
Saturated Fat:

0g
Trans Fat:

0g
Unsaturated Fat:

0g
Cholesterol:

0mg
Sodium:

11mg
Carbohydrates:

57g
Fiber:

1g
Sugar:

54g
Protein:

1g
Nutritional calculation was provided by Nutritionix and is an estimation only. For special diets or medical issues please use your preferred calculator.