Do you like Piña Coladas? Getting caught in the rain? Then this is the BEST Piña Colada recipe for you! Passed down from a bartender friend of mine, this delightful cocktail hits all the right tropical notes.
I'm coming at you all summer long with THE BEST, most thirst quenching cocktails and mocktails, from the Classic Moscow Mule Cocktail to a fun adult Wine Slushie and my alcohol-free spin on the summer classic Aperol Spritz. There's a liquid libation for everyone!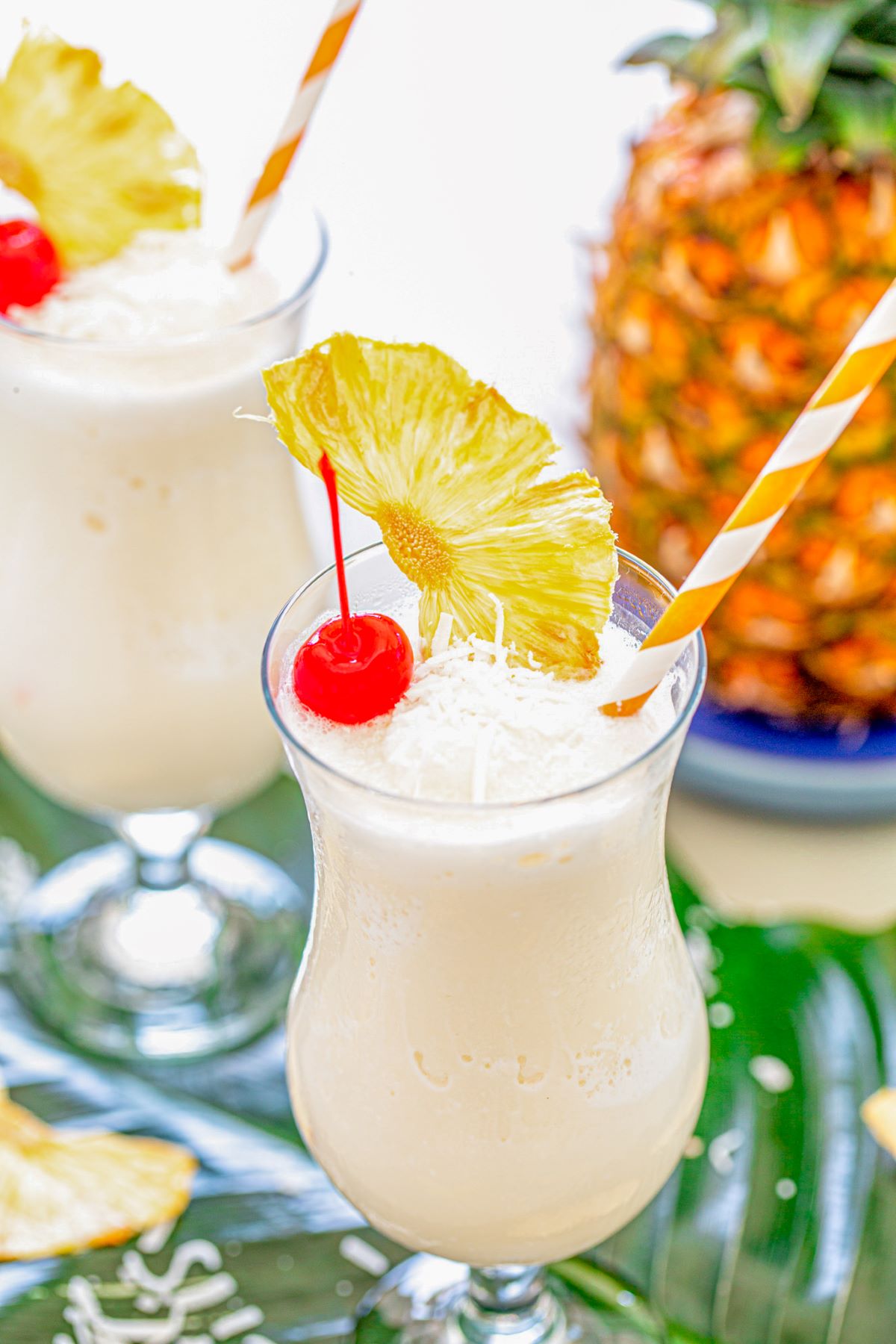 The Best Piña Colada Recipe
Everyone claims they have the best Piña Colada Recipe but which one is the best? I think it's different for everyone depending on if you have a sweet tooth or not. I love a Piña Colada recipe that creates a pineapple forward cocktail that isn't too sweet or watered down with ice.
There has to be just the right balance of sweet, sour, and creamy coconut flavour to turn my head. So, when a bartender friend served me this classic tropical libation with all the right vibes, I had to ask for the recipe.
Now, I'm so pleased to be able to share this perfect recipe with you. A word of warning, though…these tall glasses of rum, pineapple, and coconut go down way too easily, especially on a hot sunny day!
What is a Piña Colada?
Translated from Spanish, "piña" means "pineapple" and colada means "strained." Put them together and you've got "strained pineapple" which is the beginning of this perfect cocktail.
Today the most recognizable Piña Colada recipe is a blended cocktail consisting of rum, pineapple juice, coconut cream, and a bit of cream. However, it has evolved slightly since its invention in the early 1950's.
The earliest versions were non alcoholic mixtures of juiced pineapple and coconut cream shaken together, then served over crushed ice. Later, when blenders became available, the blended piña colada was born. The addition of rum skyrocketed this tropical delight into cocktail stardom.
Who Invented the Piña Colada?
As with many classic cocktails, there always seems to be some dispute as to who came up with the original piña colada recipe. However, this classic Puerto Rican thirst quencher was most likely invented by Caribe Hilton bartender Ramon "Monchito" Marrero around 1954.
The original non alcoholic drink (sold at the snack bar) became quite popular and soon needed to be mixed up by the gallon. Ramon saw its popularity, added Puerto Rican rum and served it over crushed ice. After that, the rest is pure cocktail history.
They say it was so popular that for many years, a brief survey of the crowded bar area showed almost every patron with a piña colada in hand. If time travel was possible, the creation of the piña colada would be on my list of stops!
Piña Colada Ingredients
There's really no need to get fancy with this classic cocktail, though many variations do exist. The original mixture of pineapple juice, coconut cream, cream, and ice became popular for a reason.
Pineapple Juice
Evaporated Milk
Cream of Coconut
Rum
Ice
As always, fresh pineapple juice is best though shelf stable is also very tasty (and more readily available). Sometimes a fun variation is to use frozen pineapple chunks in place of half of the ice. This makes the drink more like a 'smoothie' in texture.
A small amount of dairy cream, half and half, or shelf stable Carnation style evaporated milk adds another dimension to the creamy drink. Omit it for a vegan version of this cocktail. Alternatively, if you prefer a sweeter cocktail, replace half of the evaporated milk with condensed milk.
Cream of coconut is an essential ingredient in a piña colada. Please don't add coconut milk in order to 'lighten it up'. That takes away from the integrity and authenticity of the cocktail.
If cream of coconut is difficult to find (I love Coco Lopez but have to order it online) buy a can of coconut milk and use only the coconut cream. This is the solidified top portion only.
Alternatively, it's quite easy to make your own 'cream of coconut' without all the synthetic ingredients and emulsifiers.
Cream of Coconut vs. Coconut Cream
In general, a can of cream of coconut contains more than just coconut. It is sweetened then emulsified with artificial mixing agents and often also contains water.
Coconut cream is the solidified layer of fatty natural cream that floats to the top of a can of coconut milk. You can also buy a can of only coconut cream, though it is often more difficult to find. Most Asian supermarkets will carry coconut cream.
Let's Talk Rum
Originally, this cocktail was mixed exclusively with Puerto Rican white or light rum (either Bacardi or Don Q). Today, there are many rum options available including those flavoured with coconut. If you are a coconut fanatic, try Don Q Coco Rum, Malibu Original, or Bacardi Coconut flavoured rum.
Bacardi Gold rum contains sweeter flavour accents such as vanilla, banana, and caramel which pair so well with the pineapple and coconut in a piña colada. For the pineapple lovers, try Plantation Stiggins Fancy Pineapple rum made by infusing real pineapple into dark rum.
How to Make a Piña Colada
If you have a high powered blender, mixing up a piña colada is a breeze. Just add all ingredients (rum, coconut cream, evaporated milk, pineapple juice, and ice) into the blender jar.
Blend until smooth then pour into a tall Hurricane glass with at least a 12 oz. capacity. Garnish with shredded coconut, pineapple slices, maraschino cherries, or cute paper umbrellas.
To make this cocktail without a blender, add all the ingredients to a cocktail shaker. Dry shake without ice for 15-20 seconds. Add 1 cup of ice to the mixture, then shake vigorously until the shaker becomes cold and frosty. Place crushed ice into a 12 oz. glass and pour the cocktail over the ice. Garnish as desired.
Tasty Variations
Though there's nothing like an original piña colada, there are some fun flavour variations floating around out there in the bar scene.
While most include the core ingredients of pineapple juice and cream of coconut (sometimes in different ratios) the rum can be replaced with another spirit or liqueur. Source wikipedia.
Amaretto Colada – Amaretto replaces the rum.
Chi chi Colada – with vodka substituted for rum.
Lava Flow – strawberry daiquiri (more rum!) and piña colada blended together.
Virgin piña colada or Piñita Colada – non-alcoholic version made without rum.
Kiwi colada – A fun fruity version made with kiwifruit (fruit and syrup) in place of pineapple juice.
Kahlua colada – substitute Kahlua (coffee liqueur) for rum.
Scotsman Colada – substitute Scotch for rum, most likely unpeated.
Staten Island Ferry – a cocktail consisting of equal parts Malibu coconut flavored rum) and pineapple juice served over ice. In other words, the ghost of a piña colada.
Caribou Lou – 1 oz of Malibu rum, 1.5 oz of 151 Proof Rum, and 5 oz of Pineapple Juice. It's very strong because of the overproof rum.
Blue Hawaiian – differs from a piña colada mainly by including blue Curaçao (a liqueur traditionally made with the dried peels of the laraha bitter orange).
Tequila colada – made by substituting…you guessed it…tequila for rum.
Join Me for Saturday Brunch!
Join the Saturday morning newsletter and get cozy with a cup of coffee. Inside you'll find free recipes, giveaways, and more. It's such a delicious way to start the weekend!
By clicking subscribe, you agree to share your email address with the site owner and receive emails from the site owner.
If you make this Pina Colada recipe please be sure to leave a comment and/or give this recipe a rating! Be sure to follow me on Facebook and Pinterest for my latest recipes. Also, if you do make this recipe please tag me on Instagram, I'd love to see what you guys are making! Thank you so much for reading my blog.