Perfectly sized, perfectly sweet, perfectly decadent Bite Sized Berry Cheesecakes are the perfect after dinner dessert. Bake ahead and top before serving.
Community Cookbooks are the Cornerstone
You know those old-style community cook books? The ones that have all sorts of strange, but wonderful and notoriously bad for you recipes? I wonder why no one makes them anymore. Do you think that websites like Allrecipes and food blogs in general have replaced good old fashioned community recipe book? I still consider myself a 'spring chicken', as my grandma used to say. However, I'm old enough to remember my mother submitting recipes for these community driven cookbooks.
The Ruel Family Cookbook
When I say 'community', it's in the broadest sense of the term. Family can also mean 'community'. My mother's mother (or ma mére as we all call her) had many brothers and sisters on the Ruel side of the family. After several huge reunions they decided to compile the dishes they shared at each family function into one handy book.
In it were several recipes for 'never fail' pastry, the Black Bottom Cupcakes that I make for every super bowl party, my mom's Tomato Soup Cake, and MY Creamy Mushroom Linguine. I guess since it was published in 1997, I was already a mom (and a half!) and so entirely domesticated. Never in my dreams would I have imagined that mom and I would have recipes published in one book! Now that I am thinking about it, I think it was probably my very first original recipe.

The Herzog Family Cookbook
I have several of these 'community' cookbooks that I drag out every year at about this time, one from the Herzog side of the family with my grandma's buttertart recipe and another from the Shellbrook Elementary Playground Fund Raising Committee which holds one of our family's longest lived Christmas traditions (which has been around since our buttertart munching days); the Petit Cheesecakes.
A Taste of Home Down Under
There have been years when I never thought making these was going to be possible, like when we lived in Perth, Australia. I had no clue if I would be able to find the special 'Nilla wafers needed for the cheesecake bases. I feverishly checked every store until I found them. It made me realize that year, more than ever, to appreciate this little bite of home. That year we had Western Australian rock lobster instead of turkey and went snorkelling at the beach instead of sledding on the family hill. In a place of uncertainty and of new experiences, these Berry Cheesecakes brought us closer to home and the loved ones we missed terribly.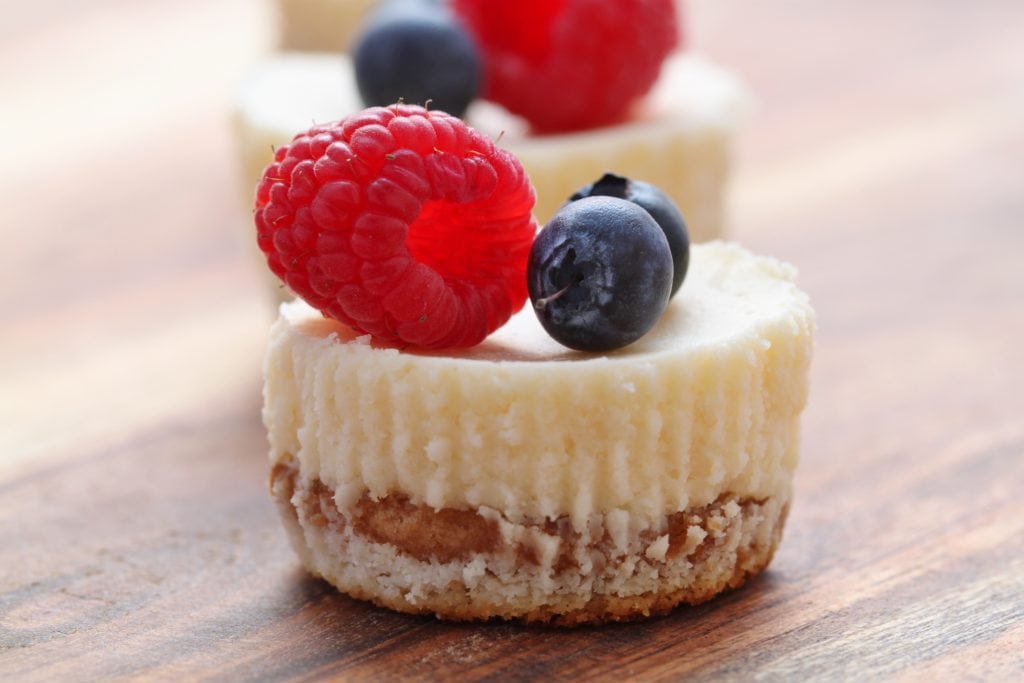 Can You Make Berry Cheesecakes Ahead of Time?
I usually make these Berry Cheesecakes quite a bit ahead of time, because they freeze extremely well. The recipe makes a lot so that people can steal them right from the freezer container and there are still plenty to share on Christmas. I freeze them topless, then take them out of the freezer and top them up just before we eat dinner. They have just enough time to thaw while everyone eats dinner. If you forget and do it after dinner, no one will care because they are just as good frozen.

Berry Delicious Things from Dish 'n' the Kitchen
Blueberry Balsamic Braised Beef Short Ribs
Yield: 20
Bite Size Berry Cheesecakes
Perfectly sized, perfectly sweet, perfectly decadent Bite Sized Berry Cheesecakes are the perfect after dinner dessert. Bake ahead and top before serving.
Ingredients
2 8 ounce packages cream cheese; softened
3/4 cup sugar
2 eggs
1 tbsp lemon juice
1 tsp vanilla
2 boxes 'Nilla wafers
1 can cherry or blueberry pie filling (or assorted fresh berries)
Instructions
Beat cream cheese, sugar, eggs, lemon juice, and vanilla until fluffy.
Separate small baking cups (like the ones used for homemade chocolates or mini muffins) and place on baking pan.
Press a Nilla wafer into the bottom of each cup.
Place cream cheese mixture into a piping bag and fill each cup 2/3 full.
Bake at 375 F for 15 minutes. Freeze until needed or top with a tsp of filling (or fresh berries) and serve.
Nutrition Information:
Yield:
20
Serving Size:
1
Amount Per Serving:
Calories:

136
Total Fat:

9g
Saturated Fat:

5g
Trans Fat:

0g
Unsaturated Fat:

3g
Cholesterol:

42mg
Sodium:

94mg
Carbohydrates:

12g
Fiber:

0g
Sugar:

9g
Protein:

2g
Nutritional calculation was provided by Nutritionix and is an estimation only. For special diets or medical issues please use your preferred calculator.