Cherry Tomato Caprese Salad is a summery Italian salad featuring ripe cherry tomatoes, fresh basil, and fresh mozzarella. It's drizzled with high quality olive oil and a sweet tart balsamic reduction.
The ripe juicy tomatoes of summer just beg to be the centre of attention in every dish. Enjoy them with fresh herbs in a Walnut Tomato Cucumber Salad or preserve them in a classic Italian style Passata.
Cherry Tomato Caprese Salad
Simply put, there isn't an easier salad than Insalata Caprese made with cherry or grape tomatoes. Six high quality ingredients and five minutes is all it takes to have this gem on the table for dinner.
It's amazing how much flavour those few ingredients deliver when they are combined together. The ripe cherry tomatoes are so sweet and juicy, they burst open in your mouth.
Combine the sweetness of the tomatoes with the creamy fresh mozzarella and the sweet acidity of the balsamic vinegar reduction. Then, finish it with a herbal edge from the torn basil, high quality olive oil, and bursts of sea salt. It's magical.
What is a Caprese Salad?
Caprese Salad, or Insalata Caprese, is a traditional Italian salad of tomatoes, sliced fresh mozzarella, and sweet basil. It's seasoned with salt, olive oil and sometimes balsamic vinegar.
This starter salad, or antipasti is believed to have originated on (and is named after) the island of Capri, in the Campania region of Italy. However, it is much loved throughout the country and around the world.
The tasty trio of basil with tomato and mozzarella reflect the colours of the Italian flag, making it an Italian treasure. However, other ingredients such as olives, arugula, romaine lettuce may be used in non traditional versions.
The patriotic combination is also served as a pizza (pizza Margherita), as a pasta, or together in a sandwich.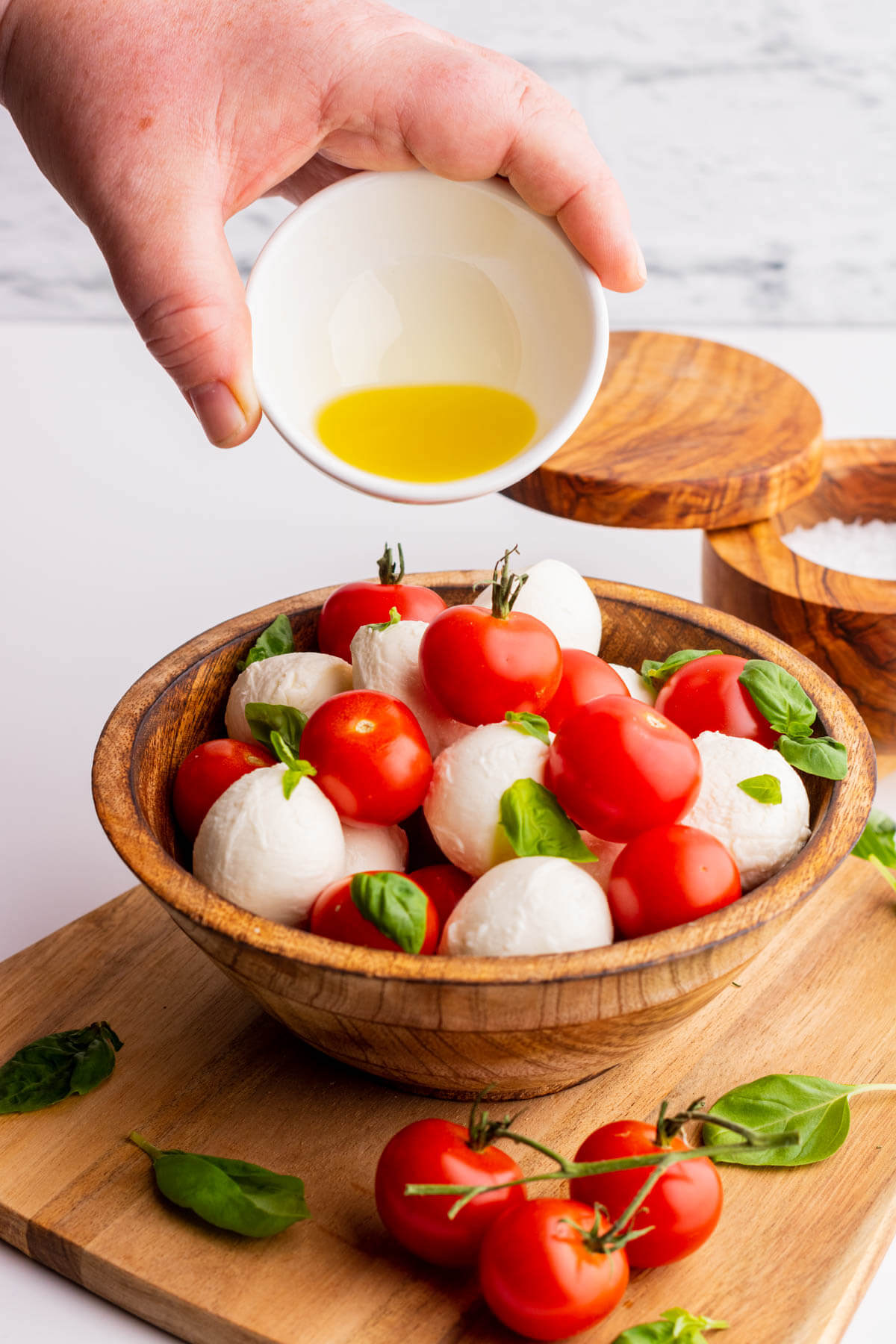 Ingredients
As always, using high quality ingredients in this salad recipe is what will make you fall in love this salad. The list of ingredients is small, but together they pack on heck of a punch.
Tomatoes
Bocconcini
Fresh Basil
Olive Oil
Balsamic Vinegar Reduction
Sea Salt
There are few exceptions when it comes to choosing tomatoes for this dish. Choose bright smooth cherry tomatoes in classic red or multiple colours.
They should be perfectly ripe, but not over ripe as to be soft or wrinkled. Think sun ripened flavourful tomatoes. Alternatively, add a slice or two of green tomatoes to bring a wonderful tang that balances out sweetness.
If you prefer your tomatoes sliced, choose large heirloom tomatoes and fresh mozzarella of a larger size (so it can also be sliced). For this dish the tomatoes and cheese are usually quite similar in size and shape.
For a fun and very non traditional serving of Caprese, substitute strawberries for the cherry tomatoes!
Since I love Caprese with cherry or grape tomatoes, I almost always buy fresh mozzarella balls, or bocconcini in the same size as the tomatoes. If you prefer, you can substitute the mini bocconcini for a smaller size, or slice them in half.
Note that quality fresh mozzarella contains very little salt, so seasoning them liberally with sea salt will really make them pop.
Fresh basil is a very prevalent flavour in this salad. Tearing the leaves by hand may seem tedious but it allows the fresh flavour of the herb to shine through. A fresh basil pesto also makes a great flavour addition to this dish.
A high quality finishing olive oil will make all the difference in this salad. Extra virgin olive oil (EVOO) with bright, slightly peppery notes is the best choice.
Does Really Great Caprese Need Balsamic Vinegar?
It depends on personal preference and sometimes on the quality of tomatoes available. Some would argue that only vine ripened tomatoes should be in Caprese. However, flavourful hothouse grown tomatoes do exist, and most cherry tomatoes are full of flavour.
Many prefer only a drizzle of olive oil, salt and pepper as it allows the tomatoes and mozzarella to shine. However, a drizzle of balsamic vinegar, balsamic glaze (or reduction) can really crank up the flavour.
A balsamic reduction is balsamic vinegar that is sweeter and thicker than the original. You can purchase a bottle or reduce the balsamic on your own.
How to Make Cherry Tomato Caprese Salad
Five minutes is all the time you need to make a great Caprese salad using cherry tomatoes. If you leave them whole (and I suggest you do), you won't even need a knife.
PSA: Drain the bocconcini well so the salad doesn't become watery. Next, place the cherry tomatoes and bocconcini in a small bowl. Tear the basil and scatter it all over the tomatoes and mozzarella cheese.
Finally, drizzle both the EVOO and balsamic reduction over the salad. Season with salt (and pepper if you like) then toss to combine. Serve immediately.
Caprese Salad Variations
Sometimes I'm hesitant to suggest variations on a dish as traditional as Caprese. Messing with perfection is risky business!
However, I've seen (and made) some really tasty alternate salads featuring Caprese flavours. Try these on for size:
Add chopped avocado (avocado everything my friends!)
Use ripe strawberries instead of tomatoes. They go so well with the balsamic!
Make it colourful by adding other colours of grape tomatoes, including tangy green tomatoes.
Instead of EVOO and balsamic, mix up an Italian style vinaigrette with basil and oregano.
Boost the flavour with fresh basil pesto.
Serve the tomatoes and mozzarella balls on a bed of romaine lettuce or arugula.
Make it like they do in Campania by using Buffalo Mozzarella, or Mozzarella di Bufala. If an ingredient (such as Mozzarella di Bufala) comes from the same region as the dish does, there's a great chance they were meant to be together.
Join Me for Saturday Brunch!
Join the Saturday morning newsletter and get cozy with a cup of coffee. Inside you'll find free recipes, giveaways, and more. It's such a delicious way to start the weekend!
By clicking subscribe, you agree to share your email address with the site owner and receive emails from the site owner.
Got Leftovers?
We NEVER have leftover Cherry Tomato Caprese Salad and I'll tell you why. Firstly, it's just too delicious to leave any left in the serving bowl.
Secondly, leftovers will need to be kept in the fridge. This means that the bocconcini will dry out, the basil will wilt and tomatoes will lose flavour and become mealy. Tomatoes do not do well under refrigeration.