This dreamy spiced homemade Bourbon Eggnog is the perfect way to celebrate the holiday season with family and friends. One glass of this classic Christmas cocktail and you'll be feeling festive in no time!
While we're talking festive favourites, here in Canada no Christmas is complete without Grandma's Canadian Butter Tarts and my personal favourite French Canadian Tourtière.
Bourbon Eggnog
If I've said it once, I've said it a hundred times, there's nothing that compares to the delicious flavour of homemade eggnog. I've made this recipe for the last 5 years now and it is made by request every year.
This holiday treat is creamy, rich, and accented with the warmest of spices. Cinnamon, vanilla, and of course nutmeg are added to the warm milk and allowed to steep for maximum flavour.
The Best Eggnog in the World recipe comes directly from Jamie Oliver's talented team and I'm sharing it with you because it truly is the best. It has a beautiful rounded flavour and silky texture far superior to store bought versions.
This homemade version is made with four natural ingredients (not including bourbon and spices) while commercial eggnog is full of stabilizers, artificial flavourings, and hard to pronounce ingredients.
What is Eggnog?
Eggnog is a rich, chilled milk-based beverage made with milk, cream, eggs, sugar, and spices.
In North America it's served throughout the holiday season, most often with the addition of distilled spirits such as rum, whisky, bourbon, or brandy.
There have been many speculations as to the origin of eggnog, including the medieval British Posset (an aristocratic hot drink of dairy curdled with wine or ale and flavoured with spices).
Much later on eggs were added and the drink made it's way to the new world. The colonial era cocktail (called a Flip) was originally served warm, heated via a red hot metal rod. Check out this Smoked Saskatoon Rye Whisky Flip Cocktail for more on Flip cocktails.
Other Variations
The Tom and Jerry – A hot eggnog drink featuring rum and brandy.
Coquito – Puerto Rican eggnog made using rum, coconut milk, coconut cream, sweetened condensed milk. It is spiced with cinnamon and any combination of ginger, cloves, and star anise.
Rompope – a Mexican variation which uses local cinnamon, rum or distilled grain alcohol.
Biblia con Pisco – a Peruvian version made with Pisco.
Biersuppe – A German eggnog made with…you guessed it! Beer!
Ingredients for Bourbon Eggnog
milk
cream
cinnamon sticks
vanilla bean
nutmeg
eggs
sugar
bourbon
For this recipe, I use milk with 1% milk fat because that is what is handy in our fridge. Feel free to substitute any % milk fat and adjust the amount of cream accordingly.
For example, when using whole milk (3.5%) use only 1 1/2 cups of 11% or heavy cream. There is no 'golden ratio' of milk to cream when it comes to eggnog so use your own judgment. Remember that you want a rich nog and Christmas is no time to be skimpy!
Cinnamon sticks are part of the recipe and make an easy garnish. Use 1 teaspoon of ground cinnamon as a substitution.
Vanilla Beans are expensive and sometimes difficult to locate. Vanilla paste, dried seeds, or extract will also work in this recipe. Start with one teaspoon and go from there. You can always add more later if you prefer more vanilla flavouring.
Freshly grated nutmeg (affiliate link) is a miracle in itself. I'm fascinated with how it grows, how it looks, etc. However, the FLAVOUR is unlike any pre ground nutmeg.
We have a teeny tiny grater (affiliate link) just for the nutmeg that we bought in Brussels. If you have to use pre ground nutmeg, buy a new can rather than use the one you bought last Christmas.
This post contains affiliate links. As an Amazon Associate, I earn a small portion from qualifying purchases at no extra charge for you.
How to Make Bourbon Eggnog
Making eggnog is so darn simple and only takes about 5 minutes. The hardest part is waiting for it to 'mature'. It's as easy as boil, steep, temper, and fold. Let me explain.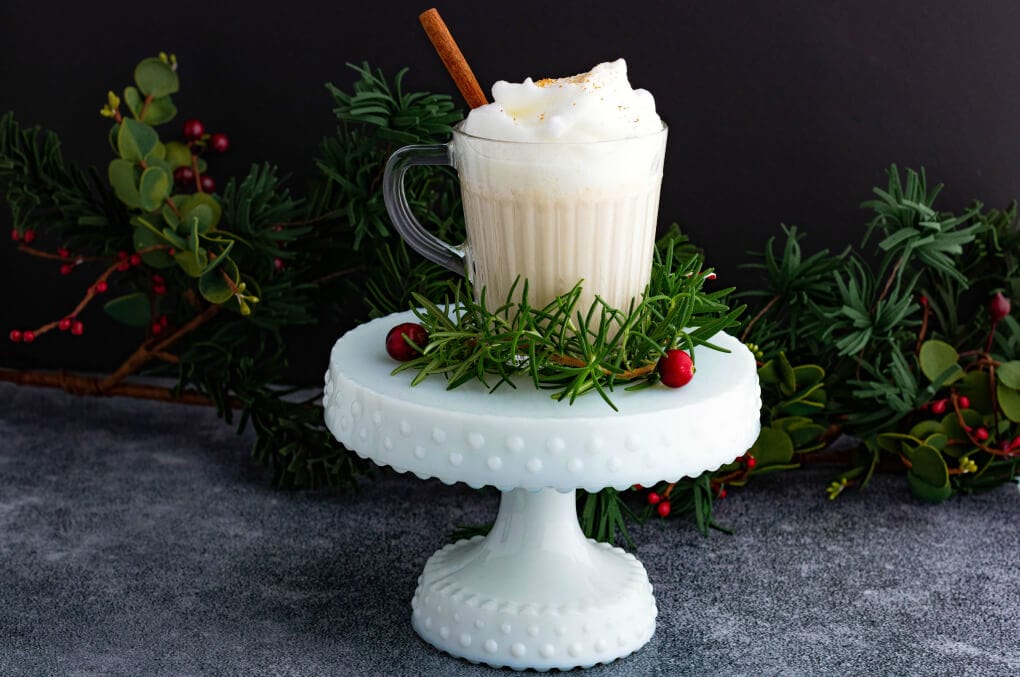 Place the milk/cream in a medium saucepan, then add the vanilla (bean), nutmeg and cinnamon sticks. Allow the contents to come to a gentle simmer, then remove from the heat and allow them to steep while you separate the eggs.
Next, whisk the egg yolks with the sugar until the mixture becomes very light in colour. You'll know the mixture is ready when it flows like a ribbon when the whisk is lifted.
The next step is very important. Tempering eggs (gradually raising their temperature) ensures that you don't end up with curdled eggs in your eggnog.
Begin tempering the eggs by whisking in the hot dairy mixture one half a cup at a time. Whisk constantly to distribute the eggs evenly and you'll end up with a rich, smooth nog.
Finally, add the distilled spirits and allow the mixture to come to room temperature.
Lastly…the eggnog needs to age to allow the flavours to truly develop. As a minimum, place it in the fridge overnight and serve the next day. Three days of aging creates the most wonderful flavour, in my opinion.
To serve, whip the reserved egg whites until soft peaks form. Fold them into the chilled milk punch. Pour into glasses and grate nutmeg over the top.
Which Spirit is Best in Eggnog?
When it comes to adult eggnog, most people reach for rum. There's no written rule on what kind of rum is best, though it's best to choose one that won't outshine the nog.
Conversely, the chosen spirit shouldn't get lost in the creamy drink either. An aged or amber rum is the perfect choice. Additionally, brandy or cognac would be lovely choices. It really is up to your personal preference.
Our brown liquid of choice for this holiday treat is bourbon. There's no rhyme or reason why. We just love the flavour, especially when the bourbon has wonderful vanilla and toffee notes.
Regarding Raw Eggs in Eggnog
When consuming raw eggs, there is always a small risk of Salmonella. There, I said it. Let's move on to the good stuff.
Modern egg farming practices have become quite advanced. The eggs are cleaned soon after they are laid then graded, packaged, and shipped to stores in refrigerated trucks.
To ensure everyone imbibes safely (I can't promise to help with any hangovers), buy the freshest eggs you can find. Keep them refrigerated until you are ready to make the recipe. Finally, give them a quick wash before you separate them.
Keep the finished product refrigerated until you are ready to serve it and during serving as well. Keep it cool…keep it safe!
How to Serve Bourbon Eggnog
This recipe makes 8 very small servings so I highly recommend making a double batch. Serve it out of a large festively decorated pitcher or a vintage punch bowl.
Break out the good crystal cocktail glasses (or moose mugs) and top it all off with a fresh grating of nutmeg, a pinch of cinnamon, or shaved chocolate.
Whichever vessel you serve it from, ensure that the liquid is kept as cool as possible. I recommend filling a large basin with fresh snow and placing the pitcher/punchbowl inside. This will keep it safely chilled all through your holiday party.
Yield: 8 servings
Festive Christmas Bourbon Eggnog
This dreamy spiced homemade Bourbon Eggnog is the perfect way to celebrate the holidays with family and friends. One glass of this classic Christmas cocktail and you'll be feeling festive in no time!
Total Time
12 hours
10 minutes
Ingredients
2 cups milk (I use 1%)
2 cups cream (11 % or higher)
3 cinnamon sticks
1 vanilla bean; split and caviar removed
1 tsp nutmeg; freshly grated plus more for each cup
5 eggs
2/3 cup white sugar
1 cup (or more) of Bourbon (we like Knobb Creek)
Instructions
Pour milk and cream into a medium sized saucepan. Add the cinnamon sticks, nutmeg, vanilla bean and caviar.
Allow to come to a simmer then remove from heat and let steep.
Separate egg yolks and egg whites. Immediately refrigerate egg whites.
Using a stand mixer, whisk yolks and sugar together until the mixture becomes light coloured and runs in ribbons when whisk is lifted.
Gradually whisk in 1/2 cup hot milk mixture at a time until you had added at least half of the mixture. Whisk in the remainder.
Mix in bourbon.
Allow to cool to room temperature then refrigerate overnight as a minimum, 3 days maximum.
To serve, whisk egg whites to the soft peak stage, then gently fold into the milk mixture. Serve cold with a dusting of freshly grated nutmeg.
Nutrition Information:
Yield:
8
Serving Size:
1
Amount Per Serving:
Calories:

363
Total Fat:

26g
Saturated Fat:

16g
Trans Fat:

1g
Unsaturated Fat:

9g
Cholesterol:

200mg
Sodium:

123mg
Carbohydrates:

22g
Fiber:

0g
Sugar:

19g
Protein:

8g
Nutritional calculation was provided by Nutritionix and is an estimation only. For special diets or medical issues please use your preferred calculator.