Homemade Creamy Whipped Feta is a dreamy and delicious spread with a salty kick accented by bright notes of lemon zest. It's quick to whip up and delicious with roasted tomatoes on bread or crackers.
This Creamy Whipped Feta is so delicious, you'll think you're dreaming. This salty and satisfying cheesy spread whips up in minutes and is delicious as an appetizer, quick snack, or sandwich spread. It's delightful when paired with fresh herbs, citrus, or roasted tomatoes as I have done in this post. Whipped Feta on bread, crackers, or pita is the perfect starter for Apple Stuffed Turkey Breast or alongside a bowl of comforting soup.
Creamy Whipped Feta Inspiration
Within the last few months, I've eaten at a few places that have outstanding creamy whipped feta dishes. This creamy feta dip is quite popular now and I am not sorry about it. Both versions I have tried have included citrus in one form or another. Just a small grating of lemon zest and a bit of fresh lemon juice really brighten up the salty feta and round out the flavour. I love the addition of preserved lemons in the creamy dip but fresh lemons will do just as nicely.
Which Feta Cheese Should I Use for the Creamiest Whipped Feta?
Your journey to enlightened cheese bliss begins with the right kind of feta cheese. Macedonian feta or Doric Feta may look like similar to the feta you crumble into a Greek salad but it is not. Though it comes as a block in brine, it is completely spreadable with a knife. What is really great about Doric Feta is that it behaves and tastes like a double cream feta but has a much lower milk fat content than the average feta (22% MF vs. ~43% MF).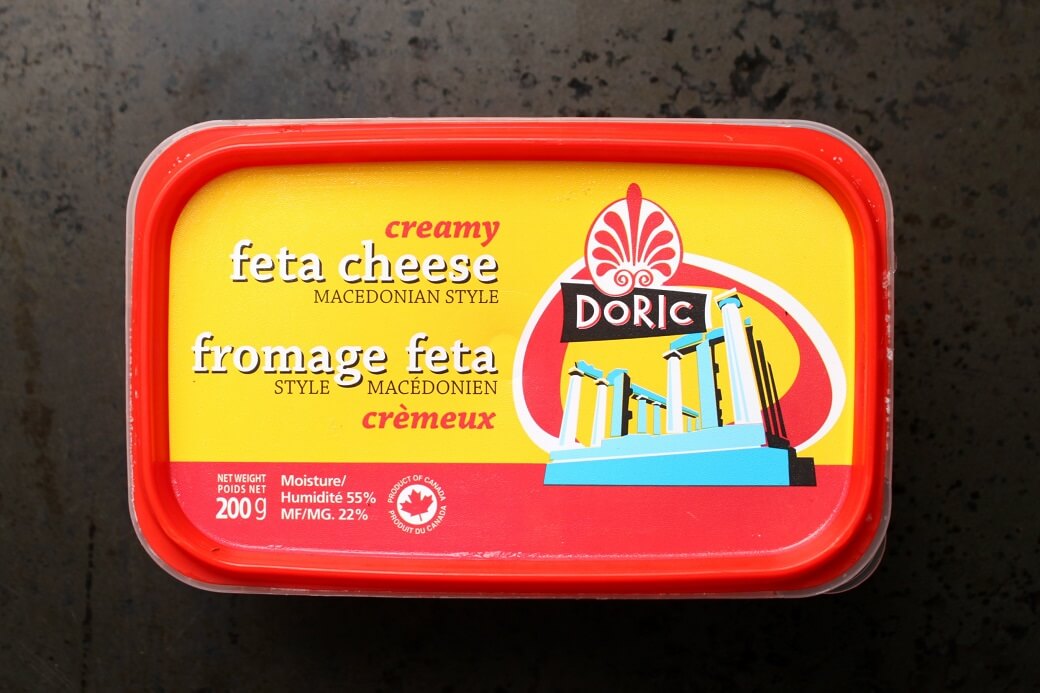 How to Get the Creamiest Whipped Feta
Now that you have the right kind of feta cheese, let's talk temperature. Leave the feta at room temperature for an hour or two so that it is very soft. Next, let's talk tools or rather, appliances. The best way to get creamy whipped feta is to add all of the ingredients to a high performance blender such as a Vitamix. This post isn't sponsored but I sure do love my Vitamix. I never though of a blender as an essential kitchen tool until I bought one on a whim at Costco.
Process in the Vitamix for a good 3 minutes and if you still feel like the spread isn't creamy enough, go ahead and add a heaping spoonful of Greek yogurt or sour cream and process it for a bit longer. I've heard that some prefer to pass the spread through a wire strainer but it really shouldn't be necessary.
What to Serve with Creamy Whipped Feta
The first time I had whipped feta with preserved lemon on pita crackers and I was happy as a clam. For the second tasting, it was topped with fresh herbs and served with grainy bread and roasted tomatoes. I've heard it's also delicious with roasted beets or slathered onto sandwiches. You could also add a bit more Greek yogurt or sour cream to the mixture and use it as a vegetable dip.
How to Store Your Whipped Feta
When buying the feta, be sure to take note of the best before date on the package. Later, should you have any Creamy Whipped Feta left over, you can use that as a general date for the dip. Please note that leaving it at room temperature and adding other ingredients to the feta will reduce the edible life span of the dip. This is the perfect 'make ahead' recipe as a few days in the fridge will allow the flavours to mingle within the cheese. Keep and leftovers refrigerated. Freezing is not recommended.
Yield: 1 cup whipped feta
Creamy Whipped Feta with Tomato Crostini
This Homemade Creamy Whipped Feta is dreamy and delicious with a salty kick accented by bright notes of lemon zest. It's quick to whip up and delicious with roasted tomatoes on bread or crackers.
Ingredients
7 oz (200 g) creamy Macedonian feta; room temperature
zest from half a lemon; finely chopped
juice from one lemon
2 tsp olive oil
flaky sea salt
10 small tomatoes
assorted fresh herbs of your choosing (dill, parsley, rosemary, thyme, etc.) optional
Instructions
Pre-heat oven to 400 F.
Place tomatoes in a baking pan and bake tomatoes until they start to split.
Remove tomatoes from oven and let cool.
Place feta, lemon zest, and lemon juice in the bowl of a stand mixer. Whip with a paddle until soft.
Slowly drizzle in 1 tsp olive oil while running the mixer at medium speed.
Arrange bread/crackers and tomatoes on a plate. Scoop whipped feta onto the plate.
Scatter fresh herbs (if using) and salt flakes over tomatoes and whipped feta.
Notes
Add Greek yogurt or sour cream by the spoonful if you like a thinner consistency.
Nutrition Information:
Yield:
4
Serving Size:
1
Amount Per Serving:
Calories:

235
Total Fat:

13g
Saturated Fat:

8g
Trans Fat:

0g
Unsaturated Fat:

5g
Cholesterol:

44mg
Sodium:

649mg
Carbohydrates:

22g
Fiber:

4g
Sugar:

16g
Protein:

10g
Nutritional calculation was provided by Nutritionix and is an estimation only. For special diets or medical issues please use your preferred calculator.