When life gives you oranges, make Homemade Orangeade! This simple orangeade recipe transforms freshly squeezed orange juice into a refreshing citrus beverage your family will ask for again and again.
During citrus season, I love to use every variety of citrus I can get my hands on. A bag of lemons becomes a classic Lemon Meringue Pie while juicy grapefruit combines with Avocado in a delicious citrus salad. Orange juice flavours this savoury spin on a Chinese takeout classic Orange Chicken. I love the mood lifting boost that citrus gives me during the dark cold days of winter.
Homemade Orangeade
If you love lemonade and oranges… you are going to love this orangeade! It's one of those recipes that becomes part of your regular recipe rotation once you realize how easy it is to make. Plus, it contains zero additives, and YOU control the amount (and type) of sugar added.
Homemade Orangeade is the tastiest way to turn the juice from a few freshly squeezed oranges into a refreshing beverage for your family. It takes minutes to make and uses minimal ingredients you probably already have on hand.
While this post contains a basic recipe for homemade orangeade, it also contains fun suggestions for 'mixing it up'. You can combine the orange juice with other fruits and flavours, use regular or carbonated soda water, infuse it with fresh herbs, add alternative sweeteners, or add an ounce or two of your favourite alcohol and enjoy it as a highball.
What is Orangeade?
Orangeade is a refreshing citrus drink made with minimal ingredients. In fact, all 'ades' contain some fresh fruit juice (cherry, lemon, lime, etc.) with the addition of water and some sort of sweetener. This combination of freshly squeezed orange juice with lemon juice, simple sugar syrup, and water is incredibly thirst quenching and nostalgic.
You might remember this tasty treat from your childhood if you are of a certain age. It rose to popularity as a carbonated beverage at old school American soda fountains and lunch counters.
Luckily you don't have to travel through time to enjoy a glass of old-fashioned orangeade… just follow this easy recipe to make it at home. Swap out the still water and use soda water for a bubbly treat. It's such an economical way to serve your family a little bit of sunshine in a glass.
Orangeade Ingredients
Here's what you need to make this recipe!
Orange Juice
Lemons
Sugar
Honey
Water
Honestly, this recipe tastes best when made with freshly squeezed orange juice. However, it is also a great way to make a can of frozen orange juice stretch farther. Since a typical 12 oz (355 ml) can of frozen orange juice makes about 6 cups of juice, you can make 18 cups simply by tripling this recipe.
Adding fresh lemon juice makes homemade orangeade flavourful and counteracts the sweetness from the simple syrup. You can omit the lemon juice if you like. However, I do not suggest replacing it with lemon juice from a bottle.
This recipe contains water in the simple syrup plus additional water. I recommend using regular tap water to make the simple syrup. Use regular tap water for the additional measure of water or substitute soda water for a fizzy treat.
While this orangeade recipe calls for granulated white sugar and a bit of honey, feel free to substitute with your favourite alternative sweetener.
Why Simple Syrup is Important for this Recipe
Are you up for a quick explanation of a very simple but fun bit of kitchen chemistry? If you are wondering why simple syrup is necessary in this recipe, read on to find out why.
Though it may seem like an extra step or complication in this easy recipe, the primary function of simple syrup is to ensure the orangeade remains evenly sweetened. If you add granulated sugar and water directly to the cold juice, the sugar will sink to the bottom of the pitcher.
However, when you heat them together, the sugar dissolves and remains suspended within the water as it cools. You can then add this simple suspension (aka simple syrup) to a cold liquid and the sugar will stay dissolved, ensuring even sweetness throughout the beverage.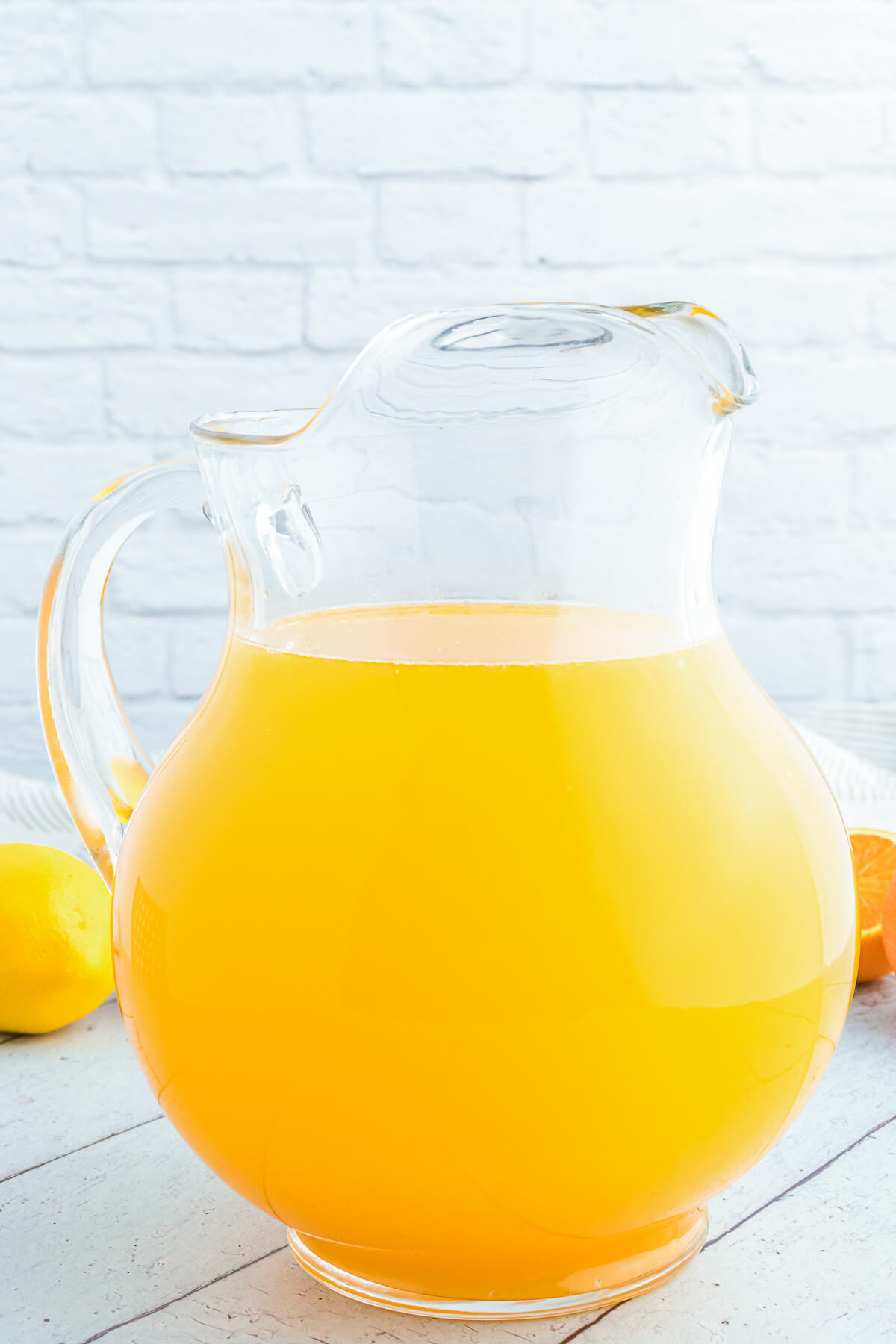 How to Make Homemade Orangeade
All it takes is five ingredients, a bit of squeezing, and a whole lot of mixing to whip up your very own pitcher of liquid sunshine.
The first step is making the simple syrup. If you have never done this before… don't worry! It's called simple syrup for a reason. By the way, you can cut your orangeade prep time by making the simple syrup ahead of time. Store it in the fridge for up to 4 weeks and feel free to use it in cocktails and other iced drinks.
To make simple syrup, combine 1 cup sugar and 1 cup water together in a large saucepan. Heat the sugar mixture over medium heat until the mixture simmers and the sugar is completely dissolved. Stir in the honey and remove saucepan from heat. Allow it to cool to room temperature before using or refrigerating.
Next, place the fresh orange juice, lemon juice, and remaining 2 cups water in a serving pitcher. Sweeten to taste with the simple syrup. Stir the mixture until well combined. Refrigerate the orangeade until it is chilled through.
Serve over ice in glasses garnished with orange slices and sprigs of fresh mint.
Orangeade Variations
There are so many delicious ways to play with this simple recipe. Make it your own by adding or substituting your favourite flavours.
Change up the citrus. Make it a one-two citrus punch by blending two or more different kinds of citrus fruit juices.
Experiment with orange varieties like Tangerines, Clementines, Blood Oranges, and even Bergamots if you can find them.
Go beyond citrus by adding other fruit juices such as cranberry, cherry, or raspberry. Or, make homemade Five Alive by combining orange juice with grape juice, grapefruit juice, raspberry and strawberry juice!
Mix in sparkling water or soda water instead of regular tap water for a carbonated orangeade.
Use fresh herbs such as mint or lavender as more than garnish. Muddle then mix them directly into the orangeade or infuse them into the simple syrup.
Use orangeade in a highball by adding 1-2 oz of vodka, rum, or gin per serving.
If you make this Homemade Orangeade recipe, please be sure to leave a comment and/or give this recipe a rating! Be sure to follow me on Facebook and Pinterest for my latest recipes. Also, if you do make this recipe, please tag me on Instagram, I'd love to see what you guys are making! Thank you so much for reading my blog.
Yield: serves 4-5
Homemade Orangeade
When life gives you oranges, make Homemade Orangeade! This simple orangeade recipe transforms freshly squeezed orange juice into a refreshing citrus breakfast beverage.
Ingredients
3 cups water; divided
1 cup sugar
1 Tablespoon honey
2 cups freshly squeezed orange juice
2 lemons; juiced
fresh mint leaves and orange slices for garnish
Instructions
Make a simple syrup: Add 1 cup sugar and 1 cup water to a large saucepan. Heat them on medium high heat until the mixture simmers and the sugar is completely dissolved. Stir in the honey and remove saucepan from heat. Let cool to room temperature.
Add the fresh orange juice, lemon juice, and remaining water to a serving pitcher. Stir the mixture until well combined.
Add simple syrup to taste. Stir again then refrigerate until chilled.
Serve in glasses garnished with an orange wheel and sprig of mint.
Notes
Feel free to reduce the amount of sugar to your liking or omit the honey.
Strain the freshly squeezed orange juice to remove pulp if desired.
Mix fresh mint into the pitcher for additional flavour.
Nutrition Information:
Yield:
5
Serving Size:
1
Amount Per Serving:
Calories:

237
Total Fat:

0g
Saturated Fat:

0g
Trans Fat:

0g
Unsaturated Fat:

0g
Cholesterol:

0mg
Sodium:

9mg
Carbohydrates:

61g
Fiber:

2g
Sugar:

55g
Protein:

1g
Nutritional calculation was provided by Nutritionix and is an estimation only. For special diets or medical issues please use your preferred calculator.