Let's Do Away with Boring Greasy Green Salads!
I couldn't believe how long it took me to choke down my last salad. As I chewed those greasy greens…my mouth was basically masticating of it's own volition with the rest of my body slumped in joyless determination; I felt my mind take over, willing me to just…stop. Sitting there munching mechanically on my less-than-stellar lettuce, grape tomato, and cucumber salad combo that I had topped with one of the nastiest bottled salad dressings, I made a promise to myself: no more quickly thrown together, boring, revolting salads!
A Seasonal Salad in Winter
It's been a week or two and the pain is still real. That olive oil lime dressing hit the garbage and tried to move on but it's not that easy. That lettuce is still sitting in the fridge taunting me for a 'quickie'. Luckily my fridge also contains some brighter, more attractive winter salad ingredients such as pink grapefruit, Belgian endive and always…the unctuous avocado. I know for a fact that this seductive threesome get on really well together and all they would really need is a touch of sweetness and a smidgen of salt to let those flavours really shine.
To Leave it Veg, or to not Leave it Veg
So yeah, I could have totally made this a vegetarian/vegan salad by adding some salty (and visually appealing pistachios) but a girl's got to have some fun, am I right? Bring on the crispy prosciutto is what I say!

Build Yourself a Pretty Salad, You're Worth It!
The irony was not lost on me when I realized that it probably took me longer to think about and build this salad today, than it took me to photograph it and eat it. I didn't mind because eating such a pretty salad, that also tastes wonderful was well worth it. I'm worth it. I am worth more than a 'quickie' salad and you are too.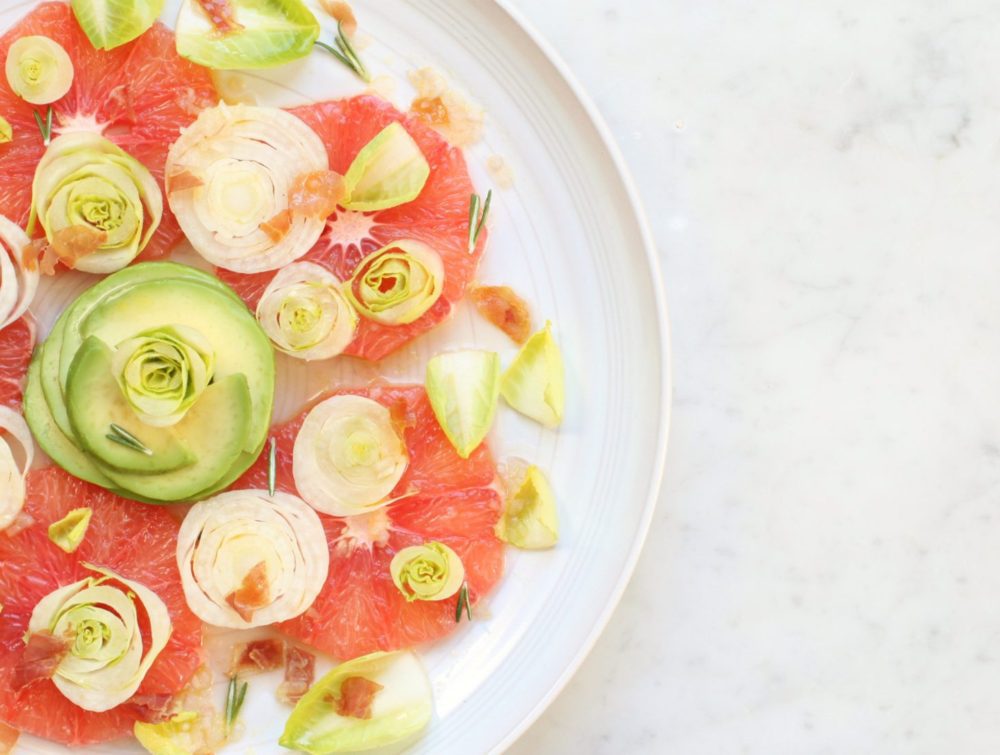 That Flavour Appeal
I know what you're thinking….that you don't have time to make this salad, but it's really not that difficult and you don't even have to make it as pretty as these 'food blogger quality' photos above. In fact I served the leftover 'odds and ends' to my family later for dinner; all the loose bits of endive, slightly brown avocado and broken grapefruit. As long as I topped it with the crispy prosciutto and that light and easy dressing…no one said 'boo' while they were shovelling it down their throats.

Great Salads From Dish 'n' the Kitchen
Fingerling Potato Salad with Pesto Crème Fraîche
Pickled Egg and Beet Spinach Salad
Pink Grapefruit Endive and Avocado Salad with Prosciutto
Print
Pink Grapefruit Endive and Avocado Salad with Prosciutto
This stunning Pink Grapefruit Salad with Endive and Avocado is the perfect combination of winter seasonal ingredients and flavours.
Ingredients
1-2 pink grapefruits
1 tbsp rosemary infused olive oil
1 tsp shallot; very finely diced
1/4 tsp salt
3 Belgian endive
1/2 ripe yet still firm avocado
1 slice prosciutto
a sprig of fresh young rosemary
Method
Slice the ends off of each grapefruit, then slice into even rounds. Trim the skin and pith off around the edges of each slice until you are satisfied with the shape of each grapefruit slice. Arrange on plate (or skip all the way to *7)
Squeeze some of the unused grapefruit and strain into a jar. You should have 3 tablespoons of strained grapefruit juice. Add shallots and olive oil to the jar. Season with salt.
Slice Belgian endive cross ways in slices similar in thickness to your grapefruit slices. Take care to leave a few tightly intact and arrange on top of the grapefruit slices, placing the largest one in the centre. Keep the very tips of the endive to scatter around the plate later on and try to keep one whole to place in centre of avocado nest.
Half the avocado and remove the pit. Peel carefully and thinly slice avocado cross ways. Arrange in an attractive pattern on top of the central endive slice, creating a bit of a nest. Place endive tip in avocado nest.
Cut up prosciutto slice and fry until crispy. Scatter over salad.
Spoon dressing over salad and scatter some young slivers of rosemary over all. Season, as always. Enjoy.
OR
Add chunks of pink grapefruit, avocado, and endive to a salad bowl. Make the dressing. Throw in some rosemary and crispy prosciutto. Toss with dressing. Season, as always.