Chicken Paprikash is the ultimate Hungarian comfort food. Make it in the instant pot with simple quality ingedients and enjoy over traditional nokedli dumplings.
One Dish Brings Back 1000 Memories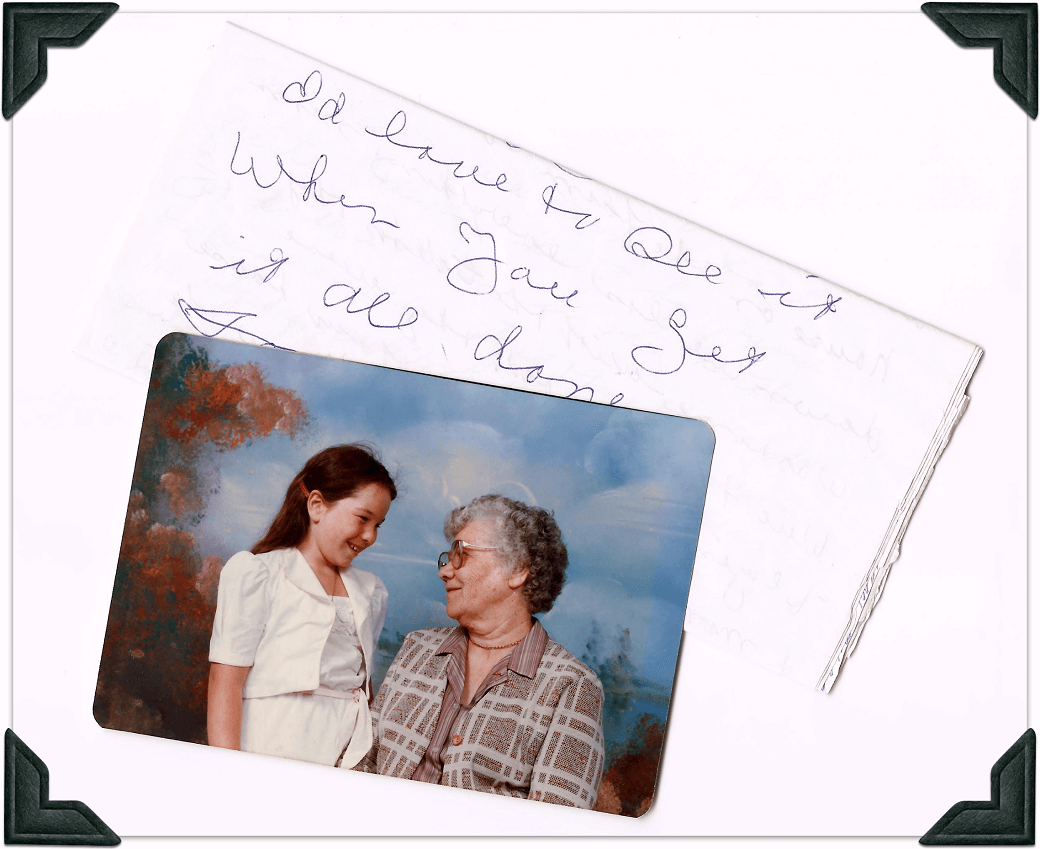 Hungarian Chicken Paprikash reminds me so much of my Hungarian grandmother, Mary. A word of warning; don't be expecting a warm and fuzzy 'awww you learned this recipe by cooking in your grandmother's warm cozy kitchen' sort of blog post because that's not how this story starts out. She was born in Canada and as such, followed her family's preference to assimilate into 'Canadian culture' rather than keep her Hungarian roots alive. It is kind of funny, though, now that I think of it she had a REALLY strong Hungarian accent and though she lived until the age of 97, she never lost a bit of it. I don't ever remember her being fluent in Hungarian but I do remember her trying to teach me to count in Hungarian (but only because I asked).
I didn't think this post was going to be so hard to write. I'm already crying. I miss her so damn much even though it's been six years since she's been gone. She passed away while we were living in Australia and I never had the chance to say goodbye…though to be honest the last time I visited her in 2009, I knew it would be the last time I saw her. She would have been 95 and when you visit someone of that age, you make sure to make those moments count. I remember crying in the elevator on the way out of the building because I knew it would be our last visit.
Let's rewind a bit for a moment and get a little of that 'warm and fuzzy' feeling even though I said we weren't going there. I did learn to 'cook' with my Hungarian grandmother and these memories are among my very first memories. I must have been around three years old. She would tie her frilly apron around my neck and waist, give me a step stool, and give me free reign of the kitchen. My favourite 'dish' to make was a paste of baking soda, flour and water which I would combine in a saucepan and 'cook' on the stove, mixing and stirring until my heart was content. Those were the days when I could make a huge mess in the kitchen and never have to clean up. Can you imagine the mess she had to deal with later? She never complained, she never ever said no.
The only Hungarian dish I remember her making was home made poppy seed roll because she was, like me, a baker at heart. I have her cookbooks and they are treasures full of annotations and recipes clipped out of the local paper. She had odd, sprawling writing that was very difficult to decipher unless you were used to it. Through the years she would always send handwritten cards and letters, many of which I have kept and store in a trunk in the basement. They are there, along with a Viczko family history book that was compiled for the one and only family reunion we attended together. It was fascinating to meet the different branches of the family and learn about how and why they came to Canada.
The Viczko Journey to Canada
My oldest son was old enough to play one of the Viczko brothers in a play that celebrated the family's journey from Hungary to Canada. It was during this reunion that I experienced the essence of Hungarian cuisine, raw bacon. Throughout the day we snacked on raw bacon cut into cubes and coated in a heavy dusting of paprika (which was kept in large shakers on each of the banquet tables) and for lunch there were raw bacon and onion sandwiches. The main dinner was a hearty Hungarian Goulash with potatoes but for dessert there was a multi-layered Dobosh Torte that I still dream about to this day. Perhaps that is another project for another day.
This post is about Hungarian Chicken Paprikash. It's not a showy or beautiful dish. It has very few ingredients but the flavour is HUGE. Traditionally Paprikash is made using bone-in chicken pieces which adds flavour during the low and slow cooking.
Since I was developing this recipe for the Instant Pot, I compromised by using chicken thighs and some chicken stock. I don't think there is usually any tomato or pepper in the recipe but I added them because I had them and thought they would add some flavour and nutrients. The most important thing about Paprikash is getting that huge layering of paprika flavour. To achieve this, I used both ground Sweet Hungarian Paprika and mild Paprika Cream. The most widely used brand of Paprika Cream is Piros Arany and it comes in both mild (Csemege) and hot (Csípôs).
The best way to serve Hungarian Chicken Paprikash is on home made noodles called Nokedli. They are essentially the same thing as German Spaeztle and very simple, though messy to make. The secret is the consistency of the batter which should be very thick and bordering on a very sticky dough. After the dough is mixed it needs to sit for at least ten minutes. It takes very little time to make nokedli, if you begin by setting the water to boil, you can have it ready to serve as soon as the Paprikash is ready. Be sure to soak anything batter covered in water so it doesn't dry out because it's almost impossible to get clean once the batter dries.
Other Dish 'n' the Kitchen Instant Pot Hits:
Instant Pot Beef Stew with Bourbon and Root Vegetables
Instant Pot Pork Medallions with Herbs and Mushrooms
20 Minute Instant Pot Meatballs and Spaghetti
Yield: 4 servings
Instant Pot Hungarian Chicken Paprikash on Nokedli
Chicken Paprikash is the ultimate Hungarian comfort food. Make it in the instant pot with simple quality ingedients and enjoy over traditional nokedli dumplings.
Ingredients
1 medium onion; cut in half horizontally then sliced
canola or olive oil
2 lbs (roughly 1 kilogram) chicken thighs; cut into thirds
3 tbsp flour
salt and pepper
3 cloves garlic; minced
3 tbsp sweet Hungarian paprika
handful of cherry tomatoes
1 red pepper; sliced into ribbons
1 cup chicken stock
1 tbsp Piros Arany (Paprika Cream mild or hot) paste
FOR THE NOKEDLI
2 eggs
3/4 cup water
1/2 tsp salt
2 cups flour
pinch nutmeg, cayenne, or finely chopped parsley (optional)
Instructions
Turn the Instant Pot sauté mode on and add 2 tbsp oil.
Sauté onions until golden then add minced garlic and sweet paprika. Cook for a minute or two longer, stirring constantly so it doesn't burn.
Remove onions and garlic from the insert and set aside.
Mix flour, salt, and pepper together in a bowl or bag and dredge the chicken in the mixture.
Add more oil to the Instant Pot insert and brown chicken pieces in batches.
After browning all the chicken, add the chicken stock to the insert and deglaze for a few minutes, scraping the bottom of the insert.
Add all ingredients back to the insert, then add the cherry tomatoes and peppers.
Put the lid on the Instant Pot and make sure the valve is closed.
Set the Instant Pot to 10 minutes on high pressure. After 10 minutes is up allow to depressurize naturally for 5 minutes, then open the valve.
Stir in the Piros Arany (Paprika Cream mild or hot) paste.
If the sauce is thinner than you prefer, add a little flour (1 tsp) to 3 tsp of water and mix carefully.
Stir in the slurry into the stew and use the sauté mode to bring the mixture to a boil.
FOR THE NOKEDLI
Fill a large pot with salted water and bring it to a boil.
Whisk eggs, water, and salt together in a bowl.
Gradually add the flour into the wet mixture, stirring with a whisk until the mixture is a very wet dough. Add the nutmeg, cayenne, or parsley if using.
Let sit for ten minutes.
Using a cheese grater and back of a wooden spoon or a spaetzle maker, drop bits of dough into the boiling water.
Remove spaetzle when they float to the surface and rinse with cold water to prevent sticking.
Enjoy with Paprikash as is or fry in a pan with some butter.
Nutrition Information:
Yield:
4
Serving Size:
1
Amount Per Serving:
Calories:

516
Total Fat:

17g
Saturated Fat:

4g
Trans Fat:

0g
Unsaturated Fat:

12g
Cholesterol:

178mg
Sodium:

609mg
Carbohydrates:

63g
Fiber:

5g
Sugar:

5g
Protein:

29g
Nutritional calculation was provided by Nutritionix and is an estimation only. For special diets or medical issues please use your preferred calculator.