Looking for an easy appetizer recipe? Try these golden baked Filo Pastry Parcels filled with mushrooms, thyme, and goat cheese. These flavourful bites are an elegant canapé for any occasion.
Sometimes I refer to the Holiday season as 'appy' season. I love making tasty little bites of finger food for friends and family. These Coconut Panko Fried Shrimp are always a big hit during the holidays while Maple Gochujang Wings are a gameday favourite!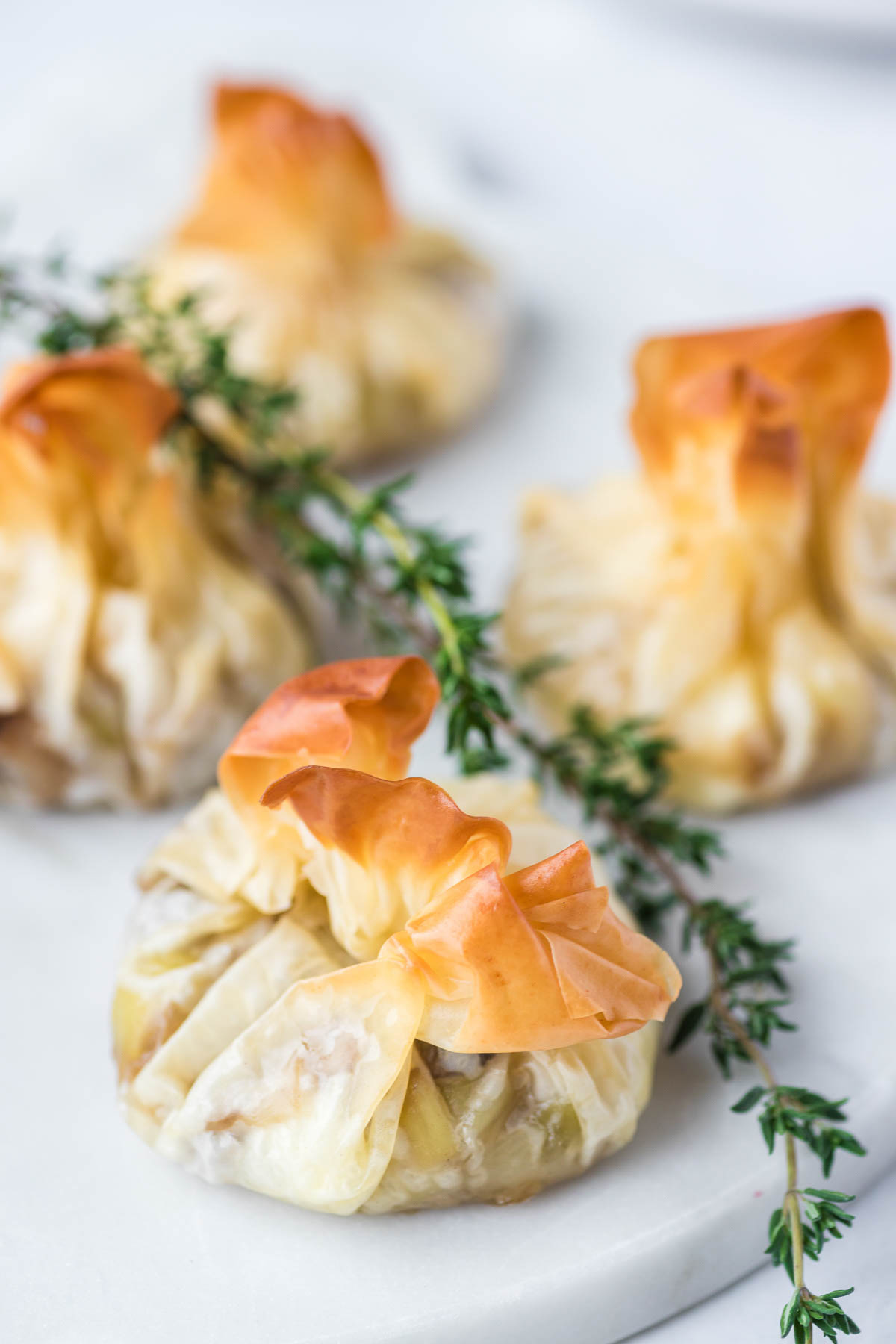 Mushroom Goat Cheese Filo Pastry Parcels
I am thrilled to share these easy, yet elegant Mushroom Goat Cheese Filo pastry appetizers with you today. They have such an amazing, flavourful filling! However, it's the thin sheets of golden Phyllo (or Filo dough) and butter that bring it all together into crispy little golden pouches.
This canapé is one that impresses any guest but doesn't take a lot of time and effort to make. The recipe is easy to double, and the parcels can be made ahead of time with excellent results.
Since the filling is safely tucked away within the golden Filo pastry, this appetizer is virtually 'no risk' for spills and stains. Your guests will appreciate the low dry-cleaning bills!
Ingredients
You may be surprised at how few ingredients are in this appetizer recipe considering how delicious they are. There's deliciousness in simplicity when you use only the best ingredients.
Filo Dough
Olive Oil
Mushrooms
Leek
Fresh Thyme
Goat Cheese
Salt and Pepper
Butter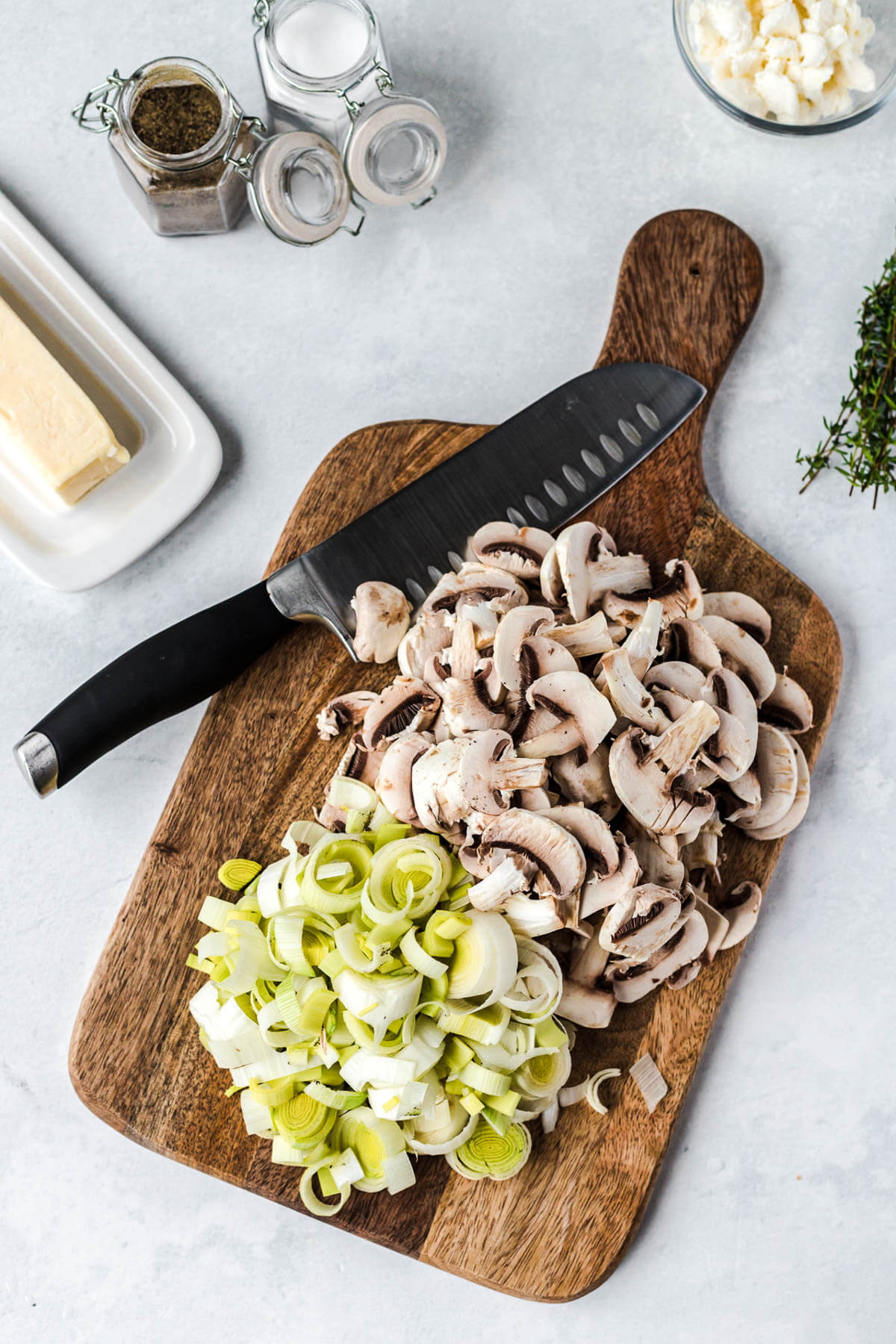 Just a touch of olive oil is all you need to fry the mushrooms and leeks. You may use butter if you like, or your oil of choice.
Choose a leek that is firm, without blemish, and with a large white portion. Chop the dark green top leaves off as they are too tough. Wash the white/light green leek well to make sure no dirt is stuck in between layers.
Regular white or brown cremini mushrooms work well in this recipe. However, other kinds of mushrooms such as oyster, King Oyster, or even shiitake mushrooms would be great substitutes.
Thyme is a classic herb pairing with mushrooms but finely chopped fresh rosemary would be lovely. In a pinch, substitute dried thyme for fresh, however dried rosemary is not recommended.
Not a fan of goat cheese (or chevre)? Crumbled feta cheese would be a really great substitute. You can also get the extra fancy kind with added herbs for extra flavour. Brie cheese and sharp Cheddar cheese would also be delicious substitutes.
Filo pastry and melted butter go together like peanut butter and jam. This duo is inseparable and any recipe that requires Filo pastry will always require a good amount of butter. Use unsalted or salted butter as is preferred.
What is Filo Pastry?
Filo Pastry, also called Phyllo Dough (or Pastry), is a paper thin sheet of unleavened dough (flour, water, and a tiny bit of oil) of Greek or Middle Eastern origin. It is used to make both sweet and savoury pastries such as Baklava and Spanakopita (among others).
The thin layers of pastry are always brushed with butter and layered together to create a laminated dough. The layers of Filo and fat bake together, creating delightfully light and crispy pastries.
You can make your own Filo dough; however, it is a lot of work. You can easily find fresh or frozen filo pastry sheets at your local grocery store. No rolling pin needed!
5 Tips for Working with Filo (Phyllo) Pastry
Thaw frozen sheets of Filo pastry in the fridge overnight. Or, remove from the plastic, cover with plastic wrap and a damp tea towel, then thaw for three hours on the countertop. Make sure it is fully thawed before you start working.
Remove the exact number of Filo sheets you need for the recipe, then rewrap and place the remainder in the fridge.
Do not Filo pastry dry out. Cover it with a damp tea towel as you work.
Use a soft, fine bristle pastry brush to thinly coat each layer with a small amount of butter.
Prevent edges from cracking by lightly brushing edges first, then working into center.
How to Make Filo Pastry Parcels
Prepare the Filling by cleaning the mushrooms with a soft brush/paper towel, then remove the stem. Next, chop the mushrooms into small pieces.
Next, remove the darkest green part of the leek. Wash the white/light green leek well to make sure no dirt is stuck in between layers. Finely chop the remaining lighter parts.
Add the olive oil to a sauté pan and sauté the mushrooms and leek together over medium high heat. Cook them until the leek has softened and the mushrooms have finished releasing moisture (around 10 minutes). Allow mixture to cool completely.
Place the cooled mushroom mixture in a small mixing bowl, then add the crumbled goat cheese. Add fresh thyme leaves and season with salt and pepper. Mix well.
Preheat oven to 375F and line a baking sheet with parchment paper
To prepare the Filo pastry sheets: Roll out a Filo sheet on a clean work surface and use a pastry brush to quickly apply melted butter. Place another Filo sheet on top, and brush with butter. Add a third pastry sheet and brush with more butter.
Cut the pastry sheets into 6 equal squares. Repeat this procedure one more time so you end up with a total of 12 squares.
Place 1 1/2 tablespoons filling in the middle of one Filo pastry square. Bring the pastry upward and press together so that it holds the filling in a 'purse'. Repeat 11 more times for a total of 12 purses or parcels.
Place each parcel on the prepared baking sheet and brush with more melted butter. Bake for 25 minutes at 375F.
Make Ahead and Storage
The Mushroom Goat Cheese Filo Pastry Parcels will keep in the fridge for up to four days. Simply reheat at 350F for five minutes to serve.
Make this recipe up to three months ahead of time and freeze the parcels in an airtight container until you are ready to reheat and serve. Do not thaw before baking, just bake straight from frozen for best results.
Flavour Substitutions
The sky's the limit with these easy appetizers. As mentioned above, you can substitute the mushrooms or the cheese. However, you can also add your own favourite filling.
Try chopped cooked chicken and sundried tomatoes with ricotta or crumbled bacon, brie, and dates. How about a Spanish twist with crumbled fried chorizo, Manchego cheese, and potato? Or make Greek style spanakopita or spinach pie with spinach and feta cheese.
The possibilities are endless and limited only by your imagination. What will you fill these Filo Pastry Parcels with?
If you make these Mushroom Goat Cheese Filo Pastry Parcels, please be sure to leave a comment and/or give this recipe a rating! Be sure to follow me on Facebook and Pinterest for my latest recipes. Also, if you do make this recipe, please tag me on Instagram, I'd love to see what you guys are making! Thank you so much for reading my blog.