These delicious golden Fried Shrimp made with panko crumbs and coconut flakes are an easy crowd pleasing appetizer for any occasion. They are shrimply amazing!
While many claim it's not a party without cake, it is most definitely not a party without mouth watering appetizers. These are the coconut shrimp that everyone reaches for first because we all crave these crispy on the outside, succulent sweet shrimp.
Little bites of food and delicious dips really get the party going! Smoked Salmon Caper Arancini are an easy make ahead finger food to make for the holidays. If you're in a dipping mood, this classic Seven Layer Dip is always a hit and practically irresistible.
Crispy Coconut Panko Fried Shrimp
Whew. That's a mouthful…literally! While I was frying up these golden sea nuggets, the whole family was hovering around, just waiting to fill their faces. I asked them to whip up a batch of Thai Sweet Chili Sauce just to keep them busy.
They had good reason to hover. These juicy jumbo shrimp are double coated with a mixture of panko and sweetened coconut. They are perfectly sweet, succulent, with an intense coconut flavour that really shines through.
The shrimp are pretty irresistible on their own but they are also great dipped in Sweet Chili Sauce or even a spicy creamy Creole Style Remoulade.
Ingredients List for the Best Fried Shrimp
Shrimp – large or jumbo size raw, tail on shrimp
Panko Crumbs
Sweetened Coconut flakes
Eggs
Salt
Sugar
Oil for frying
That's really all you need to make coconut shrimp. Who knew? I buy the large 31-40 count raw shrimp from Costco and we get two meals out of a bag.
What are Panko Crumbs?
Panko crumbs are a special kind of Japanese style bread crumb made from fluffy white crust free bread. This unique Japanese bread is baked using an electrical current, instead of the indirect heat usually used to bake bread.
Panko is exceptionally great as a coating for fried foods because the crispy airy texture resists absorbing oil and grease.
It is used in deep fried Japanese specialties such as katsu (deep fried breaded cutlet of various proteins), ebi fry (shrimp), or korokke (mashed potato cakes).
Find Panko Crumbs at any Asian grocery store or International section of your nearest grocery store. They come in a large brightly coloured box, so they are easy to spot!
Which Oil is Best for Deep Frying?
Ideally for deep frying, you want a neutral tasting oil with a high smoke point (temperature at which the oil begins to burn and smoke).
Highly refined oils such as light olive oil, avocado oil, sunflower oil, peanut oil, or safflower oil tend to have the highest smoke points (as impurities are removed) and a neutral or clean taste.
Additionally, if you have a large amount of refined coconut oil on hand, give it a try. While it may not have as high a smoke point as the above listed oils, it will impart extra coconut flavour into these fried shrimp.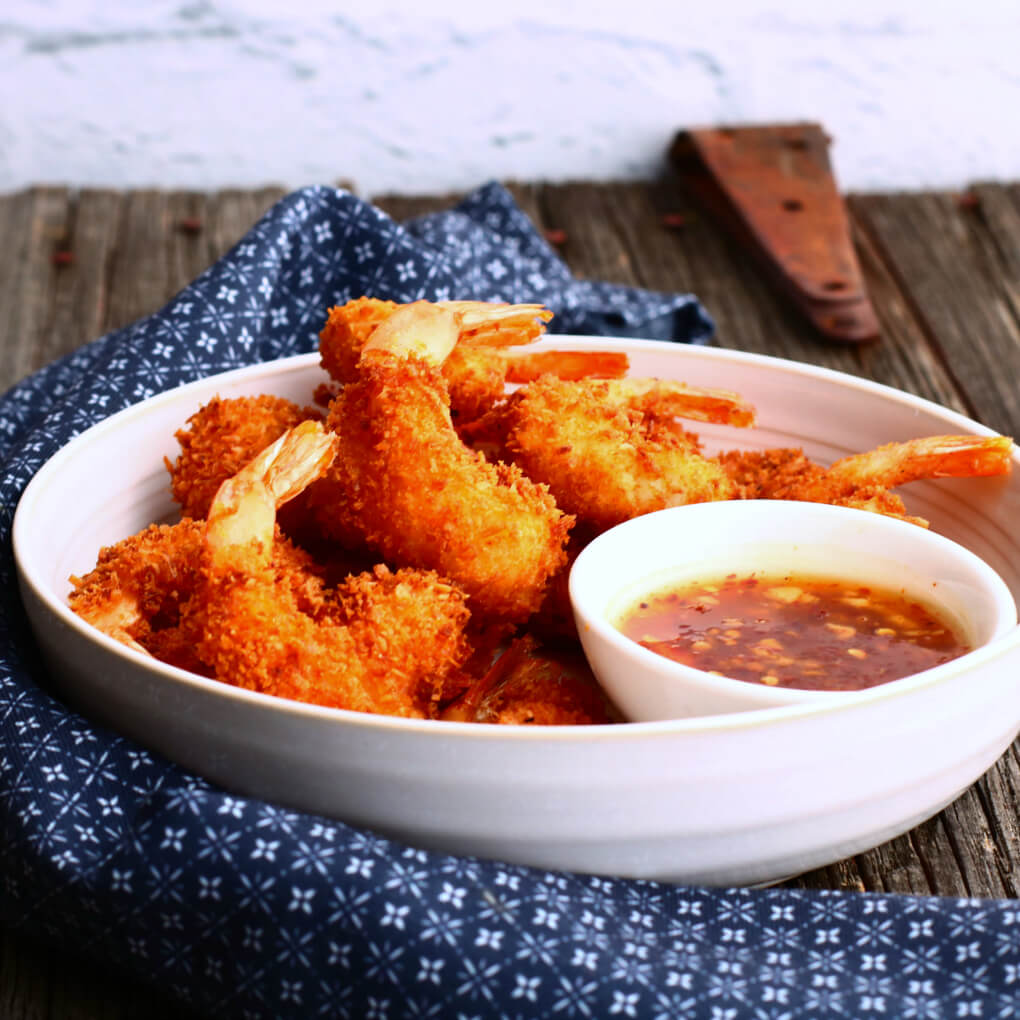 How to Make Deep Fried Shrimp
It might surprise you how easy these shrimp are to make but once you 'rip the bandaid off' you'll be a professional shrimp fryer in no time.
Begin by pouring the frying oil into a deep fryer or Dutch oven until the minimum fill line or 2 inches deep depending on the vessel. Start preheating the oil.
Next, set up the dipping bowls or shallow dishes. Crack two eggs into one bowl and add the sugar and salt. Beat the eggs well and set aside. For the second bowl, mix one cup of panko crumbs with one cup of sweetened coconut flakes.
Just before you start dredging the shrimp, set up three platters lined with paper towels. One is for drying the raw shrimp, another is for the dredged shrimp, the last platter is for the fried shrimp.
Always dry shrimp off before cooking it, whether pan frying or before dredging because it helps other flavours and ingredients to adhere or stick better.
Begin dredging the dry shrimp by dipping it in the egg wash. Allow excess egg wash to drip off then roll it in the panko/coconut. Dredge in the egg was as second time, drip, then roll again in the bread crumbs. You can press the dry mixture into the shrimp a bit if you like.
How to Deep Fry Coconut Shrimp
Place the dredged raw shrimp on one of the paper towel lined platters and repeat with remaining shrimp. If the oil has reached 375 F, you can begin frying the shrimp and dredge the remainder at the same time. However, I suggest dredging all the shrimp first because the frying goes quite quickly.
To fry the shrimp, grab it by the tail and carefully lower it into the hot oil. Fry six at a time as it really does not take that long for them to cook.
Once they have become a lovely golden brown colour, they are finished. Using a slotted spoon, remove the cooked shrimp from the hot oil and place on the remaining clean platter to drain.
Repeat with remaining shrimp, as long as the oil temperature stays at a relatively steady 375 F. If it drops too low, the oil will seep into the food and make it greasy. Too high and the oil may fry the shrimp too quickly, making it dry.
As with most deep fried foods, a generous scattering of large grained sea salt really finishes the Coconut Fried Shrimp to perfection.
How to Serve Panko Coconut Fried Shrimp
Truthfully, our whole family could eat these seafood treats by the bowl full especially when there's dip involved.
As I mentioned earlier, the boys set to work whipping up a Thai style Sweet Red Chili Sauce. It was packed full of garlic and fiery heat…just how they like it.
These fried shrimp would also be amazing on a Shrimp Po' Boy sandwich all dressed with a generous drizzle of zesty Remoulade.
Additionally, how amazing would these fried shrimp be on tacos?! OMG I'm drooling just thinking about it! A little slaw, a little cilantro cream sauce and some pineapple salsa…can you imagine it?
Lastly, go the traditional dipping way with Cocktail sauce. To make a simple cocktail dipping sauce combine equal parts ketchup and horseradish.
Can Coconut Fried Shrimp Be Made in Advance?
Coconut Fried Shrimp are a great 'make ahead' appetizer. Make them in 'advance' the same day by breading them and layering them on paper towel. Keep them cool in the fridge until you are ready to fry and serve.
To make them much farther in advance, freeze the finished shrimp (cool them down after frying) for up to 2 months.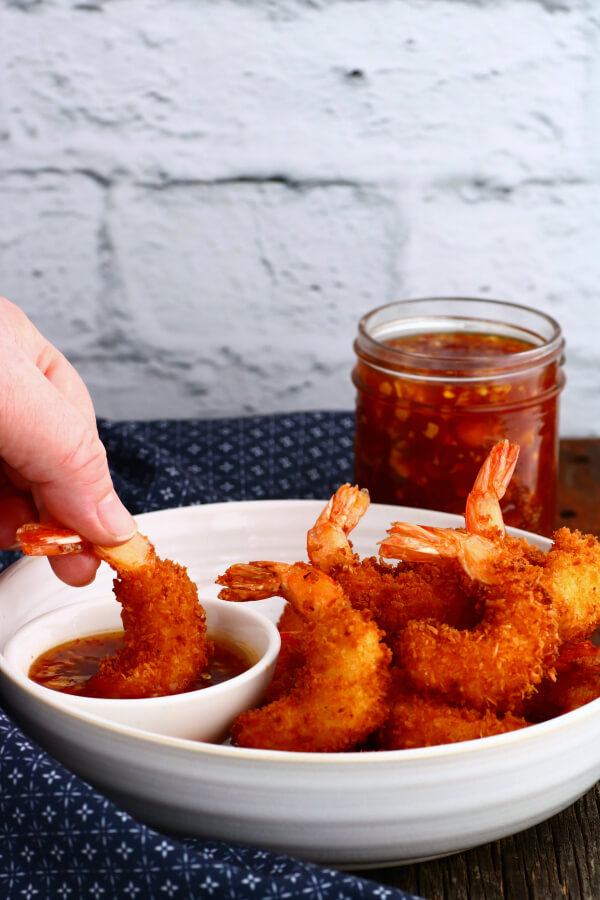 How to Reheat Coconut Fried Shrimp
To reheat from frozen, preheat the oven to 350 degrees F and place the frozen shrimp on a parchment lined baking sheet. Allow them to cook for ten minutes, then serve with your favourite dipping sauce.
Join Me for Saturday Brunch!
Join the Saturday morning newsletter and get cozy with a cup of coffee. Inside you'll find free recipes, giveaways, and more. It's such a delicious way to start the weekend!
By clicking subscribe, you agree to share your email address with the site owner and receive emails from the site owner.