Here's the Old Fashioned Rice Pudding Recipe you've been searching for. This dreamy stovetop pudding tastes like creamy vanilla clouds and hugs from Grandma. Make it with staple pantry ingredients and a bit of old school elbow grease.
I love vintage recipe that never go out of style…the kind of dishes my grandma made for me when I was a wee kiddo. Two recipes that come to mind when I think of those days are Creamed Garden Peas and Strawberry Rhubarb Fluff. She was the masterchef and I was her very willing student!
An Old Fashioned Rice Pudding Recipe
After falling in love with this Classic Homemade Tapioca Pudding, I knew which vintage recipe I'd be recreating next. Rice Pudding needs a hype man and I am here for it. Instead of bringing sexy back, I'm bringing cozy back. You heard it here first.
What's not to love about Rice Pudding? The super creamy, dreamy texture is really beyond amazing. It is soul healing. Then, there's the flavour…it's incredibly subtle with more than a hint of vanilla and cinnamon. I don't know if you are #teamraisin or not, so I'm leaving it up to you to add them, or not.
I consider Rice Pudding to be a little more 'approachable' for those who don't enjoy the texture of tapioca pudding. While it has the same flavours and creaminess, the cooked rice grains are less chewy than the tapioca.
Simple Ingredients
Vintage recipes such as this one often contain simple ingredients that everyone has in the their pantry. The genius of this old fashioned rice pudding recipe is that these five pantry staples (plus milk) combine together to result in something magical.
Milk
Rice
Sugar
Salt
Vanilla Extract
Cinnamon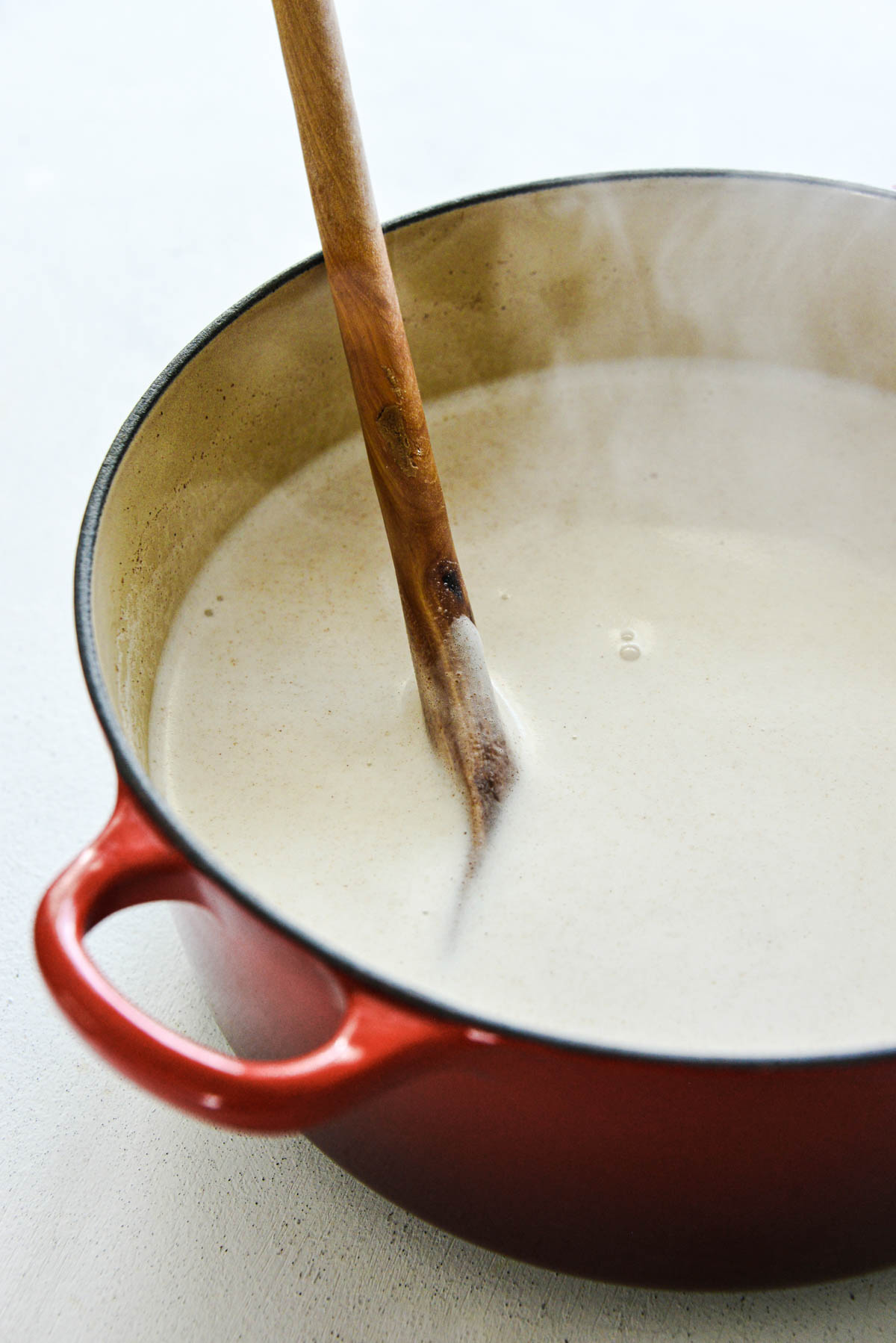 In short, you can use any milk you have on hand. However, the amount of milk fat you put into the pudding will have a direct impact on how creamy the finished dessert will be. I highly suggest at least 2% milk and thoroughly endorse full fat milk. If you can sneak some cream in, even better! Make this pudding vegan by substituting coconut, almond, cashew, or oat milk.
Without rice, well…this dessert would be a tasty beverage. Use a rice that can stand up to a little stirring but cooks quickly. Any long grain rice will work (except maybe Basmati) as will short grained varieties such as arborio or carnaroli. When cooked, their rounded grains are firm, and creamy and chewy…just perfect for rice pudding! NOTE: You may need to adjust the amount of liquid according to the type of rice.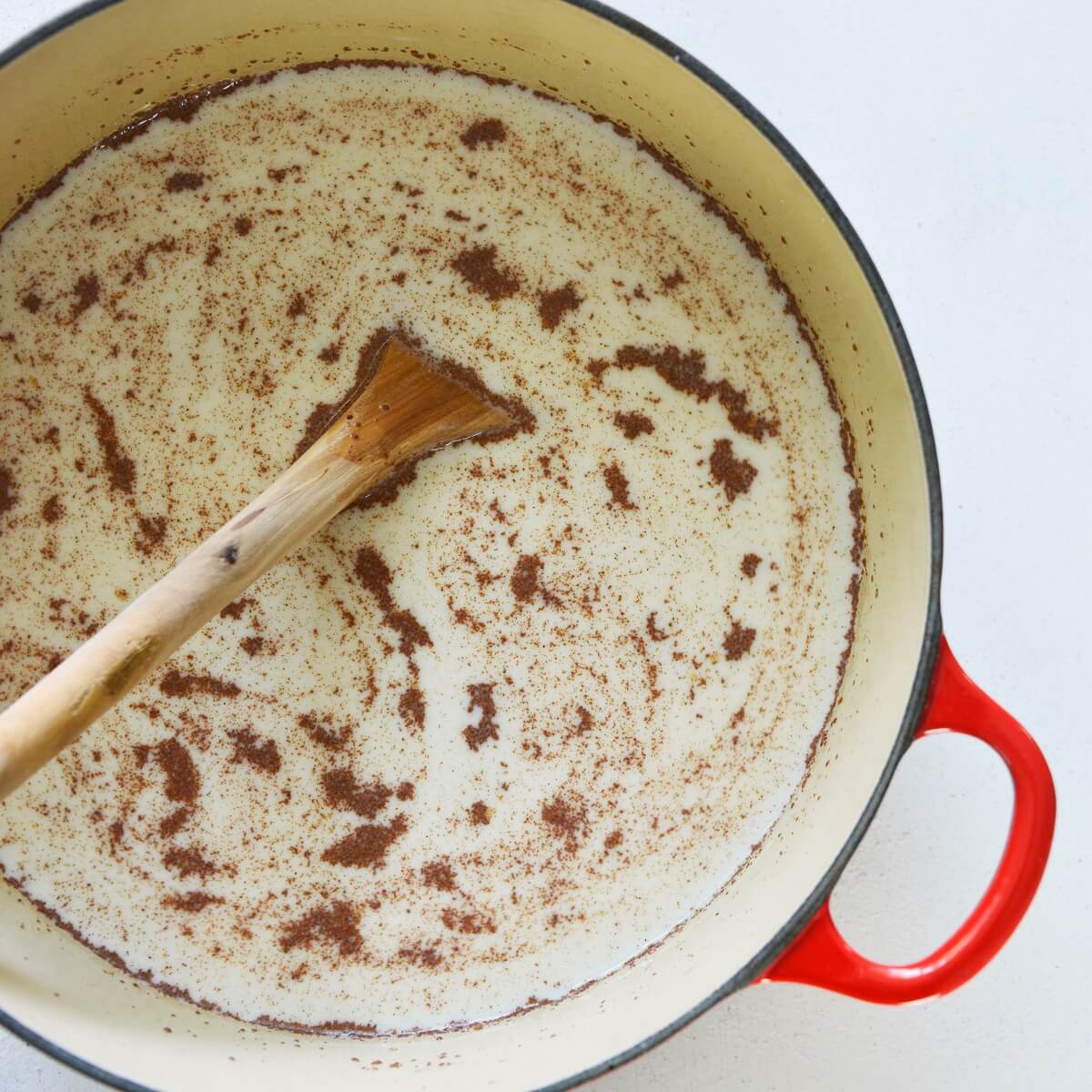 For this creamy rice pudding recipe I have used Jasmine rice because it has a delicate sweet floral fragrance that really shines in this dessert. Think of it as a little 'refresh' on a vintage classic.
Sugar and salt are a powerhouse combination that amp up the flavour of any dish. This pudding is sweet, but not too sweet while the salt is virtually undetectable. Its job is to hype up the cinnamon and vanilla.
As I always say, it's best to use freshly opened ground cinnamon and premium vanilla extract (not imitation) for maximum flavour.
How to Make Old Fashioned Rice Pudding
I highly recommend you use a heavy bottomed pan or Dutch oven for this old fashioned rice pudding recipe. It is also important to stir frequently to keep the pudding from scorching, especially the mixture becomes thicker.
To make rice pudding, stir together the milk, rice, 1/2 cup sugar, cinnamon, and salt in a large saucepan (or Dutch oven). Heat and stir the mixture over medium heat until it boils. Then, turn the heat down to a low simmer. Watch it carefully so it doesn't boil over.
Cook the mixture (uncovered) until the pudding becomes thick and creamy and the rice is tender, about 30 minutes, stirring occasionally. Switch to stirring constantly during the last 5 to 10 minutes so the pudding doesn't stick to the bottom.
NOTE: To achieve your desired pudding consistency, you may need to add more milk. It is best to stir in a little at a time. The pudding will also thicken as it cools, feel free to thin it out with more milk if needed.
Remove from heat and stir in the vanilla. Serve warm or cold, it's up to you.
A word about raisins…You can add 1 cup of raisins while the mixture cooks. Note that the raisins will absorb some liquid, so you may need to add more milk. Alternatively, soak 1 cup raisins in rum or bourbon overnight, then add them to the finished pudding for a grown up treat.
Store rice pudding in the fridge for up to 5 days.
If you make this Old Fashioned Rice Pudding recipe, please be sure to leave a comment and/or give this recipe a rating! Be sure to follow me on Facebook and Pinterest for my latest recipes. Also, if you do make this recipe please tag me on Instagram, I'd love to see what you guys are making! Thank you so much for reading my blog.