In Grandma's Rhubarb Strawberry Pie with Jello, rhubarb and strawberries combine with cream to make a no bake dreamy dessert in a graham crumb crust. It won't take long before this cool and creamy vintage recipe becomes a family favourite!
Grandma's Rhubarb Strawberry Pie with Jello
This simple dessert tastes like fluffy clouds of rhubarb and strawberries. It's made the way grandma made it, with simple ingredients and a package of strawberry jello. The creamy mousse-like texture contrasts perfectly with the crunchy graham crumb crust and fresh strawberries. With a little bit of chilling time, you'll have the perfect vintage dessert to serve to your family.
While you're waiting for the dessert to set, chill out in the shade for some pea shelling. Freshly shelled peas are the perfect side dish with cream and basil. Round out your belly (I mean, MEAL) with crispy golden Country Fried Pork Chops. It's comfort food at it's finest, just like Grandma makes.
A Family No Bake Recipe
Guys. Grandma was doing no-bake desserts before they were cool. This recipe was taken directly from the pages of our cherished family cook book where it is referred to as 'Rhubarb Fluff'. Her original recipe is bare bones and I remember it turning out runny or extra chunky more than a few times back in the day.
I used her recipe, but made sure to record exact quantities and timing so that it turns out right every time for you (and me!).
Be warned, this recipe makes a full 9 x 13 pan full because our family is BIG. You can either half the recipe (use the small box of jello), make two pies, or a pie/dessert in a jar combination.
Do I Have to Make My Strawberry Pie with Jello?
There's no shame in the jello game. It's what is needed for this dreamy pie filling to set. Without it, you would have Rhubarb Strawberry Cream Soup. While the soup would be delicious, it's not quite what we're going for here. Be sure to buy the large 6 oz (170 g) size or you won't have enough gelatin to set the pie filling.
Use the Best Ingredients For Tasty Results
The ingredients list for this special dessert is pretty short. Just rhubarb, strawberries, graham crumbs, butter, jello, and sugar. To get the BEST tasting Rhubarb Strawberry Fluff, use fully ripened fresh strawberries while they are in season.
If you don't have the absolute best strawberries, leave them out. I'm not kidding. Grandma often made this dessert with just rhubarb, relying on the jello to add all the strawberry flavouring.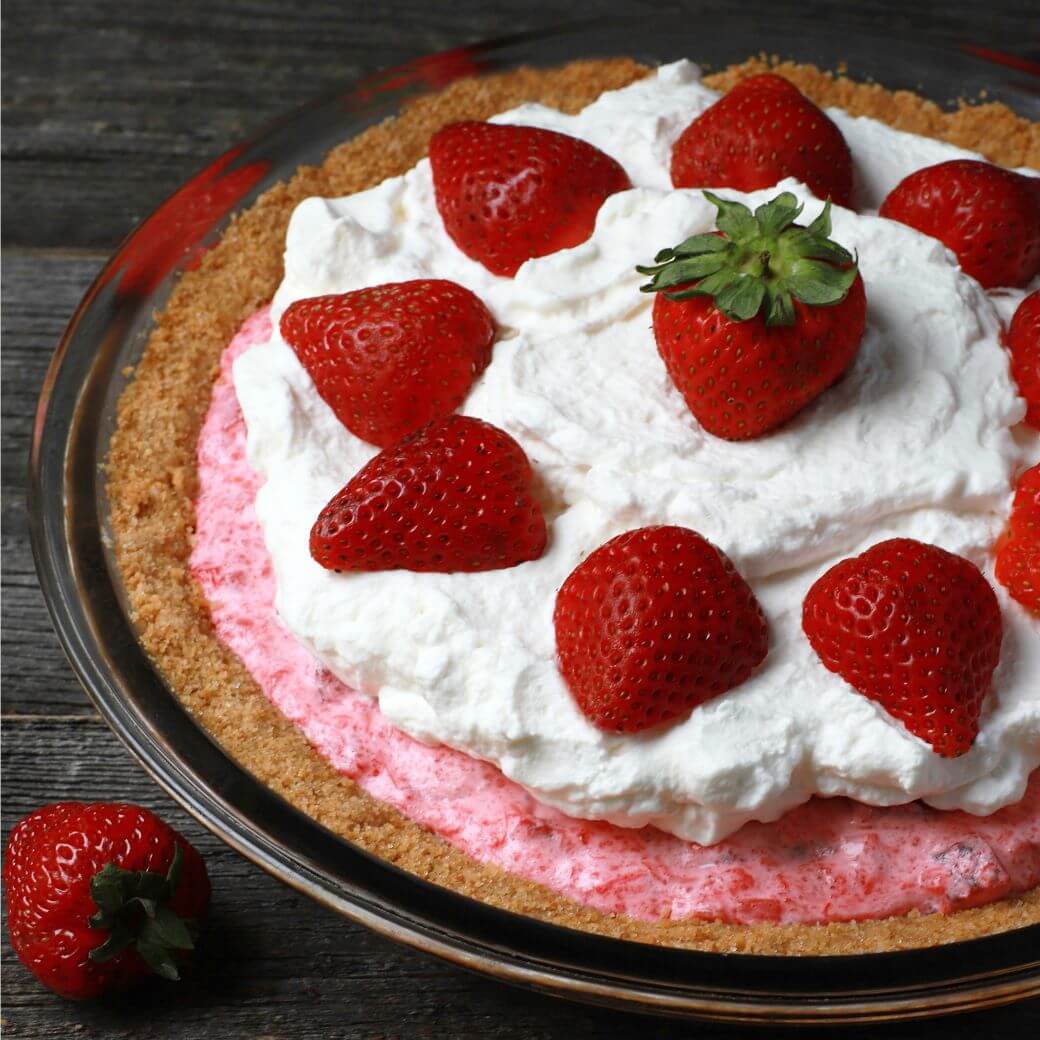 You may also be tempted to skimp on the sugar. Don't do it, my grandma is watching! There's a reason she's known for this dessert and for sugar loading…
Finally, just use a fresh box of graham crumbs. Don't be tempted to use the box that's been open in your cupboard for 6 months…no one likes a stale pie crust.
How to Make the Best Rhubarb Strawberry Fluff
This recipe is so dang simple my Grandma could make it while shelling peas, frying chicken, and mixing a drink. We all know how to mix up a graham crust, right? Melted butter, sugar, and graham crumbs mixed in a bowl, then patted down in the intended dessert vessel. Take care not to make the crust too thick if using pie plates.
Next, stew the rhubarb with water in a saucepan until it's soft. It really only takes a few moments to soften, so do pay attention. Remove the pan from the heat and add sugar and strawberry jello. Stir it all together, so there are no remaining crystals to crunch down on.
Then, cool down the jello mixture. You can just cool it to room temperature, then place it in the fridge to set or place the hot pot in the fridge. Someone somewhere is poo-pooing this, so if you want to be 'fridge safe', cool it to room temperature first.
Once the jello has begun to set, mix in the cut strawberries and cream. If you forget and it's set solid…you'll end up with chunks of jello and rhubarb in strawberry cream soup. Set a timer and check on the damn jello.
Finally, pour the filling into the pan (s) and refrigerate for another 4-5 hours so it sets nicely.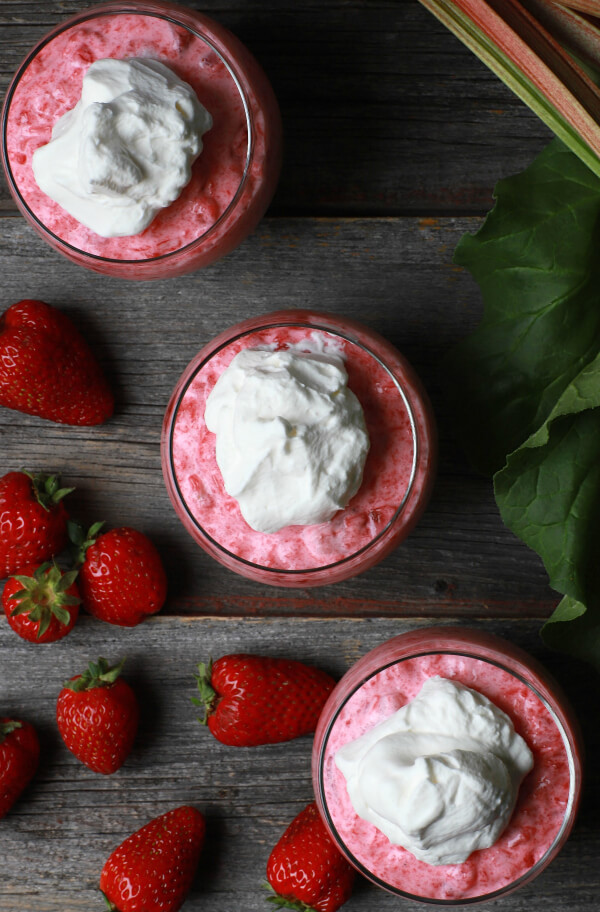 How to Finish Rhubarb Strawberry Pie with Jello
My grandma always saved 1/4 cup of the graham crumb mixture to scatter over the finished dessert just before serving. It's also delicious with freshly whipped cream (whip 1 cup whipping cream until soft peaks stage, then drizzle in 2 tbsp sugar and 1 tsp vanilla extract and whip until hard peak stage) and cut fresh strawberries.
How to Store Rhubarb Strawberry Pie
You have leftover Rhubarb Strawberry Fluff?! This is a RARE occasion in our family but sometimes we needed to put some aside for the guys out working in the field. In that case, just cover with plastic wrap and chill.
I wouldn't recommend freezing this dessert, just eat it until it's gone or share with a neighbour. That's what Grandma would do.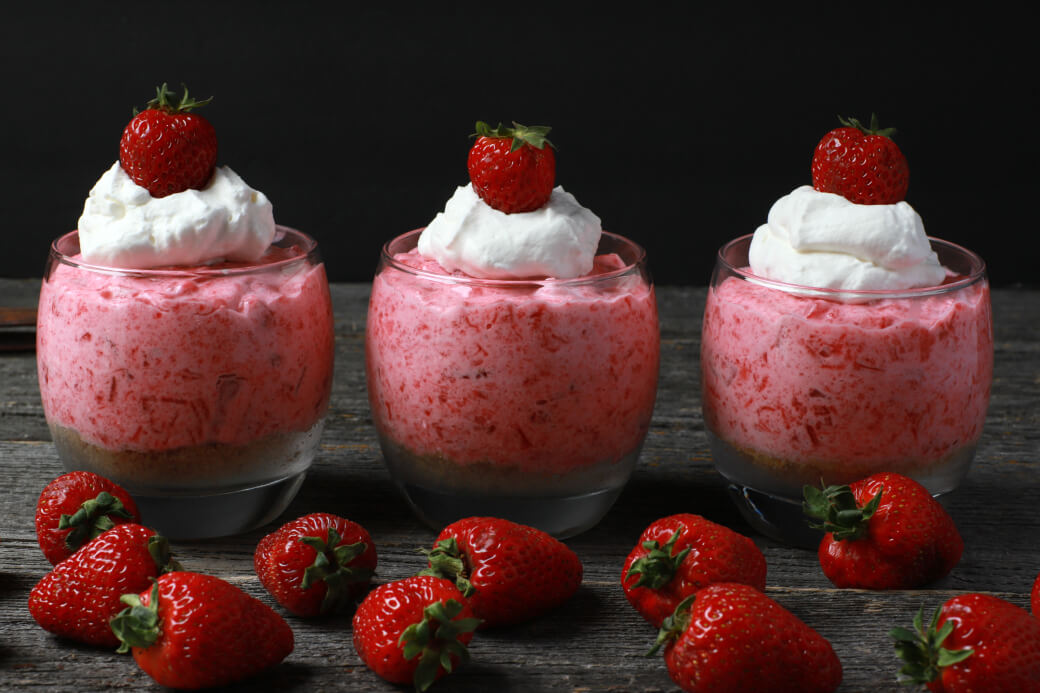 Join Me for Saturday Brunch!
Join the Saturday morning newsletter and get cozy with a cup of coffee. Inside you'll find free recipes, giveaways, and more. It's such a delicious way to start the weekend!
By clicking subscribe, you agree to share your email address with the site owner and receive emails from the site owner.