Vegan Pumpkin Soup is a fiery spiced soup with a rich texture. Tuck into a bowl of this inviting soup and get warm and cozy on a chilly fall day.
Pumpkin season is upon is and there are TONS of recipes for muffins, breads, and pies on the internet. However, I love playing with pumpkin in a savoury way.
This Pumpkin No Knead Bread would be amazing alongside any bowl of soup or a comforting bowl of Sugar Pumpkin Farrotto.
Spicy Peanut Vegan Pumpkin Soup
Slurp a spoonful of this hearty plant based soup and let the flavours warm you to your toes. The spices blend with the peanut butter, pumpkin and Shiro Powder to create one satisfying soup with an extraordinary texture and a fiery heat.
There are many ways to add a rich texture to vegan soups. However, this recipe features both peanut butter and Shiro Powder to give it depth of flavour and texture.
Soup Inspiration
The delicious combination of peanuts and fiery spices can be found in many cuisines around the world. Think of Thai or Indonesian Satay or Spicy Peanut Curry from Northern India. Even Southern Boiled Peanuts. They just go so well together.
In this Vegan Pumpkin Soup, East African flavours, such as Berbere, match well with the peanut butter and pumpkin. I don't know if such a soup exists in East Africa but there are a few varieties in West Africa which differ from country to country.
West African Peanut Stew (or ground nut stew called Maafe) often contains chicken or beef and is flavoured with hot peppers instead of a spice mix. It is also usually made with Sweet Potatoes instead of pumpkin.
Vegan Pumpkin Soup Ingredients
onion
garlic
carrots
shiro powder
red lentils
vegetable stock
pumpkin purée
smooth peanut butter
pepper cream
chopped kale or spinach
roasted peanuts
fresh cilantro
Red Lentils – Look for dried split red lentils, also called Masoor Daal.
Vegetable Stock – make your own with roasted vegetables or buy it.
Smooth Peanut Butter – Gives a nice smooth texture to the soup but use crunchy in a pinch.
Pumpkin Purée – Roast and mash your own sugar pumpkin or buy it in a can…no one will judge! Feel free to use any variety of squash as well; Acorn, Kabocha or Butternut squash purée would all be delicious in this recipe. You could even use mashed Sweet Potato.
Chopped Kale or Spinach – Keep a bag of these frozen greens in your freezer to boost the vitamins. Feel free to use collard greens (Gomen) if you have them.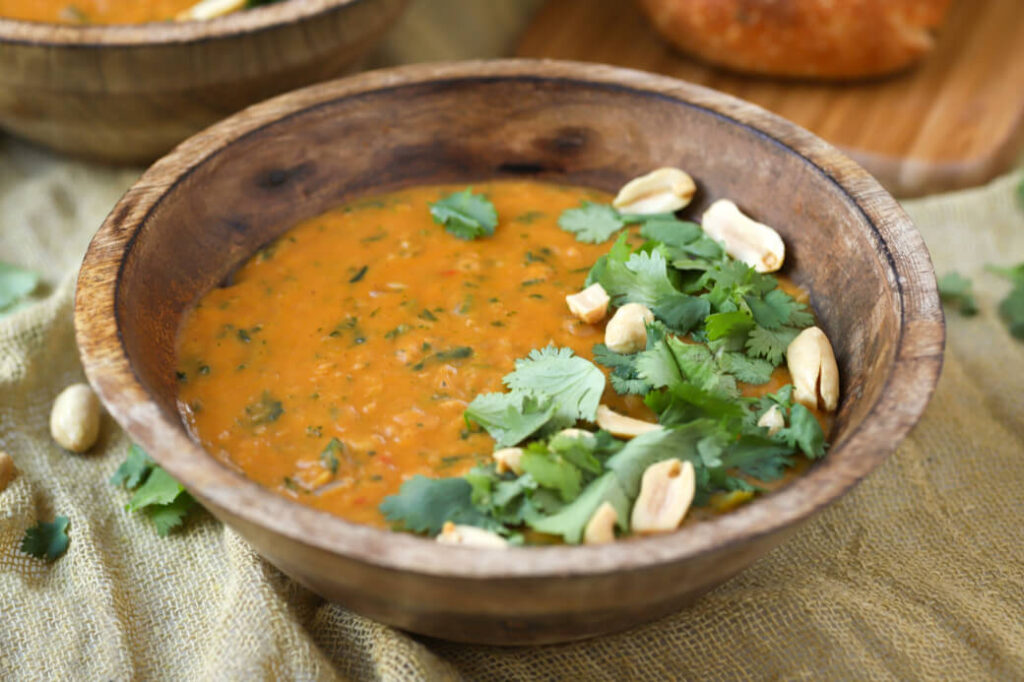 How to Make it Spicy!
The main spicy ingredient in this soup is Shiro Powder. Shiro Powder is a staple Ethiopian dry mixture of chickpea flour (gluten free) with spices such as Berbere.
Shiro Powder can vary in degrees of heat. Generally, it is a light orange powder, with the shade changing and becoming darker according to the percentage of Berbere it contains.
Berbere is a fiery Ethiopian spice mix usually composed of dried ground chilies, garlic, fenugreek and warming spices such as cinnamon and allspice. There are also a few more locally grown herbs and spices in this special spice mixture.
Shiro Powder is generally mixed with water and vegetables to make a spicy (mostly vegan) runny curry (or wat) which is served with injera.
In this recipe, the Shiro Powder is used to season and thicken the soup, rather than as a dish on it's own.
Pepper Cream – A combination of hot peppers, salt and oil in a jar. Use chili powder, chili flakes, chili garlic sauce, or harissa as a substitute.
How to Make a Great Soup
All great soups begin with aromatics. Sweat the diced carrot, ginger, onion and garlic in your preferred soup pot with a bit of olive or coconut oil until they are soft and translucent.
Next, stir in the Shiro Powder and mix until all the aromatics become coated. Add the lentils, then pour in the vegetable stock.
Allow the soup to come to a boil over medium heat, then reduce the heat, cover, and cook until the vegetables are fork tender. About 15 minutes.
Lastly, add the peanut butter and roasted pumpkin purée then stir in the kale/spinach. Season with salt and pepper. Allow the soup to come up to temperature before serving.
Serve garnished with roasted peanuts and fresh cilantro leaves.
Is Vegan Pumpkin Soup Healthy?
Surprise! Your soup bowl is chalk full of goodness. All of the ingredients are super healthy, low in calories, and high in fibre. Check out the health benefits of the main ingredients in the dropdown menu below.
Healthy Ingredients, Healthy Soup!

Shiro Powder – The main ingredient is chickpea flour. Chickpeas are a high protein legume, rich in minerals and fibre.

Pumpkin Purée – Pumpkins are low in fat, rich in vitamins and minerals. They also contains many healthy antioxidants.

Red Lentils – They are an excellent source of B vitamins, iron, magnesium, potassium and zinc. They're also a great source of plant-based protein and fiber

Peanuts – Peanuts are an excellent source of plant based protein and fibre. They are high in B vitamins, iron, magnesium, potassium and zinc.

Kale or Spinach Greens – Leafy greens are packed with vitamins, minerals, and fiber but low in calories.
How to Roast Your Own Sugar Pumpkin
Sugar pumpkins are only around for a short time in the fall. However, it is very easy to roast them to save for later. The purée freezes really well and is useful in so many ways.
To roast a pumpkin (or any squash) slice it in half and place it face down in some olive oil on a parchment lined baking sheet. Roast it in a 375 F oven for 45 minutes – 2 hours depending on the size of the pumpkin.
When a fork can be inserted and easily removed from the pumpkin, it is finished cooking.
Allow the pumpkin to cool slightly, then scrape the fruit off the flesh and mash it with a potato masher.
How to Store and Reheat Soup
This Spicy Peanut Vegan Pumpkin Soup is a great soup to keep in your fridge for when those hunger pains strike. It will keep for at least five days in the fridge.
To reheat, fill a soup bowl and microwave in one minute intervals, stirring in between.
Alternatively pour the soup in a saucepan and reheat on low, stirring constantly. This soup is quite thick so be vary careful that it doesn't splatter molten soup on you.
Yield: 6 servings
Spiced Peanut Vegan Pumpkin Soup
Vegan Pumpkin Soup is a fiery spiced soup with a rich texture. Tuck into a bowl of this inviting soup and get warm and cozy on a chilly fall day.
Ingredients
1 medium onion; diced
3 garlic cloves; minced
1 tbsp ginger; minced
 2 carrots; diced
1 cup red lentils
1/2 cup shiro wat
8 cups vegetable stock
2 cups pumpkin puree
1/2 cup smooth peanut butter
1 tsp pepper cream
2 cups chopped kale or spinach
bunch fresh cilantro
1 cup roasted peanuts
Instructions
In a large soup pot or Dutch oven, saute the onion, ginger, garlic, and carrot until they become fragrant and soften.
Add the shiro wat and stir into the vegetables until they are coated.
Pour in the stock. Cover and allow to simmer until the vegetables are fork tender.
Add the pepper cream, peanut butter, and pumpkin mash. Stir well and allow to come to temperature.
Stir in the kale/spinach and allow it to wilt before serving.
Garnish with chopped cilantro and roasted peanuts.
Nutrition Information:
Yield:
6
Serving Size:
1
Amount Per Serving:
Calories:

432
Total Fat:

28g
Saturated Fat:

6g
Trans Fat:

0g
Unsaturated Fat:

18g
Cholesterol:

6mg
Sodium:

1263mg
Carbohydrates:

35g
Fiber:

11g
Sugar:

10g
Protein:

18g
Nutritional calculation was provided by Nutritionix and is an estimation only. For special diets or medical issues please use your preferred calculator.