Turn your backyard into a four star resort when you serve these refreshing Pineapple Margarita Cocktails. Serve on the rocks with a salty sugary rim and enjoy!
Every day is a fiesta when you have a margarita in your hand. Start your day with authentic Chilaquiles Verdes or enjoy a Tex-Mex dinner featuring super easy Saucy Crock Pot Taco Meat.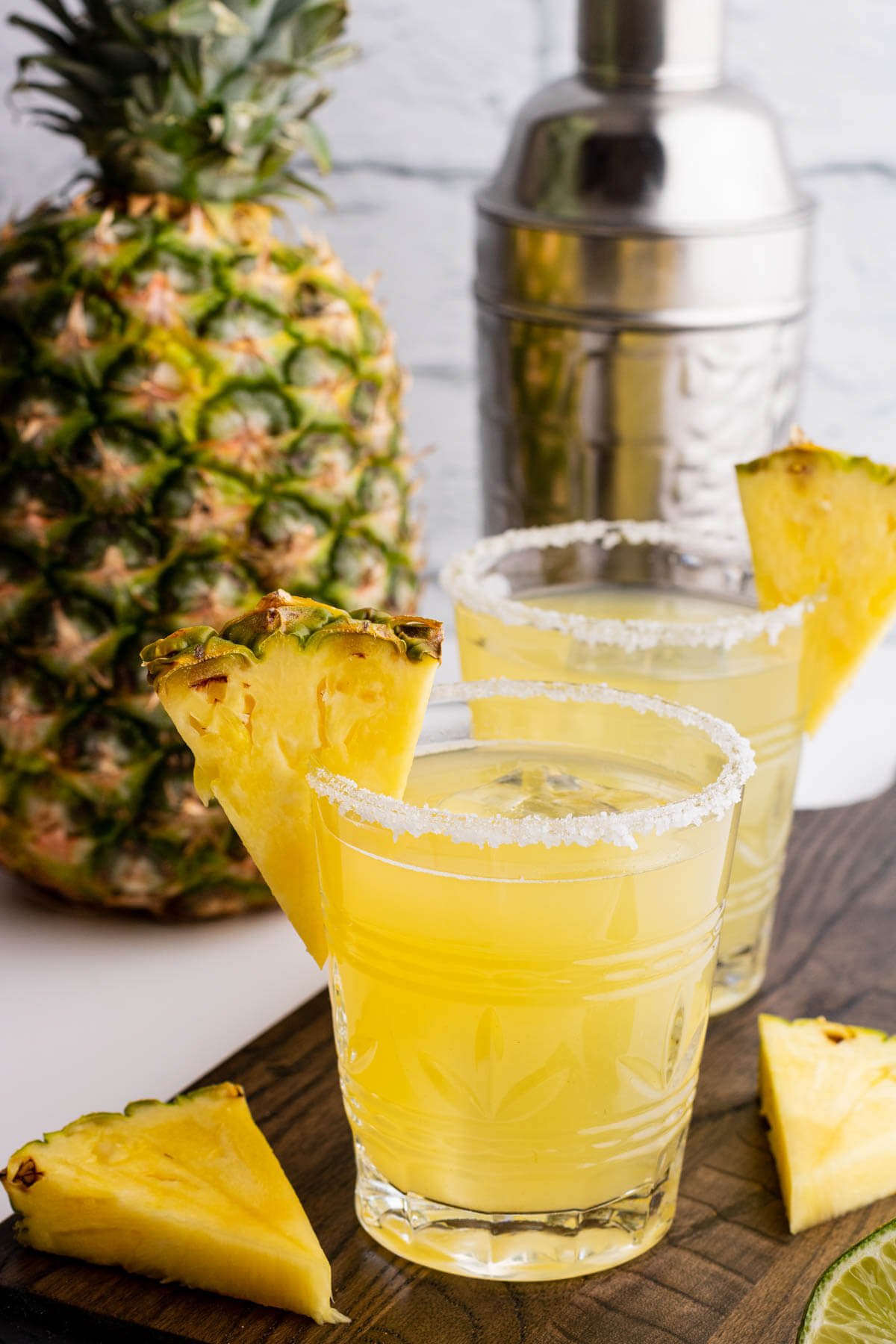 The Perfect Pineapple Margarita
It's impossible to resist this easy pineapple margarita, in fact it's hard to resist TWO pineapple margaritas! We've been making these amazing Mexican cocktails on repeat ever since I came up with this recipe.
This cocktail really isn't too different from a classic margarita. However, you may find yourself feeling extra 'healthy' due to the addition of pineapple juice.
My pineapple margarita recipe contains all the usual margarita suspects. Tequila, Cointreau, simple syrup, lime and fresh pineapple juice are essential. We like to have ours on the rocks in a glass rimmed with salt and sugar. Don't forget the bright yellow wedge of pineapple for the perfect (and easy) garnish.
What is a Margarita?
A margarita is a cocktail featuring tequila, triple sec (or other orange based liqueur), and lime juice. They are usually served in either a rocks glass or a special margarita coupe with a salt rim. These popular cocktails can either be served on the rocks or as a blended or 'frozen' margarita.
It's historically likely that this cocktail dates back to the arrival of the Spanish, who brought the popular Spanish 'Daisy' cocktails to Mexico. Daisy cocktails (margarita means daisy in Spanish) use brandy as a base spirit instead of tequila.
Though there are many various stories on the origin of the margarita cocktail, the first known publication of a margarita recipe was in the December 1953 issue of Esquire Magazine.
Pineapple Margarita Ingredients
tequila
Cointreau
lime juice
simple syrup
pineapple juice
ice
The ingredients are minimal, but the flavour is out of this world. Use fresh lime juice both in the drink and on the rim before you add salt.
There's a wide range of orange flavoured liqueurs on the market. We always buy Cointreau, a colourless orange based liqueur. However, Triple Sec, Curaçao, or even Grand Marnier (which is a Cadillac Margarita) are wonderful substitutes.
Not all margaritas require simple syrup. However, we like our margaritas on the strong side and prefer to sweeten to taste. You can omit the simple syrup or add as much as you like.
Pineapple juice is not an optional ingredient in a Pineapple Margarita. We buy the six pack of 1 L tetra packs at Costco because we love it so much. Note that pineapple juice is notorious for settled solids so it's really important to shake it up before using.
While most margarita recipes call for tequila blanco, we prefer slightly aged smoother Reposado tequila. You don't need to break the bank buying a good tequila, just get one that is slightly smoother than the ubiquitous tequila shot tequila. Shudder.
Let's Talk Tequila
Tequila is a distilled liquor made from the leaves of the blue agave plant made in the central western Mexican state of Jalisco.
It is popular sipped straight from a caballito, or shot glass (with a side of Sangrita) or as part of popular cocktails such as the Paloma, some Martini variants, Tequila Sunrise, the Matador, Vampiro, and of course, the Margarita.
In general, there are three categories of tequila based on aging. With time, the tequila becomes mellower and takes on characteristics of the flavours of the barrels.
Unaged white tequila, or Blanco is stored immediately after distillation in stainless steel or neutral oak barrels.
Tequila Reposado is aged a minimum of two months (but no more than a year) in oak barrels.
Añejo or 'aged' tequila has been aged in oak barrels for a minimum of a year (and up to 3 years). Any tequila aged longer than three years is included in the new category Extra Añejo.
There are two further sub categories of tequila based on the percentage of blue agave used during production. Tequila mixtos contains at least 51% blue agave, along with other sugars. while the other is 100% agave.
How to Make Simple Syrup
They don't call it 'simple' syrup for nothing. It's so easy to make, you will wonder why it is even sold in fancy liquor stores.
To make simple syrup, pour 1 cup of water and 1 cup of granulated sugar in a saucepan. Stir and heat the mixture on medium high heat until it simmers and the sugar has dissolved.
Allow the simple syrup to cool to room temperature before using in a cocktail. It will keep in the fridge for up to one month.
*if you make rich simple syrup the ratio of sugar to water is 2:1 with the exact same process.
How to Make a Pineapple Margarita
Making a pineapple margarita is not rocket surgery. The first thing you need to do is get your glasses ready. A salt rim is the most traditional way to serve a margarita, though we prefer to rim our glasses with a combination of salt and sugar.
For the rimmer: Mix 2 tbsp kosher salt with 2 tbsp granulated sugar and spread the mixture on a plate. Moisten the rims of two rocks glasses with lime juice, then rim glass by rotating each glass upside down in the mixture on the plate. That's it!
Now onto the cocktail. Firstly, fill each glass with ice. Next, fill a Boston shaker halfway with ice then add tequila, Cointreau, simple syrup, pineapple juice, and lime juice to the cocktail shaker.
Fit the shaker lid on tight, then shake until the shaker feels cold and is frosty. Strain the cocktail equally into each glass. Garnish the cocktails with a wedge of pineapple or lime wedges.
Other Variations
As a rule a 'margarita' refers to the classic cocktail with lime juice. There are many margarita recipes featuring other fruit juices (plus lime juice), Usually, the new name will include the fruit used in the variation.
Frozen Margarita – ingredients are processed with ice in a blender or margarita machine.
Sunset Margarita – with carbonated fruit punch soda (or orange juice and pomegranate juice) instead of Cointreau.
Paloma – with carbonated grapefruit juice or Squirt.
Veggie Margarita – versions containing vegetables such as carrots, celery, or cucumber.
Mezcalrita – a margarita with Mezcal instead of Tequila.
Beermarita – served with an overturned beer.
Spicy Margarita – includes jalapeño or habanero syrup and a spicy rim.
Join Me for Saturday Brunch!
Join the Saturday morning newsletter and get cozy with a cup of coffee. Inside you'll find free recipes, giveaways, and more. It's such a delicious way to start the weekend!
By clicking subscribe, you agree to share your email address with the site owner and receive emails from the site owner.