These crowd pleasing Country Fried Pork Chops are everything you want them to be…crispy, crunchy, spicy, and juicy! This recipe is fully adjustable for every spice level…low, medium, and high!
Comfort Food at It's Finest
Comfort food means something different to everyone. Some go for mac and cheese or a hearty Bison Stew, while others love a bowl of lentils topped with fried onions. For many, it's the deep fried foods that bring them back to a special place and time…their childhood.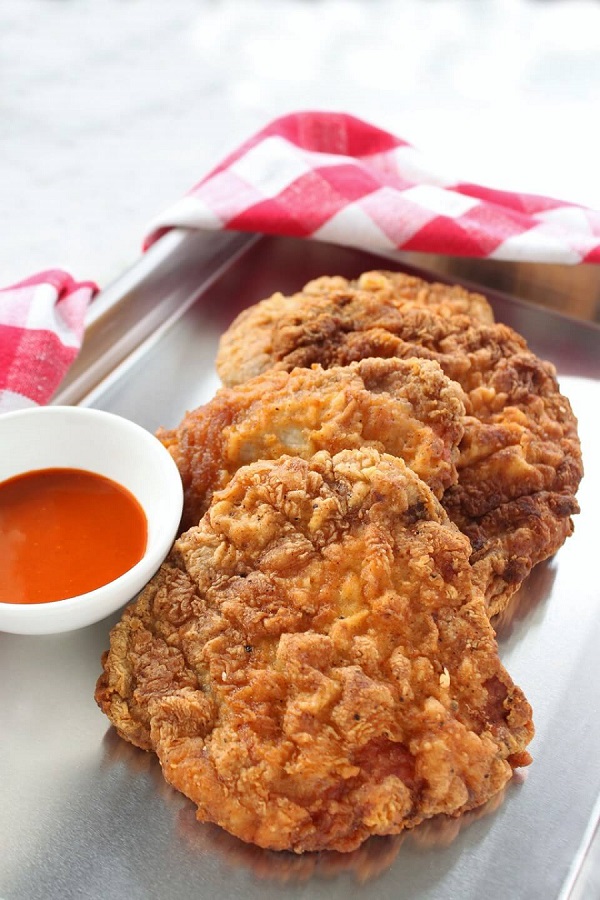 The Whole World Loves Deep Fried Pork Chops
Deep frying is a fairly common cooking method around the world. Deep fried pork chops can be found as Tonkatsu in Japan, as Scallopini in Italy, coated and fried in China, the Philipines, etc. However, for this post I'm focusing on the American favourite, Country Fried Pork Chops.
Tips for Deep Frying
This technique is not for the faint of heart. Deep frying is a serious business and it's taken me a long time to get over my fear of frying. The deliciousness that results is too much for me to resist, so I am extremely cautious when I do fry. Finally, here are some tips for safe frying:
Know the procedure for extinguishing oil fueled fires ahead of time. Have supplies ready just in case.
Select a wide, heavy bottomed pan with tall sides. For this recipe I used my Le Creuset French Oven.
Use an infrared thermometer or a stationery clip on. Ideal frying temperature is between 360 F – 375 F.
Keep an eye on your temperature while your oil is heating up. Use an oil with a higher smoke point than your cooking temperature.
Never leave your hot oil unattended/make sure you have all your ingredients and utensils ready before you start.
Never fill your pot more than 1/3 way full. This allows for oil displacement and splatter containment.
Be aware that wet food is prone to heavy splattering during deep frying.
Allow the pot and oil to cool down before moving or draining.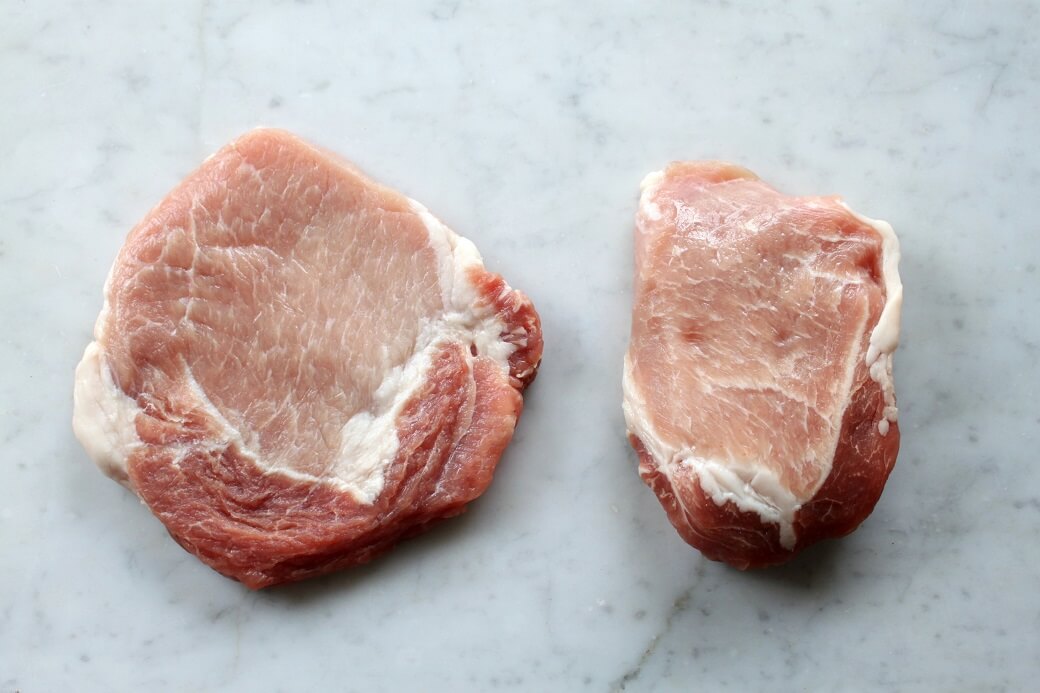 Maximum Flavour Boosters
I recommend marinating the pork chops overnight to get extra flavour. However, this step isn't 100% necessary. The next time I make these, I'm going to try marinating them in pickle juice because I'm weird like that.
Use your preferred hot sauce in combination with the egg dip and put as much cayenne as you like in the in the batter. As the recipe is now, it's not spicy at all.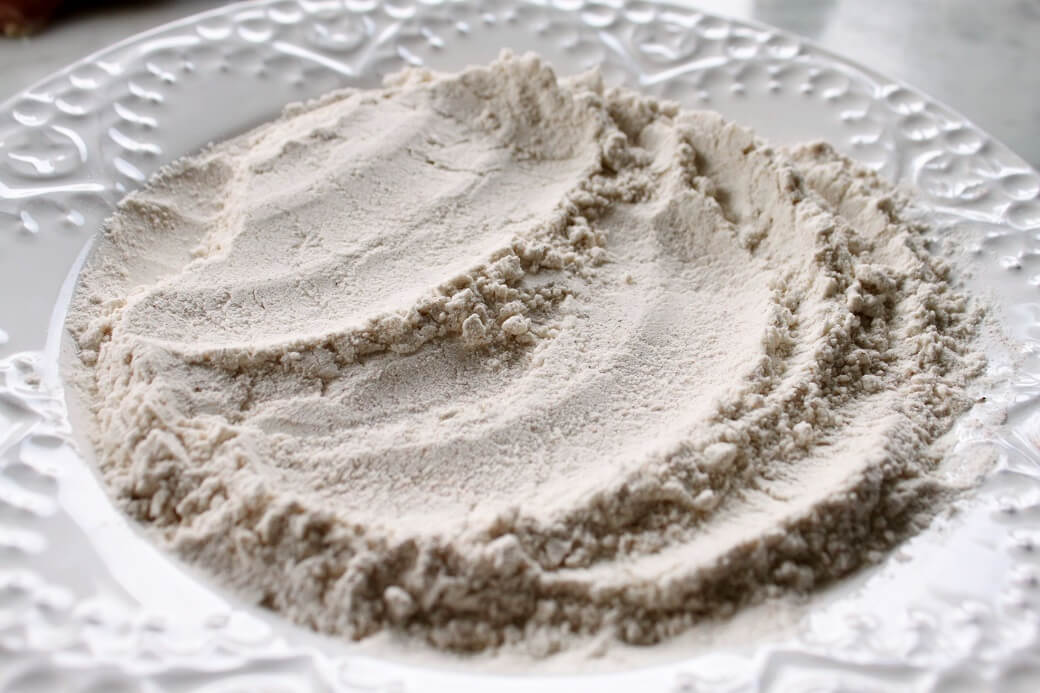 How to Make Country Fried Pork Chops
It's pretty simple, really. Don't let the deep frying scare you and you'll be absolutely fine. Make sure the oil is up to temperature before you slide the chop in.
Depending on the size of your pan, you might only be able to fry one at a time and that's okay. Furthermore, just keep them warm on a baking sheet in the oven while you fry the rest.
Use your first chop as a tester. Set the timer for 5 minutes after it hits the oil. Turn it over then set it for 5 minutes again. Remove it and place it on a paper towel lined plate then slice it open and check the colour. If it's only slightly pink, you're in business!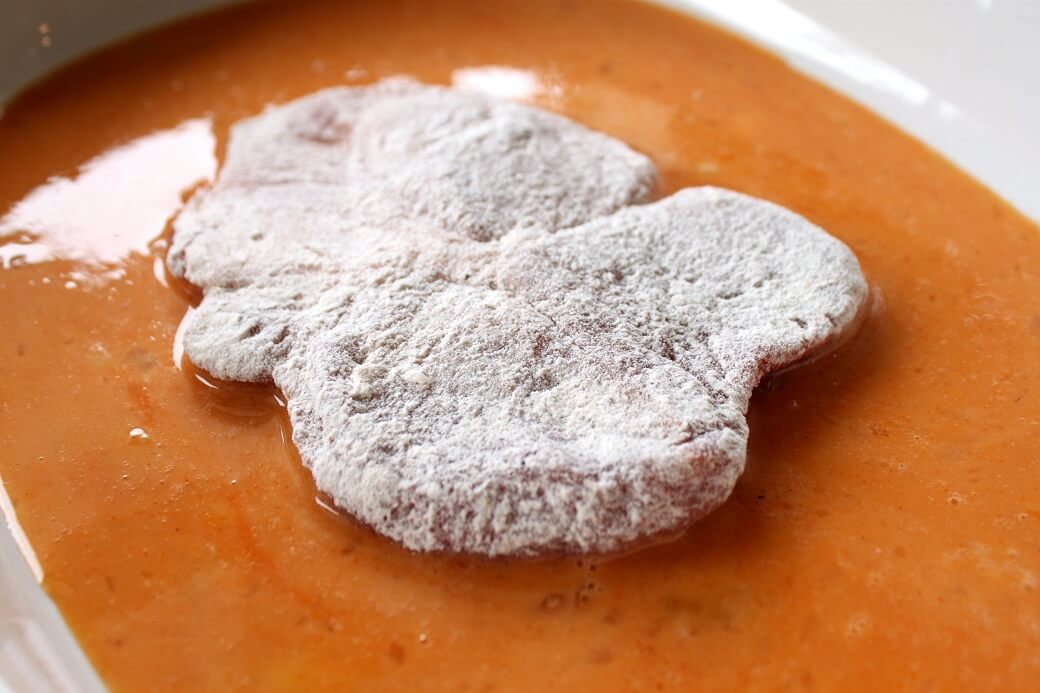 After that initial trial chop, you can adjust your frying time accordingly. Don't forget to keep an eye on the frying temperature because if it's too low, the coating will absorb all the oil and it will be so greasy. Too high and the coating will burn before your pork chop is cooked through.
Lastly, keeping the oil at the proper temperature will result in succulent chops surrounded in a delicious crispy golden coating.
Pin Country Fried Pork Chops HERE.

Other Pork Dishes From Dish 'n' the Kitchen
Szechuan Ground Pork Stir Fry Noodles
Pork and Mango Red Coconut Curry