The Return of the Sun
Just when we thought Mother Nature had abandoned us in the throes of winter forever (thinking Game of Thrones reference is appropriate here) we have been blessed with some sunshine! I know that many people say they barbecue all winter long and sometimes we do as well…but not when our barbecue is buried under 3 feet of snow. Enough about the white stuff, we have some grilling to do!
Tomatillos are a bit of a fuzzy area for me. I've never really used them in any recipes but I have eaten them many times, mostly in a relish or fresh salsa verde. Tomatillos are classified as a nightshade plant (so, yes they are related to tomatoes) and have a high pectin content as evidenced by the sticky sap-like substance that covers your hands after you peel off the outer husk. Also called Mexican Husk Tomatoes, tomatillos come in a variety of shades from yellow and green to purple. Culinarily, they can be eaten raw or used in marinades or jams and they have a bit of a sour flavour. Tomatillos can also be used as a tomato substitute in stews, soups, salads, curries, stir fries, and baking.
This Grilled Salsa Verde Guacamole is really simple to make. All you really need is a barbecue (or gas cooktop) and a good blender. You have the option to really get in there and char the heck out of those vegetables or stick with a light charring. The guacamole will taste better if the onion is at least soft all the way through, though the char level is solely up to you. I served it with some simple grilled chicken thighs and a side of tortilla chips but you could just whip up a big batch for your next backyard barbecue or game day…after all CFL pre-season is only 32 days away!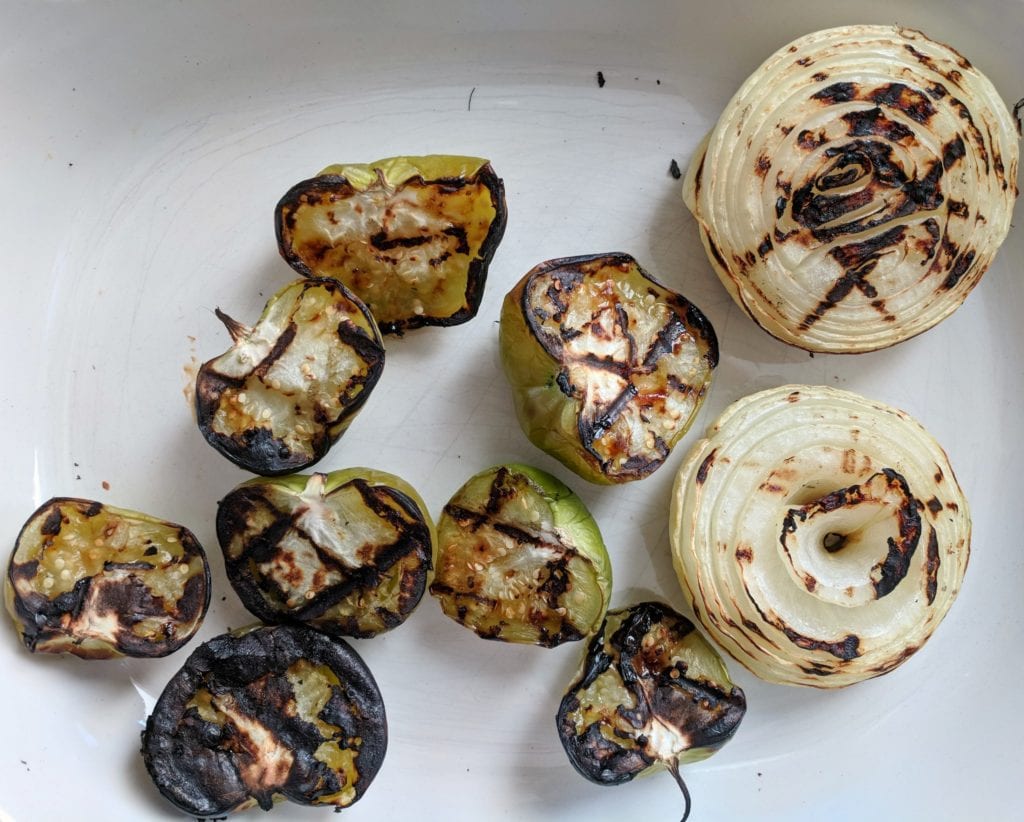 Grilled Salsa Verde Guacamole
Print
Grilled Salsa Verde Guacamole
A smoky, spicy, creamy dip that's perfect for dipping those tortilla chips in or for slathering on top of grilled chicken or pork.
Ingredients
1 large onion; peeled and sliced in half (reserve other half for another day)
4 tomatillos; peeled and sliced in half lenthwise
2 cloves garlic; peeled
2 Anaheim peppers; seeded (or use another hot pepper of your choice)
1/2 cup cilantro; stalks and all
1 avocado; halved and seed removed
1 lime; juiced
salt
Equipment: a blender and a barbecue
Method
Heat up the barbecue to med-high. Lightly oil the cut side of the onion and place on grill. Place tomatillos on grill cut side down. Tomatillos should take much less time to soften and caramelize than the onions (around 4-5 minutes vs. 10+ minutes). Let cool.
Add onion, tomatillos, garlic cloves, salt, peppers, and cilantro to the blender and blend briefly as to remain chunky.
Scoop avocado halves into the blender. Season with salt and pour lime juice over all.
Blend until you have achieved your desired consistency.