White asparagus meets leftover ham in a stunning Spring inspired lemon butter pasta dinner recipe. Make it in 30 minutes or less!
There's nothing more comforting than a great pasta dish. Whether you are feeling like a classic Slow Cooked Pappardelle Bolognese or quick and summery Pea Orecchiette Pesto Pasta a bowl of carbs always satisfies.
Ham Asparagus Lemon Butter Pasta
It's hard to believe that this buttery, lemony satisfying bowl of pasta features three leftover ingredients (asparagus, ham, hollandaise). However when combined with pasta, the trio of leftovers, create a new dish you won't soon forget.
Leftover ham is so versatile. It brings a wonderful salty smoky note to any dish. When you combine it with the freshness of asparagus and a hint of lemon butter, you have a simple yet tasty pasta dinner and an empty fridge!
Oh, I almost forgot! There are technically FOUR leftovers in this dish. Leftover Herb Pangrattato makes a wonderful topping to this pasta dish. It contains even more lemon zest and adds a textural crunch to the final dish.
The Ingredients
As I mentioned, this dish is full of delicious leftovers. With a little extra effort, you can also make this dish from scratch if you are missing one or all of the leftovers.
cooked ham
white asparagus
pasta
leftover hollandaise
pangrattato
lemon
Cooked, diced leftover ham is a must. If you don't have any, you can substitute diced cooked chicken or even premium canned tuna (such as Rio) in this recipe.
White asparagus is a Spring delicacy and is very difficult to find, even when it's in season. I had leftover asparagus to use up but have included instructions for preparing it from scratch.
Feel free to substitute green asparagus or even peas or broccoli if you can't find white asparagus.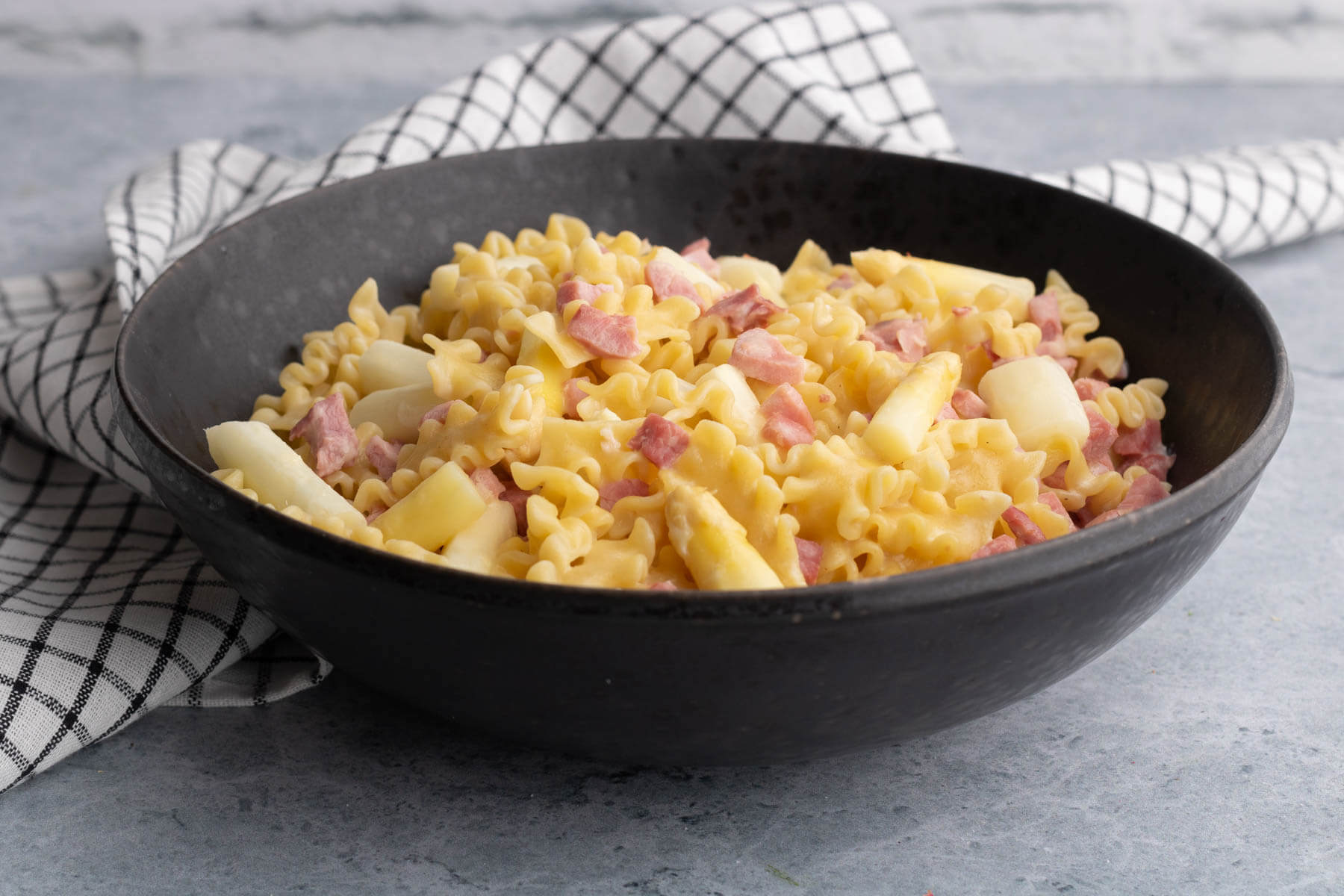 This recipe features one of my favourite pasta shapes; mafada corta pasta also known as reginette, malfaldine and mafalde. They are a flat, wide pasta with wavy edges, similar to mini lasagna noodles. I buy mine in bulk at Bulk Barn but any pasta shape will do for this dish. Try penne, rotini, orecchiette, or fusilli.
While the leftover hollandaise already contains lemon juice, an extra lemon (zested and juiced) will make this lemon butter pasta even more flavourful. If you don't have any leftover hollandaise, you will need more lemons!
Or…you can make your own hollandaise using my SUPER EASY blender recipe here. Same goes for the pangrattato…it's not absolutely necessary but really brings a great texture to the dish. Check out my recipe for a super easy Pangrattato here.
Lemon Butter Sauce aka Hollandaise
So, how do you achieve the zesty buttery flavour in this lemon butter pasta? It's leftover hollandaise! No, I'm not kidding. Seriously, if you have leftover hollandaise…it makes a great lemon butter sauce (with a few more additions!).
If you don't have any leftover hollandaise, no worries. You can whip some up using my easy blender recipe here or make an even easier butter lemon pasta sauce using more lemons and cream.
To make the lemon butter sauce (without leftover hollandaise), zest four lemons, then juice them. Melt 4 tablespoons unsalted butter in a sauté pan, then add the lemon zest and juice. Add 1/2 cup reserved pasta water and bring it to a simmer. Season it with salt and black pepper, then let it reduce.
Once the pasta is done to al dente, drain it then add to the sauté pan with the lemon sauce. Add a splash of cream and allow it to reduce and stir to coat the pasta.
How to Make Ham Asparagus Lemon Butter Pasta
To begin, bring a large pot of salted water to a boil over high heat. Add the pasta to the boiling water then reduce to medium high heat. Cook pasta until just al dente (just a bit of resistance) then drain the water, reserving 1 cup of the liquid.
Meanwhile, wash asparagus thoroughly and holding each end, bend the asparagus. It will break nearest the thick fibrous end. Discard the end or freeze to add to soup stock. Cut each stalk of asparagus into 1 inch pieces.
Place asparagus in a large skillet and add 1 cup water. Cover and allow to steam on medium heat until asparagus softens. Drain water from asparagus and add ham to the pan.
Sauté the diced ham with the asparagus in the large skillet over medium heat. Add the leftover hollandaise, along with the lemon juice (and zest) then stir to coat.
Allow the hollandaise to melt and mix into the pasta, then gradually add reserved pasta water 1/4 cup at a time, as needed to achieve a sauce. You might not use all of the pasta water.
Season the sauce with salt and pepper (or maybe some red pepper flakes) then portion into bowls. Top each bowl of pasta with pangrattato to finish (optional).
How to Store and Reheat Leftovers
If you have leftovers of your leftovers…count yourself lucky! They make a great lunch the next or for the next several days, up to a week.
Store them in the fridge in an airtight container or freeze them for up to one month. I have switched all of my storage container to glass instead of plastic so they can go straight from the fridge to the microwave.
To reheat, microwave the leftovers until they reach an internal temperature of 74ºC (165ºF).
Join Me for Saturday Brunch!
Join the Saturday morning newsletter and get cozy with a cup of coffee. Inside you'll find free recipes, giveaways, and more. It's such a delicious way to start the weekend!
By clicking subscribe, you agree to share your email address with the site owner and receive emails from the site owner.