Soup Swaps Are the New Cookie Swap
I heard recently that soup swaps are the new cookie swaps. While I am unsure that soup will EVER replace cookies, swapping soup among friends is a great way to have a handy lunch in the freezer for those days when you are feeling under the weather or just plain lazy. I usually fall into the latter category.
Lunch Sucks
Now is the time for me to admit to you all that I absolutely hate making lunch. For me, it's the worst meal of the day because it has to be small, yet satisfying (and not boring!). Most of the time when I cook, I like to go big. Since I work from home, it's easy to look up from my keyboard and notice that it's 2 pm and I haven't eaten any lunch, or worse yet…anything at all. Suddenly I am starving! Usually I end up making scrambled eggs and toast because it's easy and filling and I refuse to have canned soup in the pantry. Now that I've done my first soup exchange, my freezer is stocked and there are no excuses.
Fridge Soup
The soup that I made for our Bite Club exchange took very little time to make since I had some leftover Pork Carnitas in the fridge. This is a quick, meaty and warming soup for those very cold days when you wish you were on a sunny beach somewhere. Since I was making it for an exchange, I didn't add any spice to it but I think you could add some chili flakes or float a cut chili in the soup as it's cooking. Alternatively, add some hot sauce just before you eat it for that extra kick.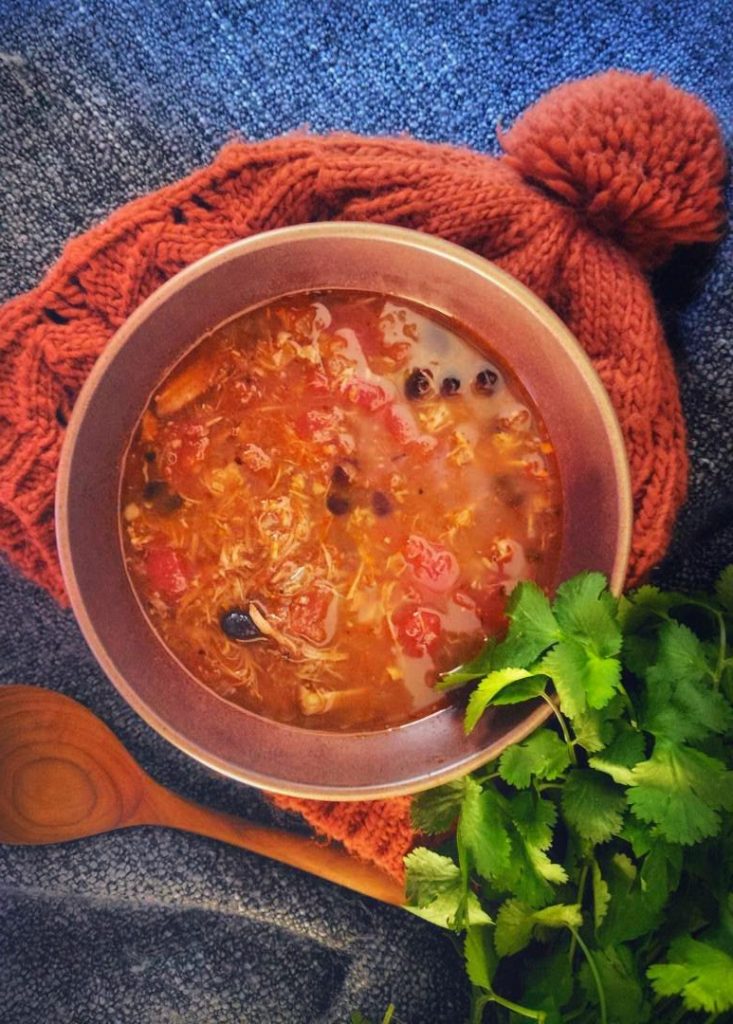 Tips on Hosting a Soup Swap
Here are some tips on hosting/participating in a soup swap.
Limit the number of people. 6 seems to be a good number as not many people make more than 6 litres of soup at a time.
Make sure everyone knows what kind of dietary restrictions/allergies are required.
Include the recipe for your soup, reheating instructions, and if any extra stock will be needed for serving it.
Freeze your soup in 1 litre portions ahead of time.
If you use glass jars to freeze your soup, make sure there's a LOT of room for expansion. No one likes glass in their soup.
Here's a great chance to use up all of your 'Ukrainian Tupperware'. Reuse margarine and yoghurt containers.
Don't cheap out. No, I don't want your 500 ml of soup for my full litre.
Use Up Those Leftovers with Dish 'n' the Kitchen
Pork Carnitas Black Bean Soup
Print
Pork Carnitas Black Bean Soup
Slow cooked Pork Carnitas turned into a soup!
Ingredients
4 lbs pork shoulder; trimmed OR pork steaks
1 tbsp chili powder
1 tbsp ancho chili powder
1 tsp cumin
2 tsp dried oregano
2 tsp salt
1 tsp ground black pepper
2 oranges; zested and juiced
2 limes; juiced
4 cloves garlic; minced
FOR THE SOUP
6 cups shredded pork carnitas
2 tbsp olive oil
1 large onion; diced
2 cloves garlic; finely minced
2 tbsp chili powder
1 tbsp cumin
1 tbsp oregano
8 cups (2 L) chicken stock
28 oz diced tomatoes
2 - 14 oz cans black beans; drained and rinsed
hot sauce (optional)
Method
For the Pork Carnitas
In a small bowl, mix herbs, spices, and salt together. Rub into the pork and season with pepper.
Place pork in a slow cooker and add citrus juices, zest, and minced garlic.
Cook on low for 8 hours. Shred the pork and enjoy!
For the soup
Add oil to a soup pot and sweat the diced onions on medium heat until they become translucent. Add garlic and sauté for a few more minutes.
Add chili powder, cumin, and oregano and sauté for a minute or two.
Add diced tomatoes and scrape the bits off the bottom of the pan.
Add stock and let the soup come to a boil.
Add pork and black beans, return to a boil.
Serve or portion into containers for a soup swap!