Stunning and elegant, this verdant Shaved Asparagus Salad is packed with fresh herbs and late spring vegetables. Serve it with a creamy ball of fresh burrata and a simple vinaigrette.
I love the expression 'we eat with our eyes'. It's such an odd way to say that everyone loves a visually appealing dish. Check out these stunning composed salads Pink Grapefruit Endive and Avocado Salad or Smoked Cherry Grilled Radicchio Salad here on the blog!
Shaved Asparagus Salad
Crunchy, creamy, raw, herby, and green. That is the best way to describe this amazing salad. Raw asparagus can be tough and unpleasant in large pieces. However, shaving it into thin strips with a vegetable peeler solves that problem!
Do you have a special brunch or family barbecue planned or do you just love next level salads? This salad is the perfect showstopper to serve at special events or any weeknight dinner.
Can I tell you a little secret? This salad is really easy to whip up and tastes as good as it looks. Okay, that's two secrets. The only skills you need to whip it up are dicing, shelling, mixing, and peeling.
With a little bit of prep, you will have a stunning salad packed with green seasonal vegetables, fresh herbs, and creamy burrata.
Ingredients in Shaved Asparagus Salad
This salad is a souped up version of the Fava Bean and Asparagus Salad I found on Bon Appetit when I was looking for a fava bean recipe.
I substituted pea shoots for arugula, quick pickled red onion for shallots, and added a ball of burrata. Believe me, burrata makes everything better!
Purple Asparagus
Fava Beans
Pea Shoots
Red Onion
Pistachio
Lemon Juice
White Balsamic Vinegar
Extra Virgin Olive Oil
Dijon Mustard
Salt
Fresh Tarragon
Fresh Mint
Chive Blossoms
Burrata
Any colour of asparagus will work in this recipe. Purple asparagus makes a very eye catching salad when shaved. It has a beautiful purple exterior and fresh green interior. Green asparagus or even white asparagus will do as long as the spears are large enough to be shaved.
Fava beans have a very short season of availability, so the best time to make salad is late spring/early summer. If you miss them, freshly shelled green peas would be the perfect replacement.
As mentioned, the original recipe had arugula or watercress as a leafy green instead of pea shoots. Feel free to use them, if your prefer.
For the dressing, I added a bit of Dijon mustard and used white balsamic instead of white wine or champagne vinegar. It's really just a basic mustard vinaigrette, nothing fancy.
Two ingredients that you must not leave out of this recipe are the fresh tarragon and mint. This salad must contain fresh herbs for the best flavour.
Chive blossoms are entirely edible but unless you grow your own chives, they are very difficult to find. Use any other edible flower in their place, or none at all.
Lastly, I do love adding a fresh ball of burrata to salads. Not only is it delicious but it makes them much more substantial. Leave it out to make this salad vegan or replace it with little balls of bocconcini (or shaved parmesan cheese).
How to Make a Shaved Asparagus Salad
How to Shave Asparagus
Let's begin by preparing the asparagus spears. Buy thick, firm recently picked asparagus for best results. Soak it in cold water, then remove the tough bottom inch or two of the stalk.
To use a vegetable peeler to shave the asparagus, firmly grasp the tip and press the peeler into the stalk while traveling downward. Repeat until the entire stalk has been peeled. If you feel comfortable using a mandoline, it also shaves the asparagus nicely.
Shave the other asparagus spears, then trim off the tips and slice them in half lengthwise. Arrange the asparagus in a large bowl and set aside.
Quick Picked Red Onions
I love the colourful pop the diced red onions give this salad. However sometimes I find their flavour a little too overpowering. My solution is to dice them up, then place them in a small bowl of cold water.
After five minutes, drain the cold water. Then, cover with white vinegar and let them sit at least ten minutes before adding them to the salad.
How to Prepare Fresh Fava Beans
Did you know that fava beans need to be double peeled? First they need to be removed from the large thick pod. I used to have the kids do this as free labour but now that we're empty nesters I get my husband to do it!
It's pretty easy, just grasp the top stem and peel it downward. Next, slide your finger along the side seam and press it open. Remove the beans.
Blanch the beans in a small pan of boiling water over medium heat for 1-2 minutes. Drain them well then place immediately in a bowl of ice water.
Finally, peel the outer layer or skin off the bean by pressing your thumbnail into the scar end (where it was attached to the pod). Carefully rip it open and the finished bean should slide right out.
Let's Make a Simple Dijon Vinaigrette
I don't have a fancy vinaigrette shaker, so I make my homemade dressing in a 250 ml jar. Simply place the extra virgin olive oil, lemon juice, Dijon mustard, and white balsamic vinegar into the jar.
Season with salt and pepper to taste, then screw the lid on and shake it vigorously.
Other Ingredients
There are a few more ingredients that need to be prepped for this salad. Gently wash and dry the fresh herbs, pea shoots, and chive blossoms. Roughly chop the herbs then shell and chop the pistachios on a cutting board.
Putting it All Together
Scatter all of the components (except the burrata, tarragon, and mint) in amongst the shaved asparagus. Pour the vinaigrette dressing over the salad then toss to coat.
Scatter the mint and tarragon over the salad and place the burrata on top. Add salt and pepper to taste and serve immediately.
Yield: 4 servings
Shaved Asparagus Salad with Burrata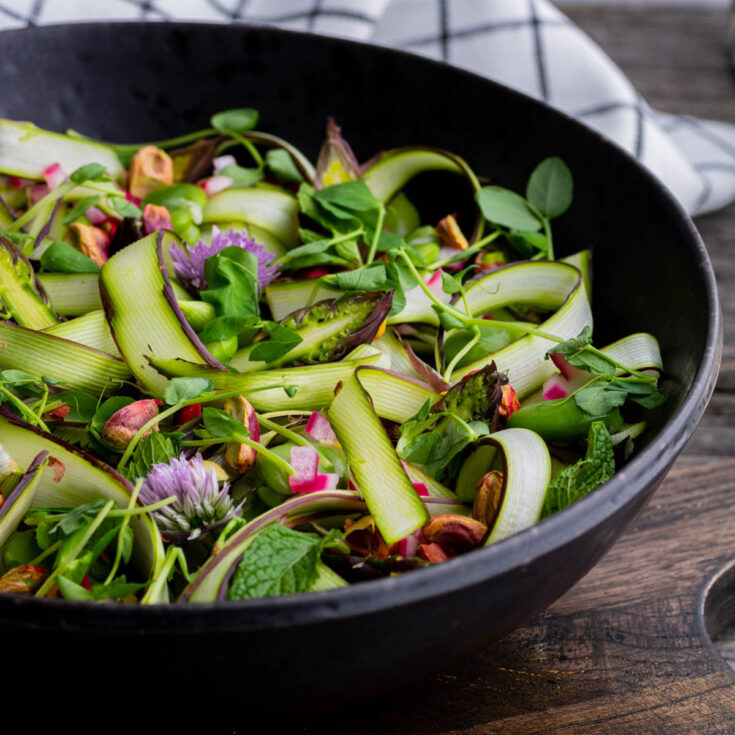 Stunning and elegant, this verdant Shaved Asparagus Salad is packed with fresh herbs and late spring vegetables. Serve it with a creamy ball of fresh burrata and a simple vinaigrette.
Ingredients
1 bunch asparagus (about 350g)
1 cup fava beans (about 1 lb pods)
1/4 cup red onion; finely minced*
1/3 cup pistachios; chopped
2 cups pea shoots
1 tbsp cup lemon juice
1 tbsp cup white balsamic vinegar
1/4 cup olive oil
1/2 tsp Dijon mustard
1/4 tsp salt
freshly ground black pepper
1 tbsp fresh tarragon; chopped
1/4 cup fresh mint; chopped
1 burrata (optional)
Instructions
FOR THE FAVA BEANS
Remove the beans from the pods.
Bring a small saucepan of water to a boil, then add the beans.
Blanche for 4 minutes, then drain. Immediately place in a bowl of ice water and allow to cool thoroughly.
Remove the fava bean skins, then set aside.
FOR THE ASPARAGUS
Wash thoroughly, then remove asparagus heads. Slice them in half lengthwise then set aside.
Shave the asparagus into long thin strips using either a mandoline or sharp vegetable peeler. Arrange in a salad bowl, then add the sliced asparagus heads.
THE VINAIGRETTE
Place lemon juice, white balsamic vinegar, olive oil, Dijon mustard, salt, and pepper in a small jar. Cover and shake vigorously.
THE SALAD
Add the fava beans, finely diced red onions, chopped pistachios, and chopped pea shoots to the salad bowl.
Dress the salad with the vinaigrette and scatter the fresh tarragon and mint over all. Season with salt and pepper.
Serve with or without a ball of fresh burrata.



Notes
*If the red onion is quite strong, soak the diced onion in cold water for ten minutes. Then drain well and soak in white vinegar for another ten minutes. Drain to use in the salad.
Nutrition Information:
Yield:
4
Serving Size:
1
Amount Per Serving:
Calories:

327
Total Fat:

20g
Saturated Fat:

3g
Trans Fat:

0g
Unsaturated Fat:

16g
Cholesterol:

6mg
Sodium:

359mg
Carbohydrates:

27g
Fiber:

8g
Sugar:

8g
Protein:

12g
Nutritional calculation was provided by Nutritionix and is an estimation only. For special diets or medical issues please use your preferred calculator.