This succulent Slow Roasted Boneless Leg of Lamb makes a stunning center piece for your Sunday Dinner, Holiday, or Celebration. Seasoned with herbs, citrus, and garlic, this perfectly roasted Greek style lamb is melt in your mouth delicious!
This post first appeared over at Noshing With The Nolands where I'm a contributor.
Today I'm excited to bring you my very first recipe for Boneless Leg of Lamb. Let me tell you…the smell of this lamb roasting in my kitchen all day had me drooling like crazy! Later on, when we sat down to tuck into this delicious spread, I served it with this easy Oven Roasted Asparagus (which I made while the lamb was resting) and our favourite new recipe…Hasselback Potatoes.
Let's face it. Cooking a large roast for a big dinner can be intimidating, especially if it's your first time. Lamb is also quite polarizing in that there are some who do not enjoy its game-y flavour. However, do not worry I am here to hold your hand the entire way!
Don't be put off by the long cooking time of this recipe. It's a key component in roasting the best lamb possible and when compared to roasting a stuffed turkey, it takes roughly the same amount of time. Delicious food is worth the wait.
Roasting the lamb using this low 'n' slow Greek-style method is guaranteed to give you the most fabulous, fall apart tender lamb. Serve it to the non-believers and they'll be lamb fans in no time.
Fast vs. Slow Roasted Leg of Lamb
There are two ways to roast a Leg of Lamb; fast or slow. Cooking the lamb quickly (relative to the latter method) is always a bit of a gamble because the lamb should be cooked to medium rare (145 F). You must use a thermometer to gauge the precise moment just before the lamb reaches this stage, then remove the lamb from the oven and let it rest. As you can imagine, it's quite easy to over cook lamb this way.
With slow roasting, there is less worry about over cooking the lamb because that's exactly what you want to do (sort of). Slow cooking lamb brings it beyond that tough, dry phase, to melt in your mouth goodness. The consistent low temperature breaks down the fat and connective fibers within the meat structure, causing the meat to become fork tender.
Lastly, it is possible to still overcook the lamb using the low and slow method. Be aware of the size of your lamb roast and the recommended cooking time and temperature.
Bone in vs. Boneless Leg of Lamb
Generally, bone-in meat will always have more flavour than the same cut with the bone removed. This is because the bone will impart deeper flavours within the meat. However, roasting bone-in meat takes up more space in the pan (hint: take your roaster along to ensure it fits!) and requires even more cooking time. Boneless is the way to go for space consideration and ease of serving. This recipe will cook a great leg of lamb, regardless of which style you use.
How to Prepare a Boneless Leg of Lamb for Roasting
Boneless lamb leg bought from a store will come neatly wrapped in an elastic netting. There's a reason for this and the ONLY reason you should remove it is if you are planning on stuffing it. Otherwise, leave it as is and read on to find out how to make this delicious recipe.
How to Roast a Boneless Leg of Lamb…Greek Style!
Step 1 – Remove the lamb from the fridge and allow it to warm up to room temperature. Preheat the oven to 450 F. Carefully make 12 slits around the entire roast and insert the garlic clove halves deep into each slit. Rub the lamb with olive oil and season with salt and pepper. Place on a rack in a shallow roasting pan and roast for 30 minutes.
Step 2 – Once the lamb is well browned, remove it from the oven and place (fat side down) in a Dutch oven or lidded roaster containing the rest of the ingredients (other than half the gremolata). Check to make sure the liquid level is covering 1/4 to 1/3 of the lamb leg. Decrease the oven temperature to 350 F and roast for 2 hours. Top up liquid level with boiling water, if needed.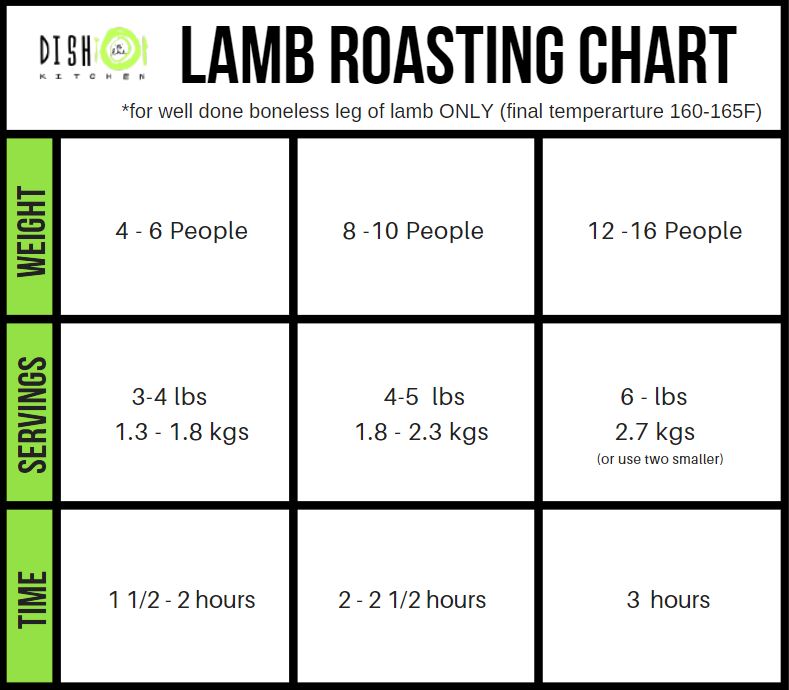 Step 3 – Flip the lamb leg over so the fat cap is on top and roast (covered) for another 1 – 1 1/2 hours or until the meat pulls apart easily.
Step 4 – Remove the lid and roast for another 30 minutes to get all those nice crispy bits. This step is optional and only if you want crispy bits.
Remove the lamb leg from the Dutch oven and place on a serving dish. Cover with foil and allow to rest for 20 minutes. Shred the roast and serve with strained pan juices. 
What to Serve with Roasted Boneless Leg of Lamb
While this Greek style roasted lamb leg is delicious on its own, the fresh herb Gremolata with lemon zest and garlic really brightens up the flavour. Who can say no to 'extra garlic'? Additionally, it makes a great topping to roasted potatoes and any vegetables you might serve with the roast.
Why not make it an entire Greek feast? Serve it alongside an authentic Horiataki (Greek Salad), warmed briny olives, pitas with whipped feta, lemon roasted potatoes, and finish with baklava, of course!
*adapted from Greek Slow Roasted Leg of Lamb by Recipe Tin Eats.
How to Reheat Lamb Leftovers
Here's where those delicious pan juices save the day! Just place the shredded lamb meat in a small pot and cover with the pan juices and heat them up on medium until the start to simmer. Reduce heat and simmer for a few more minutes. Once the meat is heated through, enjoy it in a sandwich, Greek wrap, or on top of a bed of creamy mashed potatoes.
Join Me for Saturday Brunch!
Join the Saturday morning newsletter and get cozy with a cup of coffee. Inside you'll find free recipes, giveaways, and more. It's such a delicious way to start the weekend!
By clicking subscribe, you agree to share your email address with the site owner and receive emails from the site owner.