Crispy Herbed Hasselback Potatoes are crispy delicious and baked to golden perfection. They make an impressive side dish for dinner parties or a fun upgrade on baked potatoes for family dinners.
Crispy Herbed Hasselback Potatoes
Have you ever been to a fancy dinner party or restaurant and had these stunning crispy golden potatoes? You'll be surprised to know that they really aren't that difficult to make at home! All it takes is a potato peeler, a sharp knife, two chopsticks, and a bit of melted butter. Your guests will go crazy for them and you'll know the real secret…how easy they really are to make!
Enjoy Hasselbacks with a delicious Roast Dry Brine Chicken with a side of Creamed Sweet Peas for an elevated Chicken dinner experience.
What Are Hasselback Potatoes?
Hasselback Potatoes are a style of baked potato that is often served as a side dish or canapé, depending on additional toppings. Before baking, the potato (usually a variety suitable for baking such as Russets or Sweet Potatoes) is sliced in even increments along the entire length of the potato. The cuts stop just short of all the way through, so that the thin slices remain attached.
During baking, the slices become crispy on the outside while remaining soft on the inside. Halfway through baking, remove them from the oven and slightly separate the slices to get that special 'fan' shape.
Where Are Hasselback Potatoes From?
Unlike many dishes of non-verified origin, the name of the chef who invented these fancy potatoes is well known. They were invented in 1953 by a Swedish chef name Leif Ellison while he was training at Hasselbacken restaurant.
Hasselbacken restaurant has had a long and varied history from the mid-1700's onward, and is still in operation today. Recently, it became a part of a leading Swedish entertainment establishment called Pop House Sweden which also includes the ABBA Museum.

How to Prepare Hasselback Potatoes
Begin by choosing four Russet potatoes that have few blemishes and of similar size. Peel them carefully, so as not to have too many visible rigid peeling lines. Leave them whole or slice lengthwise to make half-Hasselbacks. Since potatoes oxidize very quickly, finish each potato one at a time, then place in a small bowl of cold water while you finish the rest.
Remove one potato and place it in between two chopsticks, two cutting boards, or anything of equal width. Using a sharp knife, slice the potato, stopping when the knife hits the chopsticks. How thin to slice is up to you. Aim for 1/4 inch to 1/8 inch if you can. Ensure the knife is always perpendicular while cutting or you may end up cutting a small slice out of the potato (see photo). Repeat until the entire potato has been sliced.
Return sliced potato to the water and slice another until all remaining potatoes are sliced.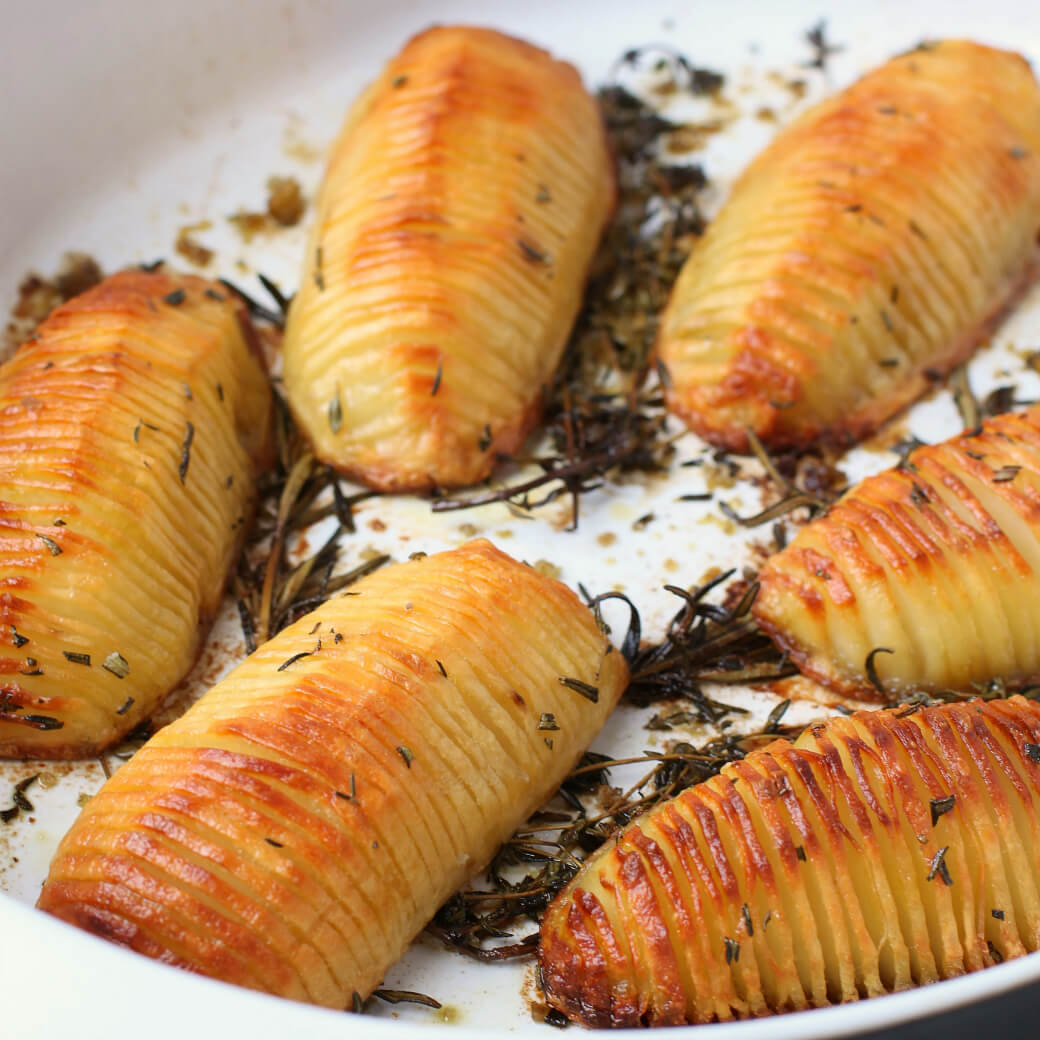 To Peel or Not to Peel
Ultimately, peeling the potatoes is according to personal preference. New potatoes with a thin outer skin and no blemishes make amazing Hasselbacks. However, to get that beautiful golden colour, you must remove the peel. Additionally, the potatoes may be left whole or cut in half lengthwise as pictured above.
Note: To roast the potatoes whole, remove a flat slice along the base so that they sit solidly in the baking pan while baking. Keep in mind that you may have to increase the cooking time as well.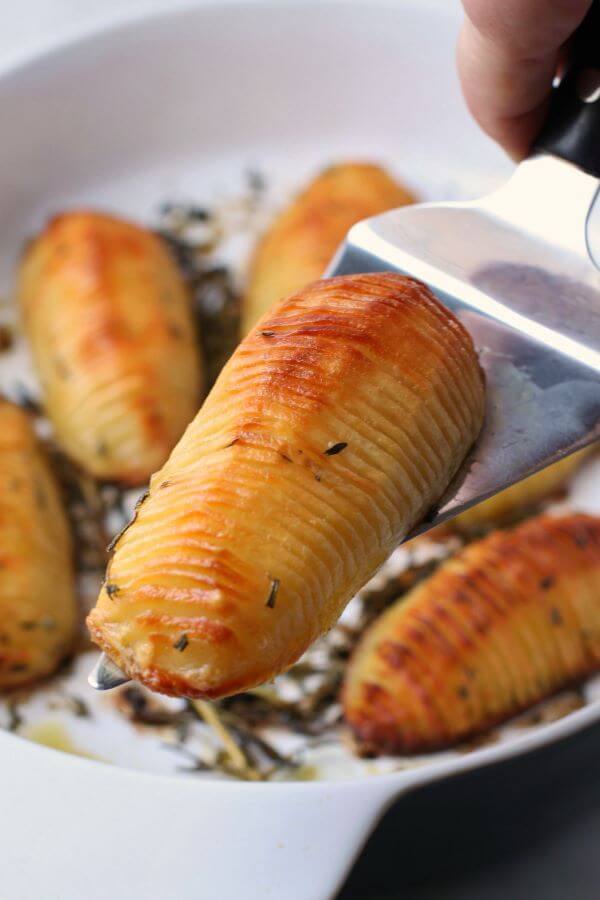 How to Bake Crispy Herb Hasselback Potatoes
Drain the potatoes and dry each potato as well as the inside of the bowl. Return the potatoes to the bowl and drizzle with olive oil. Place flat side down in a baking dish and bake for 30 minutes at 425 F. Next, reduce the temperature to 375 F and brush the tops of the potatoes with melted butter. Roast for another 25 minutes and broil the tops further if they aren't as golden as you like.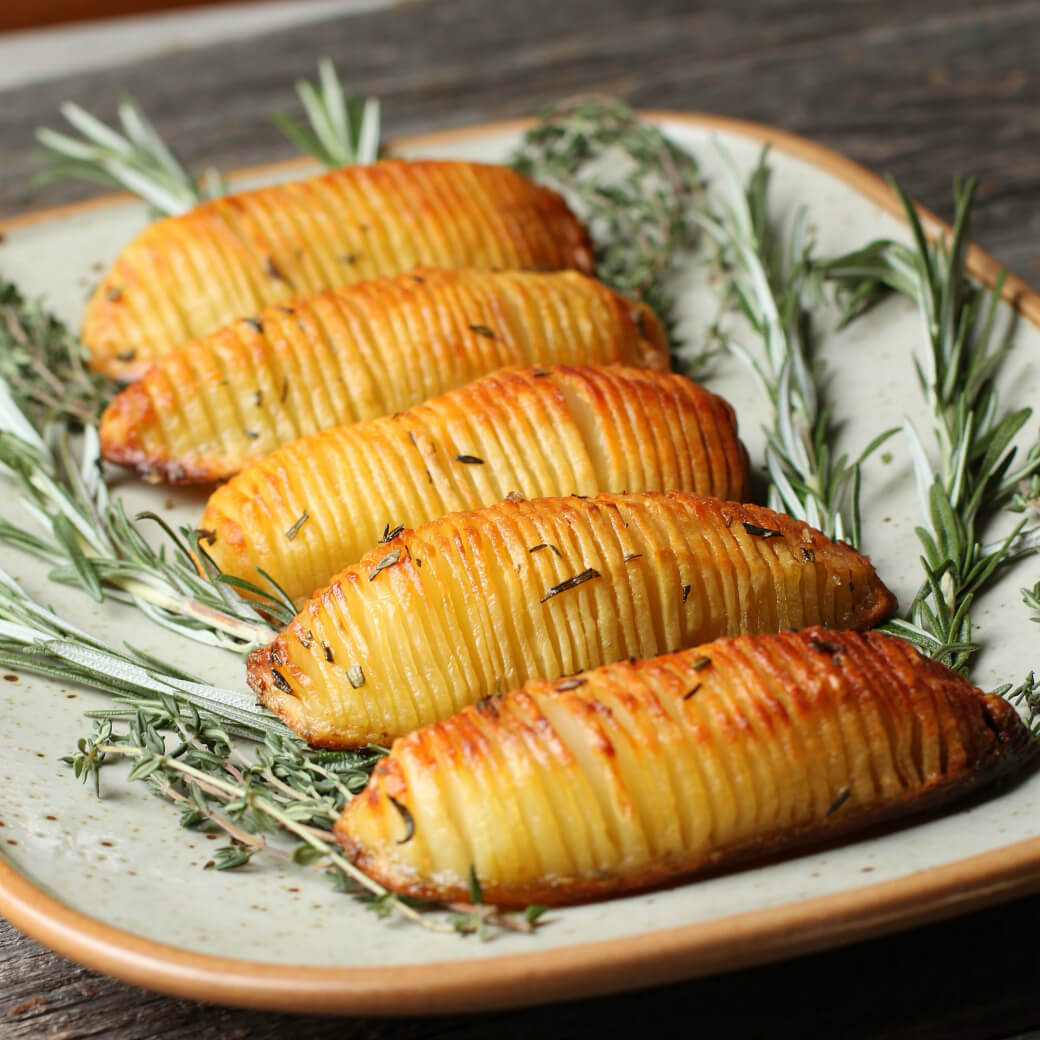 Can I Make Hasselback Potatoes Ahead of Time?
Yes! Make the potatoes a day or two before and store them in a container in the fridge. Alternatively, for all you meal preppers out there, the potatoes may also be frozen. For freezer prep bake for 45 minutes then cool the potatoes to room temperature. Place them in a plastic bag or cryovac packaging for best results.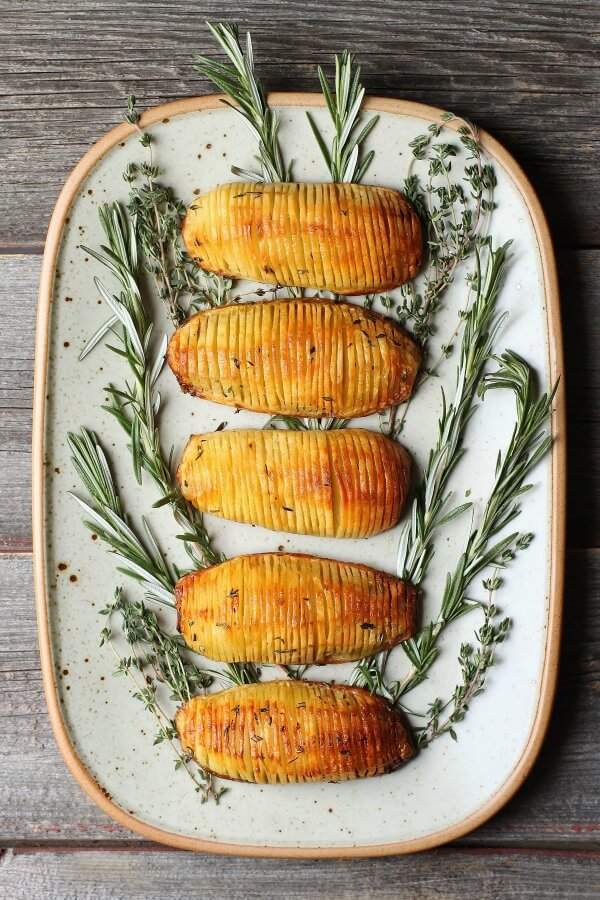 How to Reheat Hasselback Potatoes
To reheat Hasselbacks from the fridge, place them on a baking sheet and roast at 400 F until they are crispy again. To reheat from frozen, allow the potatoes to thaw, then reheat as per above instructions.
Hasselback Potato Variations
Hasselback Potatoes aren't a new concept but even the most basic form is delicious because it involves heat, butter, salt and pepper. Common additions are fresh herbs, buttery bread crumbs, garlic, and Parmesan cheese. More luxurious versions include cheese sauce (Hasselback Gratin!), nuts, cream sauce, sour cream, and even brown butter with crab.
Sweet Potatoes are also great to bake as Hasselbacks and just as delicious with all the above toppings.
Use mini potatoes and top with your favourite flavours for a fun little appetizer.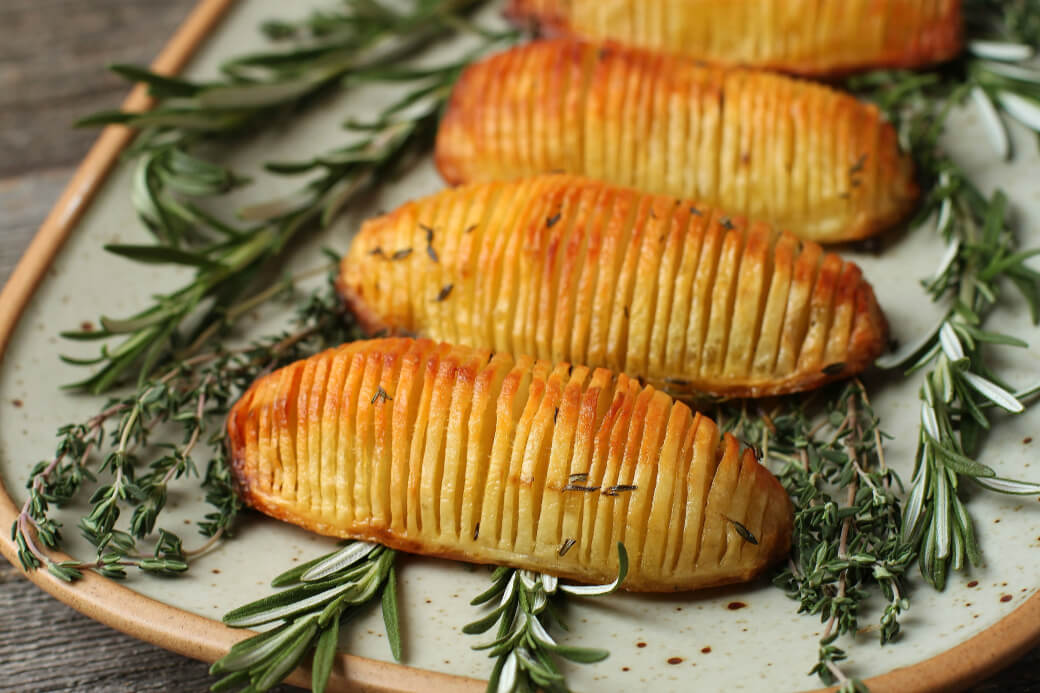 What to Serve with Hasselback Potatoes
Any classic roasted meat such as prime rib, beef pot roast, roasted chicken, pork, or lamb would go well with this side dish. Additionally, they would make a great replacement for breakfast hash browns or skillet potatoes. 

Yield: 8 servings
Crispy Herb Hasselback Potatoes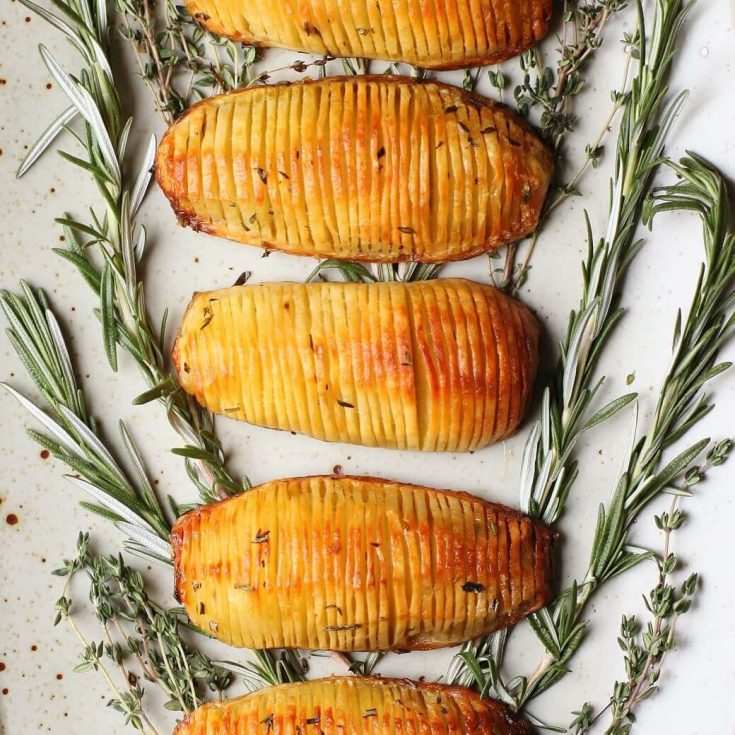 Crispy Herb Hasselback Potatoes are crispy delicious and baked to golden perfection. They make an impressive side dish for dinner parties or a fun upgrade on baked potatoes for family dinners.
Ingredients
4 Russet Potatoes of similar size
2 tbsp olive oil
fresh rosemary
fresh thyme
Sea salt 
2 tbsp butter; melted 
Instructions
Pre-heat oven to 425 F.
Peel the potatoes and dig out any brown spots or imperfections. Place in a bowl of cold water after each potato is peeled.
Slice the potato lengthwise from widest side to opposite side so that you finish with the two halves that are the tallest. Return each half to the cold water.
One at a time, place each half (cut side down) in between two chopsticks (or use two identical cutting boards). Use a sharp knife to slice through the potato at equal intervals of 1/16 - 1/8 inches. Return each cut half to the cold water while you finish the remainder of the potatoes.
Place sprigs of rosemary and thyme in the bottom of a baking dish. Pick about 1 tbsp loose leaves off of each herb and set aside.
Drain the potatoes and dry each potato off as well as the inside of the bowl. Return the potatoes to the bowl and drizzle with olive oil.
Arrange potatoes in the baking dish over top of the herbs. Scatter fresh herbs over all and season with sea salt.
Bake at 425 F for 30 minutes, then baste each potato with melted butter.
Turn down oven to 375 F and roast the potatoes for another 20 minutes. If they are not golden brown on top by now, broil them for a few minutes and keep a close eye while broiling.
Notes
1. You can use this recipe on any potato but the cooking time will vary.
2. Leave the potatoes whole and adjust the cooking time. (this will result in only 4 servings).
3. You don't have to peel the potatoes. If you prefer to leave the skin on give it a good scrub and remove any imperfections. Skip the bowl of cold water.
Nutrition Information:
Yield:
8
Serving Size:
1
Amount Per Serving:
Calories:

139
Total Fat:

6g
Saturated Fat:

2g
Trans Fat:

0g
Unsaturated Fat:

4g
Cholesterol:

8mg
Sodium:

108mg
Carbohydrates:

19g
Fiber:

2g
Sugar:

1g
Protein:

2g
Nutritional calculation was provided by Nutritionix and is an estimation only. For special diets or medical issues please use your preferred calculator.