Roasted Stuffed Butternut Squash is the perfect holiday side or main dish for pleasing vegans, vegetarians, and meat eaters all at the same table.
So Much to be Thankful For
This year at Thanksgiving there were so many wonderful things in my life to be thankful for. Though Canadian Thanksgiving has come and gone, mindfully practicing thankfulness all year long has really become a priority in my life.
First and foremost, I am grateful for the health of my family. I've known of so many people that have had an unbelievably rough year, losing loved ones or being diagnosed with illness. It really brings even the small things into perspective for me.
Being Healthy is the Most Important
Our house has not been without struggles this past year, dealing with my daughter's eating disorder was a priority, as any mother will tell you that the health and well being of her children is the most important thing in her life.
I'm so happy and proud of her recovery efforts; while she is still mindful of what she eats, she has been very successful in remaining vegan throughout her recovery.
During meetings with the nutritionist, we are usually given 'homework', little changes that we, as a family, can do to help our daughter regain a healthy attitude towards food.
She regularly cooks her own meals and eats separately from the rest of the family. It's so much better to be cooking together and having her present at family dinners again.
Thanksgiving (and other major holidays) are often peak times of stress for those with eating disorders but this Thanksgiving, we worked and ate together as a whole family again.
I started dinner preparation as I always do, by brining our turkey, however, this year our side dishes had a more 'inclusive' theme.
Stuffed Butternut Squash
I found a large, quite cylindrical butternut squash and together we stuffed it with a rice and vegetable stuffing. I thought it would be kind of fun to make a vegan version of a 'turducken'…a 'veggiedukken' if you will.
When it was done roasting, we sliced it cross-wise and enjoyed our first ever Veggiedukken.
As for what made me most thankful of all? While we ate our pumpkin pie and cheesecake, my daughter also enjoyed her very own 'vegan' pumpkin pie that she made herself.  I'm thankful for little victories.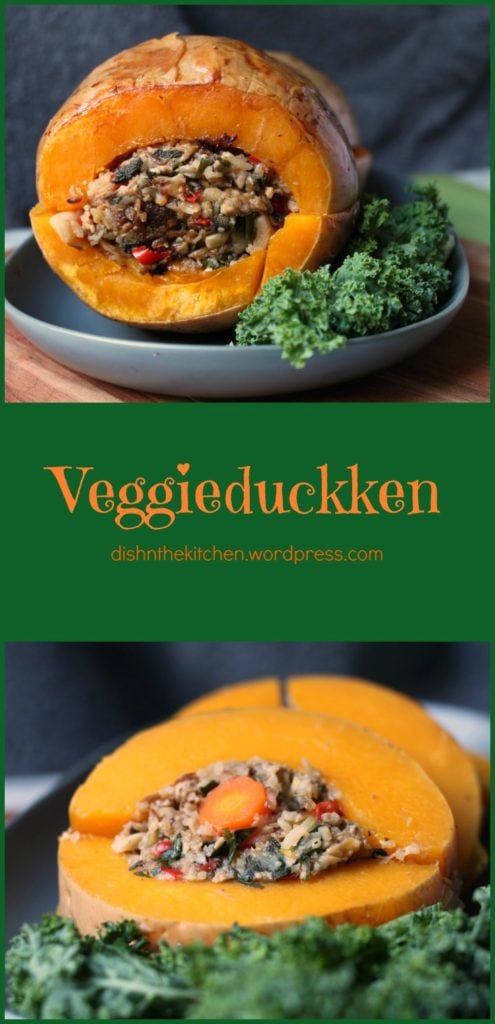 Yield: 6 servings
Roasted Stuffed Butternut Squash (Veggiedukken)
Roasted Stuffed Butternut Squash is the perfect holiday side or main dish for pleasing vegans, vegetarians, and meat eaters all at the same table.
Total Time
3 hours
45 minutes
Ingredients
1 medium butternut squash or banana squash
1 onion; chopped
1 red pepper; chopped
3 cloves garlic; minced
2 cups button mushrooms; chopped
olive oil
1 long carrot; peeled and cut in half crosswise
1 leek; tender white part only, quartered lengthwise
2 cups cooked brown rice
2 cups bread crumbs
1/2 cup fresh sage
2 tbsp fresh thyme
1 cup fresh parsley
salt and pepper
Instructions
Slice squash in half lengthwise and scoop seeds out. Hollow out the flesh until it becomes only about 1 inch thick, leaving ends intact.
Add onion, red pepper, garlic, and mushrooms to a food processor and process until they are a fine dice. Add olive oil to a pan and sauté vegetables until they become soft.
Boil carrot in a small pot for 5-10 minutes until it is slightly softened.
In a large bowl, combine vegetables, rice, and bread crumbs. Finely slice the sage (chiffonade) and parsley and add them to the bowl along with the picked thyme leaves.
Season and mix.
Stuff one half of the squash with mixture, nestle the carrot and lengths of leek along the stuffed cavity. Stuff the other half of the squash and tie with kitchen string.
Lightly cover with foil and bake in a roasting pan at 350 F for 1 1/2 hours or until done.
Let cool slightly and slice cross wise. Serve.
Nutrition Information:
Yield:
6
Serving Size:
1
Amount Per Serving:
Calories:

324
Total Fat:

6g
Saturated Fat:

1g
Trans Fat:

0g
Unsaturated Fat:

4g
Cholesterol:

3mg
Sodium:

380mg
Carbohydrates:

59g
Fiber:

8g
Sugar:

7g
Protein:

10g
Nutritional calculation was provided by Nutritionix and is an estimation only. For special diets or medical issues please use your preferred calculator.