Thank goodness my cold has cleared up enough that I can taste again. There still remained one  more day of  The Big Taste Calgary 2013 and I wasn't going to let it go to waste. While not a ticketed event, The Deane House Restaurant had chosen to participate in the event by creating their own multi course meal. When I called to make a lunch reservation for Sunday I was happy to know that they were also serving their regular weekend brunch. I was pretty sure the kids would prefer brunch to a 3 course dinner.
One of the conversations I had during the previous event at River Cafe was about how Calgary doesn't really utilize river front real estate. We have some beautiful views down by the river and while the pathway is nice, a lot more could be done. Since this was my first time at The Deane House, I was pleasantly surprised to be seated in the west veranda area, right smack beside the Elbow River with an amazing view of downtown Calgary to boot. The location at the west end of Inglewood is a bit busy with traffic and we counted 4 trains going by while we were there but somehow all that traffic can be ignored due to the beautiful view westward.
The Deane House was built in 1906 for the superintendent of Fort Calgary, Captain Richard Deane. It was originally built across the river, but was moved over to it's present foundation in 1929. It has been a private home, boarding house, art gallery and restaurant. Throughout the year, The Deane House hosts murder mysteries and is reputed to be haunted by several ghosts. We didn't meet any while we were there.
For brunch, the tables were set with a vinyl tablecloth. There must be a reason for this but I do prefer real tablecloths. We had linen napkins and as we were leaving I did see the waitstaff setting up for the dinner crowd using tablecloths. Also, there were several dirty aspects of our lunch today. Dirty cutlery, dirty menu, dirty frisee. A bit more attention to details and I think this place would become a favourite of mine.
Unpleasantness out of the way, we had an amazing 3 course lunch and were pleased with all of the dishes. Both of the children decided they would try the brioche french toast with whipped cream and macerated strawberries. Both were suitably impressed.
Our Big Taste first course was Cold Smoked Salmon on Potato Rosti with Frisee, Chives and Creme Fraiche. I decided to try it with the suggested pairing, Red Rooster Pinot Gris and was very pleased. It went well with the smoky flavour of the Salmon and the chives. It didn't go as well with my main, but it didn't go against either.
Hubby and I each decided to try a different main and do a 'swap' so we could try each dish. I had the Steelhead Trout with the Mushroom and Leek Ragout.    I thought it was delicious and very comforting. The trout was perfectly cooked and the mushroom and leeks were a perfect accompaniment.  I usually am not big on cream sauces, especially with fish, but I did enjoy this dish enough to not do a swap with hubby.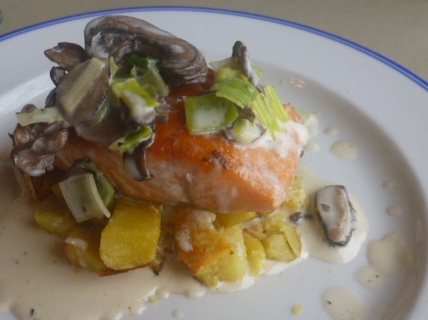 I think that was okay with him because he was happily devouring his Beef Wellington. He did let me have a taste and I thought the meat was very tender, not overdone at all and the pastry was nice and light.  The parsnips were also nice but the carrots, though well turned, were a bit dry and seemed like a vegetable afterthought on the plate. Butter and dill goes a long way!
We all agreed that the standout of the Big Taste menu was the Kahlua Creme Brulee. The top was nice and crusty, while the creme had a beautiful texture and taste. It was very rich without being 'eggy' at all. There is nothing worse than an 'eggy' brulee!!
After our dinner, the waitperson let us know we could check out the rest of the house and that included the attic. Aside from really rickety steps and squeaky floors, we did not find an evidence of paranormal activity. Maybe the ghosts need to get to know us better.
Fantastic scenery, great service, and delicious food,  make The Deane House a lovely place to go on a lazy Sunday. Complete your indulgence with a good walk around the neighbourhood to visit the shops and help digest your food.
Location:
806 9 Ave SE
Calgary, AB T2G 5E1
(403) 269-7747
Hours:
Tuesday through Friday – 11:00 am to 3:00 pm
Saturday and Sunday – 9:00 am to 2:00 pm
(closed on Mondays)