Breydel De Coninc is a popular restaurant in Bruges, Belgium. The menu features classic Belgian preparations of seafood including mussels and lobster.
Bruges is a historic city with great spots to eat and drink. Don't miss the super popular Cambrinus Bierbrasserie (reservations encouraged). When in Brussels, check out this great family friendly four hour itinerary.
A Hotel Recommendation
I will be the first to admit that I fell short of doing the planning for our Bruges portion of the trip. Beyond educating myself on Belgian beer and where to get it I hadn't really given much thought to where we would eat our dinners.
All breakfasts were provided by the Hotel Malleburg which, by the way, is an amazing place to stay. Our family room was cavernous and very well appointed. Though it was expensive, it was less so than the average/poor place we stayed at in Paris. We arrived around 6:30 pm and checked in.
I mentioned we were looking for a place to eat and suggested that we wanted to have some sort of seafood. The female owner pointed out some places but they sounded to me like average 'family type' places and I decided not to try any of them out.
When I went back to the front desk to ask about wifi, the male owner had taken over so I repeated my restaurant request. We had a good chat about the local cuisine and I felt that I had found a kindred spirit. When he suggested we try the nearby Breydel De Coninc he pointed it out on the map and took care to tell me where the 'tourist traps' were.  I trusted his recommendation and it turned out well for us.
Breydel De Conic
Upon arrival it was clear that the place was filled with locals even though the restaurant is in a tourist area. The menus were in French and the waitperson was more than happy to explain them to us. She took the time to translate the bits that we were having trouble with and also to recommend several dishes and a wine to go with them.
It wasn't mussel season and the waitperson didn't push the mussel dishes either. That was a good sign!
Our Starters
We all agreed that this starter of Shrimp Scampi would be worth coming back for. The shrimp was gone in seconds, so fast I think the waitperson was surprised when she came back to deliver our shrimp croquettes.
We had started sopping up that lovely sauce with the bread from the bread basket. It was so good I had to ask her what kind of magic ingredient they put in the sauce. 'Nothing special; just garlic, butter, and cream' she replied. Ah! Nothing special…we asked for more bread.
The Shrimp Croquettes were a take it or leave it affair.
The Main Dishes at Breydel De Conic
I had told hubby that eel was widely eaten in Belgium. The Eel à la Provençale was the first eel dish he ordered. It came all on its' own in a metal bowl with the vegetable/tomato sauce. Then came the frites…
Kid number two decided to play it safe and order the all too familiar Salmon with Mousseline dish. I had a try and that Salmon was cooked just so as you would expect from a seafood restaurant. The mousseline was basically a hollandaise.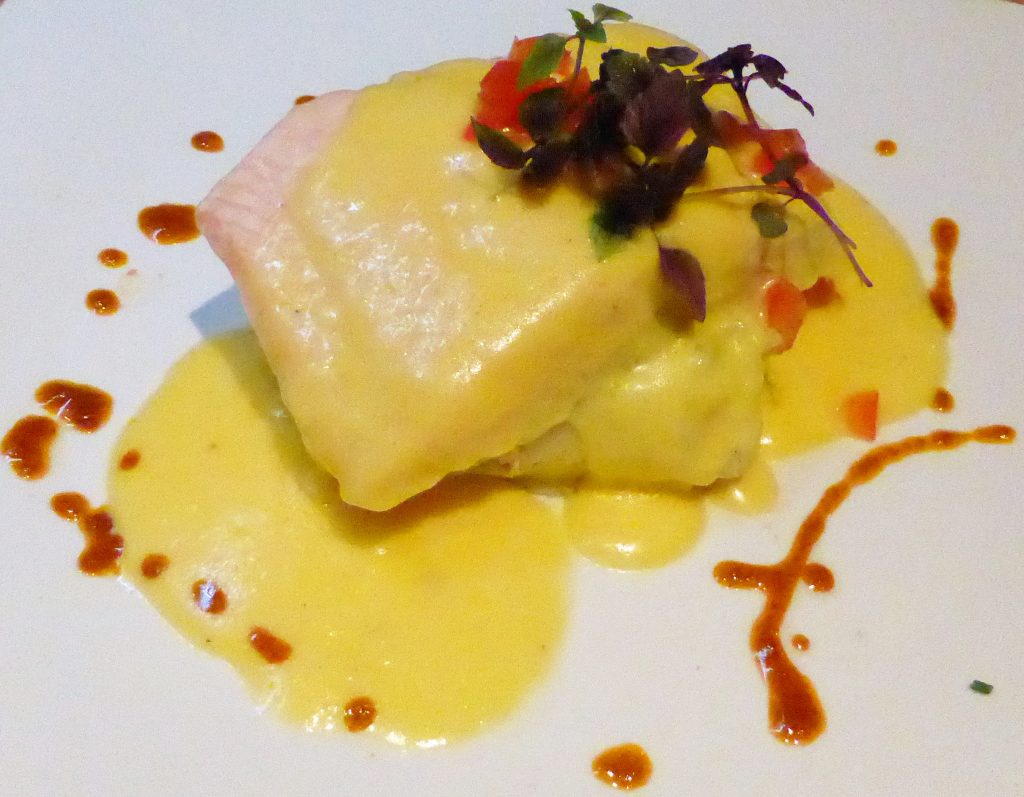 With it being springtime in Europe I just had to order an entirely springtime treat, white asparagus. Though I had great intentions of ordering it more than once during our trip, this turned out to be the only time I was able to order it.
I found it was really overcooked and quite mushy. What a pity. However, my fish was delicious and well cooked. The dish came with three small mussels which I ate.  In addition, I had the same mousseline as kid number two had as well as some nicely turned potatoes with pesto.
Lastly, kid number one ordered a steak. In a seafood restaurant. Sigh. It came with frites and a small side of sauce à la Provençale. He was extremely pleased with himself.
We were quite tired from our day of traveling and sightseeing in Brussels. I think this was the only dinner we had where we skipped dessert. In all, I enjoyed our meal at Breydel de Coninc. The service and food were of high standard.
Restaurant Breydel De Coninc
Breidelstraat 24
8000 Bruges
T: +32 (0)50 33 97 46
closed on wednesday