These succulent Smoked Chicken Thighs bring out the best in backyard smoking. They are brined, seared, and smoked with apple wood until absolute perfection. Your family will be convinced you are the ultimate pitmaster!
If you love the taste of smoked meat, this is the recipe for you. The secret is adding moisture in with a simple brown sugar brine, then locking it in with a quick sear. Set your smoker on low and slow to get the juiciest, most succulent chicken thighs.
Backyard barbecues aren't complete without a selection of fresh and tasty side dishes. While you're smoking the thighs, throw on a few cobs of corn and whip up this Smoked Corn Bacon Avocado Pasta Salad. Or, keep it light and fresh with a tossed Strawberry Spinach Salad with a bright Strawberry Balsamic Vinaigrette.
Brined Apple Wood Smoked Chicken Thighs
Summertime is the time for delicious home smoked meats of all kinds. We have a very small charcoal smoker so we usually stick to smaller cuts of meat that are ready in a few hours. Two of our quick favourites are chicken wings, and smoked Bison burgers. We just really love the flavour of smoke on meat, especially apple wood.
Now that we have mastered smoking chicken thighs, I can tell it's going to be one delicious summer. I suggest you smoke a double batch, because smoked chicken thighs make some of the best leftovers there are!
Simple Chicken Thigh Brine
For these smoked chicken thighs, a simple brown sugar brine in a 1:1 ratio works best. Start the brine by adding six cups of water, one cup of brown sugar, and one cup of kosher salt to a sauce pan. Heat the mixture until the salt and sugar have dissolved.
As the brine is cooling, add in any extra flavour elements you like. Use fresh (or dried) herbs such as thyme, bay leaves, and rosemary, or add fruit such as sliced apples or orange peel. Kick it up a bit with some chopped jalapenos or a splash of apple cider in place of a portion of the water.
How Long to Brine Chicken Thighs
The longer you brine the chicken thighs, the more flavour and moisture enters the meat. However, too much brine time results in salty thighs and we don't want those!
The trick is to aim for that sweet spot where the brine time results in super tender and flavorful thighs, but not so long that salt dominates the taste. To get the best results with this brine, go with a 4-6 hour brine period. That way the chicken can brine on the same day you plan to smoke it.
How to Get Crispy Skin on Smoked Chicken Thighs
To sear or not to sear, that is the question. Of course if you want crispy skin on the thighs, you have to go for the sear. Whether you do it before or after the smoke is up to you. We did it both ways and didn't find it made that much of a difference.
The best sear begins with thoroughly dried the chicken thighs. Once removed from the brine, place the thighs on a rack over a pan and air dry them in the fridge for a few hours.
At a high searing temperature, keep a very close eye on the thighs. It only takes a minute or two to get that skin crispy and flare ups are bad news!
How to Tell When Are Chicken Thighs Done
The smoky aroma is going to drive you crazy with hungry anticipation but remember, we're aiming for low and slow cooking time. It will be worth it!
This recipe was tested with bone-in, skin on chicken thighs. Using bone-in thighs, along with a brine and slow cooking time is the best way to ensure the end result is the best, most succulent thighs possible.
Cooking times will be different for bone-in vs. de-boned chicken thighs, so to be sure, always use a meat thermometer to check the temperature of the meat. The internal temperature must reach 165 F (74 C) for safe consumption.
It's always a good idea to get a final temperature check for each thigh because chicken thighs often vary quite a bit in size.
What to Do with Leftover Smoked Chicken
You've made a double batch like I told you to, right? Leftover smoked chicken is just as amazing as day-of smoked chicken and there are so many delicious ways to use it!
chicken salad with grapes – trust me on this one. The combination of smoky chicken and sweet grapes with creamy mayonnaise is out of this world.
in pasta – cook up your favourite pasta shape, add your favourite sauce and you have a quick weeknight dinner. May I recommend either a cream sauce or pesto with peas or asparagus?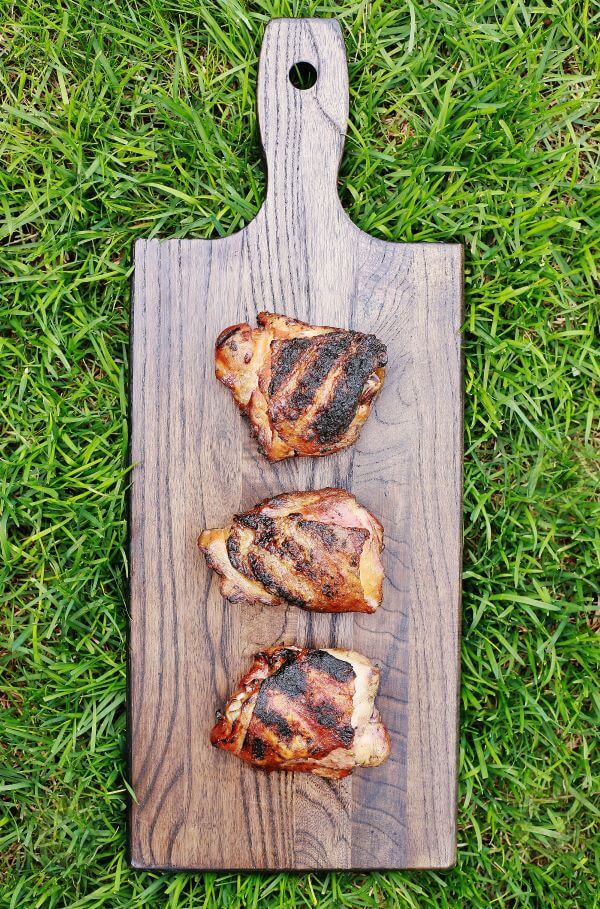 on a cold chicken burrito bowl – add rice, grains, or noodles and all you favourite raw or cooked veggie toppings. Don't forget the sauce!
in smoky chicken fried rice – OMG so good. The ultimate clean out the fridge dish.
on top of smoked chicken nachos – enough said.
in a braised navy bean stew – use in place of bacon to make a great bean dish amazing!
inside a quesadilla or wrap
in a soup
in smoked chicken pot pie
as a pizza topping
The delicious possibilities are endless!
How to Store Leftover Smoked Thighs
Like any leftover chicken, store the smoked chicken in a closed container in the fridge for up to a week. It will freeze well in the same manner for months.
Plan on eating cold leftovers? Eat them the day after or two days maximum after they were cooked.
While re-heating, always take proper care when preparing your leftover chicken from cold storage. Heat it well in a covered pan with a bit of water for moisture. Do not keep leftover leftovers! 
Join Me for Saturday Brunch!
Join the Saturday morning newsletter and get cozy with a cup of coffee. Inside you'll find free recipes, giveaways, and more. It's such a delicious way to start the weekend!
By clicking subscribe, you agree to share your email address with the site owner and receive emails from the site owner.