Smoked Corn Bacon Avocado Pasta Salad is a fun update on a classic pasta salad featuring smoked corn, bacon, and avocado all tied together with a zesty Avocado Cilantro Dressing.
Smoked Corn Bacon Avocado Pasta Salad
The salads of summer have a new flavour and it's smoked corn! Smoked right on the cob, the sweet and smoky flavour pairs so well with bacon and creamy avocado cilantro dressing. This pasta salad is perfect as a side for sunny barbecues, or stands as a meal on it's own. One spoonful is never enough!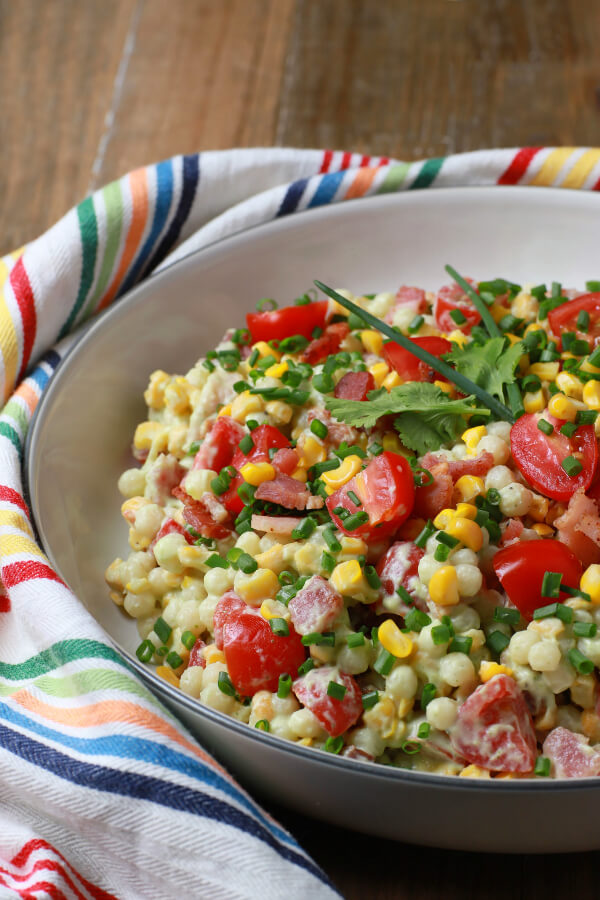 Thinking about what to serve with this salad at your next barbecue? I think it would pair nicely with Simple Grilled Rosemary Beef Kabobs and some chilled Berry Rosé Sangria.

Today I wanted to share this amazing Smoked Corn Bacon Avocado Pasta Salad with you. I've made many corn salads of different variations but this one has the most amazing flavours of them all. The boys were really impressed and quite enthusiastic about the salad, especially the bacon. Don't all the best salads contain bacon?

How to Smoke the Corn
For this salad you really only need two cobs of smoked corn. If you already have plans to smoke dinner, why not throw some cobs of corn on at the same time? I like to smoke half a dozen cobs so that we can have smoked corn with our dinner plus a few extra to make this salad the next day.
Smoking corn is quite easy to do: Place 2-6 shucked cobs of corn in a charcoal smoker. Smoke for an hour at 275 F using apple wood chips. Char on direct grill for a few minutes. Cool, then remove the corn from the cob with a knife or corn stripper.
The smoky flavour of the corn really sets this salad apart from other corn salads. However if you don't have a smoker, go ahead and used grilled or even steamed corn. You'll still have the sweetness of the corn and the smoky flavour of the bacon.

Making the Salad
While the corn is smoking, fry up 5-6 slices of bacon. How crispy do you like your bacon? I'm partial to that very fine line between chewy and crispy and I have to keep a close eye while the bacon fries! Once it's done frying, cool it and chop it up into small pieces.
Next, prepare the pasta according to the package directions. For this salad I chose Pearl Couscous (or Israeli Couscous). I love the little balls of pasta and how they blend with the ingredients. For this salad you could also use any other small pasta shape including macaroni, orzo, orecchiette, or ditalini.
While the pasta is boiling, make the avocado cilantro dressing in a blender. I've used the cilantro stems but feel free to use leaves or roots as well. It's all edible!
This dressing is so easy, just place all ingredients in a blender and blend together. Add more or less whipping cream to achieve desired consistency. Don't forget to season with salt and pepper. You'll find that there is leftover dressing and that is a good thing! We had it the next day on pork tacos and it was amazing!
Finally, chop up the grape tomatoes and dice the avocados (if using). Place all the veggies in a bowl with the cooled pasta and bacon and pour the dressing over all. Gently mix to combine and garnish with chopped chives or green onions.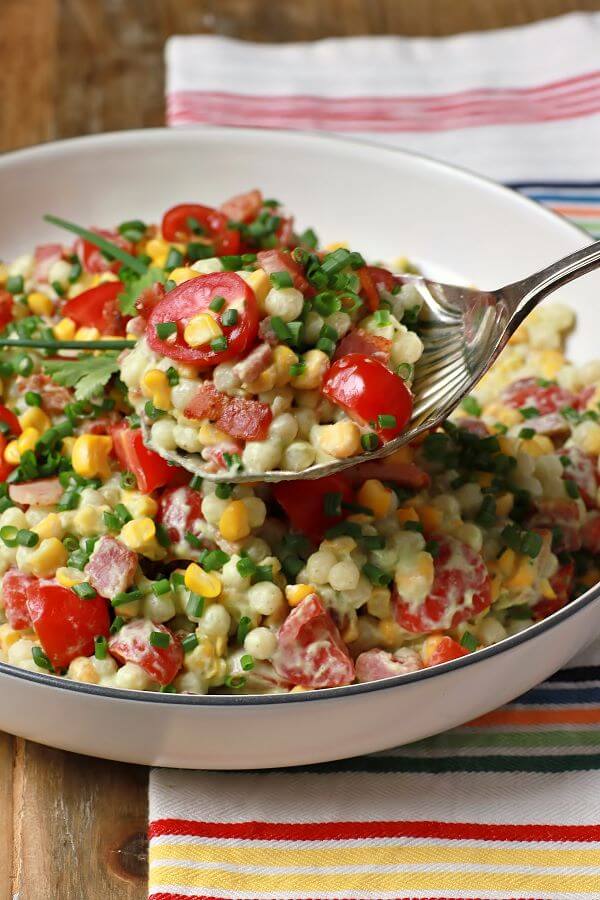 How to Store Smoke Corn Bacon Avocado Pasta Salad
Once refrigerated, this salad will last for up to four days. As it contains whipping cream, it must not be left out at room temperature (or higher) for extended periods of time.
For picnics or barbecues, be sure to store the Smoked Corn Bacon Avocado Pasta Salad with plenty of ice and toss any leftovers. This recipe does not freeze well.