Who can resist tender grilled beef on a stick? This recipe for Teriyaki Beef Sticks combines tender marinated beef with a sweet and savoury Honey based Teriyaki Sauce. Grill it up for dinner in minutes.
Grilling is so easy when you keep a jar of Honey Teriyaki Sauce in the fridge. Use it as a glaze on chicken, beef, or pork. Add an easy Coconut Pineapple Coleslaw on the side and dinner is done!
Teriyaki Beef Sticks
As we head into our billionth week of this summer 2021 heat wave, I'm thankful for quick dinner recipes that don't require a stove. I like to get my dinner prep done in the morning while it's still cool then dinner is just a quick grill and eat affair.
Easy dinners don't have to sacrifice on flavour either. The teriyaki marinade is a marvel. First and foremost, it injects a lot of amazing flavour into the beef. Additionally, it serves to tenderize the meat resulting in the most tender meaty morsels.
In addition to being a delectable dinner (when served with rice), these Teriyaki beef sticks make a great appetizer for a crowd of 10-12.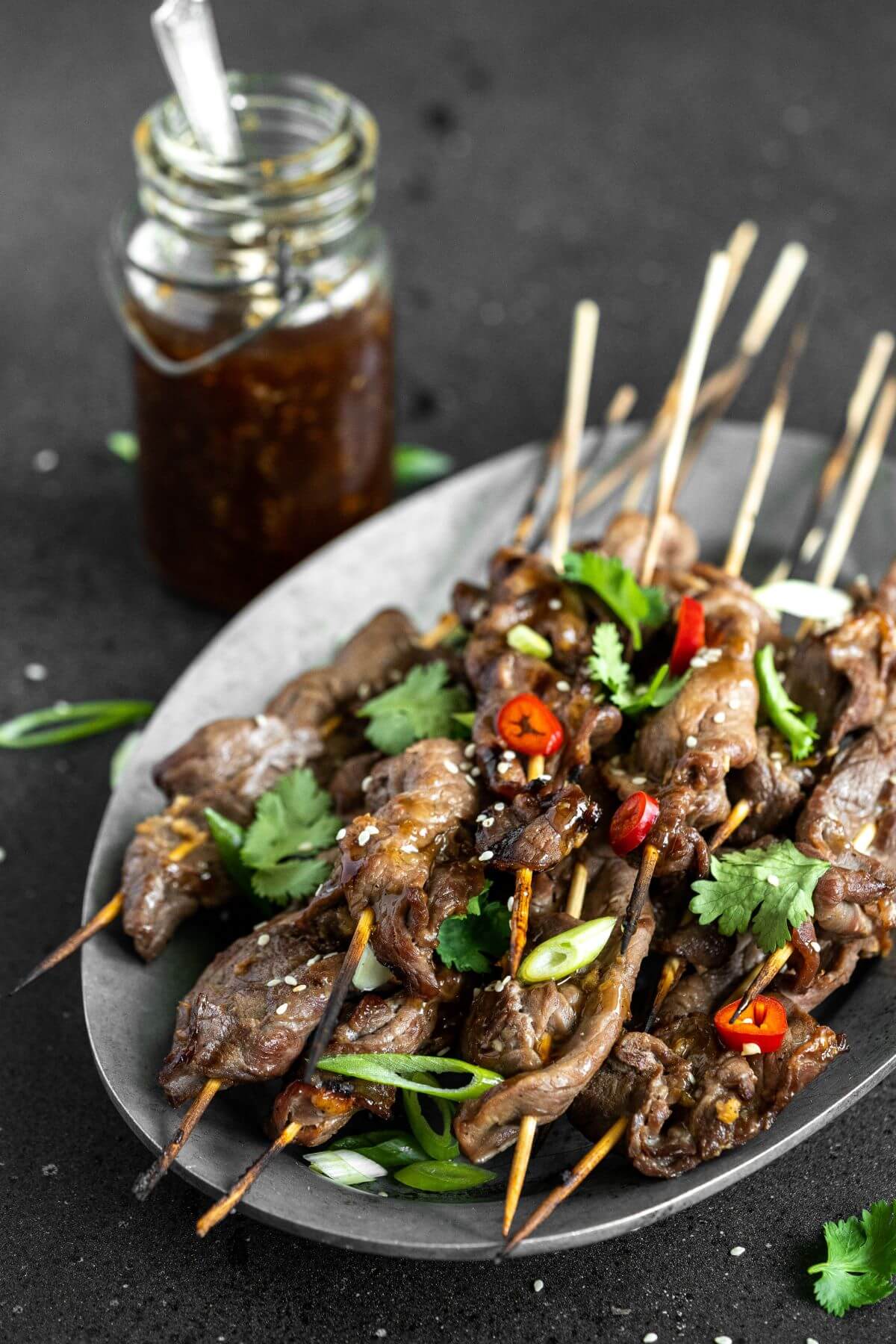 From Japan to Hawaii and Beyond
Though Teriyaki sauce and marinade has become a favourite here in North America and around the world, it has its roots firmly planted in Japan.
Teriyaki in Japan is more about the style in which the food is cooked. 'Teri' or tare means 'luster' or 'glaze' referring to the sheen of the sauce once it has been cooked onto a protein. 'Yaki' refers to direct cooking methods such as grilling, broiling, or pan-frying.
The history of Teriyaki is as complex as the history of Japanese immigration to the Hawaiian islands. Several waves of immigration (followed by eventual invasion and occupation during WWII) also introduced Japanese cuisine to the islanders.
To this day, there is a heavy Japanese influence in Hawaiian cuisine. However, in many cases the islanders have adjusted the cuisine according to their own preferences. This includes adding pineapple juice and touch of sweetener (honey) to teriyaki sauce.
Teriyaki as a Marinade
In this recipe, teriyaki flavours are used in two ways. As a marinade and as a finishing glaze. The two methods ensure maximum flavour is achieved.
Besides flavouring the meat, the acid in the sake (or mirin) helps break down the meat fibers. Similarly, there are enzymes in pineapple juice which soften meat by dividing proteins like collagen.
Ingredients List for Teriyaki Beef Sticks
beef
honey
soy sauce
sake
pineapple juice
vegetable oil
garlic
ginger
pepper
red chilis
cilantro
sesame seeds
green onions
Why honey? Because it's natural…and delicious! Many recipes call for a combination of brown sugar and honey while some use only brown sugar. You do you.
I love to use a naturally brewed soy sauce for maximum flavour without the added sodium and caramel dye. It's a bit pricier, but worth it in my opinion. For a gluten free replacement, use Tamari (read the label, they aren't all gluten free!). It's also made from fermented soy beans but generally does not contain wheat.
Sake is an ingredient that you may not always have on hand. In a pinch, you can use mirin, Chinese cooking wine (Shiaoxing), or even dry sherry. Or, use both mirin and sake, as in traditional Teriyaki.
The pineapple juice belongs to the Hawaiian version of Teriyaki sauce. If you prefer, replace with rice wine vinegar.
Add just a touch of vegetable oil (sesame, peanut, canola, or avocado) to prevent sticking while grilling.
Aromatics such as fresh garlic and ginger really boost the flavour of the marinade and sauce. You can substitute pre minced bottled garlic and ginger, though the overall flavour may not be as bright.
The rest of the ingredients (sliced red chili, cilantro, sesame seeds, and green onions) are mostly optional garnishes. However, they do add that final layer of flavour and an eye catching visual appeal to the Teriyaki Beef Sticks.
Best Beef Cuts for Teriyaki Beef Sticks
While expensive, well marbled beef cuts such as filet mignon, ribeye, or top sirloin would be amazing in this recipe, marinating the meat allows leaner (and cheaper) cuts to retain moisture during grilling. They can be just as flavourful as the more expensive cuts of beef.
Flank steak, round steak, or skirt steak all work well in this recipe. Since they are cut into thin strips, the marinade is in contact with a large surface area of the meat. This means maximum flavour and tender beef.
If you do decided to use a more expensive, well marbled steak cut, you can skip the marinating step and quickly brush on the glaze as you grill the meat. It won't take long for the skewers to be done!
Let's Grill Some Teriyaki Beef Sticks!
The first step in this recipe is slicing the beef as thinly as possible. I find that freezing the beef for an hour firms it up and makes it easier to slice into strips.
While the meat is in the freezer, make the marinade. You may as well make the sauce at the same time. That's efficient cooking! Add the sauce ingredients to a small saucepan and let it simmer over medium heat as you combine the marinade ingredients together in a large bowl.
Remove the meat from the freezer and slice it into thin strips. Add it to the marinade, cover and refrigerate for 2-4 hours.
About 20 minutes before you start your grill, place 15-20 wooden skewers in a sink of cold water. Soak them for 15 minutes, then thread the marinated meat onto the soaked skewers.
Preheat the grill to medium high and place the beef skewers on the hot grill. Grill beef about 3 minutes per side or until they reach your desired doneness.
No grill? No problem! Simply stir fry the sliced marinated beef in a wok or high sided saute pan. 
Transfer the Teriyaki Beef Sticks to a serving platter. Drizzle more Teriyaki sauce over the skewers and garnish with freshly chopped cilantro, green onions, red chili and sesame seeds. Serve immediately with rice or as an appetizer.
Make Ahead Options and Leftovers
I always like to have a jar of Teriyaki sauce on hand. When refrigerated, the sauce keeps for a week or two. It also freezes well and keeps for a year or more when frozen. The same goes for the marinade.
One of my favourite 'make ahead' camping dinners is to follow this recipe up until the meat and marinade are combined, then place them in a ziploc bag in the freezer. Presto! You have an (almost) instant camping dinner to go which also doubles as an ice pack.
Leftover Teriyaki beef can be stored in the fridge for up to 4 days. Reheat briefly in a saute pan and serve over rice. The cooked meat also freezes well for up to 3 months.

Yield: 6 servings
Grilled Teriyaki Beef Sticks
Who can resist tender grilled beef on a stick? This recipe for Teriyaki Beef Sticks combines tender beef with a sweet and savoury Honey based Teriyaki Sauce. Grill it up for dinner in minutes.
Ingredients
1 1/2 lbs top round beef steak
FOR THE MARINADE
4 tbsp honey
1/4 cup soy sauce (or tamari sauce)
2 tbsp sake (or mirin)
1/4 cup pineapple juice
2 Tbsp vegetable oil (or avocado oil)
4 cloves garlic; peeled and crushed
1-inch ginger; peeled and grated
1/4 teaspoon black pepper
TO SERVE
1 green onion; green and white parts
1/4 cup fresh cilantro leaves; chopped
1 red chile pepper; thinly sliced (optional)
1 teaspoon white sesame seeds
1/2 cup Honey Teriyaki Sauce
Instructions
Whisk together the honey, soy sauce, sake (or mirin), pineapple juice, oil, garlic, ginger, and black pepper in a large bowl.
Slice the steak into thin ribbons.
Add the steak and use your hands to combine so that all the steak is coated. Cover and refrigerate 2 hours.
20 minutes before you BBQ, soak 20 wooden skewers in water (this helps prevent them from catching on fire). Preheat a grill to medium-high.
Thread the steak onto the skewers. This amount should make between 15 to 20 skewers.
Grill the skewers until the beef is cooked, about 3 minutes per side. Brush with more teriyaki sauce, if desired.
Transfer to a serving platter, drizzle more Teriyaki sauce over the skewers, and top with the scallion, cilantro, chili pepper, and sesame seeds.
Serve along with the Teriyaki Sauce for drizzling on top. Great as an appetizer or as a meal when served with steamed rice.












Nutrition Information:
Yield:
6
Serving Size:
1
Amount Per Serving:
Calories:

510
Total Fat:

22g
Saturated Fat:

7g
Trans Fat:

0g
Unsaturated Fat:

12g
Cholesterol:

138mg
Sodium:

867mg
Carbohydrates:

34g
Fiber:

1g
Sugar:

32g
Protein:

46g
Nutritional calculation was provided by Nutritionix and is an estimation only. For special diets or medical issues please use your preferred calculator.