A tried and true recipe for the softest, cheesiest Cheesebuns EVER. Try them as a side with a bowl of soup or tuck into school lunches for a cheesy treat.
Are you a cheese lover? I've got some great recipes for you to satisfy that ever present cheese craving including this Totally Addictive Pimento Cheese that is amazing on sandwiches and grilled burgers! Or, treat your family to this hearty cheese topped Taco Tater Tot Casserole.
Cheesebuns Make a Great Lunchbox Treat
My kids are always after me to make them grilled cheese or mac 'n' cheese or anything cheesy at all. On treat days I've been known to pick up cheese buns from the famous Glamorgan Bakery so I thought it would be handy to create my own recipe for Cheesebuns. So much more convenient that driving across town.
When there are some left over, hubby makes the kids sandwiches by slicing them in half and inserting the toppings. They seem to like anything different in their lunches and I don't blame them.
Beat School Lunchbox Boredom!
I remember (way back) when I was a kid and the never ending tedium of school lunch boxes was an every day day occurrence.
Besides my mom's fabulous home made bread I had an apple and if I was really lucky, a cookie. I say lucky but what I meant was I had a cookie only if I baked it myself.
My mom makes super bread but just can't seem to bake anything else. Most of the time I would only have meat in my sandwiches if there was left over roast beef or ham as my mother never bought sandwich meat. More often than not I had a cheese sandwich.
Break Out of the Lunchbox Tedium with Cheesebuns
These days the kids have it much better. I do buy juice boxes for them and the odd granola bar and of course I bake a lot so they often go to school with some real gems in their boxes.
Still, that's a long amount of time to eat sandwiches for lunch and they still get bored. Twelve years of sandwiches!
How to Make Cheesebuns
The dough for the Cheesebuns is very similar to one you would use for cinnamon buns. Instead of spreading butter, cinnamon and sugar you use some melted butter and a whole bunch of grated cheese.
These buns are great with a bit of added garlic powder but only if consumed at home. Kid number two informed me she preferred not to have garlic breath at school so next time I'll skip it.
Another great cheese bun flavour twist is to layer them with tomato sauce, Italian seasoning (and even pepperoni bits) to make pizza buns.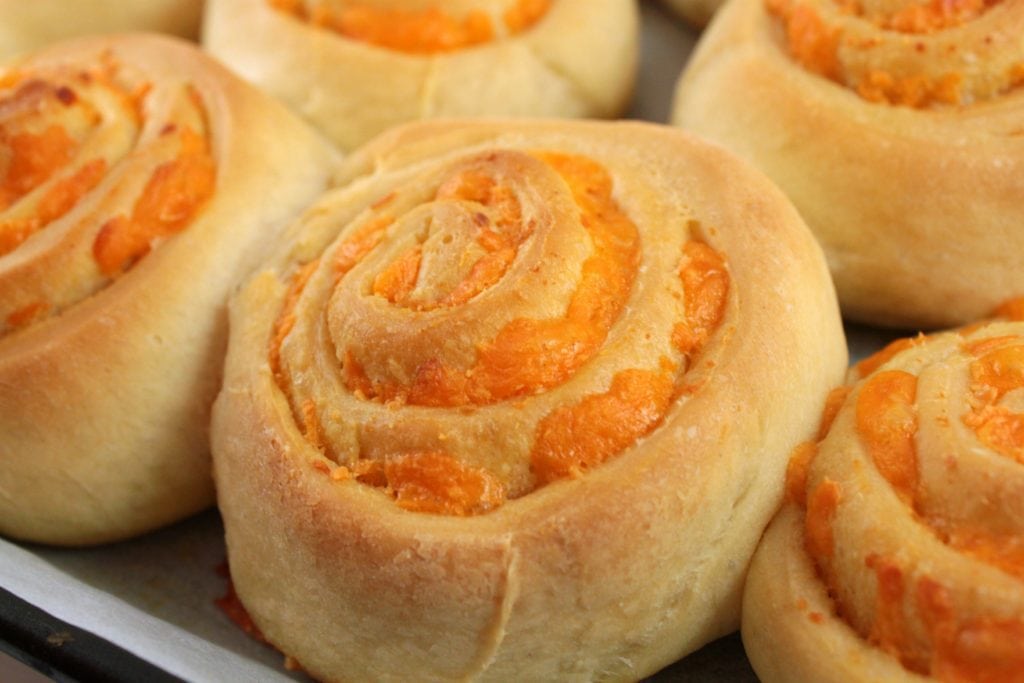 If you make this Cheesebuns recipe, please be sure to leave a comment and/or give this recipe a rating! Be sure to follow me on Facebook and Pinterest for my latest recipes. Also, if you do make this recipe, please tag me on Instagram, I'd love to see what you guys are making! Thank you so much for reading my blog.
Yield: 12 cheesebuns
Cheesebuns
Total Time
2 hours
20 minutes
Ingredients
FOR THE DOUGH
1 tbsp instant yeast
2 tbsp honey
1/4 cup butter; melted
1/3 cup grated cheddar cheese
3 cups flour
1 tsp. salt
warm water (about 1 cup)
FOR THE CHEESE FILLING
2 cups grated cheddar cheese
1/4 cup butter; melted
garlic powder, pizza sauce, Italian herbs (optional)
Instructions
In the bowl of a stand mixer, combine the yeast and honey with a splash of warm water.
When the yeast starts to foam (about 5 minutes), add in the remaining ingredients.
Turn the mixer on low and begin adding more water as necessary to bring the dough together. You want the dough to be slightly soft and a bit sticky.
Knead for 5-7 minutes or until the dough becomes smooth and elastic.
Place the kneaded dough in a well-oiled bowl, cover and allow it to rise until double. About an hour (or less if your kitchen is really warm). I usually preheat my oven at 200 F for about 3 minutes, then shut if off and do my proof in the oven.
When the dough has doubled, punch it down. Stretch it into a rectangle on a floured counter. Drizzle the melted butter over top and sprinkle on the 2 cups of grated cheese (sprinkle with garlic powder or other fillings if using).
Start at the edge closest to you and begin to roll the dough into a log, keeping it nice and tight.
Using a length of dental floss, slice the dough into about 1″ thick pieces and place them on a parchment lined cookie sheet.
Cover and allow the buns to rise again until doubled, about 30-40 minutes.
Bake at 350 F for 20 minutes. Cool slightly and enjoy. Or, if you are like my kids, don't wait for them to cool, just burn your mouth with the hot cheese. Just kidding. Don't do that.
Nutrition Information:
Yield:
12
Serving Size:
1
Amount Per Serving:
Calories:

288
Total Fat:

15g
Saturated Fat:

9g
Trans Fat:

1g
Unsaturated Fat:

5g
Cholesterol:

42mg
Sodium:

419mg
Carbohydrates:

29g
Fiber:

1g
Sugar:

3g
Protein:

9g
Nutritional calculation was provided by Nutritionix and is an estimation only. For special diets or medical issues please use your preferred calculator.