Fava Bean Crostini are the perfect vegetarian appetizer featuring a simple combination of fresh fava beans, cheese, olive oil, and basil.
Crostini makes such an easy, care-free appetizer. They are quick to whip up and there are so many options. Check out these from the blog: Fresh Strawberry Basil Crostini or Creamy Whipped Feta with Roasted Tomatoes the next time you need a quick appetizer or satisfying snack.
Simple Fava Bean Crostini
Thin slices of lightly toasted baguette are topped with fresh fava bean puree, cheese, and herbs. These tasty little morsels make a great vegetarian appetizer or late afternoon snack. Replace the cheese with grated vegan cheese or nutritional yeast for a vegan alternative.
These fava bean crostini are the perfect way to highlight this bright fresh vegetable during the height of its season. A brief blanching is the only cooking required to coax the bright green legumes out of their shells.
When paired with a mature salty Parmesan or Pecorino and a bit of fresh basil, their flavour really shines. Enjoy it as a topping for crostini or as a healthy dip for vegetables or chips.
What Are Fava Beans?
Fava beans (or broad beans) are green legumes that come in thick, protective (inedible) green pods. There are several varieties, including several shapes and colours, that may be eaten fresh or dried.
Broad beans have a long tradition of cultivation in Old World agriculture, being among the most ancient plants in cultivation and also among the easiest to grow. Along with lentils, peas, and chickpeas, they are believed to have become part of the eastern Mediterranean diet around 6000 BCE or earlier, however their wild ancestor has not been identified and their origin is unknown"

-Wikipedia
It's also important to note that while fava beans are healthy, their consumption can trigger G6PDD, a hereditary genetic condition which causes extreme anemia in certain populations. If you feel ill or weak after eating fava beans, you should be tested for this genetic deficiency.
In general, fava beans are packed with carbohydrates and protein, and are great sources of vitamins like folate and Thiamine and minerals such as Manganese, Phosphorus, Magnesium, and Iron.
Ingredients List
Fava Beans
Parmesan Reggiano
Lemon
Olive Oil
Salt and Pepper
Fresh Basil
Baguette
Don't you just love a recipe that's big on flavour but contains very few ingredients? The key here is to buy the best ingredients you can. As a result, your fava bean crostini will have incredible flavour.
Fava Beans have a very short season and are best when they are smaller. Feel free to substitute frozen fava beans in place of fresh. They freeze well with little effect on taste and texture.
Fresh fava beans have a slightly sweet flavour (similar to fresh peas) so they pair well with a bit of lemon (not too much), fresh basil, and mint. Feel free to replace the basil with a few mint leaves. Start with a smaller amount, taste and as more as needed.
Use finely grated Parmesan Reggiano or Pecorino Romano for the best cheese flavour. Note that Pecorino cheese is quite salty and you'll need to taste the puree before adding salt to avoid over seasoning.
Here's a chance for you to whip out your very best EVOO. I highly recommend going to an olive oil shop and sampling if you can. Extra virgin olive oil can range from green tasting to quite spicy and it's all about personal preference. You could even use a basil infused oil, or truffle oil in this recipe.
Again, this is the kind of recipe where fresh matters. That means a solid 'no' to dried basil. Fresh is best. As mentioned, fresh mint would also be lovely, though less Italian inspired.
Toasted fresh baguette with a light coating of olive oil makes the perfect vehicle for this fava bean puree. However, you could also thin it out a bit more or add dairy such as sour cream/plain Greek yogurt and enjoy it as a chip or vegetable dip.
How to Make Fava Bean Crostini
Fava beans take a little effort to prepare. When the kids were small, it was their job to shell the peas and fava beans. Now that they're grown up, I don't mind doing it myself. I find it quite calming and therapeutic.
So, throw on your favourite podcast and get shelling!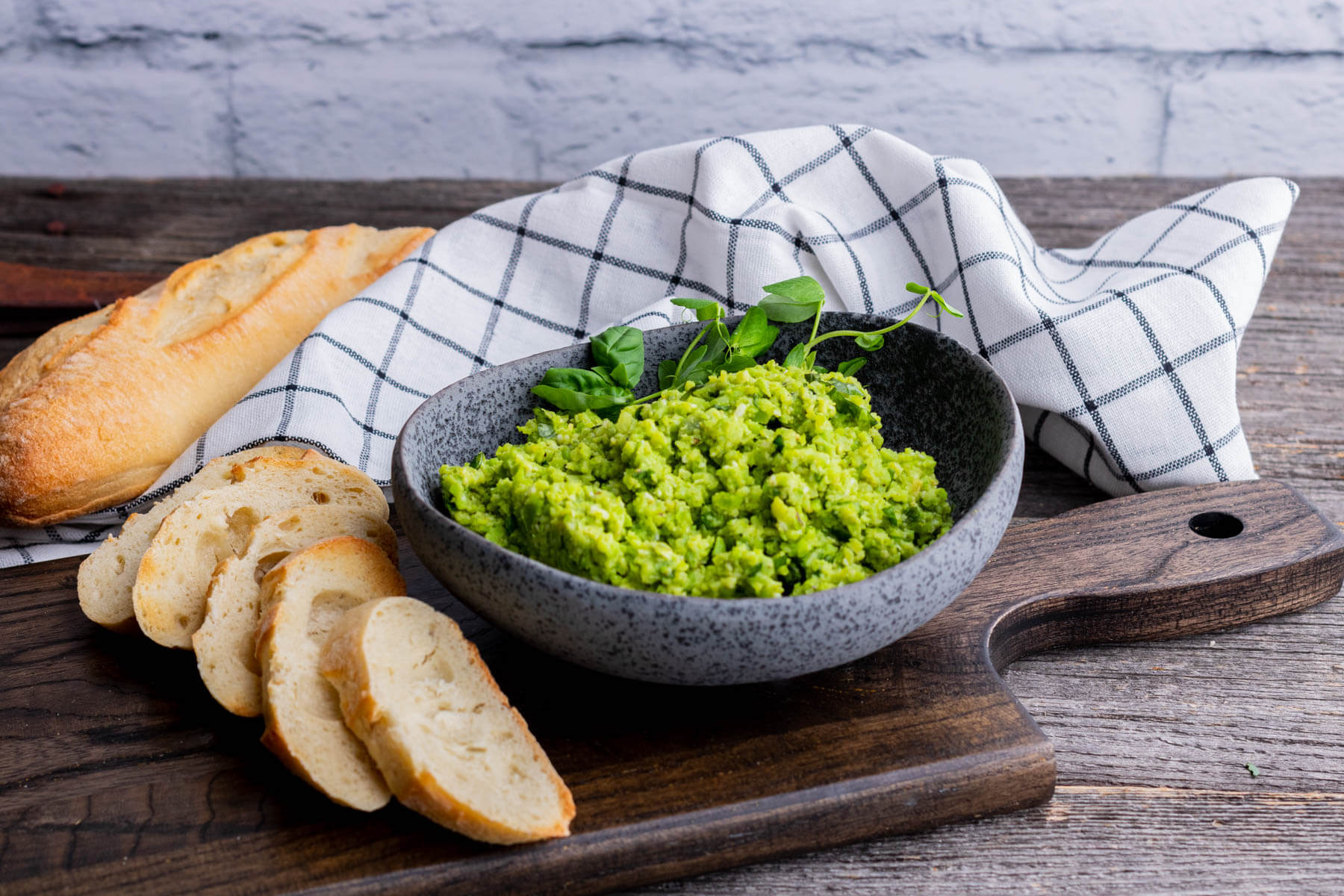 Prepare the Fava Beans
Open the pods by grabbing hold of the stem end and peeling it downward along the length of the pod, like a zipper. Press inward along the seam and the pod should pop open. Remove each bean from the pod and set aside in a small bowl. Repeat with remaining pods.
Next, we need to blanch the fresh fava beans in order to remove the outer skins. To do this, simmer them in a small saucepan of salted boiling water for two minutes.
Drain well, then plunge the blanched beans into a large bowl of ice water. This ice bath will immediately stop the beans from cooking and allow them to remain a vibrant green colour.
Finally, make a small slash with your fingernail in the outer skin where the bean was attached to the pod. Gently squeeze the other end and the shiny green fava bean should just pop out of the skins. Gather the peeled fava beans in a medium bowl.
Mix it Up
While a few whirls of a food processor would do the trick, you may also end up with overly processed fava bean puree. Ideally you want to keep some texture in the coarse, choppy puree to keep it lively on the palate. No one likes mushy baby food textures.
The best way to control the texture is to mash the shelled favas with a potato masher or pastry cutter. Add the finely grated Parmesan Reggiano (or Pecorino) cheese, 1-2 tsp lemon juice, lemon zest, salt and pepper to the bowl. Mash until they are combined well yet still retain a fair amount of texture.
Add as much olive oil as you like so that the mixture is not too dry, nor too oily. Stir in the chopped fresh basil. Taste and season.
How to Serve Fava Bean Crostini
Slice and lightly toast the baguette in a toaster. Lightly brush with olive oil then rub a cut garlic clove over the surface (optional). Alternatively, brush with olive oil then bake on a baking sheet in a 350 F oven for 7- 8 minutes or until golden brown.
Scoop about two tablespoons onto each toasted baguette slice to make crostini. Drizzle with a good olive oil, then garnish with a fresh basil leaf, shaving of Parmesan, or thin slice of guanciale.
Join Me for Saturday Brunch!
Join the Saturday morning newsletter and get cozy with a cup of coffee. Inside you'll find free recipes, giveaways, and more. It's such a delicious way to start the weekend!
By clicking subscribe, you agree to share your email address with the site owner and receive emails from the site owner.