This Cranberry Salsa will add a little extra spice to your holiday season. It's a simple salsa, made with fresh cranberries along with a little bit of jalapeno heat.
No holiday table is complete without a touch of cranberry. If you love this tart fruit, check out these ever popular Cranberry Bars which can be made from either leftover cranberry sauce or fresh cranberries.
The best start to the day involves cranberries! I love them baked into muffins or in these amazing Lemon and Cranberry Scones.
Jalapeno Cranberry Salsa
This salsa is no ordinary cranberry sauce. The deep tart flavour of the fresh cranberries is perfectly balanced with a touch of sweetness. A touch of lime juice and zest for acidity and a bit of heat from the jalapenos complete this addictive salsa.
I've been wanting to include some sort of cranberry sauce recipe on the blog for a while now. I have so many great holiday recipes and no holiday menu is complete without a bowl of the tart ruby sauce.
When my sister texted me a photo of her evening snack and suggested I develop a recipe for Cranberry Salsa, I immediately went to work. She said it should be fresh, tart, and not too sweet (the one she was eating was too sweet). That's it. That's the story of how this salsa came to be.
Five Fresh Flavourful Ingredients
Cranberries
Jalapenos
Onion
Cilantro
Lime Juice and Zest
Yes, you must absolutely use fresh Cranberries in this salsa fresca, otherwise it will be cranberry sauce!
The fresh Jalapenos are what make this salsa sing. There really is no way of knowing for sure how spicy this salsa will be. It all depends on the jalapenos. If you crave spice, you'll have to taste test the jalapenos first!
How to Make Fresh Cranberry Salsa
Whipping up a bowl full of this additive salsa couldn't be easier. There is very little cooking involved…just enough to soften the cranberries ever so slightly.
The rest of the ingredients are mixed in once the cranberries have cooled. They lend a wealth of fresh aromatic flavours to the cranberry salsa, making it absolutely irresistible.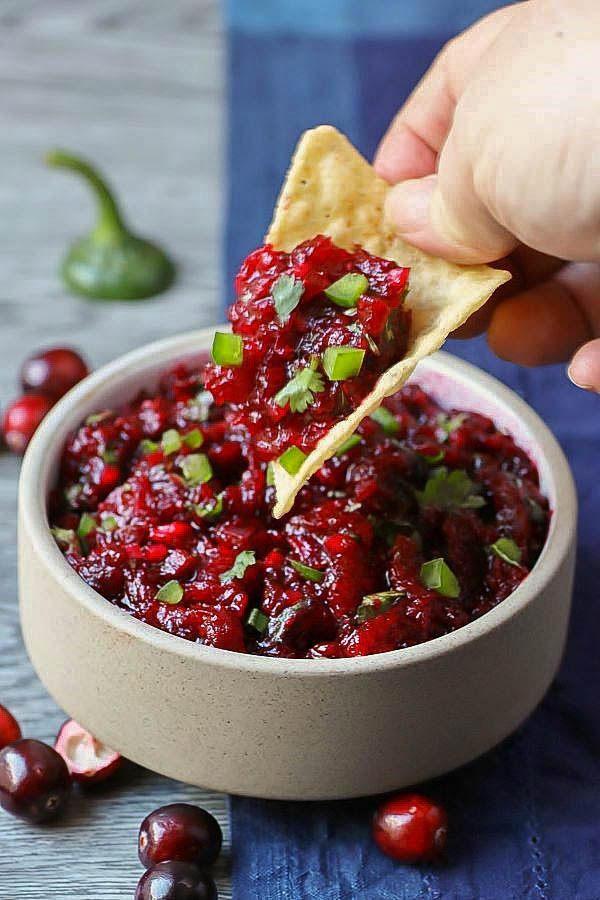 Begin making this recipe by placing the chopped cranberries and lime zest in a small saucepan. Add the sugar and a few tablespoons of water. Heat on medium until the mixture comes to a slight boil, then remove from heat.
Allow the cranberries to cool slightly then add the onions, jalapenos, salt, and lime juice. Do not add the chopped cilantro until the salsa reaches room temperature. Taste and adjust the seasoning according to your preference.
Hurray for Cranberries!
Cranberries are often touted as a superfood and there are many reasons why. They contain phytochemical compounds, or polyphenols which are being studied for possible effects on the cardiovascular system, immune system and cancer.
Nutritionally, cranberries are composed mostly of water, with very little protein or fat. They are a great daily source of Vitamin C, dietary fibre, and manganese amongst others.
Though cranberries are commonly thought to reduce the incidence of urinary tract infections, clinical research is ongoing.
All About Cranberries
Cranberries are not a berry at all. Rather, they are the fruiting body that grows underneath the flowering part of the plant. They are edible raw, though quite tart due to their natural acidity.
Cranberries grow near bodies of water on evergreen shrubs native to North America. Once the fruit matures, it falls off and is dispersed by the flowing water, to reseed in another location.
Commercially, cranberries are grown in the rich soil in areas with a low water table. During harvest, the area is flooded, and the natural buoyancy of the fruit causes it to float. The fruit is then scooped up and cleaned for further processing.
Other Ways to Enjoy Cranberry Salsa
There are so many ways to enjoy this fresh fruit salsa. Try it as a great holiday appetizer dip with tortilla chips or spoon it onto tacos. It's delicious when paired with softened cream cheese on crackers.
It also makes a wonderful non-traditional cranberry sauce for turkey dinner. So, ditch the holiday can of cranberry sauce and jazz things up a bit this holiday season!
Cranberry and Brie cheese are absolutely a flavour match made in heaven. Spoon this fresh salsa over a round of baked Brie or use it in a toasted pear and Brie Cheese sandwich. It would also be amazing on a turkey sandwich or slathered onto a turkey burger.
How Long Does it Last?
This addictive salsa will have you reaching for the tortilla chips again and again. If there are leftovers, place them in a lidded container and store in the fridge for up to a week.
This salsa is best the next day as by then the flavours have had a chance to mingle together.
Fresh Cranberry Salsa does not freeze well.
Join Me for Saturday Brunch!
Join the Saturday morning newsletter and get cozy with a cup of coffee. Inside you'll find free recipes, giveaways, and more. It's such a delicious way to start the weekend!
By clicking subscribe, you agree to share your email address with the site owner and receive emails from the site owner.
Helpful Items for this Recipe
This post contains affiliate links. As an Amazon Associate, I earn a small portion from qualifying purchases at no extra charge for you.
Victorinox Fibrox Pro, 8-Inch Chef's Knife
Farberware Plastic Cutting Board, 11-inch by 14-inch, White