Carrot Top Pesto is a simple, healthy, and tasty way to add flavour to meals. It is quick to make and is a great way to reduce food waste in the kitchen.
I love using leftover smoked chicken in Chicken Salad with Grapes and saving my beet greens and sourdough discard to make Sourdough Stuffed Beet Leaf Rolls. It's such a satisfying feeling making something great out of food that is destined for the compost.
Carrot Top Pesto
Have you ever used carrot tops in place of regular greens? They have an intense, herbaceous astringent flavour with echoes of sweet carrots. This makes them the perfect green to replace a portion of the basil in traditional basil pesto.
Other ingredients such as basil, garlic, Parmesan (or Pecorino) Cheese, Pine Nuts, and Lemon Juice combine together quickly to complement the flavour of the carrot greens.
How to Make Carrot Top Pesto
This pesto recipe is so quick to make, you can make it in the time it takes to boil pasta.
Simply place washed and dried carrot greens in the small bowl of a food processor and process until they are all of uniform size. Next, add fresh basil, pine nuts, Parmesan cheese, garlic, lemon juice, then process them together until they are finely chopped.
Scrape down the sides of the bowl to incorporate any large pieces that have been missed and season with salt and pepper. With the processor running, drizzle in the olive oil and pulse until combined or until the pesto has reached your desired consistency.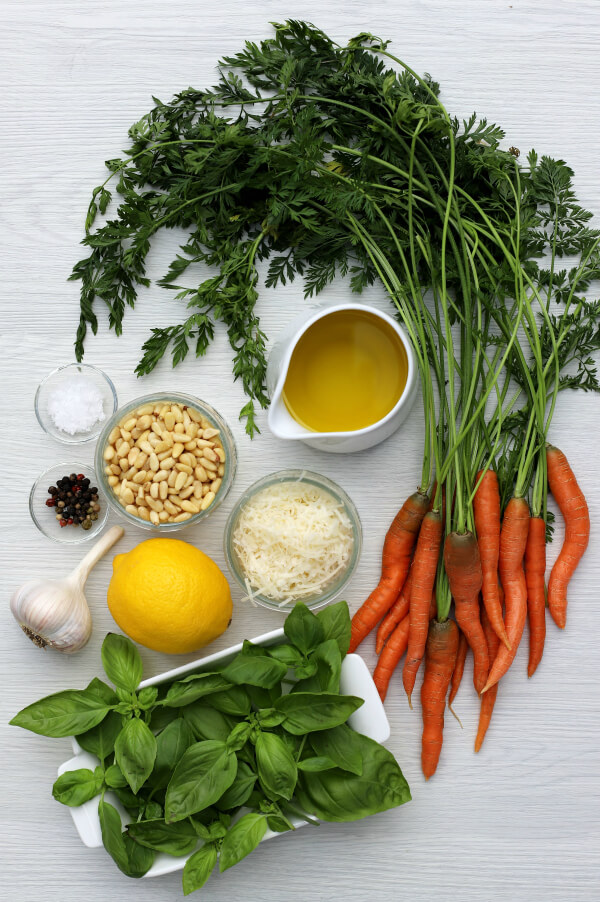 Food: Waste Not, Want Not
These days, saving money here and there is a big deal especially when it comes to food. I love turning leftovers or food scraps into edible dishes that please palates and pocketbooks.
This fall during our carrot harvest, I saved the green carrot tops to make this simple pesto. It's delicious, with a few very simple ingredients. In fact, it's basically a play on the original pesto alla genovese with a portion of the basil replaced by carrot greens.
Other ways to use this herbaceous green is as a garnish for salads, in place of parsley in a Tabbouli style salad, in a zesty chimichurri, as greens in a veggie curry, or as part of a vegetable or chicken stock.
Is Carrot Top Pesto Healthy?
Carrot tops are entirely edible and contain many of the same essential vitamins and minerals that carrots do. This means they contain high levels of dietary fibre, Vitamin A B6, K & C, plus calcium and iron, folate, manganese, niacin, potassium and thiamine.
The health benefits of Carrot Top Pesto don't stop there. Pine nuts are are high in beneficial monounsaturated fats, magnesium and vitamin E, which work together to protect the heart. Though they are high in calories, those calories also include healthy fats, fiber, protein, vitamins and minerals.
Then there's the garlic…I could go on all day about the health benefits of garlic. Suffice it to say this pesto is so packed with heart healthy ingredients and antioxidants, we're willing to overlook a little bit of Parmesan Cheese.
How to Use Carrot Top Pesto
add it to soups and stews to boost flavour
make a pesto cream sauce for pasta or chicken
pesto baked salmon topped with almonds
coat root vegetables in pesto and roast them
mix into scrambled eggs or an omelet
mix into turkey, chicken, lamb, or beef meatballs
thin it out and use as a dressing on salads.
Recipe Variations
Though the ingredients for traditional pesto alla genovese are set in stone, I often play a little with their ratios. Sometimes, I'll add more or less cheese, or use up however many pine nuts are hidden in the pantry. I've mistakenly left out the garlic clove and forgotten all about the lemon juice. Thankfully, pesto is pretty difficult to screw up.
To play with this recipe, you can change the amounts of carrot greens and basil. Feel free to use any hard dry cheese such as Parmesan Reggiano or Pecorino. Additionally, if you want to create a vegan version, replace the cheese with nutritional yeast.
Pine Nuts can be quite expensive so go ahead and use any nut you have on hand. Walnuts, Almonds, and Cashews will all work well. Going nut-free? Toast up some bread crumbs and stir them in at the end of the recipe instead of blitzing them in the food processor.
Can You Freeze Carrot Top Pesto?
Yes, pesto can be frozen for two months or even longer. Invest in some small lidded containers and freeze the pesto in 1/4 cup portions. This is enough pesto to flavour a pasta dish for four people or enough to use in any recipe.
Join Me for Saturday Brunch!
Join the Saturday morning newsletter and get cozy with a cup of coffee. Inside you'll find free recipes, giveaways, and more. It's such a delicious way to start the weekend!
By clicking subscribe, you agree to share your email address with the site owner and receive emails from the site owner.
How Long Does Pesto Last?
Place the pesto in a container and top with a layer of lemon juice or olive oil then cover with a lid. It will keep in the fridge for up to a week, or in the freezer for much longer.