Smoked Chicken Salad with Grapes is the most delicious way to enjoy leftover chicken. So quick and easy to make, this smoky twist on classic chicken salad makes the perfect lunch or dinner.
This post first appeared over at Noshing With The Nolands where I'm a contributor.
I've made the basic chicken salad recipe for YEARS whenever I have leftover Roast Chicken handy. However, one day I had the idea to use some of our leftover Smoked Chicken Thighs instead. Wow! What a flavour boost!
I absolutely love how the smoky flavour contrasts with the sweetness of the grapes while the creamy dressing counteracts the crunch of the celery. There's so much flavour packed into one little sandwich!
Smoked Chicken Salad with Grapes
If you have cooked chicken in the fridge, you have the start of something great for lunch, dinner, or a picnic in the park. There's no need to turn on the stove, just chop and mix your way to the perfect no fuss meal.
I love how the red grapes add a bit of sweetness and visual appeal to the smoked chicken salad. They are one of my favourite sweet ingredients to use in savoury cooking. Try roasting them with pork tenderloin or in a sweet and spicy fruit salsa.
How to Serve Chicken Salad with Grapes
For the most decadent lunch, this smoked chicken salad is outstanding on croissants. However, it is also delicious on your favourite sandwich bread, buns, wraps, pitas, and in crisp lettuce cups (try using Iceberg, Butter or Bibb lettuce). Nothing beats a simple chicken salad sandwich!
How to Make Smoked Chicken Salad
It's your lucky day! This salad is so easy to whip up and it takes mere minutes. Take the leftover chicken from your fridge and chop it up (removing any skin or bones) into 1/2 inch pieces.
Previously shredded chicken would work also work in this recipe. To make 6 servings, use the equivalent of four chicken thighs or two small chicken breasts. 
Next, finely dice a red onion until you have enough to fill 1/4 cup. Keep on dicing, and this time use celery. If you prefer a larger cut, feel free to go for it. 
Lastly, halve the grapes and toss all the chopped ingredients into a bowl. Season with salt and pepper to taste and add a generous 1/2 cup of mayonnaise. With one quick mix, the chicken salad is done! 
Other Ways to Update Chicken Salad
Though this salad seems quite simple, there are almost countless ways to enjoy it. Try these additions/substitutions to find a chicken salad that works for you.
Grapes – Use red or green grapes or go all out and reach for raisins. Not everyone is a fan of grapes in savoury applications so feel free to leave them out.
Dried Fruit – Again, raisins make a wonderful addition to this salad as do dried cranberries. They add a wonderful tart flavour that complements the mayonnaise.
Chicken – Use dark or white meat and if you only have plain leftover roast chicken, that works too!
Fresh Fruit or Vegetables – Use chopped apples or pears in place of the grapes. Go tropical and add chopped pineapple. Avocado or finely chopped carrots would be great too. 
Herbs – So many herbs would work well in this chicken salad. Try adding parsley, dill, mint, rosemary, or thyme for an extra savory flavor. Also, don't throw away those celery leaves…add them in if you have them.
Onions – In addition to the red onions, chopped green onions or chives are a great way to finish off this salad. 
Mayonnaise – If you are watching your saturated fats, feel free to substitute Greek Yogurt or Sour Cream for half or all of the mayonnaise in this recipe.
Spices – This salad is as plain as it gets but if you'd like to spice things up a bit, consider a touch of smoky paprika or chili powder. Adding curry powder and lemon juice makes it 'Coronation Salad' and you will love that bright yellow color it turns, very British!
How to Store Smoked Chicken Salad
Once refrigerated, this chicken and grape salad will only last for a day or two. As it contains mayonnaise (and leftover chicken) it must not be left out at room temperature (or higher) for extended periods of time. To be safe, two hours at room temperature is the limit of food safety in this case.
For picnics or barbecues, be sure to store the chicken salad with plenty of ice and toss any leftovers. This recipe does not freeze well. It is best to make it, refrigerate it, and then serve and eat.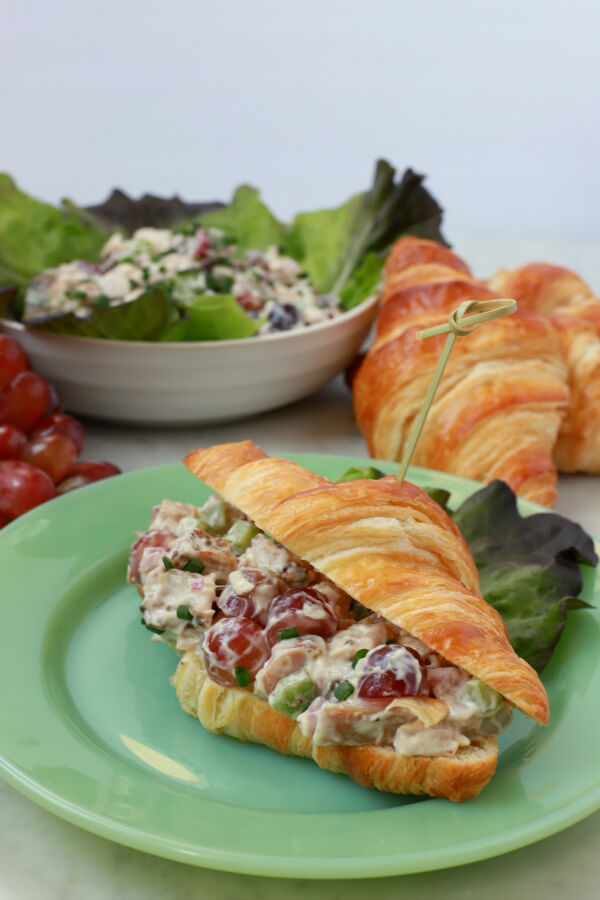 Yield: 6 servings
Smoked Chicken Salad with Grapes
Smoked Chicken Salad with Grapes is the most delicious way to enjoy leftover chicken. So quick and easy to make, this smoky twist on classic chicken salad makes the perfect lunch or dinner.
Ingredients
2 cups smoked chicken; cubed
1 cup grapes; halved
1/4 cup celery; finely diced
1/4 cup red onion; finely diced
1/2 cup mayonnaise
salt and pepper
6 croissants, buns, or bread
6 lettuce leaves
chopped fresh chives for garnish
Instructions
Place first five ingredients in a large bowl and season. Stir to combine.
Split croissants or buns and add a lettuce leaf for each.
Spoon 1/6 of chicken salad on top of each lettuce. Scatter chives over all.
Notes
Use smoked chicken or leftover roasted chicken.
Nutrition Information:
Yield:
6
Serving Size:
1
Amount Per Serving:
Calories:

555
Total Fat:

34g
Saturated Fat:

12g
Trans Fat:

0g
Unsaturated Fat:

20g
Cholesterol:

95mg
Sodium:

578mg
Carbohydrates:

43g
Fiber:

3g
Sugar:

13g
Protein:

18g
Nutritional calculation was provided by Nutritionix and is an estimation only. For special diets or medical issues please use your preferred calculator.