Beef Rouladen is a comforting German rolled meat dish made from thin beef, bacon, onions, mustard, and pickles. Serve this hearty dish alongside Spätzle, Kartoffelknödel, or creamy mashed potatoes.
I'm very excited to share one of my favourite German meals with you! It's an important (and delicious) part of my family's heritage cuisine. This recipe creates the ultimate comfort food for Germans and German cuisine enthusiasts alike.
As you can see from the pictures, we enjoyed our Rouladen with a healthy side of German Red Cabbage (Rotkohl). However, I would also eat it with Sauteed Homemade Sauerkraut.
German Beef Rouladen (Rinderrouladen)
This dish consists of tender braised beef layered with tasty bacon, zesty mustard, onions, and pickles! Yes…you all know how much I love adding pickles to dishes and these layers upon layers of flavours are so amazing!
All the pronounced flavours meld together to create the ultimate comfort food. One bite and you'll be transported right back to your Oma's kitchen!
Ingredients
thinly sliced beef
mustard
bacon
onion
pickles
beef stock
Worcestershire Sauce
flour (or corn starch)
butter
For this recipe, I used grainy mustard because that's what I had. For the most authentic treat, slather spicy German mustard over the beef. You can also use Dijon mustard. Please do not use bright yellow ballpark American mustard. That's for hotdogs.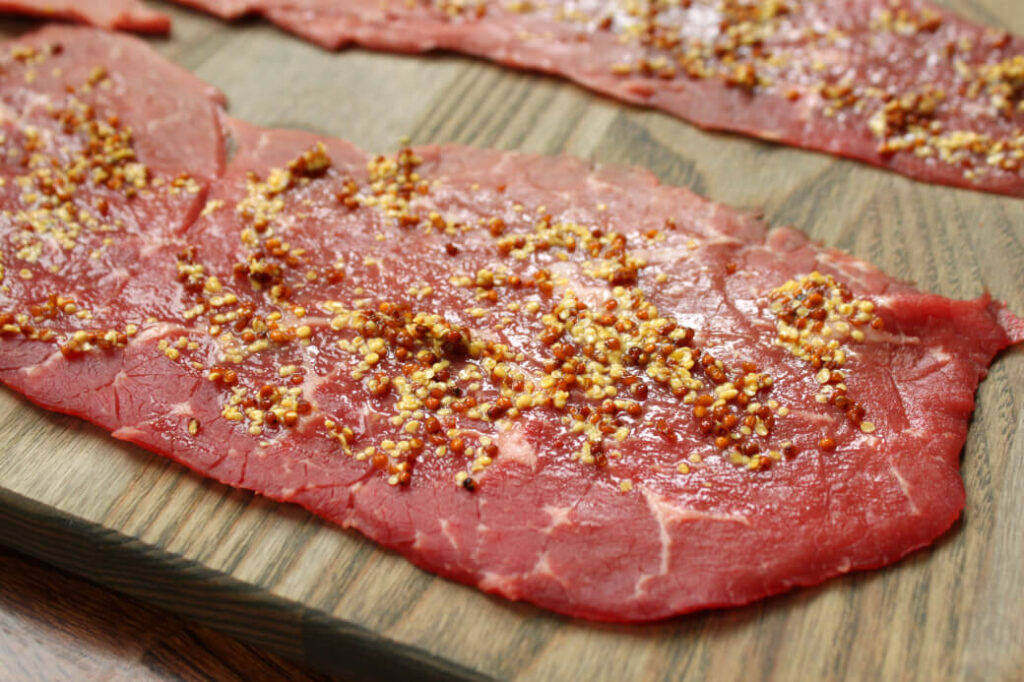 I love the flavour of my locally double smoked thick cut bacon in this recipe, however feel free to use your preferred variety of bacon…just maybe not maple bacon!
The style of pickle really doesn't matter in this recipe, though I do recommend garlic dill pickles.
When I made this recipe I accidentally grabbed a jar of my homemade spicy dill pickles. They added the bit of heat I would have missed by using grainy mustard instead of hot German mustard.
Lastly when making the gravy, there are many acceptable methods. I've used beef stock, Worcestershire Sauce, mustard, flour, and butter in this recipe.
Other gravy versions may include diced onions, carrots, and celery as well as sliced mushrooms. Some also contain a splash of red wine.
Regional History and Variations
This hearty rolled meat treat has become popular over the last century. However, it is thought that the earliest recipes may have used venison or pork.
Though most people consider Rouladen a German dish, it is also popular in parts of Poland and Czech Republic known as the Upper Silesia. Of course it is also popular around the world, wherever Germans, Polish, or Czechs have settled.
The main proteins of the dish may vary by region, with beef and veal being the most common, with pork as yet another version.
Sometimes the Rouladen may also include ground meat mixtures and pork belly. However, most versions contain onions, pickles, and are served with gravy.
Which Cut of Meat to Use for Beef Rouladen
The best cuts of beef to use for this recipe are the outside or bottom round, or rump roast (silverside in the UK) because it comes from the hind quarter just above the leg. Topside, which is located above the outside or bottom round cut, is a leaner, slightly more tender cut.
Find this secondary cut of beef (or veal) at your local grocery store or request it at your butcher.
Select beef that is cut into thin layers approximately the same width as your hand and slightly longer than a piece of bacon. This cut is best cooked low and slow so that the meat breaks down and becomes quite tender.
How to Assemble Beef Rouladen
Assembling the Rouladen is actually kind of fun and incredibly easy…it's almost like building a pizza or rolling a jelly roll.
Begin by laying out the beef slices on a cutting board. The pieces should be all of a similar size and thickness; approximately two bacon slices wide and slightly longer than a bacon slice.
Spread approximately 1/2 – 1 tbsp mustard on the surface of each slice then lay two slices of bacon on top of the mustard. If the rouladen isn't wide enough, slice the bacon lengthwise and use 1 1/2 slices.
Next, evenly scatter the diced onion and pickles over the bacon.
Now, for the fun part! Place a pickle spear at the top of each rouladen. Grab the meat and roll it around the pickle in a downward motion. Continue rolling until you have a nice tight roll and secure with toothpicks.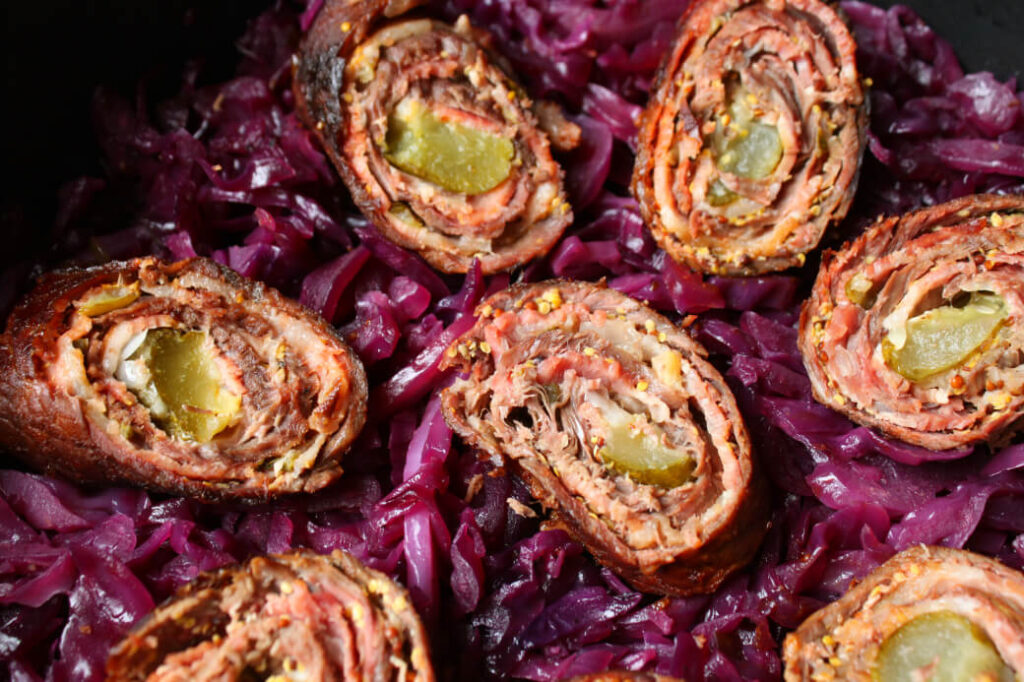 How to Cook Rouladen
A low and slow braising period is key here (this is a great slow cooker recipe!), as it serves to break down and tenderize the secondary (as opposed to primary) cut of meat.
Brown the rolls in a large Dutch oven or other heavy bottomed oven proof pan with a lid.
Remove the beef rolls from the pan. Next, add the beef stock or water to the pan and de-glaze it for a few moments, scraping the browned bits from the bottom. Add the Worcestershire sauce and 1 tbsp mustard then season with salt and pepper.
Return the Rouladen to the pan and add enough water (if needed) to cover them 1/3 way. Cover and braise in 350 F oven for 60-90 minutes or until tender (depending on how large the rolls are).
To finish the gravy, remove the rolls from the pan. Slowly simmer the gravy on the stove while you make a flour slurry. Add the slurry to the gravy and whisk to avoid clumping. Allow to thicken then drop in the butter.
Preparing Rouladen Ahead of Time
This Beef Rouladen Recipe is perfect for when you need to meal prep ahead of time. It freezes well whether it's raw or cooked. To freeze it cooked, make the gravy as directed and freeze in a container for later use.
To freeze, just place the rolls on a baking sheet in the freezer. Once frozen, store the rolls in a freezer bag or air tight container.
To use just thaw in the refrigerator overnight then cook as directed in the recipe. If you are reheating previously cooked Rouladen, gently reheat it in the gravy so it doesn't dry out.
What to Serve with Beef Rouladen
When serving Rouladen, the side dishes are as glorious as the main! I suggest traditional German Egg Noodles (Spätzle), German Potato Dumplings (Kartoffelknödel) or creamy mashed potatoes. Oh, and don't forget the Red Cabbage (Rotkohl)!
There is no greater comfort than these savoury meat rolls served on a bed of creamy mashed potatoes and smothered with rich gravy. The wonderful flavours just come together to make every bite a delight.