Maple Gochujang Roasted Brussels Sprouts are a delicious side dish featuring tender Brussels Sprouts tossed with sweet and spicy maple gochujang sauce then caramelized to perfection.
Maple Gochujang Roasted Brussels Sprouts
In this recipe, Brussels Sprouts magically transform into sweet and spicy little flavour bombs. On the outside, they're sweet and caramelized but still remain soft and tender on the inside. Roasting them on high heat with maple syrup gives them a kick of extra sweetness to go with the spicy gochujang. They are amazing straight out of the oven and everyone will be snacking on them as you're trying to plate them up!
How to Choose the Best Brussels Sprouts
As always, the quality of the produce used really has an effect on the final dish. Try to find firm sprouts with bright green unmarked exteriors and tight green leaves. They can be large, or small as long as they are all of uniform size. This will help them roast evenly together in the oven.
Not Everyone Loves Brussels Sprouts
Brussels Sprouts, along with many other cruciferous vegetables sometimes have a bad reputation. So many people (myself included) avoid these misunderstood veggies because they've only ever eaten them boiled. Over the years, I've learned how to overcome this culinary tragedy; the secret to great cruciferous veggies is oven roasting.
Why You Should Roast Cruciferous Vegetables
Roasting does something magical to cruciferous vegetables. Direct and prolonged contact with a hot dark surface caramelizes their sugars and mellows their entire flavour. I can't even begin to explain how roasting has changed my attitude towards these vegetables. My hope is that you give this method a try because it opens up a whole new world of amazing flavours!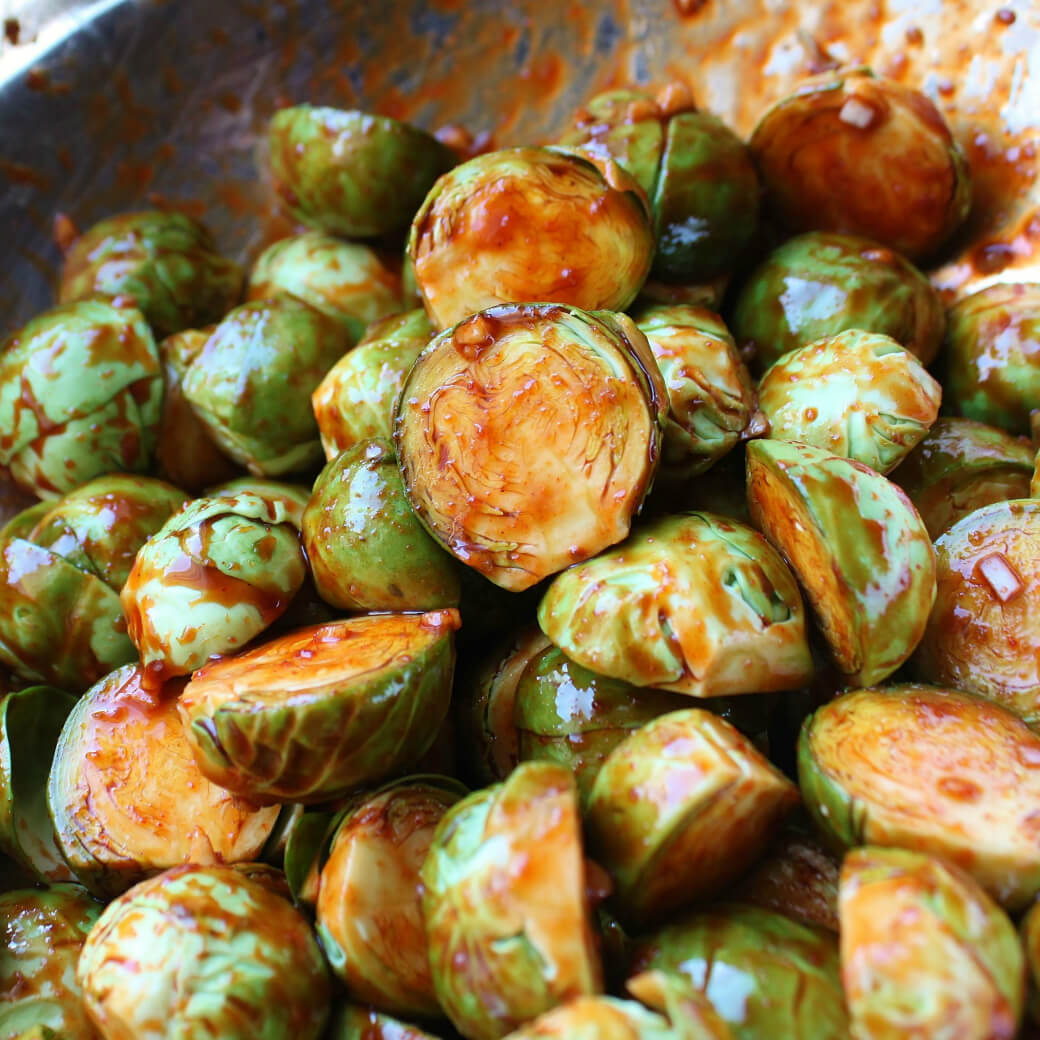 For example (and you have to trust me on this), cut up a whole cabbage into wedges, toss them with a bit of oil, season and roast them at 400 F for just over an hour. Don't worry if the cabbage looks like unrecognizable charred blobs, just give it a try. The three of us will eat an entire cabbage at one sitting this way.
How to Roast Brussels Sprouts
Let's get back to the sprouts. For the best roasting results, the oven must be hot. Pre-heat it to 400 F before you begin trimming and halving the sprouts. If there are any outer leaves that have fallen off, save them to add midway during the roasting. Finally, toss the halves in a bowl with the maple syrup, gochujang, garlic, oil, salt and pepper.
Place the coated sprouts cut side down on a dark baking sheet. Give them lots of space to 'breathe'. The dark pan is key here, I've tried them on parchment and they just don't get the perfectly caramelized bottoms.
Roasting Brussels Sprouts takes far less time than cabbage or a whole head of cauliflower. In 20-25 minutes of cooking time you should have perfectly caramelized little globes of yum. Check out how caramelized they are in the photos.
How to Finish the Dish
These roasted Brussels Sprouts are absolutely delicious 'as is' but finishing the dish with a some fresh roasted peanuts, sesame seeds and sliced green onion really completes the dish. All three are a great addition because they go well with the sweet and spicy sprouts.
A few words about gochujang: Gochujang is a fermented chili paste used in many Korean dishes. It's made from chili powder, glutinous rice, fermented soy bean powder (meju), barley malt powder (yeotgireum), and salt. These ingredients give it a wonderful savoury, sweet and spicy flavour profile. Gochujang comes in a little red tub and can be found at many Asian supermarkets.