Our family's summer tradition, this rich and decadent Peanut Butter Ice Cream Cake is the perfect summer no bake dessert for large family gatherings.
Desserts That Stand the Test of Time
It's interesting how a dish passed on from one generation to the next can make you feel closer to the people that made them. This Peanut Butter Ice Cream Dessert was my introduction to the Kyle side of my husband's family and in a way, it made me feel like part of the family. It was the first recipe that Grandma Kyle shared with me and I immediately felt relaxed and welcomed into the family.
Our first summer vacation as a family was to the Kyle's cabin at Falcon Lake, Manitoba. Our son was a year old and I had yet to meet a large portion of Hubby's side of the family…needless to say I was a bundle of nerves and I really didn't know what to expect, nor what was expected of me. We packed up all our baby gear and flew (for the first time!) from Saskatoon to Winnipeg where my father in law picked us up. The drive to Falcon Lake was short and within an hour and a half I was standing on the back lawn of the cabin. I don't remember too much of the next couple of hours (it was 21 years ago) but I do remember the dessert we had that night. It was so rich and creamy…the perfect dessert to feed a large family at the summer cottage.
It was a Kyle family tradition to play a series of darts after dinner, first losing team takes first shift of dishes, second losing team takes second shift, and so on. I volunteered to help clean up and put away the food with Grandma while the rest of the family played darts, mainly because I had never played darts but mostly because I wanted the recipe for the dessert. Grandma was pretty surprised because she had been making it for so long, she didn't really think anything of it. To her it was just a dessert that fed a lot of people and that she didn't have to turn the oven on for during those hot summers at the cabin. To me this Peanut Butter Ice Cream Dessert was something special. I've made it for many birthdays and family dinners since then but no matter what the occasion is, it always remind me of Grandma Kyle and summers at the Falcon Lake cabin.
Updating a Classic Recipe
The original recipe was quite simple to put together and called for cool whip. To be honest, I'm not really a fan of cool whip so the first change I made to the recipe was to swap real whipped cream for the cool whip. I really wanted to make the dessert extra peanutty so I swapped out the crushed pecans used in the base for crushed peanuts. I've made the dessert that way for twenty years…until now. When I was sent two jars of Reese's chocolate peanut butter spread, I knew immediately what recipe I would update. I used it to replace the peanut butter in the base and main portion of the dessert and it was delicious!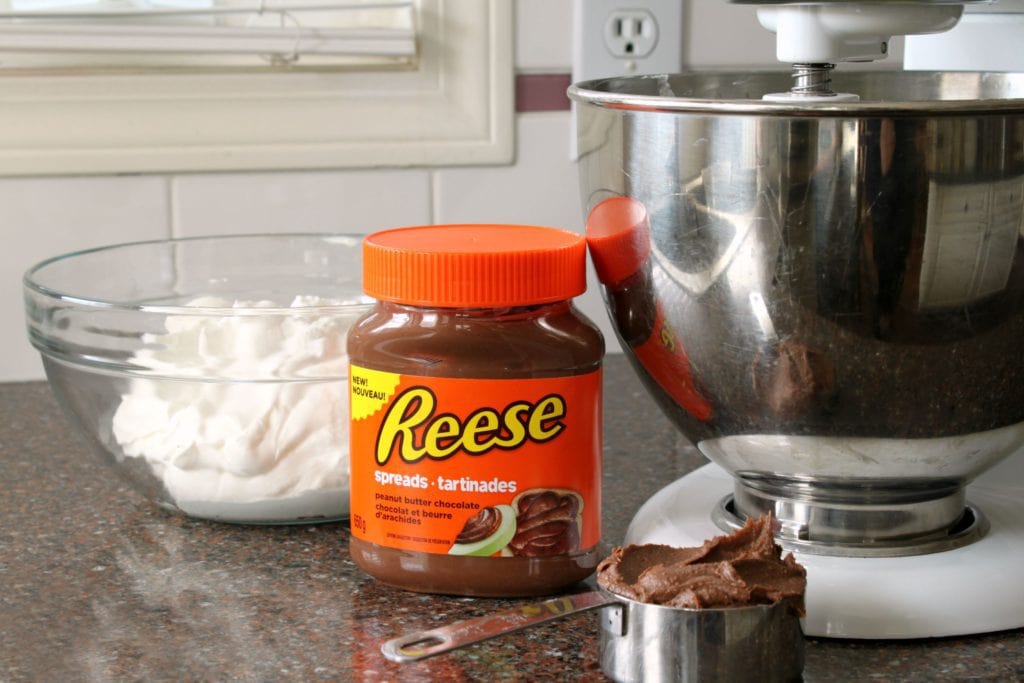 Go Nuts for These Recipes from Dish 'n' the Kitchen
Grilled Vietnamese Beef Vermicelli
**This is a paid post, sponsored by Hershey's Canada. I have been compensated monetarily and with product.**
Yield: 10 servings
Reese's Peanut Butter Chocolate Ice Cream Dessert
Our family's summer tradition, this rich and decadent Peanut Butter Ice Cream Cake is the perfect summer no bake dessert for large family gatherings.
Total Time
8 hours
42 minutes
Ingredients
FOR THE BASE
2 cups chocolate cookie crumbs
1/2 cup finely chopped peanuts
2 tbsp Reese's Peanut Butter Chocolate Spread
1/4 cup melted butter
MAIN LAYER
1 package cream cheese; softened but not warm
1/2 cup icing sugar
1/2 cup Reese's Peanut Butter Chocolate Spread
1 1/2 cups whipping cream; whipped to stiff peaks
1 tsp vanilla extract
toppings such as extra bases crumbs, roughly chopped peanuts, melted chocolate, caramel syrup
Instructions
FOR THE BASE
Pre heat oven to 350 F.
Combine all base ingredients in a bowl and press into either a 9 x 13 pan or parchment lined 10 inch spring form pan.
Bake for about 12 minutes. Let cool.
FOR THE MAIN LAYER
If using a spring form pan, line the sides with parchment.
Mix cream cheese, icing sugar, Reese's Peanut Butter Chocolate Spread, and vanilla extract until well combined and smooth.
Fold into whipped cream.
Spread mixture evenly over the crumb base.
Decorate with toppings. Freeze overnight.
Nutrition Information:
Yield:
10
Serving Size:
1
Amount Per Serving:
Calories:

454
Total Fat:

33g
Saturated Fat:

16g
Trans Fat:

1g
Unsaturated Fat:

14g
Cholesterol:

63mg
Sodium:

238mg
Carbohydrates:

37g
Fiber:

2g
Sugar:

26g
Protein:

6g
Nutritional calculation was provided by Nutritionix and is an estimation only. For special diets or medical issues please use your preferred calculator.