Here it is, a Sweet n Sour Chunky Style Rhubarb Barbecue Sauce. It's great on pork chops or slathered onto a burger. The best way to use up your rhubarb harvest.
Preserving a Bumper Rhubarb Crop
The daylight hours are shortening and I have picked the last bunch of rhubarb from my very productive plants. Since I've been busy making  jam, pickles, and preserving right now I wanted to make something great with the last of the rhubarb.
Not that Rhubarb and Strawberry jam or Rhubarb Muffins aren't special, I just wanted to try something…new. I've never made my own barbecue sauce before and I was thinking that maybe the tartness of the rhubarb might bring something special to a home made sauce.
After a quick google search I found out I wasn't the only one who thought so. This made my decision to try making my own Rhubarb Barbecue Sauce an easy one.
Tomato Free Barbecue Sauce
This recipe also uses no tomatoes (for you tomato free people out there) and doesn't rely on using ketchup, which many recipes do. I think that's cheating.
I'm not going to show you lovely pictures of bubbling brown goo because that is what the barbecue sauce looked like while it was cooking on the stove. Plus we all know what rhubarb looks like right
I've been dreaming up ways to use this slightly spicy and sweet, tart barbeque sauce.  I thought it would go with pork best of all. So, I had hubby grill me up some pork chops and slather the sauce on while they were grilling.
He doesn't always do such a photogenic job while barbecuing but since I told him these were for a blog post he upped his game.
I'm not sure what to do with the sauce next but thought of pulled pork are running through my head. Do you ever get a dish in your mind that won't leave until you make it?
Plus…a thought about the word 'Barbecue'.  I've always thought there was a Canadian and American spelling of the word like there are for many other words. For example, neighbour/neighbor or exercize/exercise.
I just assume that spell checker is set to highlight American spelling and ignore it. However, today I looked this word up because it intrigued me.
The shortening of the word Barbecue to BBQ confuses some people (myself included) into thinking that there is an alternative spelling to the word. One that includes a 'q' as in Barbeque. So now we know the presence of a 'q' in place of 'c' in the word Barbecue is not correct.
Get Saucy with Dish 'n' the Kitchen:
If you make this Rhubarb Barbecue Sauce recipe, please be sure to leave a comment and/or give this recipe a rating! Be sure to follow me on Facebook and Pinterest for my latest recipes. Also, if you do make this recipe, please tag me on Instagram, I'd love to see what you guys are making! Thank you so much for reading my blog.
Yield: 6 Cups
Rhubarb Barbecue Sauce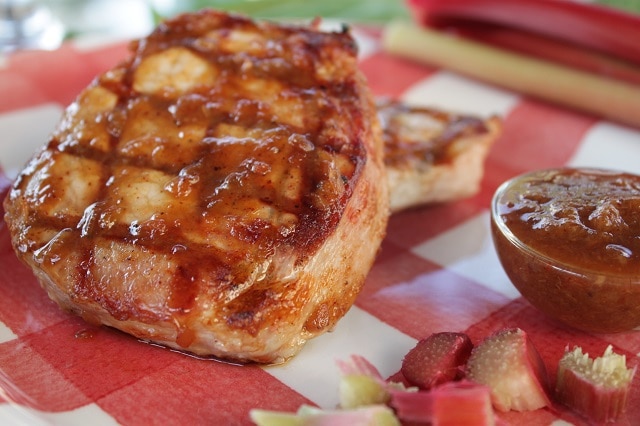 A mouthwatering tomato-free Rhubarb Barbecue Sauce that is great on pork chops or slathered onto a burger. It's a great way to use up your rhubarb harvest!
Total Time
1 hour
10 minutes
Ingredients
4 stalks fresh rhubarb; trimmed and chopped
1 (12 fl oz) can cola
1 tsp almond flavouring
1 cup apple cider vinegar
1 sweet onion; chopped
1 cup brown sugar
1/4 cup Crosby's molasses
1 tablespoon Worcestershire sauce
1/2 teaspoon ground cinnamon
1/2 teaspoon ground allspice
2 star anise
1/2 teaspoon salt
1/2 teaspoon ground black pepper
1/4 teaspoon ground cloves
1/4 teaspoon garlic powder
Instructions
Combine all ingredients in a saucepan; bring to a boil, and reduce heat to low.
Simmer until rhubarb and onion are very soft, about 45 minutes, stirring often to prevent the sauce from scorching.
Cool the sauce, then place into a blender, pulse a few times to get the sauce moving before leaving it on to purée. Purée in batches if necessary until you achieve a smooth sauce.
Use immediately for grilling (try it on pork chops or chicken) or preserve the sauce in jars for later using the hot water bath method.
Nutrition Information:
Yield:
24
Serving Size:
1
Amount Per Serving:
Calories:

56
Total Fat:

0g
Saturated Fat:

0g
Trans Fat:

0g
Unsaturated Fat:

0g
Cholesterol:

0mg
Sodium:

58mg
Carbohydrates:

14g
Fiber:

0g
Sugar:

12g
Protein:

0g
Nutritional calculation was provided by Nutritionix and is an estimation only. For special diets or medical issues please use your preferred calculator.