This simple Roasted Garlic and Asparagus Soup is flavourful and dairy free. The excellent flavour is achieved through roasting the vegetables before adding them to the soup.
Asparagus Season
On a cold, wet, rainy Sunday I couldn't think of anything better to make for lunch than this roasted asparagus soup. Okanagan asparagus season arrives just a tad bit earlier than here in Alberta. If the timing is right, my sister will bring me a bunch of the sweet stuff like she did last weekend. I'm so jealous because she says it just grows wild in the ditches there…I think she must live in the promised land or something.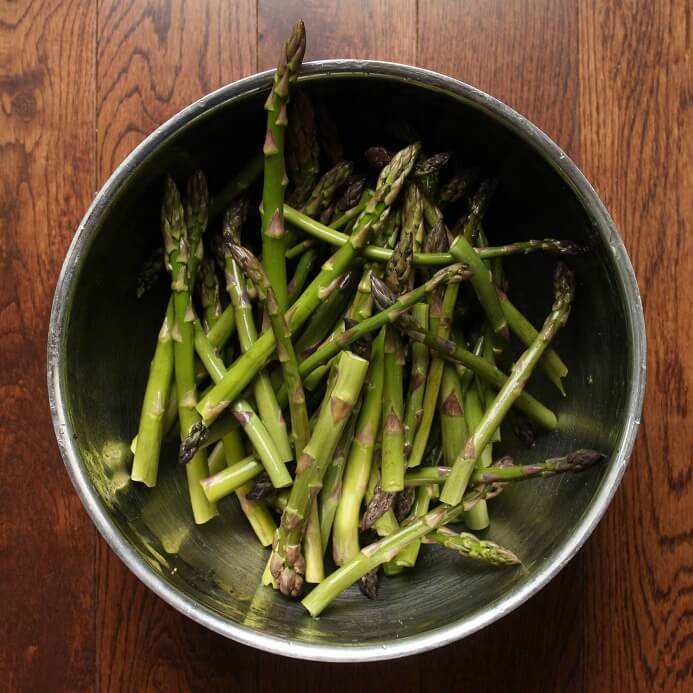 Asparagus Soup
Since the asparagus was on a 'need to be used' alert I decided the best way to eat it was all at once, in a soup. This recipe begins with Roasted Asparagus to heighten the flavour of this spring treat. For an extra delicious flavour, add garlic cloves to the roasting pan with the asparagus. They don't get fully roasted and caramelized, but they do soften in texture and flavour. It takes a while to blend the soup in batches, but the end result is so worth it!
How to Finish This Asparagus Soup
It takes a while to blend the soup in batches, but the end result is so worth it! If you prefer a few bits in your soup, feel free to slice a couple of the grilled asparagus before you blend it. Garnish as shown OR add some sourdough croutons or crispy bacon. Your imagination is the limit!
How to Roast Asparagus
I've been roasting asparagus for about 15 years now. Roasting asparagus couldn't be easier. Just wash the stalks in a sink filled with cold water and drain. If the stalks are really huge, use a paring knife to peel the tough skin off. Snap the woody bottom end off as well. Splash olive oil over top and season well with salt and pepper. Spread the stalks in a single layer on a parchment lined baking tray and roast at 450 F for 12 minutes.
Other Delicious Asparagus Recipes From Dish 'n' the Kitchen