These Beet Leaf Rolls (Holubtsi) are stuffed with a light and fluffy sourdough, baked, and then topped with a creamy garlic dill sauce. They're Baba approved! The dough requires an overnight rise.
Ukrainian Beet Leaf Rolls
These stuffed beet greens have really only recently become a part of our family's dinner table and now I can't imagine life without them. Known by many other aliases; such as holubtsi (though many say this is for stuffed cabbage leaves only!), beetniks, and beet leaf buns they are all delicious baked treats. My Ukrainian aunt is a whiz at making these! We all look forward to the time of year when beet leaves are plenty and she whips up this special treat.
No Waste Cooking
Our garden has rich soil for growing vegetables and it provides nutritious food for our family. However, it is not very large so we must make use of as much of what is grown as we can. Beet leaves are often overlooked by many but they are delicious when used in place of spinach or Swiss Chard. These rolls are a great way to use up the part of a vegetable that usually ends up in the compost bin.
Are Beet Leaves Good For You?
If the green colour alone hasn't convinced you, beet leaves are essentially a superfood. Compared to the root part of the beet, they contain more minerals, vitamins, and fiber, yet they are lower in calories, fat, and sugar. These leafy greens have some amazing health benefits:
rich in minerals such as: magnesium, copper, calcium, sodium, potassium, iron, manganese, and phosphorus.
beet greens are low fat, have no cholesterol yet still provide decent amounts of protein (4% RDA) and fibre (1o% RDA).
excellent source of Vitamins including Vitamin A (211% RDA), Vitamin K (333% RDA), Vitamin C (50%) just to name a few.
How to Choose and Prepare Beet Leaves
Look for dark green leaves with few blemishes. The leaf should be firm, yet tender. For this recipe, I chose medium sized leaves from my garden beets and trimmed them about an inch above the beet root. Carefully wash them under running tap water and keep an eye out for any insect eggs.
If the leaves are older and not very pliable, you will need to blanch them before rolling them around the dough. Immerse five or six leaves into a pot of boiling water for 30 seconds, then quickly remove and plunge into a sink of ice cold water. Finally, place them on a clean tea towel and pat dry with another towel. Repeat until you have enough leaves for this recipe. Keep a few leaves to use as a pan liner and to cover the beet leaf rolls as they are cooking.
How to Make Beetniks
Many beetnik recipes call for a yeasted dough, but I love to experiment with sourdough. I used the same sourdough method in my Red Plum Sourdough Rolls and omitted the sugar. Then, after you roll the dough out, cut it 24 equal pieces. Using a light touch, shape each piece into a cylinder about 2 inches long. Place the dough at the base of the leaf, then roll upwards.

Place the uncooked leaves in the bottom of the pan and then arrange the beet rolls over top. Once you have a full pan, cover with remaining raw leaves, then cover the entire pan with Aluminum foil and bake as noted in the recipe.
Helpful Hints for Making Beet Leaf Rolls
The best way to ensure that you get beautifully rolled beet leaf holubtsi is to have pliable beet leaves. Use young leaves or blanch them.
Use extra leaves to line the pan and cover the rolls during baking. They keep the rolls from drying out.
Place the rolls seam side down in the pan. Snuggle them up tight lengthwise but leave space between the rows so the dough can expand.
Feeding a crowd? Double the recipe and add another layer of rolls to the baking pan.
Add the sauce during the last ten minutes of baking time or have it ready to pour over the beet rolls just before eating.
Beet Leaf Rolls do not reheat well. They are best eaten right out of the oven.

Beet Leaf Rolls With Garlic Dill Cream Sauce
This wouldn't be a cherished Ukrainian dish without the addition of copious amounts of garlic! Since the rolls have very little in the way of seasoning, this dish must be finished with a sauce. My garlic dill cream sauce contains more than a few minced garlic cloves, a lot of fresh dill and super sweet cream. It's basically a Béchamel Sauce as it is made with a roux featuring butter, flour, and cream.
Can I Make Stuffed Beet Leaves Ahead of Time?
Sure you can. The best way to do this is to follow the recipe until you reach the point of baking. Instead, wrap the baking dish well and place in the freezer. To bake, simply remove from the freezer and allow it to thaw slowly in the refrigerator. Bake as per the recipe.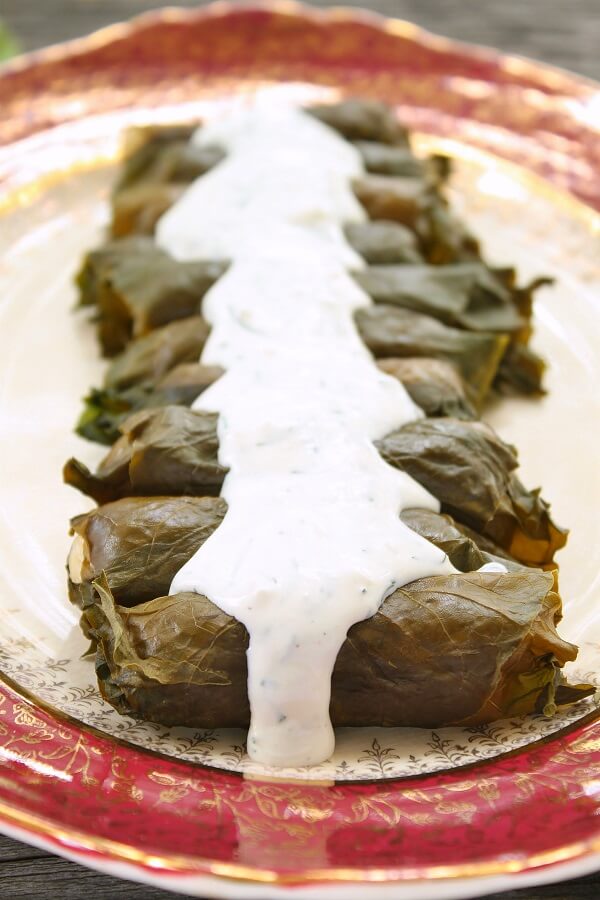 Please join our UKRAINIAN FEAST…These bloggers have been working hard to bring you some very delicious Ukrainian dishes for this month's Eat The World trip to the Ukraine. Check out these other amazing recipes and click here to find out how explore the world's cuisine each month.
Making Miracles: Mazuricks
Culinary Adventures with Camilla: Nalysnyky (Ukranian Crêpes)
Sugarlovespices: Ukrainian Poppy Seed Roll, Makivnyk
Pandemonium Noshery: Ukrainian Pickled Tomatoes
A Day in the Life on the Farm: Galushki Soup
Literature and Limes: Oladi
Kitchen Frau: Buckwheat Kasha with Beef
Sneha's Recipe: Chicken Kiev-Serves Two#EattheWorld
Amy's Cooking Adventures: Ukrainian Scuffles (Rohalyky)
Pin Sourdough Stuffed Beet Leaf Rolls HE

R

E.
Get
Rolling with Well Rounded Recipes from Dish 'n' the Kitchen
Cabbage Rolls with Roasted Red Pepper and Dill
Yield: 2 dozen
Sourdough Stuffed Beet Leaf Rolls
These Beet Leaf Holubtsi are stuffed with a light and fluffy sourdough, baked and then topped with a creamy garlic dill sauce. They're Baba approved! The dough requires an overnight rise.
Total Time
13 hours
15 minutes
Ingredients
FOR THE DOUGH
2/3 cup milk
2 tbsp unsalted butter + plus more for coating a bowl
1 large egg
2 1/2 cups (300 g) all-purpose flour
100 g (1/2 cup) bubbly, active starter
1/2 tsp salt
TO ASSEMBLE
24 medium beet leaves; washed (plus more to line the baking pan)
FOR THE GARLIC DILL CREAM SAUCE
2 cloves garlic; minced
1 tbsp olive oil
3 tbsp butter
2 tbsp flour
1 1/2-2 cups 18 % cream
salt and pepper
handful fresh baby dill; chopped
Instructions
FOR THE DOUGH
Melt butter. Add to bowl of a stand mixer. Add milk and egg then mix well.
Add in sourdough starter and salt. Mix well. Knead until smooth.
Mix in flour, 1/2 cup at a time until dough is fairly stiff. Add salt after the first addition of flour. (you may not use the entire 2 1/2 cups flour).
Mix well. Knead until smooth.
Cover and let dough rest for 30 minutes.
Give the dough four quick folds, each grabbing the outer edge and bringing it towards the centre of the dough and rotating the bowl a quarter turn.
Coat a medium bowl with a light layer of butter and place the dough inside.
Cover and let sit on counter overnight (8-12 hours until the dough has doubled).
TO ASSEMBLE
Blanche the beet leaves you will be using for rolling (in groups of 6) in salted boiling water for 30 seconds, then remove and plunge into ice cold water bath.
Remove and pat dry.
Lightly spray your work surface with oil or use a liquid oil and rub it on. Scatter flour over all to prevent sticking.
Carefully remove the dough from the bowl onto the prepared surface and gently pull it into a small rectangular shape (about 8 x 6 inches). Let rest for 15 minutes.
Lightly dust your rolling pin in flour and begin to gently roll the dough out until it becomes 12 x 16 inches (with the longest side being horizontal). You may have to do this gradually as the dough might offer some resistance. It's best then just to let it relax again rather than force it outward.
Cut dough into 24 equal pieces.
Roll each piece into a cylinder, then place on stem end of beet leaf and roll upward. Do not tuck in the sides, leaving them open allows the dough to expand outward while baking.
Line the bottom of a Dutch oven with the unblanched beet leaves. Arrange rolled beetniks on the beet leaves, be sure to leave some room in between rows of rolls for expansion.
Cover with wrap and allow to rise for 1-2 hours or place in fridge for up to 6 hours. Remove two hours before baking.
Pre-heat oven to 350 F.
Cover with lid (or foil) and bake for 40 minutes. You can either add the sauce during the last 10 minutes of baking or just pour it over the finished beetniks.
FOR THE SAUCE
In a saucepan, sauté the minced garlic in some olive oil for a minute. Add the butter and allow to melt.
Add flour and mix well to incorporate all the butter.
Gradually whisk in the cream and whisk until smooth, ensuring there are no lumps of flour.
Allow the sauce to gradually come to a boil, whisking often.
Add in the freshly chopped baby dill.
Allow to thicken to desired consistency (You may or may not use all the cream depending on how thick you like the sauce) and pour over beetniks.
Serve immediately.
Nutrition Information:
Yield:
12
Serving Size:
1
Amount Per Serving:
Calories:

363
Total Fat:

23g
Saturated Fat:

14g
Trans Fat:

1g
Unsaturated Fat:

8g
Cholesterol:

80mg
Sodium:

250mg
Carbohydrates:

33g
Fiber:

3g
Sugar:

10g
Protein:

7g
Nutritional calculation was provided by Nutritionix and is an estimation only. For special diets or medical issues please use your preferred calculator.