This Pumpkin Hummus is creamy and delicious, with a surprising savoury spicy kick that comes from Thai red curry paste. Make this easy appetizer dip from scratch in under 30 minutes.
Everyone loves an uncomplicated dip with heaps of flavour and minimal ingredients. I could eat this Homemade Creamy Whipped Feta by the bowlful and our son always demolishes this Baharat Roasted Beet Hummus in one sitting. I hope you love them as much as we do!
Pumpkin Hummus
Around here, hummus doesn't last very long. The good news is that it's super easy to whip up a batch. It's a great way to sneak in some extra veggies too. We love ours with roasted beets, sweet potatoes, carrots, or pumpkin.
You may see other dip recipes with 'pumpkin spice' seasonings. This is savoury pumpkin hummus with an attitude. The Thai red curry paste really gives this super creamy dip an addictive kick. So, for all you spice heads out there in hummus land, this one's for you!
What is Hummus?
I'm sure you've heard of hummus by now. In case you haven't, hummus is a creamy dip or spread that consists of cooked chickpeas blended with garlic, lemon juice, and usually tahini.
This Middle Eastern dip with roots in ancient Egypt (though the exact origin is unknown and often passionately debated) is delicious with fresh pita bread or as part of a meze platter. In many countries, it's a very common diet staple, often enjoyed as a warm dish for breakfast (with bread), lunch, or dinner.
Beyond the most recognizable basic hummus, regional varieties exist throughout the Middle East. Additionally, the popularity of hummus has spread worldwide, leading to some very extremely controversial variations (chocolate hummus, I'm looking at you).
Ingredients for Spicy Roasted Pumpkin Hummus
Besides the standard four ingredients, this Pumpkin Hummus recipe contains (you guessed it) pumpkin. The very non traditional addition of Thai red curry paste is the ultimate food fusion.
Pumpkin
Thai Red Curry Paste
Chickpeas
Garlic
Olive Oil
Salt and Pepper
Optional Tahini
Optional Lime
Roasting the pumpkin really deepens the flavour so I highly recommend going the extra mile with a real sugar pumpkin. However, they can be difficult to find out of season. Feel free to substitute butternut or red kuri squash and it is amazing with roasted carrots too.
You can find Thai red curry paste at most supermarkets. This fiery paste contains a mixture of red chilies, garlic, lemongrass, galangal, salt, cilantro, shallots, and shrimp paste.
Canned chickpeas, also called garbanzo beans, are a convenient option for this recipe. However, you can also soak dried chickpeas overnight. Then, in the morning drain the soaking liquid and cook them in fresh water until they are soft. Feel free to substitute a can of navy beans if you have a chickpea allergy or can't get to the store.
Tahini, or ground sesame seeds, are an essential ingredient in traditional hummus. However, this recipe is quite far from the classic dip. Feel free to leave it out or substitute with peanut butter, if you prefer.
How to Make Pumpkin Hummus
Let's begin by roasting the pumpkin. Firstly, preheat your oven to 425 F. Next, cut up the pumpkin into small uniform pieces. roughly an inch in size. Place the diced pumpkin onto a baking sheet and drizzle with olive oil. Season with salt and pepper, then roast for 15-20 minutes.
Remove the pumpkin from the oven when it is soft and slightly golden brown. If you like a bit more caramelization, feel free to roast the pumpkin longer.
Place the roasted pumpkin in the bowl of a food processor (or use a stick blender) and blend until smooth. Add the curry paste, garlic, and drained canned chickpeas.
Process the mixture until it becomes smooth and creamy. Stop and scrape down the sides a few times so that every last bit is processed and no lumps remain. Garnish and serve.
Great Garnishes for Pumpkin Hummus
This hummus is perfect on its own, but since we eat with our eyes first, it looks much more appetizing with a pretty garnish on top. There are many ways to add a bit of oomph to the top of this dip.
Naturally, pumpkin seeds or sesame seeds (black and white!) would look spectacular; as would a sprinkling of dark red chili powder. Whole cooked chickpeas or baked crispy chickpeas are also a fun topping as is small diced roasted pumpkin.
Green herbs such as chopped chives, cilantro, or parsley will add another dimension of flavour and a striking contrast of colour.
In addition to the garnishes, a generous swirl of your best olive oil is THE most essential and traditional way to finish a bowl of hummus.
Serving Suggestions
The simplest way to serve pumpkin hummus is with fresh pita, toasted pitas or pita chips. We love it with crackers and crudités such as snap peas, carrot or bell pepper sticks, cucumber slices.
For lunch, it's delicious on toasted sourdough or crusty bread as a tartine or as a sandwich spread.
One of my favourite super easy dinner recipes is a rice or grain bowl topped with lots of veggies and seasoned cooked ground beef topped warm hummus.
How Long Will Pumpkin Hummus Keep For
In our house this hummus lasts for 2-3 hours, especially when my son is home. This dip is a great make ahead appetizer as it will keep for up to a week in the fridge. Store it in an airtight container way in the back so no one finds it.
If you must freeze this hummus, be aware that the pumpkin might separate and become watery. Thaw it, then give it a quick stir and it should be good to go.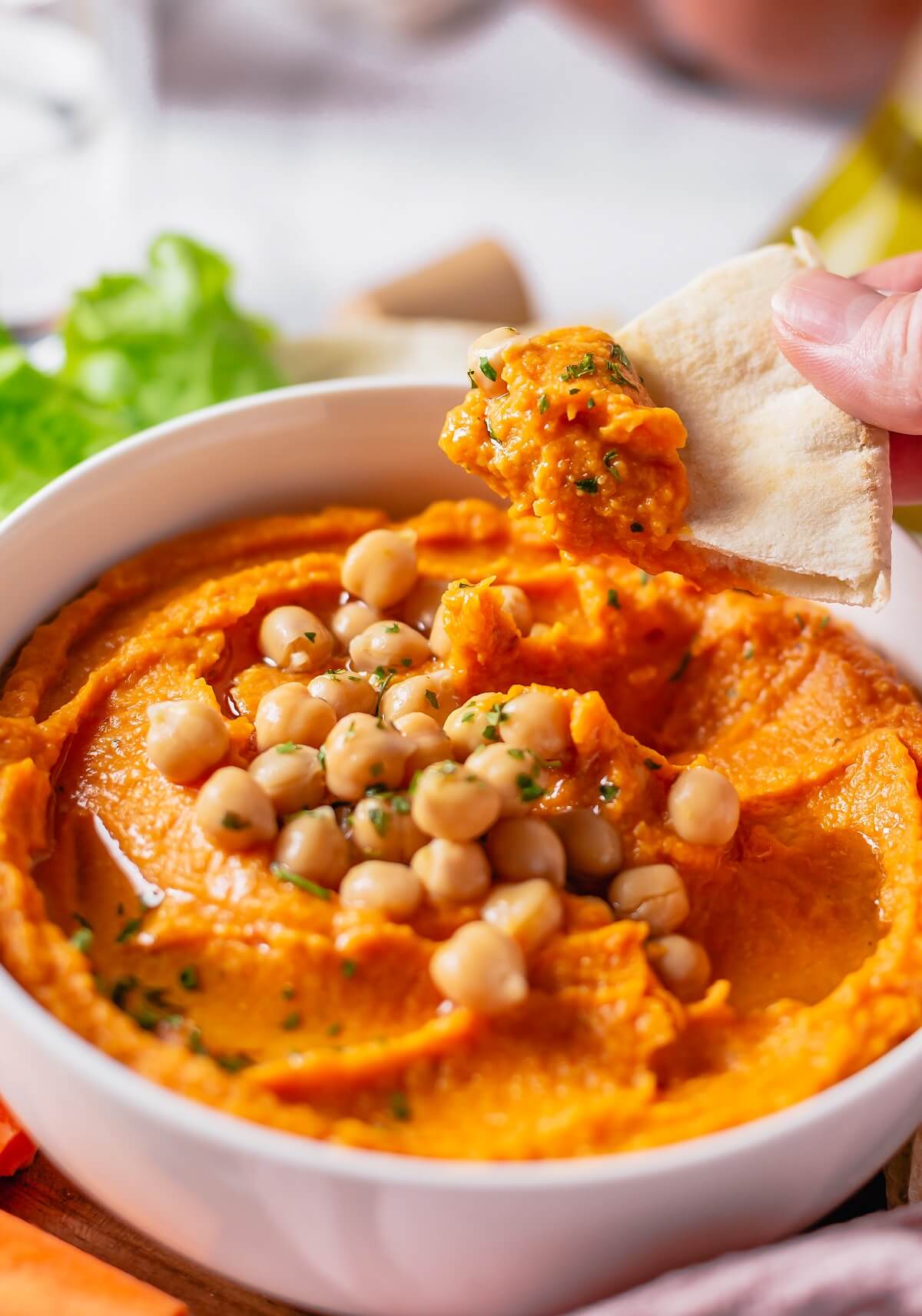 Join Me for Saturday Brunch!
Join the Saturday morning newsletter and get cozy with a cup of coffee. Inside you'll find free recipes, giveaways, and more. It's such a delicious way to start the weekend!
By clicking subscribe, you agree to share your email address with the site owner and receive emails from the site owner.
If you make this Spicy Roasted Pumpkin Hummus, please be sure to leave a comment and/or give this recipe a rating! Be sure to follow me on Facebook and Pinterest for my latest recipes. Also, if you do make this recipe, please tag me on Instagram, I'd love to see what you guys are making! Thank you so much for reading my blog.