This flavourful BBQ Pulled Chicken is a quick and easy Instant Pot dinner ready in under 30 minutes. It's perfectly seasoned, fork tender, and super saucy!
I hope you love an Instant Pot win as much as I do! My aim is to always create simple Instant Pot recipes for busy people (like you and me). A few of our favourite quick chicken meals include Thai Red Curry Chicken Soup and this addictive Peanut Butter Chicken Curry.
BBQ Pulled Chicken in an Instant Pot?!
Yes, it's true. Although the 'BBQ' in this recipe title refers to a sauce rather than an appliance. This BBQ Pulled Chicken is ready in a fraction of the time and effort it takes to make on a barbecue.
Think you'll be sacrificing flavour for convenience? Think again! Incredible amounts of flavour are practically forced into the chicken during high pressure cooking.
So, this shredded BBQ Chicken is extra zesty, extra zippy, and extra saucy. It ain't not dry ass chicken on a bun that's for sure. PS you can totally eat the chicken on a bun, just make sure you have lots of napkins nearby.
Ingredients You'll Need to Make BBQ Pulled Chicken
Chicken Thighs
Brown Sugar
Chili Powder
Cumin Powder
Salt
Lime juice
Cayenne Powder
Garlic Powder
Black Pepper
Tomato Sauce
Tomato Paste
White Vinegar
Smoky Paprika
Worcestershire Sauce
Phew! That seems like a long list but like I said, this chicken has LOADS of flavour. You'll be layering on the flavour using a few of these ingredients in multiple steps, so keep them handy.
I always (with very few exceptions) prefer to cook with chicken thighs. They have a bit more flavour than chicken breasts and a touch more fat so it's more difficult to dry them out.
Lately I've been noticing the boneless skinless chicken thighs aren't trimmed as perfectly as they should be. Trim them of excess fat and run your fingers over the meat to check for any remaining bone fragments.
A word about spices…if you haven't replaced them within the last 6-12 months, do it. Regularly replenishing culinary spices will keep your flavours fresh and bright.
There's no need to run out and buy white vinegar for this recipe. Use what you have…red wine vinegar, apple cider vinegar, or even seasoned rice wine vinegar. Any acidity will do.
Tired of throwing away those partially used little tomato paste cans? Switch to tube tomato paste and there's almost ZERO waste. I buy mine at the nearest Italian market but they can also be found at any European or Mediterranean market.
Finally, let's all say it together…Woooshtasheer Sauce. Or, whatever. It's a pain to say but it really brings those flavours together and binds them with a mouthwatering umami no other sauce can bring.
How to Make BBQ Pulled Chicken in an Instant Pot
The Rub
The rub is the first layer of seasoning in this recipe and it's much more than salt and pepper. It is applied directly to the raw chicken.
Add the salt and freshly ground pepper, plus cayenne pepper, garlic powder, ground cumin, brown sugar, and chili powder to a small bowl. Mix them well and pour over the raw chicken thighs.
Next, get in there and massage that chicken. Don't be a wuss and use a spoon, that chicken should be loved and loved well.
The Sauce
Yes, there are a lot of ingredients in the sauce and some of them are also present in the rub. Just think of it as doubling up on flavour, or layering. NOTE: Substitute 2 cups of your favorite barbecue sauce instead of making it from scratch.
What you won't find in this homemade barbecue sauce is ketchup. Ketchup is for dipping, not for cooking with. I feel very strongly about this.
That said, it's easy to replicate the flavours of everyone's favourite sauce. The BBQ Sauce is zesty, sweet and packs a bit of a punch.
Mix up all of the ingredients (brown sugar, tomato sauce and paste, chili powder, vinegar, lime juice, salt, pepper, smoky paprika, cayenne pepper, ground cumin, and Worcestershire Sauce) together in a small saucepan.
Allow the sauce to come to a simmer so the flavours have a bit of time to infuse before adding to the chicken.
To make the BBQ Pulled Chicken
Once the chicken is fully seasoned and covered in sauce, place the lid on the Instant Pot and switch the valve to 'sealed'. Cook on high pressure for 10 minutes, allow to depressurize for 5 minutes then quick release any pressure that remains.
Remove chicken from the Instant Pot and simmer the sauce on sauté mode until it thickens. Place chicken in an oven proof baking dish and shred it using two forks. OPTIONAL: Drizzle olive oil over the chicken and broil until tasty bits appear (2-3 minutes).
Pour the thickened sauce over the shredded chicken to serve.
Will BBQ Sauce Burn the Instant Pot?
Yes. Barbecue sauce has a bit of sugar in it so when it comes into contact with the high heat of the bottom burner, it burns.
To prevent burning the Instant Pot, add the raw dry rubbed chicken to the pot first. Pour the barbecue sauce in and give it a little bit of a stir (not too much or there will be too much sauce in contact with the base).
Can I Use Raw Chicken in this Instant Pot Recipe?
Yes! The raw chicken is added directly to the Instant Pot, dry rubbed, then cooked in BBQ sauce. There is absolutely no need to brown the chicken first, unless you would like to.
The whole dish cooks in less than 10 minutes (not including the time it takes to come to pressure) and during the 5 minutes of natural pressure release.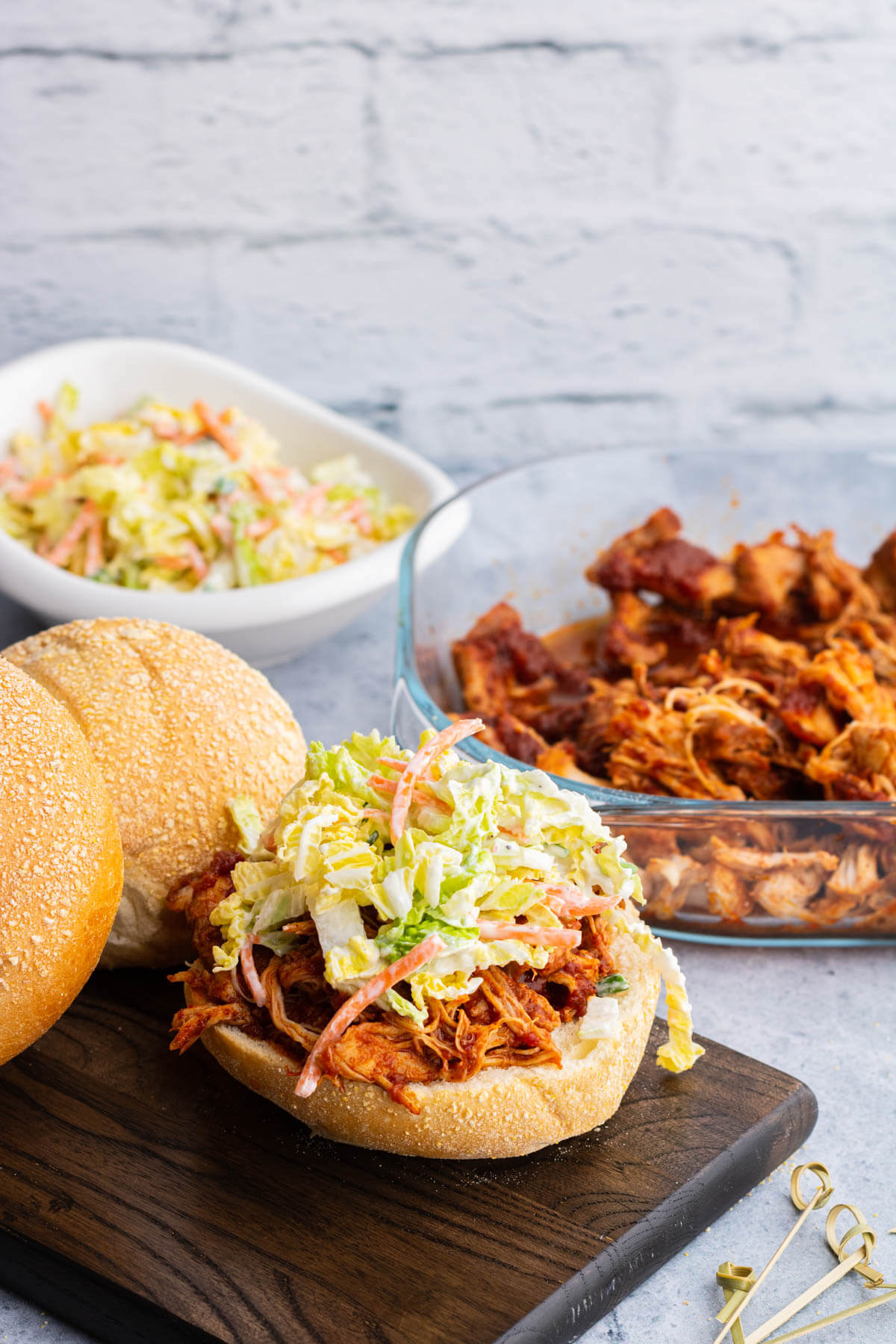 Can I Use Frozen Chicken in this Recipe?
No. Okay maybe. The main reason you can't start this recipe using frozen chicken thighs is because it would be impossible to apply the dry rub.
Alternatively if you use frozen chicken directly in an Instant Pot recipe, you run the risk of having the chicken cook unevenly.
That said, everyone forgets to take the chicken out of the freezer. Been there, done that! Fortunately, the Instant Pot is also great for quick thawing chicken.
To do this: Place the trivet on the base of the IP insert. Add 1 cup of water or chicken stock. Separate the frozen chicken thighs and place them on the trivet.
Cook the thighs at high pressure (pressure valve in 'sealed' position) for 8 minutes then allow to naturally release pressure for 5 minutes. Continue using BBQ Pulled Chicken recipe.
How to Serve BBQ Pulled Chicken
Since I made this BBQ Pulled Chicken on Super Sunday, I used it in our two favourite game day dishes.
The chicken was perfect in soft white kaiser buns topped with a little coleslaw and a few candied jalapenos. It wasn't too wet so as to destroy the integrity of the buns (or our shirts!) but it wasn't dry, either.
We ate the leftovers on nachos at half time. Watch for that mouthwatering post coming up soon!
There are so many great ways to eat this Instant Pot BBQ Pulled Chicken. I suggest you double the batch and count it as 'meal prep' for the following dishes:
on a pizza
on tacos
mixed into mac 'n' cheese
in a breakfast hash
in a taco soup
How to Store BBQ Pulled Chicken Leftovers
Once the chicken has fully cooled to room temperature, place it in airtight containers. It will keep for one week in the fridge or up to 4 months in the freezer when stored properly.
To reheat from frozen, thaw in the fridge overnight then place in a saucepan. Cover, and heat on low (stirring occasionally and adding a few tablespoons of water if needed) until the chicken reaches 165F.
Yield: 6 servings
Tasty BBQ Pulled Chicken (Instant Pot)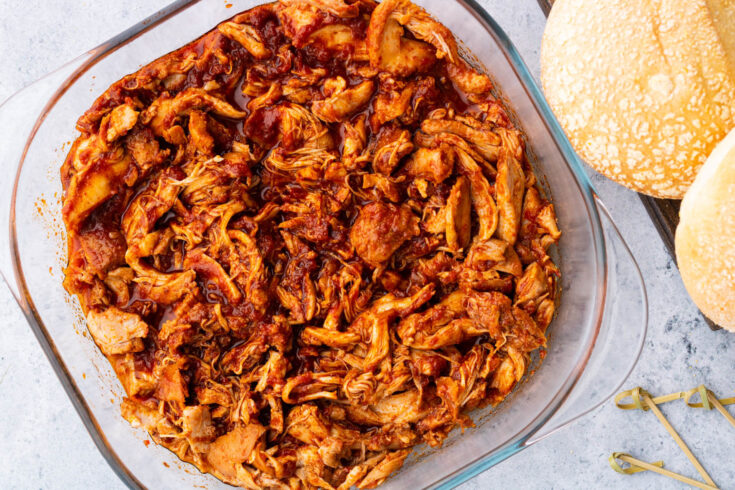 This flavourful BBQ Pulled Chicken is a quick and easy Instant Pot dinner ready in under 30 minutes. It's perfectly seasoned, fork tender, and super saucy!
Additional Time
5 minutes
Ingredients
8 boneless, skinless chicken thighs
FOR THE RUB
2 tbsp brown sugar
1 tbsp chili powder
1/2 tsp garlic powder
1/2 tsp cumin
1 tsp salt
1/2 tsp black pepper
1/4 tsp cayenne pepper
FOR THE SAUCE
1/4 cup brown sugar
1 cup tomato sauce (passata)
2 tbsp tomato paste
2 tbsp vinegar
1 tbsp lime juice
2 tsp salt
1/2 tsp black pepper
1 tsp smoky paprika
1/2 tsp cayenne pepper
2 tbsp chili powder
1 tsp ground cumin
1 tbsp Worcestershire Sauce
Instructions
Inspect and trim chicken thighs then place them in the Instant Pot insert.
Mix the rub ingredients together in a small bowl, then massage them into the chicken.
Place BBQ Sauce ingredients in a small saucepan and bring to a simmer.
Pour sauce over chicken and mix well.
Fix lid on the Instant Pot and close the valve. Cook on high pressure for 10 minutes, then allow to depressurize for 5 minutes then manually release any pressure that remains.
Remove chicken from sauce and simmer the sauce on saute mode until it thickens.
Meanwhile, place chicken in an oven proof baking dish and shred it using two forks. Broil until tasty bits appear (2-3 minutes) OPTIONAL
Pour sauce over shredded chicken and serve with coleslaw on buns.
Notes
Make it EASIER
*Substitute 2 cups of your favorite barbecue sauce instead of making it from scratch.
Make MORE
*This recipe doubles easily and freezes well.
Nutrition Information:
Yield:
6
Serving Size:
1
Amount Per Serving:
Calories:

326
Total Fat:

12g
Saturated Fat:

4g
Trans Fat:

0g
Unsaturated Fat:

9g
Cholesterol:

182mg
Sodium:

1769mg
Carbohydrates:

19g
Fiber:

3g
Sugar:

15g
Protein:

38g
Nutritional calculation was provided by Nutritionix and is an estimation only. For special diets or medical issues please use your preferred calculator.