Look no further, Peanut Butter Chicken Curry is the perfect weeknight Instant Pot chicken curry in a hurry. This creamy curry is easily tailored to your family's spice tolerance levels and is ready in only 30 minutes.
This Peanut Butter Chicken Curry recipe was originally posted on Noshing with the Nolands where I am a contributor. I even brought her a batch to try out…I hope you enjoy it as much as we did!
Peanut Butter Chicken Curry
Tired of searching for dinner inspiration? Haven't found that 'ultimate' chicken curry recipe yet? Stop searching around because you've found it! When the five o'clock rush hits you'll be ready for them with this luxurious flavour-filled Peanut Butter Chicken Curry. It's guaranteed to become a new family favourite.
When the weather turns cold, curries are one of my favorite dishes to warm up with. There's a whole world of curries to explore, from Japanese Chicken Curry to Thai Massaman Beef Coconut Curry. Red curries, green, Indian, and more!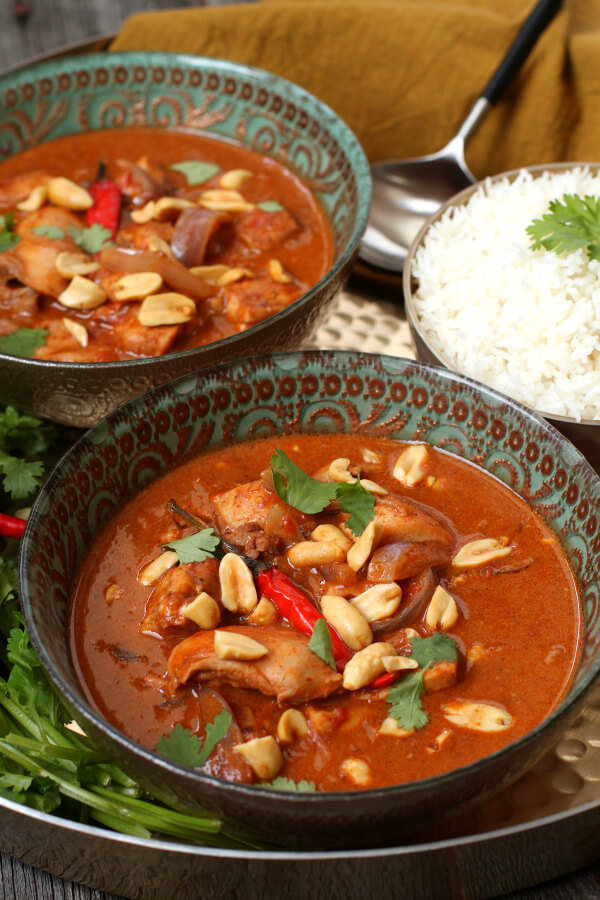 The Ultimate Instant Pot Chicken Curry
Believe me when I say it, this Chicken Curry recipe is one of those recipes that you make once, then crave over and over again. It's a flavour mashup between a peanutty Thai Massaman Curry and a traditional Indian style curry. The creamy sauce is super comforting and the flavour is everything that you look for in a Chicken Curry.
Additionally, the ingredients in this dish are simple pantry essentials found easily in most grocery stores. A mix of spices, a can of coconut milk, some aromatics, etc. and you're well on your way to a 'sure fire' Peanut Butter Chicken Curry Instant Pot recipe.
I'm so excited to be sharing another great Instant Pot recipe with you. It's such a handy appliance and really worth having around to make quick versions of classics such as my Beef and Bourbon Stew, or Spaghetti and Meatballs.
What is Peanut Butter Chicken Curry?
Remember when I said this dish was a mash up between a peanutty Massaman Curry and an Indian style curry? That was a pretty generalized statement. I was referring to the nutty flavour meeting up with the acidity of tomatoes.
This rich, mildly spiced curry is slightly more similar to the Northern Indian Pasanda Curry in that it contains coconut and nuts. Since it also contains tomatoes, it cannot be mistaken for the popular white curry.
Instead of a tomato-free rich sauce made of coconut and almonds (it's a white curry), I have used coconut, peanut butter, and tomato sauce.
What Are the Ingredients in Peanut Butter Chicken Curry?
The ingredients in this recipe are quite simple. Let's start with the major flavor enhancers; spices and aromatics. The spices in this recipe are very basic. All you'll need is cinnamon and a few tablespoons of garam masala.
Garam masala is a spice blend made of a few common spices most often used in curries. It usually includes black pepper, cloves, cardamom, cinnamon, cumin, and coriander in varying amounts. You can buy it pre-mixed or blend the spices on your own using this recipe.
After the spices, the next most important ingredients are the aromatics. These include onions, garlic, ginger, and sometimes chilis. The body of the curry is then made, next add chicken, coconut milk, stock, peanut butter and lastly add tomato passata which is tomato sauce.
Lastly, let's not forget the 'finishing' flavors! Fresh roasted peanuts, cilantro, sliced green onion, a twist of lime juice or a splash of fish sauce are all delicious ways to finish this dish. This is often where personal preference comes into play….go ahead and make this curry yours!
How to Adjust the Heat of a Peanut Butter Chicken Curry
As is, this Indian staple can be best described as a 'beginner curry'. It's slightly sweet with just a tiny amount of heat from the cayenne pepper and whole Thai red chilis. If you'd like to spice this dish up a bit, start by slicing up the chilis. Want more? Leave the chili seeds in too. How about MORE? Add dried chili flakes, up the amount of cayenne pepper, or just add in some Sriracha. That'll do it.
Of course, if you prefer no heat at all, you are welcome to omit the original amount of cayenne pepper and the Thai red chilis.
How to Cook Peanut Butter Chicken Curry in the Instant Pot
The beauty of this recipe is that once the aromatics and spices are sautéed, the rest is just 'dump and go'. Use the manual function on your Instant Pot to set the pressure to 'high' and then set the timer to ten minutes. Don't forget to set the valve to 'seal' or it won't come to pressure.
Once the chicken and peanut butter sauce have been cooking at high pressure for ten minutes, allow it to naturally depressurize for another ten minutes before opening the lid.
Serve with rice and you will love this delicious dish, garnish with fresh cilantro and roasted peanuts.
Join Me for Saturday Brunch!
Join the Saturday morning newsletter and get cozy with a cup of coffee. Inside you'll find free recipes, giveaways, and more. It's such a delicious way to start the weekend!
By clicking subscribe, you agree to share your email address with the site owner and receive emails from the site owner.