This ultra creamy Coconut Coleslaw with pineapple and lime will transport you to a beach on an island far far away. Don't blame me if you never want to come back.
Tropical Pineapple Coconut Coleslaw
Feel the heat of the tropics and cool off with this dreamy coconut coleslaw. A burst of fresh lime, rich coconut cream, and the sweetness of pineapple will send your taste buds on a tropical vacation. This delightful salad would be the perfect side dish to Citrus Pork Carnitas, Chicken Fried Pork Chops, or any summery burger. If you love coconut, this is the coleslaw for you!
Coconut Coleslaw Inspiration
Have you ever had a food experience that has remained in your memory for years? I may have a poor memory for people's names but my food memory is elephantine. Years ago we took the kids to a Christmas time dinner theatre. The buffet was massive and quite delicious as buffets go.
Two things remained etched in my memory after that night; the giant pile of crab legs and a super creamy coconut coleslaw. I have been waiting for the right time to create a recipe for this coleslaw for fourteen years!
What Are the Ingredients for this Tropical Coleslaw?
This coleslaw is filled with all my favourite tropical flavours. Made with a mixture of green and purple shredded cabbage and studded with bright orange carrots, this salad is a feast for the eyes and stomach. The sweet coconut cream dressing is balanced out with the acidity of lime juice and the pineapple seals the deal.
Whenever I create a recipe featuring citrus, I love using the zest as an added boost of flavour. The zest adds another dimension to the coleslaw and it really rounds out the flavour.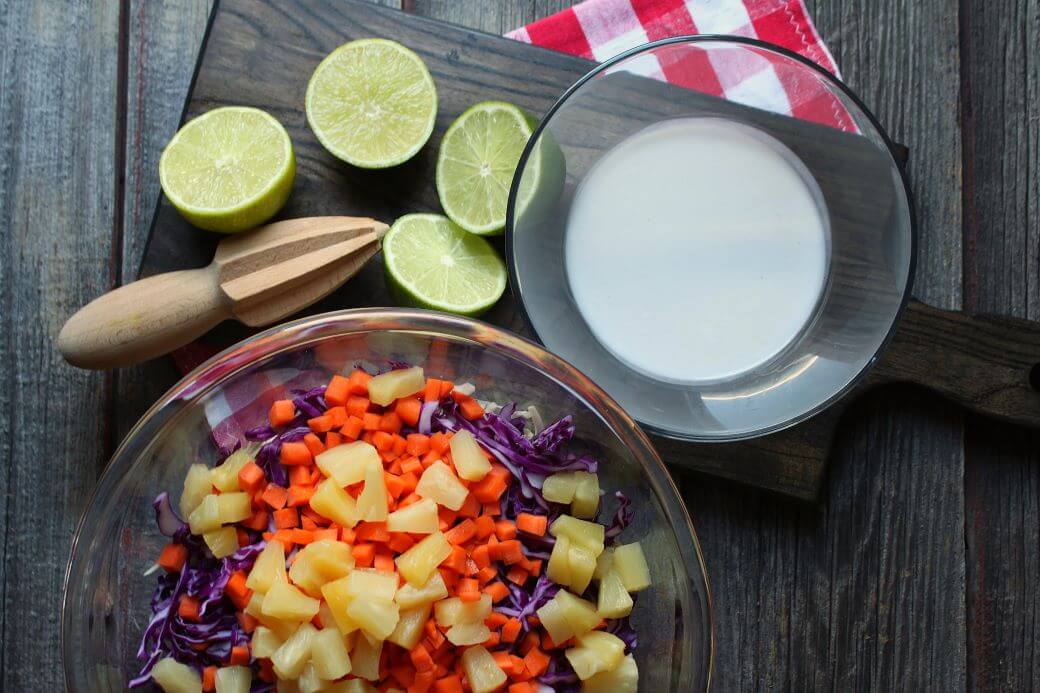 The ingredients for this coleslaw are basic and wholesome. Additionally, this salad is entirely gluten free and dairy free. It would be a perfect dish to bring to any potluck as it is suitable for vegan, vegetarian, or omnivorous diets.
Other Flavour Ideas for this Coconut Coleslaw
While this coleslaw is amazing on it's own, there are few ways you could personalize it according to your own palate. These would be great additions to this dreamy salad:
finely diced jalapenos or red chilis
chopped fresh cilantro
toasted coconut
chopped peanuts
a sprinkle of Trader Joe's Chili Lime Seasoning (I tried this and it was AMAZING)
diced mango
How to Make Tropical Pineapple Coconut Coleslaw
This salad is SO EASY and QUICK to make. It's even easier if you buy pre-shredded cabbage, matchstick carrots, and canned pineapple. I love that you can 'cheat' on this recipe and it still tastes so fresh and delicious.
Once the cabbage, carrots, and pineapple are waiting in a bowl, it's time to whip up the dressing. Drain the can of coconut milk (reserve the milk) and warm the solid cream portion for a few seconds in the microwave. Place the cream in a blender jug and drizzle the lime juice over top. Next, season with salt (if using) and sugar. Blend it up and add as much coconut milk (or none) as you like.
Can I Make this Coleslaw Ahead of Time?
As with most salads and slaws, this recipe is best mixed up just before you are ready to eat. Mixing it up too early will:
Cause the colour of the purple cabbage to leach into the dressing.
Result in the dressing collecting in the bottom of the bowl (if this happens, give it a quick stir to freshen it up)
What you can do is prep the vegetables and the dressing ahead of time. To finish, mix them together just before eating.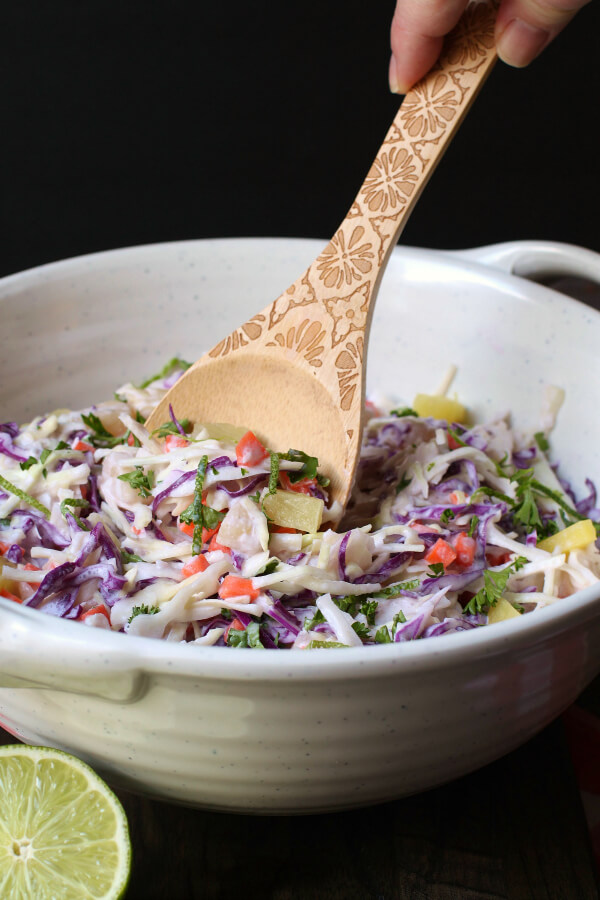 How Long Will Coconut Coleslaw Last?
Since this recipe is mayonnaise free and dairy free, it will keep a bit longer than salads that use those ingredients. Store it in a closed container in the fridge for 3-5 days. The juices in the cabbages will leach out and collect on the bottom. If you are using purple cabbage be warned, the juice will turn pink!
Side note: To reduce the amount of water leaching out of the cabbage, sprinkle each cabbage with some salt (1 tsp per pound of cabbage) and let them sit in separate colanders for an hour. Some of the juices will drain out during this time. Dry the cabbage off as much as you can then proceed with the recipe (be sure to omit the salt in the recipe).
Yield: 6 servings
Tropical Pineapple Coconut Coleslaw
This ultra creamy Coconut Coleslaw with pineapple and lime will transport you to a beach on an island far far away. Don't blame me if you never want to come back.
Ingredients
4 cups (or one 14 oz bag) shredded green cabbage
2 cups (10 oz) shredded purple cabbage
1/2 cup chopped or shredded carrots
2/3 cup pineapple tidbits; canned or fresh
1 can coconut cream or the cream from a can of coconut milk
1/2 tsp salt
1 tsp sugar
1 lime; juiced and zested
3 green onions; sliced on a bias
Instructions
Place the shredded cabbage, carrots, and pineapple in a large bowl.
Separate the solid coconut cream from the coconut milk and warm the coconut cream slightly.
Add the warmed coconut cream, lime juice, salt (if using), and sugar to a blender jug.
Blend it up and add as much coconut milk (or none) as you like.
Pour the dressing over the veggies and mix well.
Top with sliced green onions and fresh herbs.
Nutrition Information:
Yield:
6
Serving Size:
1
Amount Per Serving:
Calories:

212
Total Fat:

17g
Saturated Fat:

14g
Trans Fat:

0g
Unsaturated Fat:

1g
Cholesterol:

6mg
Sodium:

225mg
Carbohydrates:

17g
Fiber:

4g
Sugar:

9g
Protein:

4g
Nutritional calculation was provided by Nutritionix and is an estimation only. For special diets or medical issues please use your preferred calculator.