Our family favourite Pickled Eggs are simple to make and are the perfect healthy snack for those on the go. No canning required!
We do love our snacks here at Dish 'n' the Kitchen…whether it's a bowl full of Ranch flavoured Nuts 'n' Bolts or a platter of steaming hot Pork Dumplings we find snacking is one of life's greatest pleasures.
Pickled Eggs
Pickled eggs are super easy to make and my whole family loves them! They make a great healthy on the go 'convenience food' for busy days or for 'clean' snacks on family games nights. They keep game pieces and playing cards clean – no greasy or sticky fingerprints!
Pickled eggs are like a blank canvas. At their simplest, they soak in the vinegar and pickling spices to make a savoury treat with a bit of pucker power. However, Pickled Eggs can be so much more!
How to Make Pickled Eggs
There couldn't be an easier or simpler healthy snack to make. Simply hard boil 8-12 eggs using the method you prefer (see below for Instant Pot method). Let the boiled eggs cool, then peel them and place them in a clean glass quart jar.
Add the salt and pickling spice to the jar and fill it 1/4 full with cold water. Next, pour in enough white pickling vinegar (5-7% acetic acid) to cover the eggs.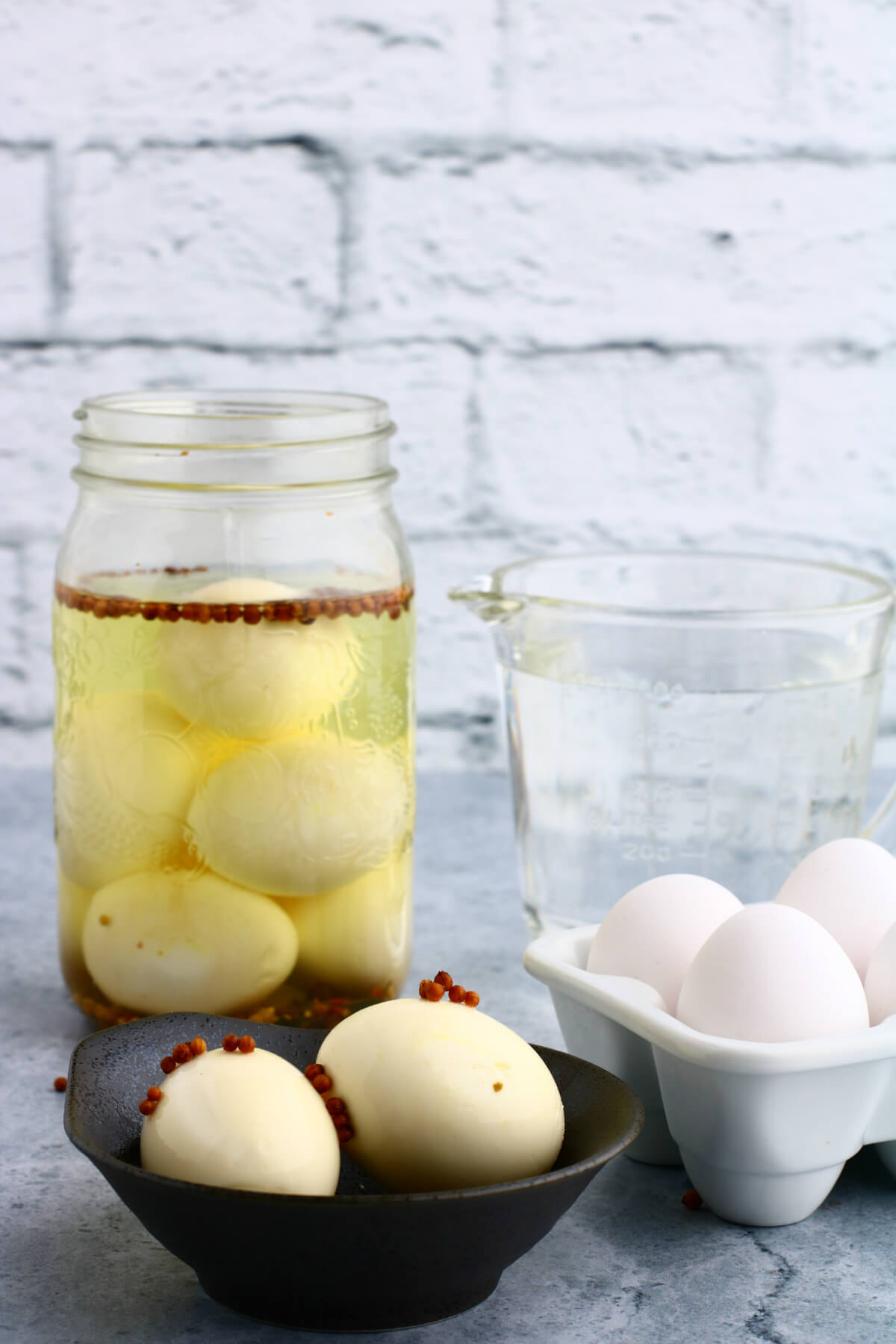 Seal with the jar lid, then gently invert the jar a couple of times so the vinegar and water are mixed and the salt dissolves.
Place in the fridge for 4-5 days to allow the brine to penetrate the eggs, then enjoy!
How to Make Hard Cooked Eggs in the Instant Pot
For this pickled egg recipe, the hard boiled eggs must be fully intact and have a smooth exterior. However, I am not patient when it comes to fiddly kitchen chores such as peeling eggs. If the eggs are difficult to peel, I had the job to my husband who has more patience than I do for these kinds of things.
That all changed once I got an Instant Pot. Pressure cooking the eggs to the hard boiled stage is the best way to ensure an easy to peel egg. I know there are many egg peeling tips and tricks out there (just google it!) but this is my tried and true hack.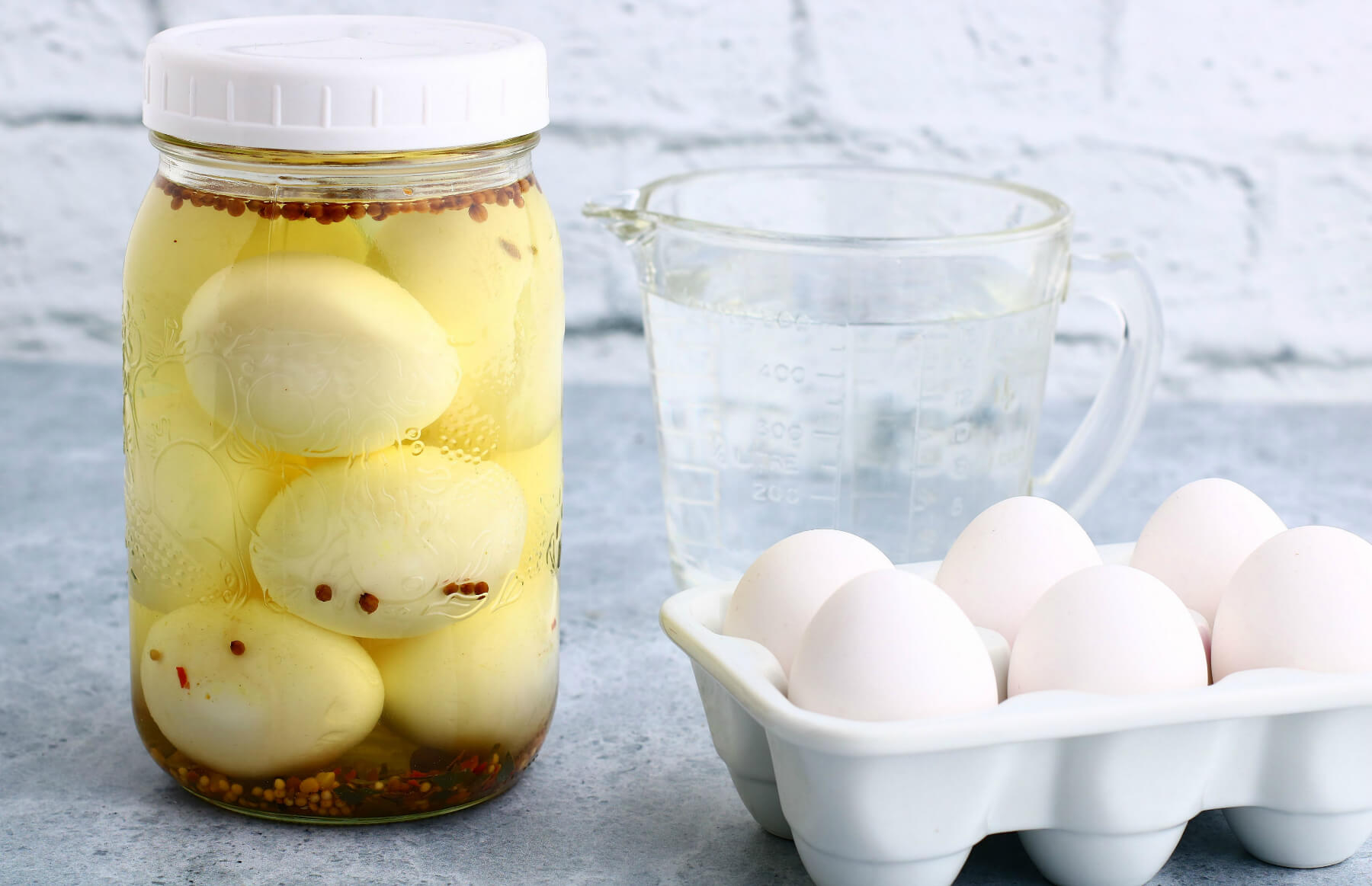 Position the rack in the bottom of the Instant Pot insert. Add 1 cup of water and place as many eggs as you like on the rack. Place the lid on, ensure the valve is closed and set the timer for 5 minutes on high pressure.
Once the eggs have been cooking for 5 minutes, allow them to sit a further three minutes then release the pressure by moving the valve. Remove the eggs and place them in a bowl of cold water.
Flavour Variations
95% of the time, I make these eggs using this most basic recipe. However, I still love to experiment by adding other flavour ingredients or switching up the vinegar.
One of the most fun ways to switch them up is to add pickled beets or beet juice (in place of water) to the jar. Within 3 days, the beet pickled eggs will become a vibrant pink colour.
You can add chopped shallots, chives, red or yellow onions to the jar and have pickled onions along with the eggs. My family loves them this way!
Replace the white vinegar with apple cider vinegar, red wine vinegar, or even Chive Blossom infused vinegar for a unique flavour variation.
Add other herbs such as tarragon, dill, coriander or mustard seeds to infuse the eggs with a more intense flavour or spice things up by adding chili flakes or a sliced red Thai chili.
What other flavours have you added to your pickled eggs? I'd love to know!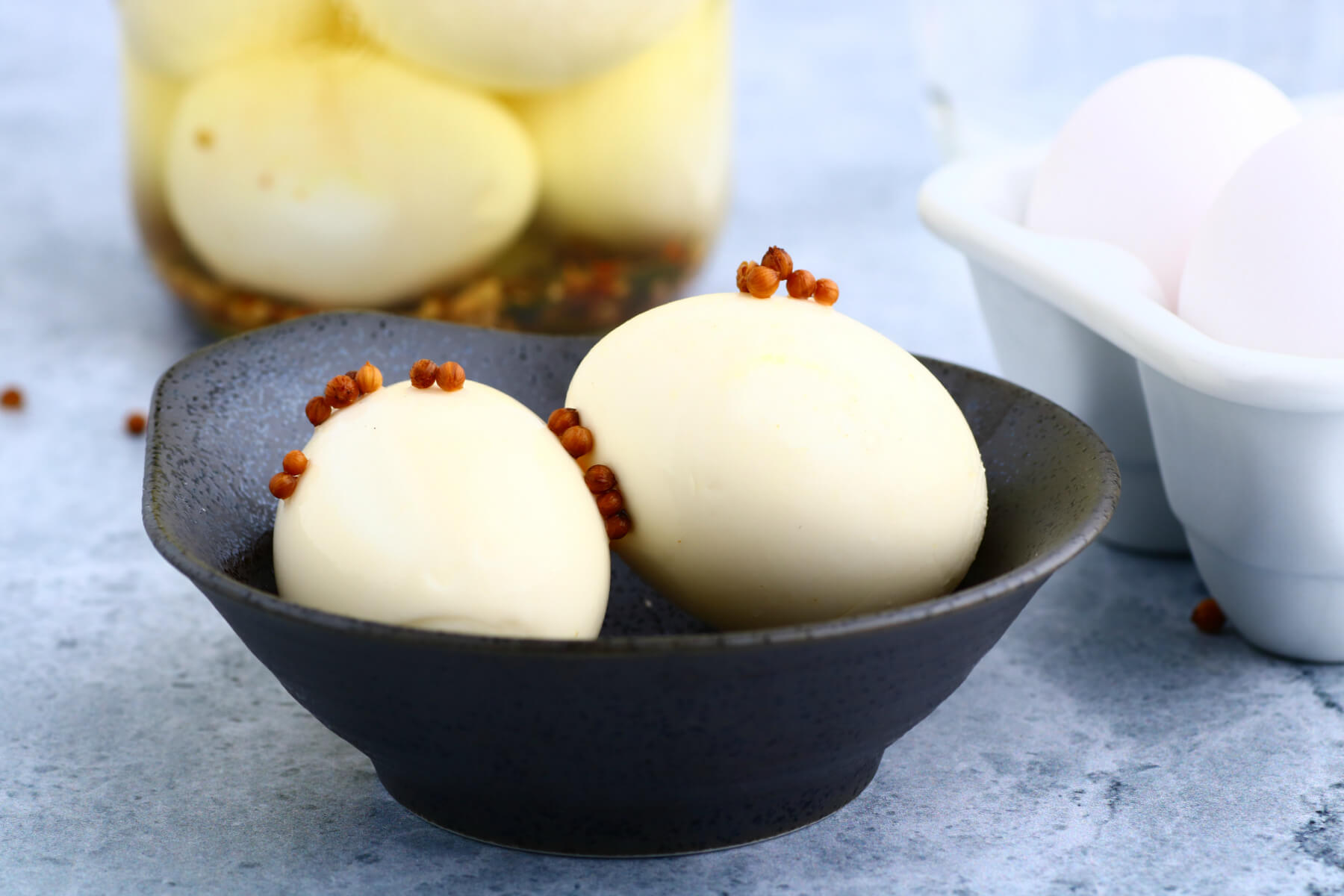 How Long Does it Take to Pickle the Eggs?
Since the brine is very heavy and contains a large quantity of salt and vinegar, it really only takes 4-5 days for the eggs to become fully pickled. You want that awesome pickle flavour to go right through to the yolk.
I know it's tempting to reach in and taste test an egg the next day but trust me when I say good things come to those who wait! Place the jar wayyyy back behind other things in your fridge and forget about them for a few days.
I have a poor memory so it's always such a fun surprise to find a hidden jar of yummy snacks that I forgot I made.
Serving Suggestions
Though they make a perfect snack all on their own, I like to dip the egg into a bit of salt for extra flavour. Our family also loves to add them to chopped salads or scoop the yolks out to make extra pickle-y deviled eggs.
These are the perfect eggs to add to a large bowl of creamy potato salad or to eat mashed up with mayonnaise as an egg salad sandwich.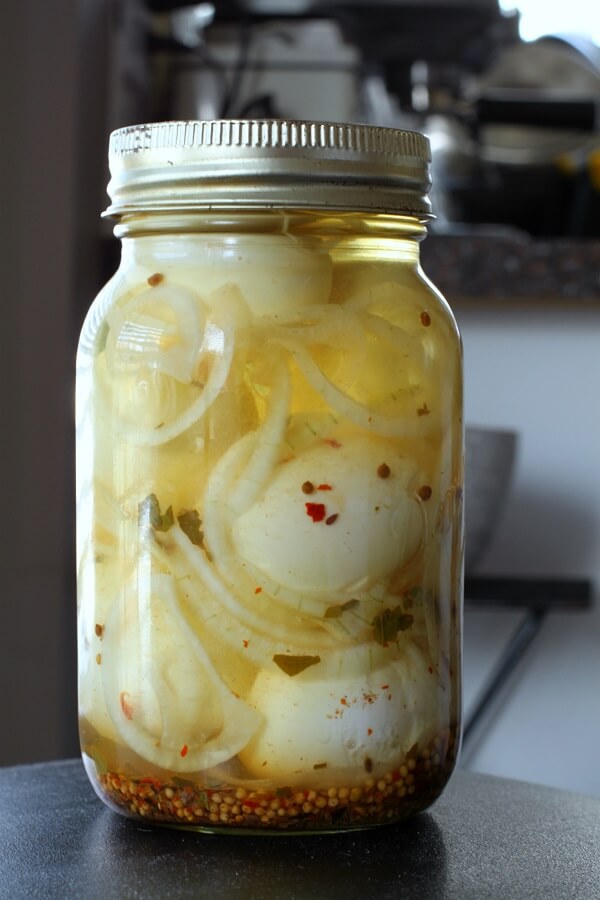 How to Prevent Rubbery Pickled Eggs
Once the eggs have been sitting in brine for 4-5 days they are ready to eat. Since this is a relatively heavy brine (with plenty vinegar and salt), you can prevent the eggs from becoming 'rubbery' in two ways.
Eat them ASAP (within the next week) before they turn rubbery.
Remove some of the brine and replace with water, making sure the eggs are covered in brine as they sit in the jar.
How Long do Pickled Eggs Last?
When properly stored, pickled eggs will last for 3-4 months! That's not to say they WILL be there in 3-4 months. My family typically finishes a jar with a week or two.
Always refrigerate them in an airtight container, preferably a glass jar with a plastic lid. The vinegar is very acidic and may end up reacting to the metal on a regular jar lid. To prevent this, cover the top of the jar with either plastic wrap or parchment paper before screwing the metal lid on.
Join Me for Saturday Brunch!
Join the Saturday morning newsletter and get cozy with a cup of coffee. Inside you'll find free recipes, giveaways, and more. It's such a delicious way to start the weekend!
By clicking subscribe, you agree to share your email address with the site owner and receive emails from the site owner.