Ranch Nuts 'n' Bolts are a classic quick snack with Ranch flavours. Mix up a huge batch for games night or your next Netflix binge.
Our Good Old Fashioned Family Christmas
Christmas is family time. It means the constant state of being together, deciding who gets to sleep in which bedrooms (and on the blow up mattresses), endless Crown Royal Cokes, the repetition of the cooking/eating/cleaning cycle, getting boozed up on Bailey's then going sledding, and our family's favourite past time; playing cards. Sometimes on a particularly frosty night, we set up multiple games on folding tables, then build a round-robin type series from which players drop out as they are needed to cook or clean.
The Jolly-est Bunch of Assholes
The unspoken initiation into our family relies on one's card playing abilities…if you are a quick study, it means immediate respect. If you have trouble catching on, or take forever to decide what card to play you will be the subject of good natured ribbing FOREVER (right hun?). We can't help but build up an appetite doing all that drinking and card playing, so in addition to the appetizer themed meals, and classic turkey dinner, there's card snacks.
Ranch Nuts 'n' Bolts Make the Best Card Snacks
My mom is pretty crazy about licorice, and my dad likes to pilfer the Christmas goodie tray that stays out all day long (and is constantly being refilled by your truly), the rest of us like salty snacks like peanuts and pretzels. When I was a kid I remember my aunt gifting us a giant ice cream pail full of her home made Nuts 'n' Bolts. We piled through them pretty quickly and they were a huge hit. Eventually they disappeared and my mom attempted to pick up the slack by making her own version. Even though everyone enjoyed them, she stopped making them too (it might have had something to do with having to make all the other appetizers she makes every year and being a bit overwhelmed, something I can now relate to!).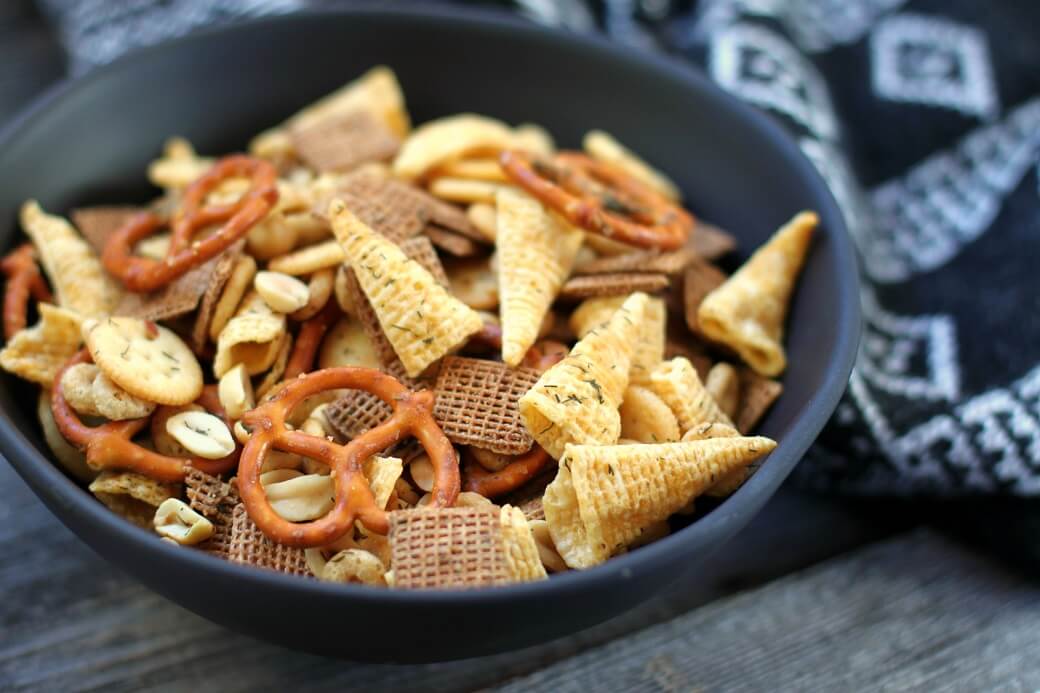 With our daughter coming home from University of British Columbia this year, we've decided to have Christmas here in Calgary so she can relax in her own bed and cuddle with the dogs. Who am I kidding? We want her all to ourselves! Usually when we say we want to stay home for Christmas, everyone drives the ten hours to Calgary and I play the host to 13 people for about a week. While I love having my extended family around, it does get exhausting. I'm looking forward to a bit of quiet time with just our little family this year, maybe we'll play a round or two of cards just so we can feel a bit closer to our long distance family. Just to make sure we're well fed at all times, we'll be snacking on these Ranch Nuts 'n' Bolts in between hands.
Pin Ranch Nuts 'n' Bolts HERE.
Cure Your Munchies with Dish 'n' the Kitchen:
Sour Cherry Cheesecake Hand Pies