Ranch Nuts 'n' Bolts are a classic quick snack with Ranch flavours. Mix up a huge batch for games night or your next Netflix binge.
If there's one thing I love it's delicious snacks. I'm more of a snacker than a full meal deal. From Layered Dips to Pickled Eggs, you'll find more than enough to snack on the blog!
Our Good Old Fashioned Family Christmas
Christmas is family time. It's the constant state of being together, fighting over who gets to sleep in which bedrooms (and on the blow up mattresses), endless Crown Royal Cokes, the repetition of the cooking/eating/cleaning cycle, getting boozed up on Bailey's then going sledding, and our family's favourite past time; playing cards.
Sometimes on a particularly frosty night, we set up multiple games on folding tables, then build a round-robin type series from which players drop out as they are needed to cook or clean.
The Jolly-est Bunch of Assholes
The unspoken initiation into our family relies on one's card playing abilities…if you are a quick study, it means immediate respect.
If you have trouble catching on, or take forever to decide what card to play you will be the subject of good natured ribbing FOREVER (right hun?).
We can't help but build up an appetite doing all that drinking and card playing, so in addition to the appetizer themed meals, and classic turkey dinner, there's card snacks.
Ranch Nuts 'n' Bolts Make the Best Card Snacks
My mom is pretty crazy about licorice, and my dad loves the sweets. He's always loitering around the Christmas goodie tray. The tray stays out all day long and it's my job to keep it full.
However, the rest of us like salty snacks like peanuts and pretzels. When I was a kid I remember my aunt gifting us a giant ice cream pail full of her home made Nuts 'n' Bolts. We piled through them pretty quickly and they were a huge hit.
Eventually Auntie quit this yummy tradition and my mom attempted to pick up the slack by making her own version. Even though everyone enjoyed them, she eventyally stopped making them too.
It might have had something to do with having to make all the other appetizers she makes every year and being a bit overwhelmed, something I can now relate to!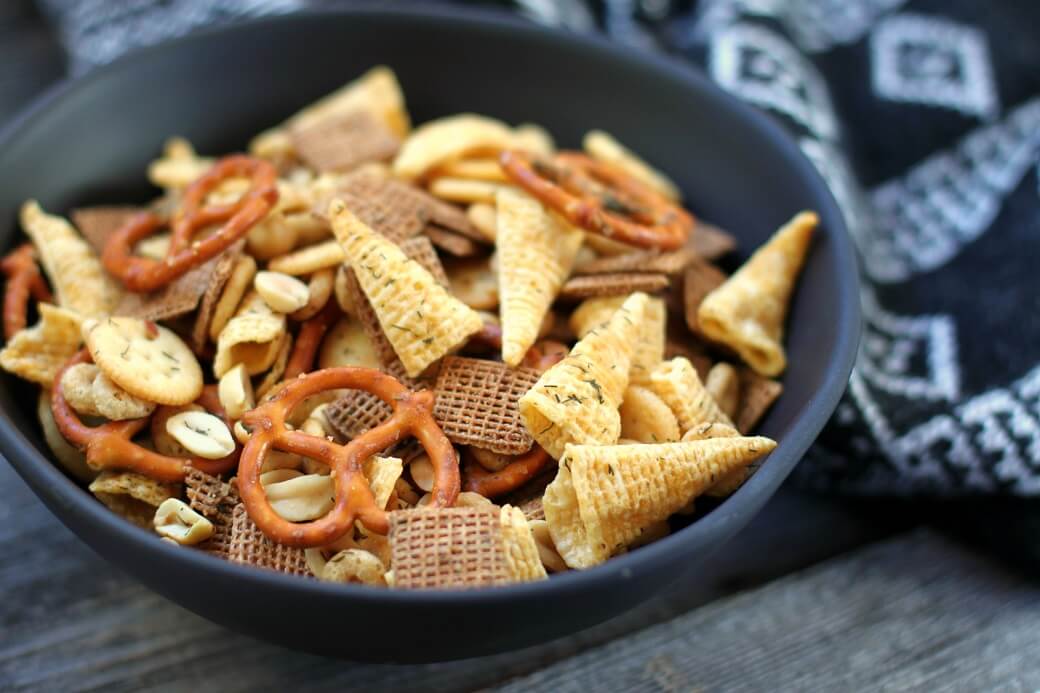 With our daughter coming home from University of British Columbia this year, we've decided to have Christmas in Calgary. She'll enjoy sleeping in her own bed and cuddling with the dogs.
Who am I kidding? We want her all to ourselves! Usually when we say we want to stay home for Christmas, everyone drives to Calgary and I play host to 13 people for a week.
While I love having my extended family around, it does get exhausting. I'm looking forward to a bit of quiet time with just our little family this year.
Maybe we'll play a round or two of cards just to remind us of Christmas on the farm. We'll definitely be snacking on these Ranch Nuts 'n' Bolts in between hands.
Yield: 12 Servings
Ranch Nuts 'n' Bolts
Total Time
2 hours
15 minutes
Ingredients
2 cups dry roasted peanuts
4 cups pretzels; twists or sticks
3 cups bugles 2 cups cheerios or other grain cereal
2 cups shreddies
2 cups mini ritz crackers, cheese sticks, or goldfish, etc.
1 1/2 cups unsalted butter; melted
1 package Ranch dressing mix
1 tsp True Lemon/True Lime/citric acid powder
2 tbsp Worcestershire sauce
1/4 cup dried dill
Instructions
Dump the first six dry ingredients (or your personal substitutions) into a large roasting pan or roaster.
Melt the butter in a large mixing cup and then add the Ranch dressing mix, citrus powder, Worcestershire sauce, and dill into the cup. Mix well.
Pour some of the butter mixture over the dry ingredients, mix well then repeat so that all the dry ingredients get a bit of seasoning.
Bake at 275 F, mixing every 20 minutes until the mixture is dry. The time depends on what pan you are using, the roaster I used had higher sides, so it took 1 1/2 hours.
Store in an airtight container.
Nutrition Information:
Yield:
12
Serving Size:
1
Amount Per Serving:
Calories:

582
Total Fat:

42g
Saturated Fat:

19g
Trans Fat:

0g
Unsaturated Fat:

19g
Cholesterol:

61mg
Sodium:

824mg
Carbohydrates:

46g
Fiber:

5g
Sugar:

4g
Protein:

12g
Nutritional calculation was provided by Nutritionix and is an estimation only. For special diets or medical issues please use your preferred calculator.