Make your own stunning Chive Blossom Vinegar with beautiful chive flowers from your garden. Use this delicate Allium flavoured vinegar to season potato salads, in a vinaigrette, and in marinades. 
Garden herbs are my favourite way to boost flavour of grilled meats and fresh vegetable salads. During the summer we eat a lot of Pea Orecchiette Pesto Pasta and Cherry Tomato Caprese Salad.
Chive Blossom Vinegar
Ever wonder what to do with all the beautiful chive blossoms growing in your herb garden? Making Chive Blossom Vinegar is an easy way to preserve their unique flavour to use long after the blossoms are gone.
These edible flowers have a wonderful savoury essence that blends well with the acidity of vinegar. Additionally, colour from the blossoms leaches into the vinegar, creating a striking magenta coloured condiment.
Creating your own salad dressings and vinaigrettes is so easy to do. Check out my recipes for Preserved Lemon Tahini Salad Dressing and Strawberry Balsamic Vinaigrette for more flavour options.
What Are Chive Blossoms?
Let's start with chives. Chives are a flowering perennial herb related to the Allium family. Distant relatives of this entirely edible plant include red onions, leeks, scallions, garlic, and shallots. 
This common culinary herb is the only Allium that is native to both the old and new worlds as it is found growing wild in Europe, Asia, and North America.  
It is really easy to grow chives in your garden, though if you don't have the space for a chive plant you can often find them for sale at farmer's markets in the Spring.
A Chive Blossom is actually called an inflorescence and it grows at the top of a tubular hollow stalk, or scape, that is tougher than the grass like leaves. The edible inflorescence is made up of 10-30 pale purple flowers. 
Chives release sulfur based compounds which act as an insect repellent, however, the flowers produce a lot of nectar which is great for bees. Well all need more bees in our gardens!
Wait…You Can Eat Chive Blossoms?
From the first moment the chive plants poke up through the chilly Spring soil, I am constantly thinking of ways to use them up. There are so many in my garden, I can't use them all. Inevitably, they begin to blossom and usually with a vengeance.
Many people just cut the tops off and throw them out, but did you know that chive blossoms are entirely edible? If you pick apart the blossom, the tiny purple flowers make stunning and flavourful garnishes in many dishes, including potato salad.
Don't be fooled though, the tiny flowers are pleasing to look at while having a flavour just slightly milder than chive greens.
How to Make Simple Chive Blossom Vinegar
Making Chive Blossom infused vinegar couldn't be easier. It's a simple infusion that takes roughly a minimum of one week. Simply pick enough blossoms to pack the intended container.  Be sure to choose newer blossoms with more intense colour than the older, less vibrant blooms.
Give them a quick wash and dry, then place in a pint glass jar. Pour in enough white vinegar to cover. Seal with a plastic lid or use a square of parchment paper under the metal jar ring and cover.
The parchment will prevent the acid in the vinegar from reacting with the metal jar ring and cover. Preventing rusting is important both for safety reasons and flavour control.
Store the vinegar in a cool dark place, away from direct light for 1-3 weeks. The Chive Blossom Vinegar is finished once most of the colour has drained from the blossoms and into the vinegar.
Lastly, strain out the blossoms from the vinegar and store in the same manner as you did during steeping.
Other Variations
Need to make a quick batch of infused vinegar? The hot water method takes less time to produce a beautiful vibrant infused vinegar. Simply heat the vinegar without bringing it to a boil before adding to the chive blossoms. Let it steep for 3 days, then strain.
Prefer a much more intense chive flavour? Add some chopped chives into the infusion and steep using cold or hot method.
Love an intense garlic flavour? Use garlic chives for your infusion instead of chive blossoms.
Use other types of vinegar. Try using white wine vinegar, apple cider vinegar, or seasoned rice wine vinegar to change up the flavour profile.
How to Store and Use Chive Blossom Vinegar
Store the Chive Blossom Vinegar in a cool dark place like the basement or pantry. It can also go in the fridge but it's not necessary. 
This infused vinegar is quite versatile. I've used it to drizzle on roasted veggies, flavour a non creamy coleslaw, and to make salad dressings for a chopped salad.
It would also make a delicious marinade for steaks, chicken, or pork. Try it as part of a homemade barbecue sauce or any other way you would use vinegar in a savoury application.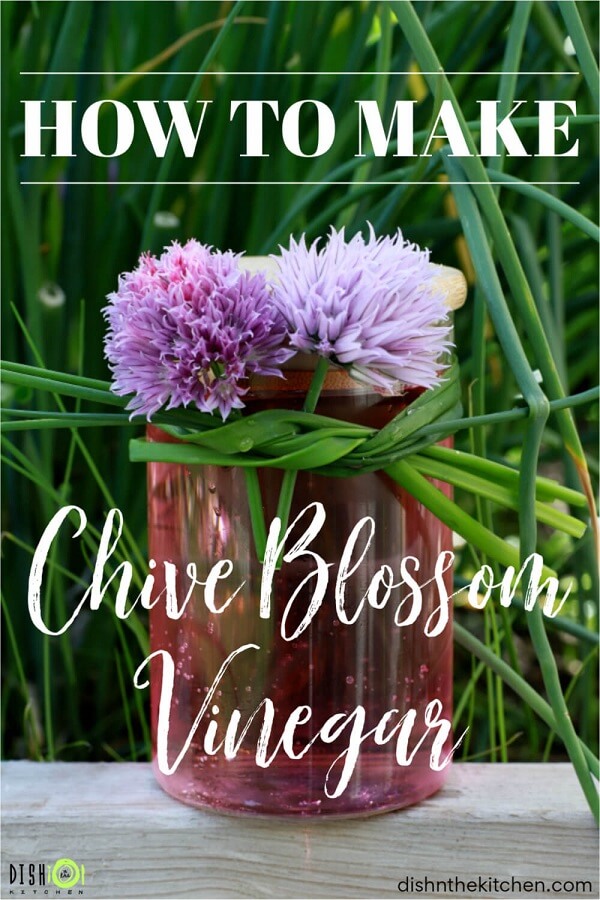 Yield: approximately 1 cup
Chive Blossom Vinegar
Make your own stunning Chive Blossom Vinegar with beautiful blooms from your garden. Use this delicate onion flavoured vinegar to season potato salads, in a vinaigrette, and as a marinade.
Ingredients
approximately 1 cup white vinegar
1 tsp sushi powder seasoning (sushi noko; optional) 
1/2 tsp salt
OR
approximately 1 cup seasoned rice vinegar
Instructions
Pick the whole chive blossom head off of the stalk. Once you have gathered enough blossoms to fill a pint jar, give them a quick wash under running water to clean them.
Pack the blossoms in the pint jar and cover with vinegar. Three options are 1) plain white vinegar 2) white vinegar with salt and sushi powder seasoning 3) Seasoned Vinegar
Seal using a plastic lid or regular metal lid with a parchment barrier. The acid from the vinegar will cause rust and taint the vinegar with a nasty taste.
Place jar in a cool, dark spot (or the fridge) and give it a slight shake whenever you open the door. Vinegar is ready in 1-3 weeks.
Enjoy in place of vinegar in your favourite vinaigrette.
Nutrition Information:
Yield:
1
Serving Size:
1
Amount Per Serving:
Calories:

94
Total Fat:

0g
Saturated Fat:

0g
Trans Fat:

0g
Unsaturated Fat:

0g
Cholesterol:

0mg
Sodium:

1564mg
Carbohydrates:

1g
Fiber:

0g
Sugar:

0g
Protein:

0g
Nutritional calculation was provided by Nutritionix and is an estimation only. For special diets or medical issues please use your preferred calculator.